Dolphin Watching & Balicasag Island Tour Package
Secure your Cebu Bohol ferry tickets today to start your unforgettable journey!
(3 Days/2 Nights)
A special experience of Bohol's major attractions: dolphin watching and island hopping, swimming and snorkeling at Balicasag Island for only Php5,250/head for 3pax and lower if more in the group. Tell us how many you are and we will quote you the price per head. Off season rates may differ slightly.

This special package comes with a 3D/2N stay at hotels based in Alona, Panglao Island and 2 breakfasts. All transfers (port, tour, boat), all entrance fees, charges and government tax are included.
Stated package rate above is subject to change without prior notice. If hotel required is other than Tierra Azul, our partner hotel, price of the package will be adjusted basing upon the room rates of the hotel wanted. Other hotels do not offer free breakfasts, so package conditions may be affected too. Prices are confirmed once paid and so will not be subject to any untoward price changes.
Recommended Bohol Philippines Tours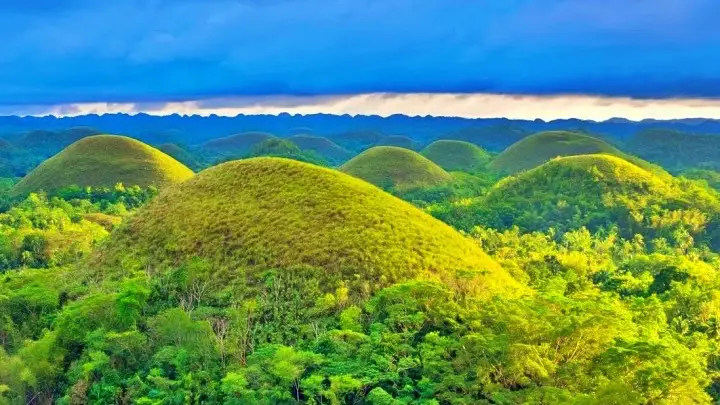 [ Bohol Sight Seeing Day Trips  - Check Out Availability ]
[ Full Day Cruise and Sailing Tours - Check out Availability ]
[ Full Day Adventure Tours - Check out Availability ]
Discover more of Bohol's natural wonders through our recommended tours. Click on the links below to embark on unforgettable adventures:
Ready to explore the beautiful islands of Cebu and Bohol? Secure your ferry tickets today through 12go and start your unforgettable journey!
Package Itinerary
Day 1: Arrival
Tagbilaran Airport or Seaport Pick Up then to our partner hotel.
Tour In-charge will help you settle in at chosen accommodation.
Spend the rest of the day at your leisure.
Meals: None.
Enjoy your own seafood dinner and nightlife on Alona Beach! There are many places at all price range to choose.
Transfers: Airport pick up then on towards our partner hotel based at Alona, Panglao Island.
Notes: Travel time from airport to Panglao Island: 30-45 minutes
Day 2: Balicasag Island Hopping Tour
5:00 Breakfast or can arrange for packed breakfast.

5:45 Tour departs for a whole day island hopping, swimming, snorkeling & dolphin watching.
Early dawn dolphin watching with tour guides who were former hunters on board colorful outrigger boats is an experience in itself. Dolphins commonly sighted are the Risso's dolphin, the playful spinner dolphin, the bottlenose dolphin, the spotted dolphin and the Fraser's dolphin.
Then on to Balicasag Island and explore! Frolic on the island's white beaches or swim and snorkel in cool blue waters. The island is circular and flat, covered with palm trees and flowering bougainvilleas bordered by a white sand beach. One can go around the island in 45 minutes. Truly a tropical paradise!
And not only that, the island is surrounded with some of the best diving spots in the Philippines and 400 meters of it declared as a protected marine sanctuary thus you will see rare species of marine life in the area.
Lunch is available in Balicasag Island. A contact restaurant will prepare sumptuous food for you to choose from. Instead of setting a set price per head, we give you the freedom to choose the food that you would like to eat from a varied display and according to your budget.
All activities lasts until 4pm and then back to the resort or hotel.
Day 3: Free Day
7:00-9:00am Breakfast
The rest of the day to be enjoyed at your own leisurely pace and time.
Free Transfers: Partner hotel to airport/seaport

Notes:
Room package dictates that for more than two guests, 3 persons are assigned to a room (twin beds and extra mattress) to be able to get the lowest rate possible. Yet if guests prefer a room each, then package price will be adjusted according to room rates.
Hotel/Resort Standard Check out time is 12:00 NN
Pick Up Time for Transfers to Airport/Seaport:Tagbilaran City Flight Departures is 2 ½ hours prior to Estimated Time of Departure and Seaport Departures is 1 ½ hour prior to Estimated Time of Departure.
Transfers outside the package routes or the scheduled time should be booked earlier and may be subject to additional charges.
Try this special Dolphin Watching & Balicasag Island Hopping package. Enjoy a perfect island retreat and get away from it all even for just a day. It will be worth it!
Booking and Reservation Request
Fill up the form below and our Travel Consultant will get back to you within 24 working hours. Only after confirmation will you receive instructions on how to finalize your reservation.
Please allow 15 working days lead-time before arrival for us to process your request. Last Minute Bookings may have extra charges.
Notes:
All Rates are subject to change without prior notice.
Confirmed Bookings require Full Prepayment.
All packages are non-refundable.
Booking must be minimum of 2 nights
Room package dictates that for more than two guests, 3 persons are assigned to a room (twin beds and extra mattress) to be able to get the lowest rate possible. Yet if guests prefer a room each, then package price will be adjusted accordingly.
Hotel/Resort Standard Check out time is 12:00 NN
Transfers to/from Airport and Seaports are included in the package. Pick Up Time: Flight Departures is 2 ½ hours prior to Estimated Time of Departure and Seaport Departures is 1 ½ hour prior to Estimated Time of Departure.
Transfers outside the package routes or the scheduled time should be booked earlier and may be subject to additional charges.
Acceptable Payment by (1) Bank Transfer, (2) Cash Payment, (3) PayPal, or (4) Credit Card.
Please read our Tour Payment Policies
Tour Packages (not available at the moment)
Dolphin Watching with Pamilacan Island Side Trip (3D/2N) Dolphin Watching & Balicasag Island Tour (3D/2N) Bohol Escapade (4D/3N) Chocolate Hills Countryside Tour Chocolate Hills Countryside Musical Tour Panglao Land Tour
Back to Bohol Philippines Travel Guide