Bohol Philippines Travel Guide
Bohol Philippines is fast becoming one of the top travel destinations in Asia. The island offers a wide range of attractions from natural fine white sand beaches, great diving sites, scenic natural sights, old houses, ancient churches, historical sites and wonderful ecotourism highlights. 
The rolling chocolate hills, crystal springs, mangroves, mahogany forests and white sand beaches makes the island one of the most picturesque provinces in the Philippines. Bohol sunsets are ephemeral.
Our website is an introduction to Bohol and the best attractions the island can offer. We have everything you need to plan out your trip, get there safely, select the best tours, enjoy your trip and collect memorable moments. Enjoy some of the best photos to wet your appetites.
Bohol's ecology and natural heritage are few of the wonders to see.
Only Bohol has a 134-hectare sanctuary for the small tarsiers.
Birding, dolphin and whale watching and of course diving are popular activities.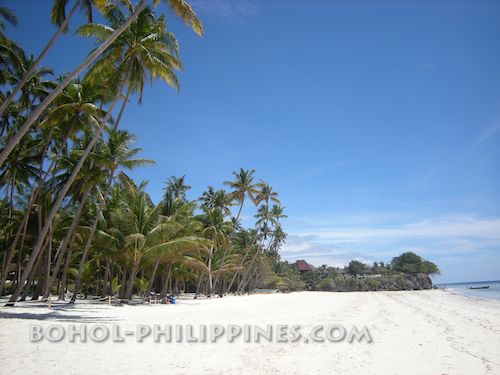 Bohol Beaches - Best White Sand, Fun, Surf and Diving
Many are lured to the white sand Bohol beaches, the cool crystal blue waters, and the world-famous surrounding dive sites. The visitors stay, some for good, because of the tranquil ambiance.
Find out the best of Bohol Attractions
Listing the best of Bohol attractions - chocolate hills, white sand beaches, scuba diving sites, dolphin/whale watching, tarsiers, mahogany forest, rivers cruising, Spanish churches, old houses, etc.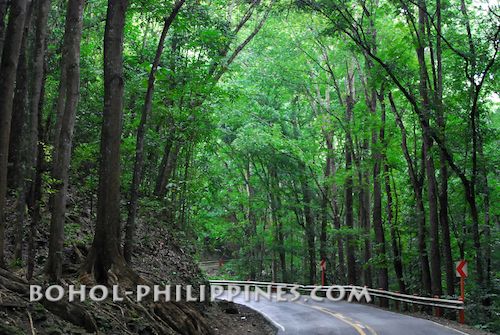 Bohol Mangroves are critical spawning, nursery, feeding and transient shelter areas to hundreds of fish species, crustaceans and invertebrates and support an abundant and productive marine life.
Bohol island is also replete with heritage sites, ancestral homes and some of the best preserved churches of the Philippines.
Most of the 47 towns of Bohol have old massive stone churches with frescoes all done during Spanish colonization.
Markers and memorials to past revolutions and wars, museums, caves of patriots are there to see.
Plan your Bohol Trip Here!
This is our Bohol Philippines Travel Guide!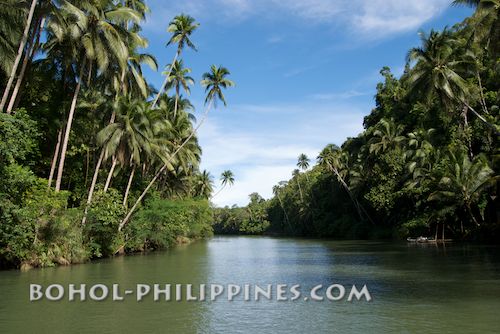 Rivers, Water Falls and Springs
Tour the island and see the gushing springs, waterfalls, rivers, sandy white beaches, natural coral havens, exotic marine life, caves, mountains and forests rich with wildlife and rare flora.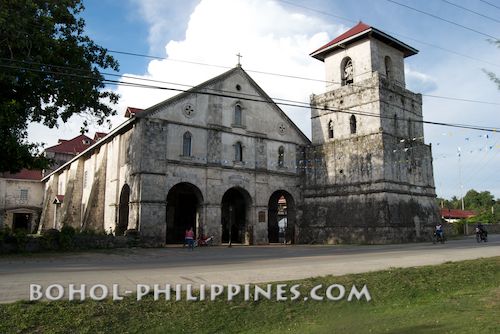 Heritage Bohol Churches - Spanish Architecture and Frescoes
Almost all of the 47 towns have old, massive, stone Bohol churches with frescoes, carvings and other products of Spanish presence- one of the most attractive heritage character of the island.
Festivals and Feastdays - Fiestas in Bohol
Bohol festivals and feast days are part and parcel of Boholano culture. Boholanos are fun-loving, generous to a fault, and deeply religious.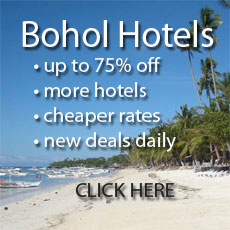 Find the best Hotels Resorts Discount Rates

A comprehensive list of Bohol hotels and beach resorts in Panglao Island, Anda, Tagbilaran, Cabilao, Balisacag, Calape, Guindulman, Jagna, Loboc, Talibon, Tubigon, Valencia, and other areas.
Luxury Hotels 
Lluxury and stay in some of the best luxury hotels in Bohol Philippines; ideal accommodation in Bohol for business and leisure travelers.
Top and Popular Resorts

Check out the best bohol resorts - listing of the top and popular beach resorts in the island of Bohol Philippines. Fun, sand, surf, diving, snorkeling and ecotourism around the green gem all year ;-D
Check out our listing of the cheapest hotels in Bohol. Select the most affordable accommodations according to your budget. Just click on the check rates button to find out the lowest prices.
Accommodations - Cheap to Luxury Resorts
Bohol Accommodations, Hotels and Resorts, Inns, Pension Houses, Villas at various places: Panglao, Dauis, Tagbilaran, Anda, Talibon, Tubigon, Backayon, etc.
Tell Us Your Bohol Stories - Bohol Travel Tales
Visitors tell their Bohol stories - straight from the heart. How do you like these Bohol attractions? Do you have a great Bohol story? Share it!
Bohol Tarsiers - Worlds Smallest Primate
Bohol tarsiers measures 4 to 5 inches and is considered as the worlds smallest primate. Its size is no longer than an adult mans hand and weigh only about 113 to 142 grams or four to five ounces.
Chocolate Hills of Bohol Philippines - World Natural Heritage
World famous Chocolate Hills of Bohol are natural 1,268 cone-shaped hills whose strange geological formation has baffled geologists but entertains both locals and tourists alike.
Bohol Ancestral Houses dating back to the 20th century of the Spanish Regime, said to be the 'golden age' of Bohol, these old houses were huge and largely made up of coral stone and hardwood.
Diving - Excellent Philippine Diving
Bohol Diving spots that offer excellent diving: Panglao, Cabilao, Jao, Balicasag, Mahanay and Lapinin which all offer excellent marine life. Danajon Bank or Double Barrier Reef - North Bohol
Whale Watching and Dolphin Watching
The waters south of the island offers plenty of Bohol whale watching trips. Several species are known to pass through the areas all year round
Spelunking and Exploring Caves
Limestone foundation created to date more or less 1,400 Bohol caves throughout the island which got its name from the word "buho", meaning "hole" from which spring water usually gush forth.
Cross-Country Trekking, Climbing, Hiking, Walking, Ecotourism
Bohol Trekking offers rolling hills, patches of forest interspersed with small villages and pastoral farmlands cross-country treks without ascending high mountains
Bohol Restaurants offers various dining and cuisine options - are located either in hotels, resorts, or around the Tagbilaran city and other towns offering local or international cuisine. Seafood!!
Bohol is further known for its festive fiestas and merry-making. And one thing to boast upon is the native mouth-watering delights that are already been recognized as signature Boholano Delicacies.
Major Bohol shopping in Tagbilaran. Souvenirs and Handicrafts shopping. Find Bohol crafts and decors, Tarsier dolls, shells, pearls, and purses. Buy baskets, jewellery and wooden furniture. Calamay?
 Bohol is known for its own native products, products made from the indigenous materials found in the province and processed and made by the own hands and sweat of the native people of Bohol.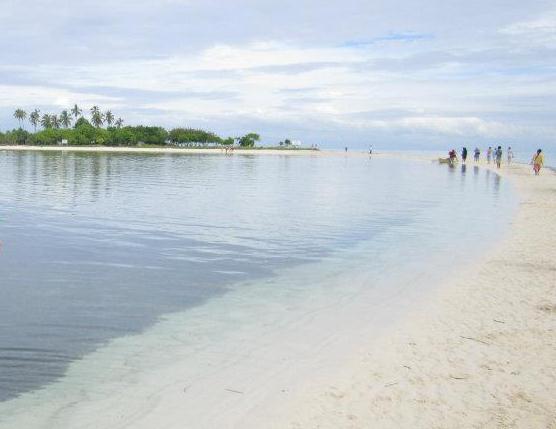 Bohol island has one city and 47 towns - 31 are along the coast; with a land area of 4,117.26 sq km or 1,608 sq. miles and a coastline 390 km long making it the tenth largest of the Philippines
Tagbilaran City is is the principal city and gateway to the island province of Bohol and is known as the City of Peace and Friendship - one of the Philippine Dream Cities - dates back to the 1600 AD
Sagbayan is one of the interior towns of the province of Bohol. It is also among the three towns where the famed Chocolate Hills can mostly be found. It is famous for its Sagbayan Peak.
There are 75 islands and islets of Bohol. Most of them are clustered in the northeastern part of Bohol particularly in the towns of Tubigon, Inabanga, Getafe, Talibon, Bien Unido and PCP Garcia
Panglao is one of two municipalities that make up Panglao Island, the other being Dauis. It is now a famous tourist destination for its white sand beaches and world-class ...
Cabilao Island is one of Bohol's attractive islands with its crystal clear waters, white sandy beaches and exciting dive spots. It lies in the western part of Bohol in the middle of Cebu Strait.
Birding in Olango Island, Rajah Sikatuna National Park
Birding or Bird-watching is now becoming a favorite pastime for more and more people. Rajah Sikatuna National Park, Olango Island Wildlife Sanctuary
Island Hopping From and Around
Bohol is an island greatly blessed. It is replete with both natural and man-made wonders and offers so many worthwhile activities that would easily fill up any traveler's itinerary.
Getting in and out : Bohol Flights and Inter Island Bohol Ferries
Getting in and out of Bohol is quite easy: Tagbilaran Airport have Manila and Cebu flights; Several ferries via Tagbilaran, Tubigon, Talibon, Jagna, Ubay, Loon and Getafe connect to nearby islands.
Bohol Travel Adventures and Activities for the Intrepid Traveller
Bohol travel offers the intrepid traveler numerous experiences: follow scenic trails, visit heritage and historical roots; experience ecotourism and wildlife; outdoor action adventure; fiestas; etc
Hop on Bohol Transport - Getting Around the Island
Get the local perspective of the local Bohol transport system: private vans, public buses, tricycles, habal-habal/motorcycles,biplanes, jeepneys, outrigger bancas, taxis, and multicabs
Watch the Best of Bohol Videos and Bohol Movies 
Check out and watch our favourite Bohol Videos in this page. If you've discovered a really good video in youtube or other video sites, go ahead and upload them here. Share your Bohol videos!
Many of the bohol photos in this website were taken by me. However many more are courtesy of all my friends in flickr who kindly shared their great photography for all to see and enjoy.
Interactive Bohol Map - Data and Figures
Bohol maps of the island province of the Philippines located in the Central Visayas region. To the west is Cebu, to the northeast Leyte island and to the south across the Bohol Sea is Mindanao.