Discover Bohol Philippines: Your Ultimate  Travel Guide to Paradise

Welcome to Bohol, a hidden gem in the Central Visayas region of the Philippines. This charming island province offers a diverse range of attractions that cater to all kinds of travelers, from nature lovers and beachgoers to history buffs and adventure seekers.
Bohol is a tropical island province in the Philippines that is known for its ecotourism wonders, heritage sites, beach and water activities, great food selection, wide range of accommodations, easy access via flights and ferries, and extensive transport around the island.
---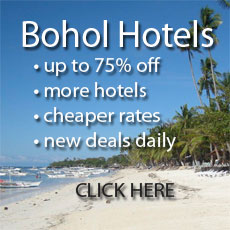 When it's time to rest, Bohol has a range of accommodations to choose from. For those seeking luxury, there are plenty of five-star Hotels and resorts that offer top-notch amenities such as private beaches and infinity pools. Mid-range options include boutique hotels and bed and breakfasts, while budget-conscious travelers can find affordable inns and hostels. And if you're looking for a unique experience, there are plenty of vacation rentals and short-term stays available.
---
Other Bohol Hotel Accommodations
TYPES OF HOTELS
BY PRICING
BY LOCATION
OTHER TYPES
---
Things to Do in Bohol: Visit Natural Scenic Spots
One of Bohol's most iconic natural wonders are the Chocolate Hills, a cluster of over 1,000 hills that resemble giant chocolate drops during the dry season. These geological formations are a must-see and provide a breathtaking backdrop for photography enthusiasts. Another natural wonder is the Hinagdanan Cave, a hidden gem with clear blue waters and impressive stalactites and stalagmites. It's an ideal spot for swimming and a unique photo opportunity.

The Chocolate Hills are a unique limestone formation that is made up of over 1,200 hills that are shaped like chocolate drops. The hills are green during the rainy season, but turn brown during the dry season, hence the name "Chocolate Hills." The Bohol Tarsiers Sanctuary is home to the Philippine tarsier, the world's smallest primate. Tarsiers are nocturnal animals that are known for their large eyes, long tails, and slow movements. The Loboc River is a scenic river that is lined with lush vegetation and mangrove forests. Visitors can take a boat ride on the river and enjoy a buffet lunch on a floating restaurant.
---
Things to Do in Bohol: Cultural and Heritage Sites
Bohol is also home to a number of heritage sites, including the Baclayon Church, the Dauis Church, and the Loboc Church.

The Baclayon Church is the oldest church in Bohol and was built in the 16th century. The church is a beautiful example of Spanish colonial architecture.
The Dauis Church is a 19th century church that is known for its intricate interiors. The church is home to a number of religious relics, including a statue of the Black Nazarene.
The Loboc Church is a 17th century church that is known for its bell tower. The bell tower is the tallest in Bohol and offers stunning views of the surrounding area.
Bohol Museums
Bohol Art Galleries
---
If you're a beach lover, Bohol has plenty of options to choose from.
Alona Beach is the most popular and offers a vibrant atmosphere with plenty of water activities such as snorkeling and island hopping.
However, for those who prefer a more secluded setting, Anda Beach and Dumaluan Beach are equally stunning with fewer crowds.
And if you're feeling adventurous, take a boat ride to Balicasag Island, where you'll find some of the best snorkeling and diving spots in the region.
---
Bohol also offers a range of adventure activities for the adrenaline junkies. The Danao Adventure Park is a must-visit for those seeking a thrill. You can try ziplining, bungee jumping, or even cliff jumping here. For a more laid-back experience, paddle your way through the serene Loboc River on a stand-up paddleboard or kayak.
---
Bohol is a paradise for island hopping enthusiasts, offering a variety of breathtaking islands to explore. From the stunning white sand beaches of Panglao Island to the pristine waters of Balicasag Island, there are plenty of options for travelers looking to experience the beauty of the Philippine islands. 
Island hopping tours are readily available, allowing visitors to discover the hidden gems of Bohol and create unforgettable memories.
---
Bohol Shopping
Bohol is not just a place for beautiful beaches and cultural attractions, it's also a shopping haven for those looking for unique souvenirs and handicrafts. The province is known for its locally made products, from delicacies to handcrafted items made from indigenous materials. 
Bohol Souvenirs
Bohol Market
Bohol's markets are filled with a variety of offerings, from fresh produce to intricate handicrafts, making it the perfect place to find the perfect Bohol souvenir to bring home with you.
---
Bohol Events
What really sets Bohol apart from other destinations in the Philippines is its festivals, theaters, concerts, and events, which provide a unique insight into the local way of life. Whether you're a music lover, a theater enthusiast, or a fan of outdoor activities, you'll find plenty of things to do and see in Bohol.
Bohol's festivals are among the most colorful and vibrant in the Philippines, reflecting the province's rich history, culture, and religion. There are many festivals held throughout the year in Bohol, but some of the most popular include the Sandugo Festival, the Ubi Festival, and the Bolibong Kingking Festival.
---
Great Food and Drink Selection
Bohol is also a foodie's paradise. The island's cuisine is a fusion of different flavors and influences, making it a unique culinary experience for visitors. When it comes to food and drink, Bohol offers a delightful array of restaurant options. Local cuisine is a blend of indigenous and foreign influences, with seafood dishes being the highlight. 
Bohol Visayan Food
Bohol Restaurants
International Cuisine: Chinese, Korean, Japanese, German, French, Spanish Food
Bohol Foodie - Bohol is also a foodie's paradise. The island's cuisine is a fusion of different flavors and influences, making it a unique culinary experience for visitors. Meanwhile, the Loboc River Cruise takes you on a scenic journey down the river, where you'll be treated to traditional Festivals cultural performances and a buffet of local cuisine.
Bohol offers a wide range of Accommodation, from budget-friendly hostels to luxurious Hotels and resorts. Budget-Friendly Hostels include the Alona Beach Hostel, the Loboc River Hostel, and the Panglao Island Hostel. Luxurious Bohol Resorts include the The Lindsae Resort, the Bohol Beach Club, and the The Plantation Bay Resort and Spa.
Bohol Travel Possibilities
Bohol is a versatile destination that caters to various types of travelers, whether you're on a budget, traveling Solo, with family, as a couple, on a honeymoon, or even planning to retire or work from home. 
---
Getting There and Go Around
Getting to Bohol is easy, with flights available from major cities in the Philippines such as Manila and Cebu. The island can also be reached via ferry from nearby islands. The island is served by the Bohol-Panglao International Airport, which is located in Panglao Island. More about Getting in and out
Once you're on the island, there are plenty of car rental options available for those who prefer to explore at their own pace. You can rent a car, take a taxi, hop on a tricycle or ride a jeepney. Hop on Bohol Transport - Getting Around the Island
Alternatively, tour packages are available for those who prefer guided experiences.
---
All About Bohol Island
Bohol Tourism: A Guide to Cities and Towns
Bohol Islands, an island province in the Philippines, is a treasure trove of natural and cultural wonders. From the idyllic Bohol Islands to the vibrant cities and towns, this destination has something for everyone.
About Bohol: The province is known for its unique geological formations, including the famous Chocolate Hills, and is home to a diverse array of flora and fauna. The Bohol Sea also offers opportunities for water activities like snorkeling and diving.
Bohol People: The people of Bohol are warm and friendly, and their culture is deeply rooted in their history and traditions. Visitors can immerse themselves in local customs and beliefs through community-based tourism activities.
Bohol History: The province has a rich history that dates back to pre-colonial times, with evidence of early human settlements found in caves and rock formations. Spanish colonizers also left their mark on Bohol through historic churches and landmarks.
Bohol Culture: The province is known for its vibrant festivals, such as the Sandugo Festival, which commemorates the blood compact between Spanish explorer Miguel López de Legazpi and the Boholano chieftain Datu Sikatuna. The province is also home to various artisanal crafts like basket weaving and wood carving.
Bohol Government: The provincial government is committed to sustainable tourism and the preservation of its natural and cultural heritage. Local ordinances are in place to regulate tourism activities and protect the environment.
Bohol Economy: Tourism is a major contributor to the province's economy, with agriculture and fishing also playing significant roles. The province is home to various agri-tourism sites, where visitors can experience farming and food production.
Bohol Politics: The province is divided into 47 municipalities and one city, each with its own local government unit. The province is also represented in the national government through its elected officials.
In conclusion, Bohol is a must-visit destination for travelers looking for a unique and diverse vacation experience. With its stunning natural wonders, rich cultural heritage, and range of activities, it's no wonder that Bohol is becoming one of the Philippines' most popular destinations.