Alona Beach Panglao Island
Alona Beach, Panglao Island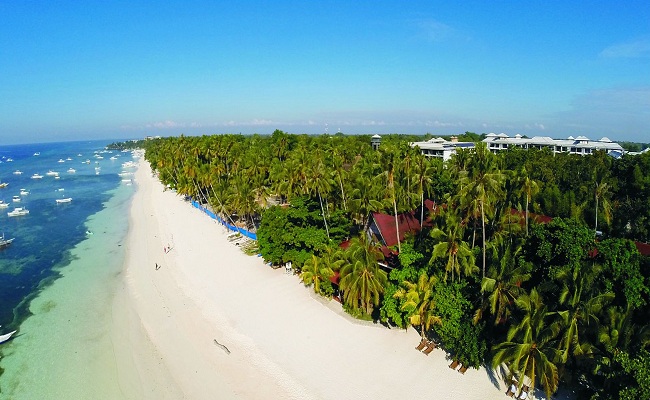 Secure your Cebu Bohol ferry tickets today to start your unforgettable journey!
Bohol Philippines
Recommended Bohol Philippines Tours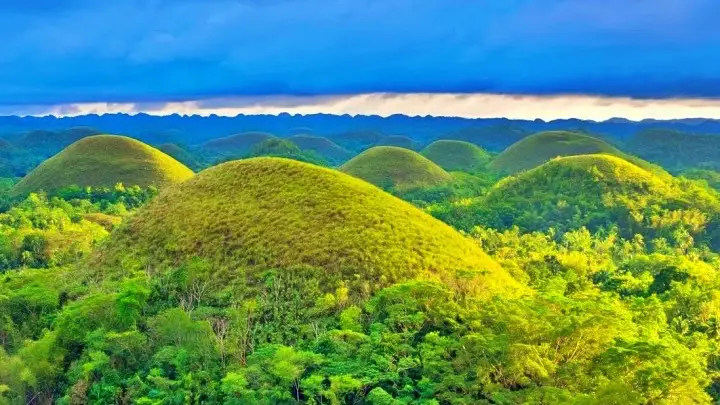 [ Bohol Sight Seeing Day Trips  - Check Out Availability ]
[ Full Day Cruise and Sailing Tours - Check out Availability ]
[ Full Day Adventure Tours - Check out Availability ]
Discover more of Bohol's natural wonders through our recommended tours. Click on the links below to embark on unforgettable adventures:
Ready to explore the beautiful islands of Cebu and Bohol? Secure your ferry tickets today through 12go and start your unforgettable journey!
Alona Beach in Panglao Bohol is famous for its coral white sand that stretches one and a half kilometers and ends in rocky cliffs at both sides. It is the most developed beach in Bohol and now one of the top tourist destinations in the Philippines.
Fringed by tall swaying coconut palm trees, some of which are leaning towards the sea, and the azure waters beyond, Alona Beach is a tropical paradise! Enhancing its looks are the blue and white outrigger boats that line the beach area ready to take visitors on an island tour or dive safari.
The morning sun's rays on the shimmering waters are beautiful to behold. Afternoons are shaded for the sun sets at the other side of the island. Yet when the sun has set and darkness settles in, the stars come out one by one and grace the night sky.

Yes, I wanna bet that only in Bohol will you see so many stars! Small stars, big stars, red, yellow, and blue twinkling stars! They fill up the night sky! And if you are lucky enough, you will witness one or two falling stars and so can fervently utter a wish!
At night also, the fishing boats "come out to play", so to speak. If you feel tired looking up towards the stars, then relax and look outwards towards the dark sea and you will see twinkling lights from the fishing boats out to get their daily catch.
Mind you, others are not satisfied watching this heavenly scenario. Down into the deep, they are out diving at the various beautiful dive spots that had made Panglao Island diving known to the outside world. There are so many of them and for more information just click on the above link.
The waters off Alona Beach are rich in marine resources. In fact, a few meters from the shore are sea grasses which are the habitat of small colored fishes. You have to watch out for sea urchins though. They are a-plenty! Their spines sting but can easily be removed. Do you know how? Simple! Just find someone to urinate on them and they will be gone in a jiffy! That is true local medication!

Click here to get the best hotel deals in Alona Beach Bohol
One hundred meters towards the deep is the edge of the "house" reef. Three to five meters down you will be able to see some corals and fishes even without diving equipment. This is an ideal place to snorkel.
To cater to the steady incoming visitors, many resorts have been put up along Alona Beach offering full-service, good accommodations, and an assortment of local and foreign cuisine. Dive shops are available offering dive gears for rent, dive instructions, training, and safaris.
There are about 30 resorts and 15 dive shops of different sizes in Alona Beach alone. At Alona, one can hire a boat and do diving around the island as well as in the islands of Balicasag and Siquijor. The beach is also the jump-off point to the island of Pamilacan for dolphin and whale watching.
Tired of hopping around? Then just sit at the bars and have a drink or two of a locally brewed beer. Alona beach has many bars where you can meet other travelers, strike up conversations with them and get enough info on places to visit and the like. Boholanos at the beach, whether visitors or resort staffs, are friendly and can make your stay more lively and memorable.
Yet, do not expect a rowdy night life at Alona Beach. Compared to Boracay, Alona is quite tame! The place is peaceful. Only the Oops! Bar offers live music or discos on the weekends. Some resorts have discos under the night sky and right on the beach for a change, if the visitors call for it.

If you are IN for BBQs, then Alona Beach is the place for you. At sunset, the beach side is transformed into grilling stations. Almost all resorts with restaurants set up grills by the beach. You can choose what food you want, whether grilled pork, chicken, and the ever present sea foods.
Tables and chairs are provided, so with your food and a cold beer, you can likewise enjoy looking out to the sea and watch the fishing boats go by and the subsequent twinkling stars. For fine dining, an open-air Italian restaurant is available up the street of Alona Beach towards the highway.
Alona Beach Location
Alona Beach is located at barangay Tawala, Panglao Island, around 20 kilometers from Tagbilaran City. Travel time from Tagbilaran City to Alona Beach may take to about 30-40 minutes. Tagbilaran City can be reached in 1.5 hours by fast ferries from Cebu or by airplane from Manila.
Panglao Island is divided into two towns: Dauis and Panglao. Alona Beach is in Panglao town. The island is connected to mainland Bohol by two bridges: one bridge connecting to Dauis town and the other to Panglao town from Tagbilaran City.
Other Panglao attractions
See also the other beaches of Panglao Island. Rent a motorbike and tour the island. Visit the Hinagdanan Cave, the massive stone churches of Dauis and Panglao towns and the biggest stone tower of Bohol which can be found at Panglao town.
There is so much to do and many places to visit to fill up one's time while in the island. One can also opt to tour the many beautiful sites of Bohol which includes, of course, the famed Chocolate Hills. If you enjoy trekking, then go and see the Can-umantad Falls, the Mag-aso Falls and the Kinahugan Falls.
There are also lots of caves in Bohol. In fact, Bohol is often referred to as a cave country. There are caves in Danao, Jagna, Loboc, Candijay, Guindulman, Antequera, Trinidad and don't forget Panglao's pride: the Hinagdanan Cave. Almost all coastal towns have caves and some are situated inland but near to streams and rivers.