Discovering Bohol's Hidden Gems: Unraveling the Wonders through Bohol Maps
Secure your Cebu Bohol ferry tickets today to start your unforgettable journey!
Welcome to Bohol, a tropical paradise nestled in the heart of the Philippines! Known for its pristine white-sand beaches, diverse wildlife, and enchanting landscapes, Bohol offers a unique travel experience for every adventurer. As you embark on your journey, let the comprehensive Bohol maps be your guide, unveiling the secrets of this mesmerizing island. From iconic landmarks to off-the-beaten-path wonders, we invite you to explore Bohol's captivating attractions and create unforgettable memories along the way.
Recommended Bohol Philippines Tours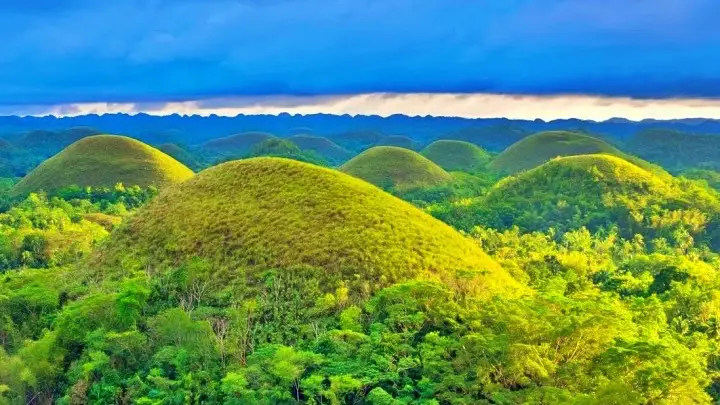 [ Bohol Sight Seeing Day Trips  - Check Out Availability ]
[ Full Day Cruise and Sailing Tours - Check out Availability ]
[ Full Day Adventure Tours - Check out Availability ]
Discover more of Bohol's natural wonders through our recommended tours. Click on the links below to embark on unforgettable adventures:
Ready to explore the beautiful islands of Cebu and Bohol? Secure your ferry tickets today through 12go and start your unforgettable journey!
Bohol Geosite Map: Exploring Bohol's Natural Wonders
Bohol's diverse geography presents a haven for nature enthusiasts. The detailed maps of the island reveal the stunning Chocolate Hills, an iconic geological formation composed of over a thousand perfectly cone-shaped hills. Witness the ethereal beauty of these hills from the observation deck, where you can capture breathtaking panoramic views.
Hinagdanan Cave: Located in Dauis, Hinagdanan Cave is a captivating underground cave known for its impressive stalactite and stalagmite formations. Visitors can explore the cave's interior, marvel at its natural beauty, and even take a refreshing dip in the crystal-clear underground pool.
Tarsier Sanctuary: This sanctuary in Corella provides a protected habitat for the endangered Philippine tarsiers, one of the world's smallest primates. Visitors can observe these adorable creatures up close while learning about conservation efforts and their unique behaviors.
Punta Cruz Watchtower: Situated in Maribojoc, Punta Cruz Watchtower offers panoramic views of the Bohol Sea. Built in the 18th century, the watchtower served as a lookout point for early settlers to detect incoming pirates. It's a historic site with stunning vistas.

Sagbayan Peak: Sagbayan Peak is a scenic viewpoint in Sagbayan that offers breathtaking panoramic views of the Chocolate Hills. It features beautifully landscaped gardens, an observation deck, and various activities such as zip-lining and a butterfly dome.
Tarsier Sanctuary: Similar to the Corella sanctuary, this Tarsier Sanctuary in Bilar provides a safe haven for Philippine tarsiers. Visitors can observe these nocturnal primates in their natural habitat and learn about their conservation status and unique characteristics.
Chocolate Hills: One of Bohol's most famous attractions, the Chocolate Hills in Carmen is a geological formation consisting of thousands of cone-shaped hills. During the dry season, the hills turn chocolate brown, creating a captivating landscape that is truly unique.

Panoramic Park: Nestled in Alicia, Panoramic Park offers breathtaking views of the surrounding landscapes, including the Alicia Schist and Cadapdapan Rice Terraces. Visitors can enjoy the serene environment and capture stunning photos of the picturesque scenery.
Alicia Schist: The Alicia Schist is a rock formation in Alicia known for its unique layered appearance. It's a geological wonder that showcases the natural beauty and diverse landscape of Bohol.
Princess Manan-aw Cave:Princess Manan-aw Cave is a hidden gem in Alicia. It features stunning stalactite and stalagmite formations, underground chambers, and an underground river. Visitors can explore the cave's mystical beauty and enjoy an adventurous experience.

Can-Umantad Falls: Located in Candijay, Can-Umantad Falls is a majestic multi-tiered waterfall surrounded by lush greenery. Visitors can marvel at the cascading waters, swim in the natural pools, or simply enjoy the tranquil atmosphere of the area.
Canawa Cold Spring: Canawa Cold Spring offers a refreshing retreat in Candijay. The spring is known for its crystal-clear waters that remain cool even during hot weather. Visitors can take a dip, relax, and enjoy the natural surroundings.
Cadapdapan Rice Terraces: These terraces in Candijay resemble the famous rice terraces of Banaue in the northern Philippines. Carved into the mountainside, they showcase the ingenuity of the locals and offer a picturesque landscape to explore.

Lamanok Island, Anda: Lamanok Island in Anda is an archaeological site that offers a glimpse into the ancient culture and history of Bohol. Visitors can explore caves, view rock art, and learn about the island's significance in the region.
Combento Cave, Anda: Combento Cave in Anda is popular attraction known for its stunning stalactite and stalagmite formations. Visitors can embark on an exciting spelunking adventure as they navigate through the cave's intricate chambers and marvel at the natural wonders that have formed over thousands of years.
Cabagnow Cave Pool, Anda: Cabagnow Cave Pool is a unique natural pool located in Anda. It offers a refreshing swimming experience in a picturesque cave setting. The pool is known for its crystal-clear turquoise waters, making it an ideal spot to cool off and relax.
Bohol Outdoor Adventure Activities

Bohol's rich history and vibrant culture come alive through its well-preserved heritage sites. With the aid of the Bohol maps, discover the magnificent Baclayon Church, one of the oldest stone churches in the Philippines, constructed during the Spanish colonial era. Marvel at its intricate architecture and religious relics that date back centuries.
Abatan Firefly Watching: Located in Abatan River, this unique experience allows you to witness the enchanting beauty of fireflies illuminating the mangrove trees along the riverbank during a relaxing night cruise.
Mag-aso Falls: Nestled in the town of Antequera, Mag-aso Falls features a stunning multi-tiered waterfall surrounded by lush greenery. Visitors can enjoy swimming in the cool natural pools formed by the cascading waters.
Kawasan Falls: Situated in the town of Balilihan, Kawasan Falls offers a serene retreat in nature. The falls boast crystal-clear turquoise waters that cascade down into refreshing swimming areas, making it a perfect spot for relaxation and picnics.
Sikatuna Mirror of the World: Opened in late 2018, this unique tourist destination in Bohol offers a truly one-of-a-kind experience. The park showcases meticulously crafted scaled-down replicas of famous statues and structures from around the world. Nestled within a picturesque botanical garden, adorned with palms, orchids, and vibrant tropical flora, the park provides a serene setting for visitors to explore.
Rajah Sikatuna Protected Landscape: Located in the central part of Bohol, this protected area encompasses a diverse range of ecosystems, including rainforests, mountains, and rivers. It offers opportunities for nature exploration, hiking, and wildlife spotting.
Stand Up Paddle: Loboc offers various locations for stand-up paddleboarding, a popular water activity. Whether in the calm waters of rivers or along the coastline, visitors can enjoy paddling and admiring the picturesque views of Bohol.
Pahangdog Twin Falls: Tucked away in the municipality of Bilar, Pahangdog Twin Falls is a scenic natural attraction that features two beautiful waterfalls flowing into refreshing pools. It's an ideal place for swimming, picnicking, and immersing oneself in nature.
Pangas Falls: Situated in the municipality of Garcia Hernandez, Pangas Falls offers a tranquil setting amidst lush greenery. Visitors can take a refreshing dip in the cool waters or simply enjoy the peaceful ambiance of the falls.
ATVs at Chocolate Hills: This adventure activity allows visitors to explore the iconic Chocolate Hills, a geological formation comprising thousands of cone-shaped hills. Riding all-terrain vehicles (ATVs) offers an exhilarating way to discover the unique landscape.
Malian Dam: Located in the town of Alicia, Malian Dam is a man-made reservoir surrounded by scenic hills and forests. Visitors can enjoy boating, fishing, or simply appreciating the serene beauty of the area.
Danao Adventure Park: Situated in the municipality of Danao, this adventure park offers a wide range of thrilling activities, including zip-lining, rappelling, caving, and river tubing. It's an adrenaline junkie's paradise.
Benliw Daam: Located in the municipality of San Miguel, Benliw Daam is a natural spring surrounded by lush vegetation. Visitors can take a dip in the refreshing waters, enjoy a picnic, or simply relax in the tranquil environment.
Pulang Yuta: Pulang Yuta, also known as Red Earth, is a scenic red rock formation located in the town of Loboc. It offers a unique and picturesque landscape, perfect for photography and enjoying the natural beauty of Bohol.
Danicop Spring: Nestled in the municipality of Dagohoy, Danicop Spring is a hidden gem known for its crystal-clear waters and serene atmosphere. Visitors can swim, relax, or have a picnic while enjoying the tranquil surroundings.
Cultural and Heritage Bohol Map: Immerse in Bohol's Cultural Heritage
These heritage churches in Bohol not only hold religious significance but also serve as architectural and historical gems, showcasing the rich cultural heritage of the province. Visitors can appreciate their architectural beauty, explore their interiors, and immerse themselves in the history and spirituality that these churches represent.
1. St. Augustine Church, Panglao: St. Augustine Church in Panglao is a historic church known for its Spanish colonial architecture. The church features intricate stone carvings and a bell tower that offers panoramic views of the surrounding area. It is a significant religious and cultural landmark in the region.
2. Our Lady of the Assumption Church, Dauis: Our Lady of the Assumption Church in Dauis is a charming church located near the shores of Panglao Island. It is famous for its unique octagonal shape and beautiful frescoes that adorn the ceiling. The church's serene setting and historical significance make it a popular destination for visitors.
3. St. Joseph the Worker Cathedral, Tagbilaran: St. Joseph the Worker Cathedral in Tagbilaran is the main cathedral of the Diocese of Tagbilaran. The cathedral features an impressive facade and a towering bell tower. Inside, visitors can admire the intricate stained glass windows and religious artwork.
4. Our Lady of the Immaculate Conception Church, Baclayon: Our Lady of the Immaculate Conception Church in Baclayon is one of the oldest churches in the Philippines. It is recognized as a National Cultural Treasure and a designated UNESCO World Heritage Site. The church's Baroque architecture and well-preserved interior, including a centuries-old pipe organ, make it a significant cultural and historical landmark.
5. Sta. Monica Church, Alburquerque: Sta. Monica Church in Alburquerque is a picturesque church situated on a hilltop. It offers panoramic views of the surrounding countryside. The church's simple yet elegant design and peaceful ambiance provide a serene space for prayer and reflection.
6. Holy Trinity Church, Loay: Holy Trinity Church in Loay is a Spanish-era church known for its stone facade and bell tower. The church's interior features intricate wooden carvings and a beautifully painted ceiling. It is a place of worship that showcases the architectural and artistic heritage of Bohol.
7. St. Nicholas Church, Dimiao: St. Nicholas Church in Dimiao is a centuries-old church that exemplifies the Spanish colonial architectural style. The church's notable features include a massive stone bell tower and a unique pipe organ. It stands as a testament to the rich history and religious traditions of the area.
8. St. Michael Church, Jagna: St. Michael Church in Jagna is a striking church with a mix of Romanesque and Gothic architectural elements. It is known for its grand facade and intricate details. The church serves as a significant spiritual and cultural center for the local community.
9. Our Lady of Light Church, Loon: Our Lady of Light Church in Loon is a historic church known for its coral stone construction and impressive bell tower. The church's interior features ornate altars and religious artifacts. It is a place of worship and a symbol of faith in the region.
Exploring Bohol museums
These museums in Bohol offer visitors the opportunity to delve into the diverse aspects of the province's culture, history, natural history, and artistic expressions. Exploring these museums provides a deeper appreciation for the local heritage and contributes to a more immersive and educational travel experience.
1. Nova Shell Museum: The Nova Shell Museum in Bohol is a fascinating attraction that showcases an extensive collection of seashells from around the world. Visitors can explore the museum's exhibits, learn about the different types of shells, and appreciate the beauty and diversity of these marine treasures.
2. Bohol National Museum: The Bohol National Museum is a cultural institution dedicated to preserving and showcasing the rich history and heritage of the province. It features exhibits on Bohol's archaeological finds, ethnographic artifacts, natural history specimens, and artworks, providing visitors with a deeper understanding of Bohol's cultural and historical significance.
3. Carlos P. Garcia Heritage Museum: Located in Tagbilaran City, the Carlos P. Garcia Heritage Museum pays tribute to the life and legacy of Carlos P. Garcia, the fourth President of the Philippines and a native of Bohol. The museum houses a collection of personal belongings, photographs, documents, and memorabilia that offer insights into the life and achievements of this notable figure in Philippine history.
4. Museo Parroquial de Baclayon: Situated in the town of Baclayon, the Museo Parroquial de Baclayon is a parish museum housed within the Baclayon Church complex. It exhibits religious artifacts, ecclesiastical items, and religious art, reflecting the religious heritage and cultural significance of the area.
5. Bohol Heritage Center: The NHCP Museo ng Pamana at Kasaysayang Boholano, also known as the Bohol Heritage Center, is a museum that highlights the cultural heritage of Bohol. It features exhibits on Bohol's historical events, influential personalities, traditional crafts, and indigenous culture, providing visitors with a comprehensive overview of the province's rich heritage.
Bohol Dive Sites
These diving sites in Bohol provide divers with the opportunity to explore thriving coral reefs, encounter diverse marine species, and witness the beauty of the underwater world. Whether it's vibrant coral gardens, encounters with large marine creatures, or unique reef formations, these sites offer unforgettable experiences for diving enthusiasts.
1. Panglao Island Diving: Panglao Island is renowned for its vibrant diving sites, offering a diverse underwater ecosystem. The island is surrounded by coral reefs teeming with marine life, including colorful coral formations, tropical fish, and fascinating macro life. Divers can explore sites such as Balicasag Island and Puntod Wall, where they can encounter sea turtles, reef sharks, and an array of coral species.
2. Pamilacan Island Diving: Pamilacan Island is a small island off the coast of Bohol known for its exceptional diving opportunities. The island is a haven for encounters with large marine creatures, particularly dolphins and whales. Divers can also explore vibrant reefs that host a variety of fish species, including barracudas, groupers, and snappers.
3. Jagna Diving: Jagna, located on the southeastern coast of Bohol, offers excellent diving sites with diverse marine life. The area is known for its impressive wall dives, where divers can explore steep drop-offs adorned with colorful soft corals and sponges. Jagna is also home to various fish species, including nudibranchs, frogfish, and schools of jacks.
4. Danajon Double Barrier Reef: The Danajon Double Barrier Reef is a unique diving destination located off the northern coast of Bohol. It is known for its double reef system, consisting of two parallel coral reefs. The reef system supports a rich biodiversity, including colorful corals, reef fish, and larger pelagic species. Divers can explore the vibrant underwater landscape and witness the ecological significance of this unique reef system.
5. Cabilao Island Diving: Cabilao Island offers pristine diving sites and is renowned for its stunning coral gardens and underwater visibility. Divers can encounter a variety of marine life, including schools of jacks, barracudas, and vibrant reef fish. The island is also known for its resident population of turtles, making it an exciting destination for divers and underwater photographers.
Bohol Farm Tourism Map: Have fun in the farmlands
These farms and agricultural destinations in Bohol provide visitors with the opportunity to connect with nature, learn about sustainable farming practices, and experience the region's agricultural heritage firsthand.
1. South Farm, Panglao: South Farm in Panglao offers a unique agritourism experience, showcasing organic farming practices and sustainable agriculture. Visitors can explore the farm's lush fields, learn about organic cultivation techniques, and even participate in hands-on farming activities.
2. Egay's Farm, Panglao: Egay's Farm in Panglao is a charming agricultural attraction that provides insights into local farming practices. Visitors can interact with various farm animals, enjoy pony rides, and witness demonstrations of traditional farming techniques.
3. Iyaah Eco Farm, Tagbilaran: Located in Tagbilaran, Iyaah Eco Farm is a serene retreat focused on organic farming and sustainable living. Visitors can take leisurely walks through the farm, learn about organic farming methods, and indulge in healthy farm-to-table meals.
4. Green Thumb Mushroom Farm, Corella: The Green Thumb Mushroom Farm in Corella is a fascinating destination for mushroom enthusiasts. Visitors can explore the farm's mushroom cultivation process, learn about different mushroom varieties, and even purchase fresh mushrooms to take home.
5. Vita Isola Leisure Farm, Loon: Vita Isola Leisure Farm in Loon is a scenic farm that offers a peaceful getaway in nature. Visitors can enjoy activities such as horseback riding, fishing, and exploring the farm's fruit orchards, providing a relaxing and immersive rural experience.
6. Cambuhat Village Oyster Farm, Buenavista: Cambuhat Village Oyster Farm in Buenavista is an interactive destination that provides insights into oyster farming. Visitors can take part in activities such as oyster harvesting, mangrove planting, and learning about sustainable aquaculture practices.
7. Many's Nature Farm, San Miguel: Many's Nature Farm in San Miguel is a tranquil organic farm surrounded by lush greenery. Visitors can learn about sustainable farming practices, participate in gardening workshops, and enjoy the serene ambiance of the farm's beautiful landscape.
8. Ubay Stock Farm: Ubay Stock Farm is an agricultural research and development center located in Ubay. The farm focuses on livestock breeding and management, and visitors can learn about animal husbandry practices, observe different livestock species, and gain insights into the region's agricultural industry.
9. Strawberry Farm, Jagna: The Strawberry Farm in Jagna offers a delightful experience for fruit lovers. Visitors can pick fresh strawberries, learn about strawberry cultivation, and savor the sweet and juicy flavors of the farm's produce.
Bohol Food Map: Savor Bohol's Culinary Delights 
Your exploration of Bohol is incomplete without savoring its delectable culinary offerings. The Bohol maps will direct you to the bustling markets and local eateries, where you can sample regional delicacies. Don't miss the chance to indulge in "Puso," a unique dish made of rice wrapped and cooked in coconut leaves, often served with grilled seafood or roasted pork.
For a sweet treat, try "Peanut Kisses," Bohol's famous peanut delicacy made from locally grown peanuts. These bite-sized treats make for perfect souvenirs to share with friends and family back home. Remember to consult the maps to find the best spots for sampling Bohol's gastronomic delights.
Mapping the Creative Industries of Bohol
These sites in Bohol offer visitors a chance to witness and appreciate the rich artistic traditions and craftsmanship of the local communities. From weaving and basket making to wood carving and traditional culinary delights, these experiences provide a deeper understanding of Bohol's cultural heritage.
1. Tubigon Loomweavers Multipurpose Cooperative: Located in Tubigon, this cooperative is dedicated to preserving and promoting the art of traditional handloom weaving. Visitors can witness skilled weavers in action, creating intricate patterns and designs on various textiles, such as blankets, scarves, and garments.
2. Antequera Basket Weaving: Antequera is known for its skilled basket weavers who produce beautiful and functional woven products. Visitors can observe the intricate weaving process and even try their hand at creating their own baskets under the guidance of local artisans.
3. Aproniana Gift Shop in Baclayon: Aproniana Gift Shop in Baclayon offers a wide range of locally made handicrafts and souvenirs. From handcrafted jewelry and accessories to woven products and wooden crafts, visitors can find unique items that reflect Bohol's rich artistic heritage.
4. Asin Tibuok in Alburquerque: Asin Tibuok is a traditional Boholano delicacy made from coconut milk, sugar, and glutinous rice. In Alburquerque, visitors can witness the process of making this sweet treat and even taste its creamy and flavorful goodness.
5. Wood Carving in Alburquerque: Alburquerque is renowned for its skilled wood carvers who create intricate sculptures and crafts from various types of wood. Visitors can observe the artists at work, see their craftsmanship, and even purchase beautifully carved items as mementos.
6. Bolo Making in Loay: Loay is known for its traditional bolo (machete) making. Visitors can witness the skillful blacksmiths shaping and forging blades, crafting the handles, and assembling the iconic Filipino tool. The process showcases the craftsmanship and expertise passed down through generations.
Google Interactive Map
Conclusion 
As your Bohol adventure comes to an end, reflecting on your journey will remind you of the beauty and diversity this island has to offer. From its breathtaking natural landscapes to its rich cultural heritage, Bohol captures the hearts of travelers from around the world. Thanks to the informative Bohol maps, you were able to navigate through this enchanting island, uncovering hidden gems and immersing yourself in unforgettable experiences.
Whether you explored the mystical Chocolate Hills, encountered the adorable tarsiers, or indulged in the local cuisine, Bohol maps served as your trusty companion, ensuring you didn't miss a single remarkable sight. As you bid farewell to Bohol, take a piece of its magic with you and share your experiences with others, inspiring them to embark on their own Bohol adventure.
So, grab your Bohol maps, pack your sense of adventure, and get ready to embark on a journey that will leave you mesmerized and yearning for more. Bohol awaits, eager to unveil its wonders to those who dare to explore its beauty. Discover the paradise that is Bohol, and let the maps be your guide to an extraordinary adventure you'll cherish for a lifetime.
Safe travels and happy exploring!
Other Practicalities: