Interactive Bohol Philippines Maps
---
Bohol is an island province of the Philippines located in the Central Visayas region. Its capital is Tagbilaran City. It is the 10th largest island in the country, located in the heart of the Visayas.  
To the west of Bohol is Cebu, to the northeast is the island of Leyte and to the south, across the Bohol Sea is Mindanao.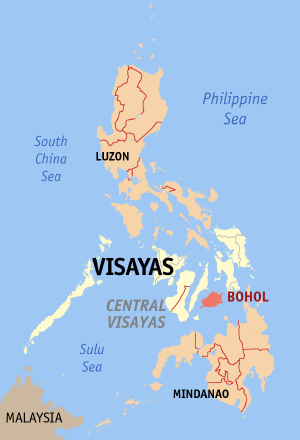 Hills dominate the island of Bohol. Two ranges run roughly parallel on the northwest and the southeast.

An interior plateau is dominated by limestone hills. In Carmen, Batuan and Sagbayan, these hills form near perfect cones in great numbers and are collectively referred to as the Chocolate Hills.
Bohol Map Figures
Region: Central Visayas (Region VII)
Capital: Tagbilaran City
Divisions - Highly urbanized cities: 0 - Component cities: 1 - Municipalities: 47 - Barangays: 1,109 - Congressional districts: 3
Population - 18th largest - Total (2007): 1,137,268 - Density: 276/km² (25th highest)
Area 29th largest - Total 4,117.3 km²
Founded March 25, 1565
Spoken languages: Cebuano, Boholano, Tagalog