Bohol Panglao International Airport: Your Gateway to Paradise
Secure your Cebu Bohol ferry tickets today to start your unforgettable journey!
If you're planning a trip to the stunning island of Bohol in the Philippines, you'll likely be arriving at the Bohol Panglao International Airport, or Panglao Airport for short.
This modern and efficient airport is the main gateway to the island and has quickly become a popular destination for travelers from all over the world.
Bohol Panglao International Airport (BPIA) is your gateway to paradise, making travel to this stunning destination easier than ever before.
As the largest airport in the region with a capacity of up to 2 million passengers per year, the Panglao Airport has quickly become a hub for tourists visiting Bohol, nearby destinations such as Cebu and Boracay, and even international travelers.
Recommended Bohol Philippines Tours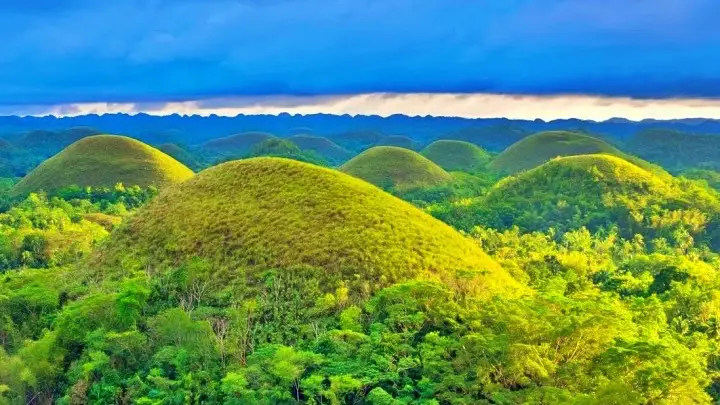 [ Bohol Sight Seeing Day Trips  - Check Out Availability ]
[ Full Day Cruise and Sailing Tours - Check out Availability ]
[ Full Day Adventure Tours - Check out Availability ]
Discover more of Bohol's natural wonders through our recommended tours. Click on the links below to embark on unforgettable adventures:
Ready to explore the beautiful islands of Cebu and Bohol? Secure your ferry tickets today through 12go and start your unforgettable journey!
Located on Panglao Island, just a short distance from the provincial capital of Tagbilaran City, the airport is named after the island where it's situated. Panglao Island is a popular tourist destination in its own right, known for its beautiful beaches, crystal-clear waters, and world-class diving and snorkeling.
In this blog post, we'll take a closer look at the Bohol Panglao International Airport and give you everything you need to know to make your trip to Bohol a breeze.
The airport currently serves several domestic destinations, including Manila, Cebu, Davao, Clark, and other cities throughout the Philippines. There are also international flights available, with direct flights to Seoul, South Korea, and Shenzhen, China, with plans to expand to other destinations in the future.
Getting to and from the Airport
If you're flying in from another part of the Philippines, there are a number of airlines that operate flights to Bohol, including Philippine Airlines, Cebu Pacific, and AirAsia.
Once you arrive at the airport, there are a number of transportation options to get you to your final destination. Taxis and private cars are readily available outside the terminal building, and there are also a number of shuttle services that can take you to popular destinations on the island.
If you're staying in Tagbilaran City, you can expect to pay around PHP 300-400 for a taxi ride from the airport. If you're heading to one of the more popular tourist areas, such as Alona Beach or Panglao Island, you can expect to pay a bit more.
Facilities at the Airport
The Panglao Airport boasts modern facilities and amenities, ensuring a comfortable travel experience for all passengers. The spacious and well-lit terminal building provides ample seating and air conditioning to keep you cool in the tropical heat. 
There are several restaurants and cafes where you can grab a bite to eat or a cup of coffee before or after your flight, as well as a number of shops where you can pick up souvenirs or travel essentials.
The Panglao Airport is a modern and efficient facility that offers a range of amenities for travelers. The airport offers free Wi-Fi throughout the terminal building, so you can stay connected while you wait for your flight.
There are also charging stations where you can top up your devices, as well as baggage storage facilities if you need to store your bags for a few hours.
One of the standout features of the Bohol Panglao International Airport is its open-air design, which allows you to enjoy the warm tropical breeze as you wait for your flight. The terminal building is surrounded by lush greenery, and there are several outdoor seating areas where you can relax and soak up the sunshine.
Moreover, Panglao Airport's apron size of approximately 64,220 square meters can accommodate several aircraft at the same time, including narrow-body and wide-body planes.
The airport is designed to handle various types of commercial aircraft, making it easier for travelers to reach Bohol from different parts of the world.
The Panglao Airport is also equipped with facilities for night landings, allowing for flights to arrive and depart during nighttime hours.
Its modern air traffic control tower, runway lighting, and navigational aids, such as the instrument landing system (ILS), provide pilots with precise guidance to approach and land on the runway, even in low visibility conditions.
Things to Do Near the Airport
If you have some time to spare before or after your flight, there are plenty of things to see and do near the Bohol Panglao International Airport.
Panglao Island is home to some of the best beaches in the Philippines, including the popular Alona Beach, which is just a short drive from the airport. Here, you can relax on the white sand beach, go swimming in the clear turquoise waters, or try your hand at snorkeling or scuba diving.
If you're interested in local culture and history, be sure to check out the nearby Hinagdanan Cave. This stunning cave system features underground pools and rock formations that are thousands of years old.
Another popular attraction near the airport is the Bohol Bee Farm, which is a great place to sample some of the local cuisine and learn about the island's agriculture. Here, you can take a tour of the farm, sample some of the delicious organic honey, or enjoy a meal at the farm-to-table restaurant.
If you're looking for a place to stay near the Bohol Panglao International Airport, there are plenty of options to choose from. Here are a few recommendations:
No matter where you choose to stay, you'll be surrounded by the natural beauty of Bohol and have easy access to all the island's top attractions.
Explore Panglao Island
Panglao Airport: Expanding Horizons for Tourism


Panglao Airport stands as the primary entry point to a tropical paradise that is Panglao Island. Nestled in the heart of the Philippines, this airport serves as the first glimpse of the breathtaking natural wonders and warm hospitality that await visitors.
With ambitious plans for expansion and a vision to attract millions of tourists, Panglao Airport is poised to become a thriving hub of tourism and a gateway to unparalleled experiences.

Currently, Panglao Airport is equipped to handle domestic and international flights, connecting travelers from various corners of the world to the pristine beauty of Panglao Island. The airport's modern facilities and efficient operations ensure a seamless travel experience, allowing visitors to quickly immerse themselves in the island's charm and natural splendor.
However, the future holds even greater promise for Panglao Airport. As tourism in the region continues to flourish, there are ambitious plans for expansion and development to accommodate the increasing influx of visitors.
These expansion projects aim to enhance the airport's capacity, improve infrastructure, and introduce state-of-the-art amenities, ensuring a world-class travel experience for all.
With its strategic location and commitment to sustainable tourism, Panglao Airport is poised to attract millions of tourists in the coming years.
The island's pristine white sand beaches, vibrant coral reefs, and rich biodiversity act as a magnet, drawing nature enthusiasts, beach lovers, and adventure seekers from around the globe.
Visitors to Panglao Island can look forward to a myriad of experiences. Explore the colorful underwater world through diving and snorkeling, where vibrant marine life and stunning coral formations captivate the senses.
Relax on powdery beaches, basking in the warm sun and savoring the tranquil ambiance. Engage in thrilling water sports, go island hopping, or immerse yourself in the rich cultural heritage of the local communities.
Panglao Airport's ambitious plans align with the vision to position Panglao Island as a premier tourism destination, while maintaining a sustainable approach to preserve the natural beauty and ecological balance of the region.
By offering unparalleled experiences, promoting responsible tourism practices, and fostering partnerships with local communities, the airport aims to create a harmonious and unforgettable visit for every traveler.
As Panglao Airport expands its infrastructure and opens its doors to more travelers, it solidifies its position as a vital catalyst for economic growth and sustainable tourism in the region.
With its idyllic setting, warm hospitality, and ambitious plans, Panglao Airport truly embodies the spirit of being a gateway to paradise, inviting visitors from around the world to embark on a remarkable journey of discovery and create memories that will last a lifetime.