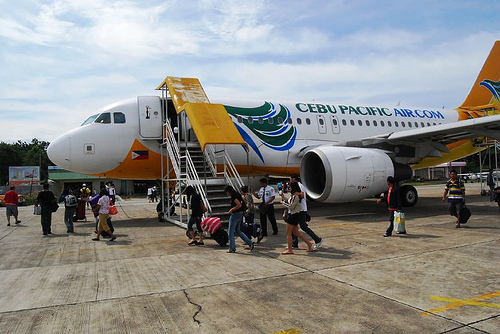 Fly to Paradise: Discovering Bohol's Hidden Gems with Cebu Pacific Airlines
Secure your Cebu Bohol ferry tickets today to start your unforgettable journey!
Welcome to Bohol - the Philippines' tenth largest island, known for its natural wonders, historic landmarks, and stunning beaches. If you're planning to visit this tropical paradise, it's good to know that there are many ways to get there.
Recommended Bohol Philippines Tours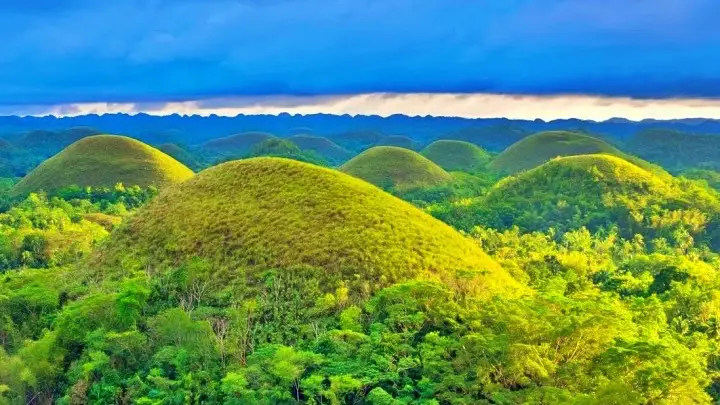 [ Bohol Sight Seeing Day Trips  - Check Out Availability ]
[ Full Day Cruise and Sailing Tours - Check out Availability ]
[ Full Day Adventure Tours - Check out Availability ]
Discover more of Bohol's natural wonders through our recommended tours. Click on the links below to embark on unforgettable adventures:
Ready to explore the beautiful islands of Cebu and Bohol? Secure your ferry tickets today through 12go and start your unforgettable journey!
An Island Paradise and a Low-cost Carrier: Bohol and Cebu Pacific Airlines
One of the most popular options is by flying with Cebu Pacific Airlines - one of the country's leading low-cost carriers that offers affordable flights to destinations all over the Philippines and beyond.
The Beauty of Bohol
Bohol is a province located in the Central Visayas region of the Philippines. It is composed of one main island (also called Bohol) and 75 smaller islands that surround it. The island is home to many natural attractions such as crystal clear beaches, lush forests, and unique geological formations such as the famous Chocolate Hills – a group of more than 1,200 cone-shaped hills that turn brown during dry season.
Aside from its natural wonders, Bohol also has many historical landmarks worth exploring. The Blood Compact Shrine in Tagbilaran City commemorates a historic pact between Spanish conquistador Miguel Lopez de Legazpi and Filipino chieftain Rajah Sikatuna in 1565 while Baclayon Church was built during Spain's colonization period in the country.
Flying with Cebu Pacific Airlines
Cebu Pacific Airlines is one of the pioneers in offering low-cost carrier services in Southeast Asia. Since its inception in 1996, it has grown rapidly into one of the largest airline companies operating from Manila's Ninoy Aquino International Airport Terminal 3. The airline offers affordable flights not only within Philippine destinations but also to other neighboring countries such as Japan, South Korea, and China.
Cebu Pacific's aircraft are known for their signature livery that showcases a fun and quirky design that reflects the airline's brand personality. With its commitment to providing passengers with a safe, comfortable, and hassle-free travel experience – Cebu Pacific is the perfect choice for those who want to explore Bohol without breaking the bank.
Getting to Bohol with Cebu Pacific Airlines
Flight options and schedules
Cebu Pacific Airlines has several daily flights from Manila to Bohol that operate as early as 4:55 AM and as late as 9:00 PM, ensuring convenient travel options for passengers with varying schedules. The airline also offers connecting flights from other cities in the Philippines and other countries in Asia, making it easier for travelers to get to Bohol from different parts of the world. Flight duration typically lasts between one hour and thirty minutes to two hours, depending on the origin location.
In-flight amenities and services
Despite being a budget airline, Cebu Pacific ensures that passengers have a comfortable flight experience. Passengers are given complimentary snacks and drinks during the flight, with additional meals available for purchase.
The airline also provides blankets upon request for those who want to sleep or keep warm during the flight. Cebu Pacific's planes are equipped with comfortable seats, ensuring that passengers can relax during their trip.
Tips for booking affordable flights
Cebu Pacific offers affordable fares year-round compared to other airlines flying to Bohol. To get even cheaper fares, book your tickets in advance or take advantage of seat sale promotions advertised on their website or social media accounts. Signing up for their newsletter will give you an insight into upcoming deals before they are released publicly.
Another way of securing discounts is through their GetGo Rewards Program where you can earn points by flying frequently or making use of their partner merchants' products/services. You can use these points later on when booking flights, redeeming free hotel stays, or purchasing exclusive merchandise at discounted rates.
Overall, traveling to Bohol has never been easier thanks to Cebu Pacific Airlines' affordable fares and convenient flight schedules. With excellent customer service throughout your journey coupled with fantastic in-flight amenities, you'll arrive in Bohol refreshed and ready to explore all the beautiful attractions that await.
H2 Exploring Bohol's Main Attractions
Chocolate Hills: Formation, history, and significance
Bohol's Chocolate Hills are one of the most iconic sites to see in the Philippines. These unique geological formations consist of thousands of conical hills that turn brown during the dry season, resembling chocolate mounds. Although their exact formation is still a mystery, experts believe they were created through natural erosion and weathering.
According to legend, the hills were formed by two giants who threw dirt at each other in a fight that lasted for days. In reality, these mounds are made of limestone covered with grass and shrubs, creating a spectacular landscape that is best viewed from the top of one of the hills.
Visiting this attraction requires some trekking but it's worth it for the stunning panoramic views from above. The site has also been declared as a National Geological Monument by the Philippines' government due to its unique formation.
Tarsier Sanctuary: Facts about the world's smallest primates
Bohol is also home to one of its most beloved creatures- tarsiers. These tiny primates are considered one of the smallest in the world with adult sizes averaging only 4-5 inches tall! They have large eyes relative to their body size and can rotate their head almost 360 degrees making them exceptional hunters.
Visitors can experience these cute creatures up close at Tarsier Sanctuary located just outside Corella town. This sanctuary serves as a habitat for rescued tarsiers that need rehabilitation before being released back into their natural habitat.
Visitors will be given strict instructions not to touch or flash cameras near them because they tend to get stressed easily. It's an unforgettable experience seeing these adorable primates up close and learning about their way of life in such an immersive way!
Loboc River Cruise: Experience local cuisine while cruising through the scenic river
A visit to Bohol wouldn't be complete without experiencing a leisurely boat ride along the Loboc River. The cruise starts at the town of Loboc and continues for an hour or so, providing passengers with stunning views of lush greenery and flowing water.
Aside from the picturesque views, one of the highlights of this cruise is being able to indulge in local cuisine while aboard. Dishes such as grilled fish, pork skewers, and fresh fruits can be enjoyed while floating down the river.
There's also live music performed onboard which adds a festive atmosphere to this already enjoyable experience. The Loboc River Cruise is perfect for tourists who want to take a break from busy island activities and enjoy nature while still experiencing local culture.
Panglao Island: White sand beaches, diving spots, and other activities
Bohol's Panglao Island is known for its stunning white-sand beaches that are perfect for swimming or lounging around with a cold drink in hand. There are many resorts on this island that offer beachfront amenities like sun loungers, parasols, fresh coconut juice stands as well as numerous watersports activities like snorkeling or jet-skiing.
For those interested in diving or snorkeling Panglao offers some fantastic dive spots - such as Alona Beach - where divers can see colorful coral reefs teeming with marine life. The nearby Balicasag Island is also renowned globally amongst divers because it houses some of the best underwater sites located near Bohol province.
If relaxation isn't your thing then there are plenty of other exciting activities like ATV rides through scenic countryside trails or ziplining over forest canopy that will give you an adrenaline rush! No matter what kind of traveler you are - adventure seeker or relaxation junkie - Panglao Island has plenty to offer!
Cebu Pacific Airlines' Services in Bohol
Hotel packages offered by the airline
Despite being a budget airline, Cebu Pacific ensures that passengers have a comfortable flight experience. Passengers are given complimentary snacks and drinks during the flight, with additional meals available for purchase.
The airline also provides blankets upon request for those who want to sleep or keep warm during the flight. Cebu Pacific's planes are equipped with comfortable seats, ensuring that passengers can relax during their trip.
Ground transportation options provided by
Getting around Bohol once you arrive can be tricky if you're not familiar with the area, but again Cebu Pacific Airlines has got you covered. They offer ground transportation services such as car rentals and van transfers to help get you from the airport to your hotel and around the island during your stay. Van transfers are available from Panglao Bohol airport to Panglao Island or other destinations in Bohol for a hassle-free ride right up to your doorstep.
The Benefits of Flying to Bohol with Cebu Pacific Airlines 
1. Your Gateway to Bohol:

Cebu Pacific Airlines serves as your gateway to the tropical paradise of Bohol. With regular flights connecting major cities in the Philippines and international destinations, Cebu Pacific makes traveling to this stunning island a breeze. Whether you're flying from Manila, Cebu, or beyond, you can count on Cebu Pacific's extensive network to bring you closer to Bohol's natural wonders.
2. Convenience and Flexibility:
One of the key advantages of flying with Cebu Pacific is the convenience and flexibility it offers. With multiple flights to and from Bohol each day, you have the freedom to choose a schedule that suits your travel plans. Cebu Pacific's commitment to punctuality ensures that you can maximize your time exploring Bohol's beautiful attractions without worrying about flight delays.
3. Modern Fleet and Comfortable Travel:
Cebu Pacific takes pride in its modern fleet of aircraft, equipped with state-of-the-art amenities and comfortable seating. Whether you're flying economy or availing the airline's premium services, you can expect a pleasant journey with ample legroom, adjustable seats, and in-flight entertainment options. Sit back, relax, and enjoy the scenic views as you soar through the skies to Bohol.
4. Affordable Fares and Promotions:
Cebu Pacific is renowned for its affordable fares, allowing budget-conscious travelers to experience the beauty of Bohol without breaking the bank. The airline regularly offers promotions, seat sales, and package deals, making it even more enticing to plan your trip to this tropical paradise. Keep an eye out for special offers and discounts to make your Bohol adventure even more budget-friendly.
5. Excellent Customer Service:
Cebu Pacific prides itself on delivering exceptional customer service. From the moment you book your flight until you reach your destination, the airline's friendly and professional staff are committed to ensuring your travel experience is seamless and enjoyable. Whether you have questions, require assistance, or need to make any arrangements, Cebu Pacific's customer service team is always ready to assist you.
6. Bohol-Specific Travel Services:
Cebu Pacific understands the unique needs of travelers visiting Bohol. As such, the airline offers a range of services tailored to enhance your Bohol experience. This includes specialized tour packages, airport transfers, and collaborations with local hotels and resorts to provide seamless connectivity and convenience throughout your journey.
7. Explore Beyond Bohol:
While Bohol is the main attraction, Cebu Pacific's extensive network allows you to explore other captivating destinations in the Philippines. Take advantage of the airline's connectivity and plan exciting side trips to destinations like Cebu, Palawan, Manila, and more. With Cebu Pacific, you can easily create an unforgettable island-hopping adventure across the archipelago.
Bohol is undoubtedly one of the most beautiful islands in the Philippines, with its stunning beaches, unique attractions, and friendly locals. And getting there is now easier than ever with Cebu Pacific Airlines' affordable flights and convenient services such as hotel packages and ground transportation options.
Whether it's your first time visiting or not, this paradise island will surely leave a lasting impression on you. Moreover, by supporting local businesses through responsible tourism initiatives when traveling like choosing locally-owned accommodations and patronizing small shops selling locally made products or hiring local tour guides who know about sustainable practices -- travelers can help ensure that this destination remains sustainable for generations to come while making memories that will last a lifetime.