Bohol Bee Farm Hotel
Secure your Cebu Bohol ferry tickets today to start your unforgettable journey!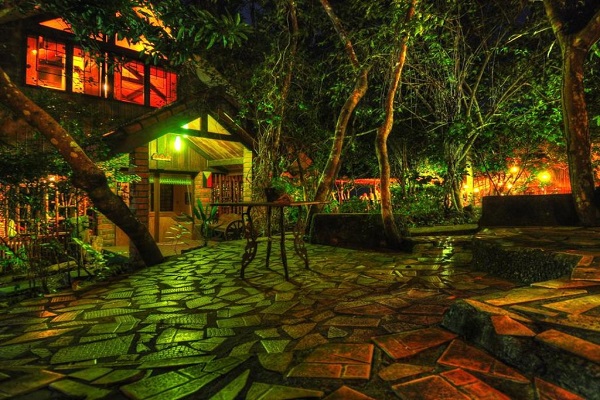 Welcome to the enchanting world of Bohol Bee Farm, a unique destination that combines sustainable farming, delicious organic food, and a close encounter with nature. Tucked away on the picturesque island of Bohol, this eco-friendly haven invites visitors to indulge in the beauty of the surroundings, savor healthy culinary delights, and learn about the fascinating world of bees.
In this comprehensive travel guide, we invite you to explore the wonders of Bohol Bee Farm and discover why it's a must-visit destination for nature lovers and food enthusiasts alike.
Recommended Bohol Philippines Tours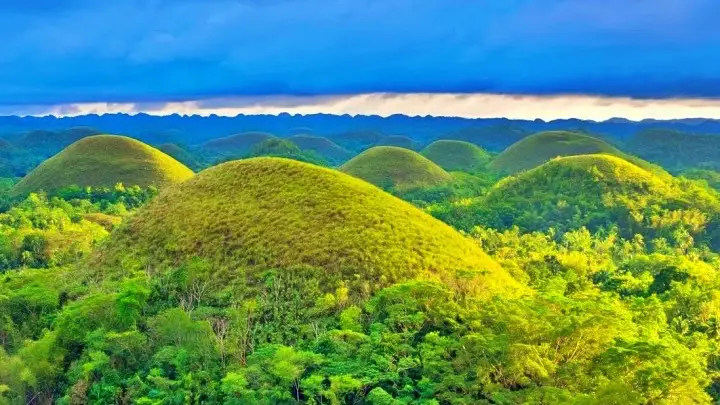 [ Bohol Sight Seeing Day Trips  - Check Out Availability ]
[ Full Day Cruise and Sailing Tours - Check out Availability ]
[ Full Day Adventure Tours - Check out Availability ]
Discover more of Bohol's natural wonders through our recommended tours. Click on the links below to embark on unforgettable adventures:
Ready to explore the beautiful islands of Cebu and Bohol? Secure your ferry tickets today through 12go and start your unforgettable journey!
Nestled along the tranquil shores of Panglao Island, Bohol Bee Farm is a thriving organic farm and eco-resort that offers a unique and immersive experience. As you step foot onto the farm, you'll be greeted by the gentle hum of bees and the lush greenery that envelops the area. The farm's mission is not only to provide a sanctuary for bees but also to promote sustainable agriculture and support the local community.
The farm produces native products like bags, wine bags, bags for their bottled produce, mats, hats, wall decors, weaved hammocks and window curtains and lots more. It is committed to promote organic farming, wherein a unique, eco-friendly line of food products that contributes to the health, integrity and dietary balance of the body are produced. Finished products are home-baked bread, squash muffins, pure honey, honey and mango spread, bee pollen, corn coffee and more.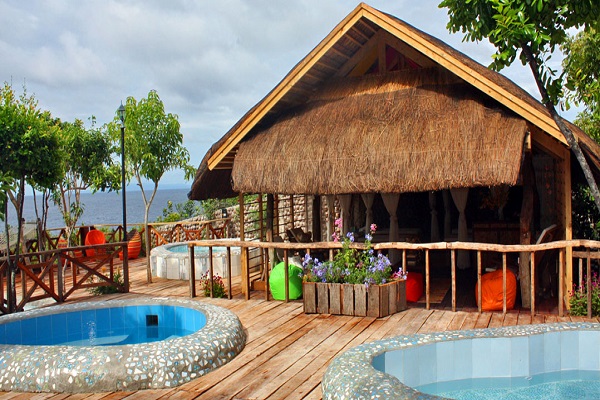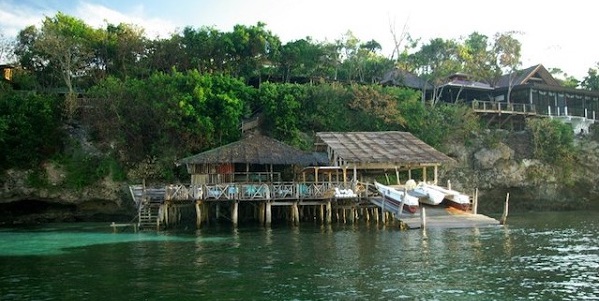 The Bohol Bee Farm restaurant uses vegetables that are all organically grown so are 100% natural and preservative free.

The hotel holds various farm activities showing how their products are made.
Getting There
To reach Bohol Bee Farm, you can fly into Tagbilaran Airport, which serves as the main gateway to Bohol. From there, it's a short drive to Panglao Island, where the farm is located. You can hire a tricycle, take a taxi, or arrange for a shuttle service provided by the farm. The journey itself offers glimpses of Bohol's stunning landscapes and coastal beauty.
Facilities and Services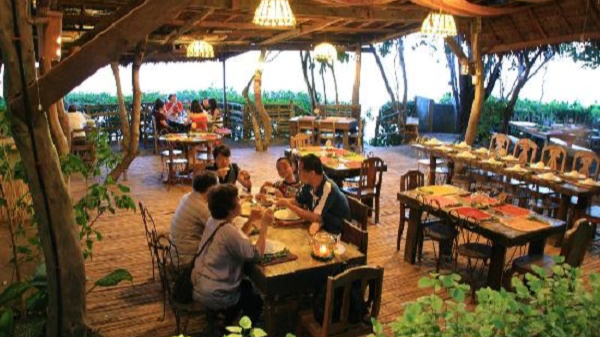 Farm-to-Table Delights:
One of the highlights of visiting Bohol Bee Farm is the opportunity to savor delectable organic cuisine made from fresh ingredients harvested on-site. The farm's renowned restaurant serves a variety of mouthwatering dishes, including salads, soups, sandwiches, and seafood specialties, all prepared with organic produce and infused with the flavors of the island. Don't miss the chance to try their signature ice cream flavors, which include unique creations such as malunggay (moringa), spicy ginger, and avocado.

Bee Farm Tour:
Embark on an educational and interactive tour of the farm, led by knowledgeable guides who share insights into beekeeping and organic farming practices. Learn about the crucial role bees play in pollination and gain a deeper appreciation for their significance in our ecosystem. Explore the different hives, observe the bees in action, and even have the opportunity to taste pure and natural honey straight from the comb.

Wellness and Activities:
Indulge in wellness activities at Bohol Bee Farm, where you can rejuvenate your mind, body, and soul. Take part in yoga classes, indulge in soothing massages using organic products, or simply unwind in a hammock while enjoying the calming ocean breeze. For those seeking adventure, the farm offers snorkeling, kayaking, and island hopping excursions to nearby attractions such as Balicasag Island Marine Sanctuary.

Accommodations

Bohol Bee Farm offers comfortable and eco-friendly accommodations that blend seamlessly with the natural surroundings. Choose from a range of options, including cozy cottages, ocean-view rooms, and cliffside villas, each providing a unique experience. Wake up to the sound of the waves, enjoy breathtaking sunsets, and relish the tranquility of your surroundings. The accommodations are designed to reflect the farm's commitment to sustainability, with eco-friendly features and a rustic charm.
Colony (Room A)
The Colony is a villa anchored on a cliff with a panoramic view of the sea and surrounded by tropical trees. The villa is fully furnished with 2 air-conditioned bedrooms, toilet and bath with hot and cold shower, living room, refrigerator, and dining room. The living room is very attractive with a portion of the wall made of decorative bamboo.
It is furnished with a sofa made of bamboo with upholstery, a divan, lampshade, carpet, and native decorations on walls. The bedroom is separated from the balcony by a glass sliding wall. The balcony has a round glass table and two cushioned chairs. A spiral staircase leads to the attic where a single bed is provided with mattress, beddings, table, chair, small cabinet and air conditioner.
The dining room has a big wooden dining table and chairs and a wonderful view of the sea. Displayed on the wall are native art collections and china wares. The villa can accommodate a maximum of 4 persons.
Breakfast is free plus transfers from the airport/pier and vice versa.
Honeycomb (Room B and C)
The rooms at Honeycomb are themed suites. Room B is a wood inspired room while Room C is a bamboo inspired room. Each room is fully air conditioned and has one queen-sized bed, one full bed, sofa beds, bedside table, lampshades, refrigerator and cable TV.
The bedroom is separated from the veranda by a curtained glass sliding wall. The veranda faces the sea and is provided with a rounded glass table and two upholstered chairs. The bathroom has tiled floors up to almost halfway of the wall. The rest of the wall is of glass. It is provided with toilet, bathtub, plastic curtains, hot and cold shower, large mirror, and towels.
Breakfast is free and transfer from airport/pier and vice versa.
The suites can accommodate a maximum 4 persons and every extra person will be charged Php 320/day.
Beehive (Room D, E, F, G and Barn)
The Beehive rooms are fully air conditioned and provided with a queen-sized bamboo bed with mattress, bedcovers, linens, and an extra sofa bed. Above the headboard and at both ends are placed wall night lamps with a native décor at the center.
The bedroom opens to a full veranda with a spectacular view of the sea. The rooms have toilet and bath with hot and cold shower, refrigerator and cable TV.
Breakfast is free and transfers from airport/pier and vice versa.
The room can accommodate up to 3 persons.
Function Halls
The Barn
The Barn is a newly opened function room in the midst of tropical trees overlooking the sea. It is furnished with wooden tables with native woven matting and centerpieces and wooden chairs with cushions. It can accommodate 40 - 50 persons and ideal for conferences and meetings.
A fully air conditioned room is available in the attic which is provided with a king-sized bamboo bed with mattress, bedcovers and linens, and lampshades.
Open Air Function Area
This Function area is overlooking the sea and can accommodate up to 30-40 guests.
It offers full catering services with honey-based cooking and fresh homegrown ingredients. It is furnished with audio-video facilities and has an open barbeque pit.
A two-tiered swimming pool is available for in-house guests.
Bohol Bee Farm Restaurant
This open-sided restaurant uses wooden tables and chairs some of which are antiques and unique in design. Tables have raffia matting woven with light colors. The mat is woven in the farm and is one of their saleable products. Sumptuous food is made from 100% natural ingredients and homegrown.
The restaurant serves refreshing drinks that are truly thirst-quenching.
Hilot Area
The Hilot Area is located at the edge of the cliff where traditional massage is offered. It is an open-sided thatched cottage with reed curtains all around. Inside are elevated bamboo beds with mattresses, white bedcovers and pillows. Outside are wooden lounging beds with white mattresses, provided with a small wooden table in between.
The cottage has an attic where 2 covered mattresses with pillows are provided. The cottage has a wonderful view of the sea and the surrounding garden is landscaped using white rounded stones with big red square tiles as pathways.
The Swimming Pool
The hotel's swimming pool is located in the middle of the farm banana and other tropical plants.
Bohol Bee Farm Buzz Café
The Buzz Café restaurant/cafe is located at the Upper Ground Floor of the Island City Mall, Tagbilaran City, Philippines.
Aside from serving organic gourmet dishes, the Café serves as a product display center, an ordering station and an information center.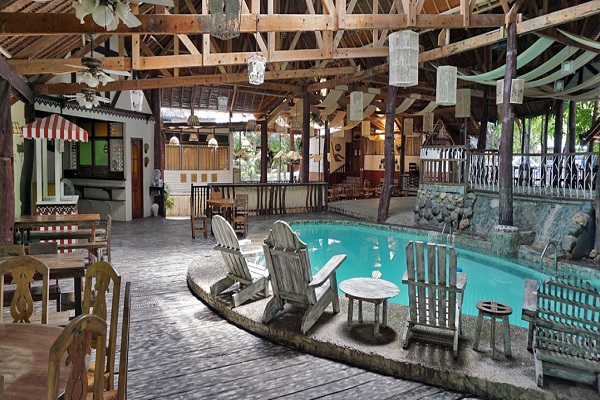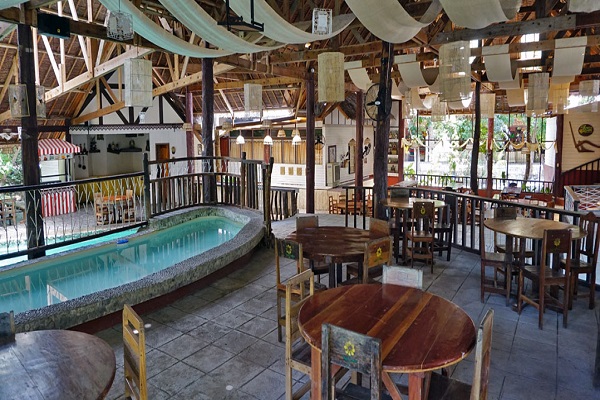 Bohol Bee Farm Activities
Basket Making; Farm Tour; Furniture Making; Horseback Riding; Organic Farming; Paddling Raffia Making; Sewing/Craft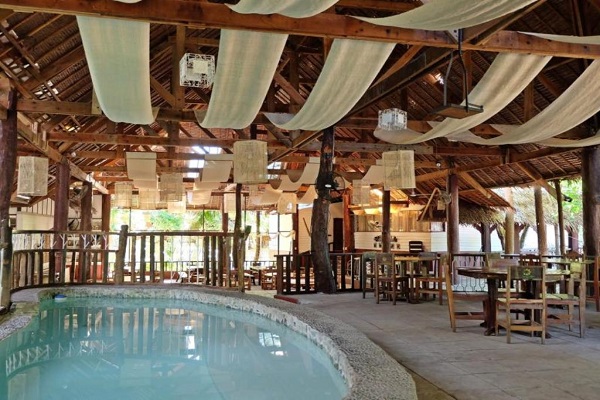 Community Engagement:
Bohol Bee Farm is deeply committed to community development and social responsibility. Through various initiatives, the farm empowers and supports local farmers, artisans, and entrepreneurs. Visitors have the opportunity to engage with the community by participating in workshops and demonstrations, learning traditional crafts, or even volunteering in farm activities. These interactions provide a meaningful cultural exchange and a chance to contribute positively to the local community.
Farm Products
As an advocate for sustainable practices, Bohol Bee Farm prioritizes environmental conservation. The farm employs organic farming methods, avoids the use of harmful chemicals, and promotes composting and recycling. Visitors are encouraged to follow eco-friendly practices during their stay, such as conserving water, minimizing waste, and respecting the natural habitats and wildlife surrounding the farm.
Fans, Furniture, Hats, Raffia, Mats, Shoulder Bags, Spread Bags, Raffia Mats, Wall Decors, Weaved Hammocks, Window Curtains, Wine Bags, Bread, Bee Pollen, Choco Spread Cookies (Honey & Coconut), Honey (Pure), Honey Spread (Honey & Cheese) Honeyed Bahalina (Coconut Wine) Honeyed Salabat (Ginger Tea) Kape Mais (Corn Brew) Mango Spread (Mango & Honey) Pastries Pesto Spread (Basil, Garlic & Honey) Squash Muffins
Overview
Bohol Bee Farm is a haven for nature lovers, food enthusiasts, and those seeking an authentic and sustainable travel experience. From the buzzing of bees to the farm-fresh flavors, every aspect of your visit to Bohol Bee Farm immerses you in the beauty and serenity of the surroundings. Indulge in organic delights, learn about beekeeping, and engage with the local community while supporting sustainable practices. Whether you're seeking relaxation, culinary adventures, or cultural encounters, Bohol Bee Farm offers a unique and unforgettable experience that will leave you with a deeper appreciation for nature's bounties and the importance of sustainable living. So, come and experience the sweet embrace of Bohol Bee Farm and let its beauty and commitment to sustainability inspire you on your journey.
Comments from our team.
The Bohol Bee Farm Hotel is a unique establishment in that it offers its guests with a wide range of native products and home-grown organic food and dishes that are 100% preservative free.
The Hotel has well-designed architectural buildings housing luxurious rooms with furniture made from bamboo and native materials.
The hotel has lined-up activities showing how each of their products are made; from raffia weaving, basket making, sewing, painting, organic farming, furniture and bag making.
This shows the generous and hospitable spirit that the management and staff carry. Instead of hiding their talents from competitors' eyes, they share what they know to all who are interested.
Healthy living, overall balance and inner peace are part of the services and lessons offered in the Bohol Bee Farm to give you a rejuvenated mind, body and spirit.
Learn and apply this alternative lifestyle for a better health while enjoying the sea view, the lush greens and quiet paths of the garden, and the luxurious and comfortable accommodations.
Top of Bohol Bee Farm