Bohol Bee Farm Hotel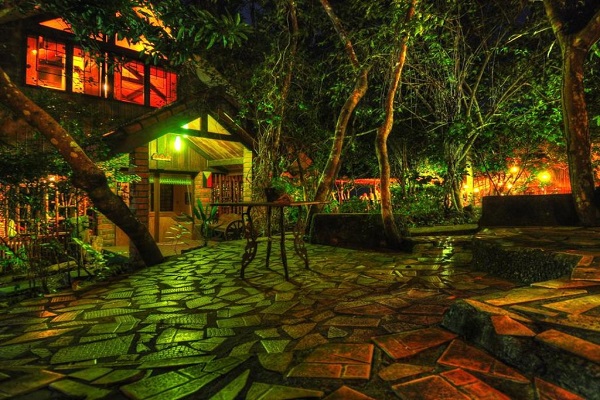 The Bohol Bee Farm Hotel is a boutique hotel with a stunning ocean view.
The hotel boast of a well-landscaped ground, unique architectural buildings and room facilities made of bamboo and other native materials.
The farm produces native products like bags, wine bags, bags for their bottled produce, mats, hats, wall decors, weaved hammocks and window curtains and lots more.
It is committed to promote organic farming, wherein a unique, eco-friendly line of food products that contributes to the health, integrity and dietary balance of the body are produced.
Finished products are home-baked bread, squash muffins, pure honey, honey and mango spread, bee pollen, corn coffee and more.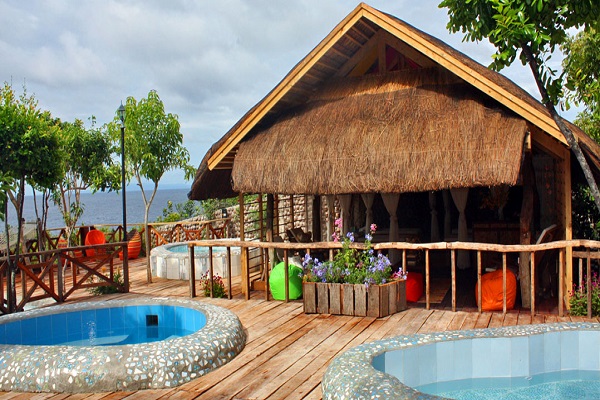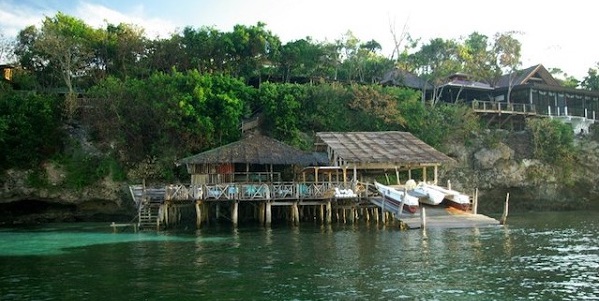 The Bohol Bee Farm restaurant uses vegetables that are all organically grown so are 100% natural and preservative free.

The hotel holds various farm activities showing how their products are made.
Location
The Bohol Bee Farm Hotel is located at Dao, Dauis, Panglao Island, Bohol, Visayas, Philippines.
Facilities and Services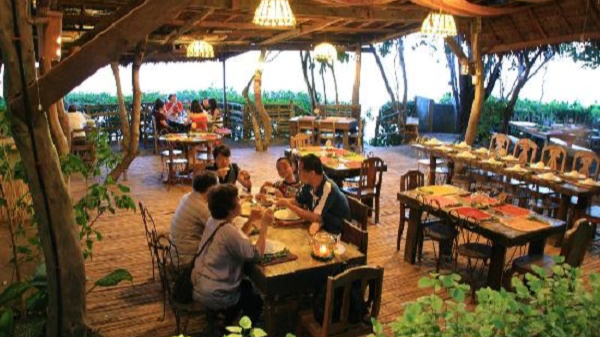 Accommodations
The Bohol Bee Farm Hotel offers luxurious accommodations inside well designed architectural buildings using furniture made of bamboo and other native materials.
Colony (Room A)
The Colony is a villa anchored on a cliff with a panoramic view of the sea and surrounded by tropical trees. The villa is fully furnished with 2 air-conditioned bedrooms, toilet and bath with hot and cold shower, living room, refrigerator, and dining room. The living room is very attractive with a portion of the wall made of decorative bamboo.
It is furnished with a sofa made of bamboo with upholstery, a divan, lampshade, carpet, and native decorations on walls. The bedroom is separated from the balcony by a glass sliding wall. The balcony has a round glass table and two cushioned chairs. A spiral staircase leads to the attic where a single bed is provided with mattress, beddings, table, chair, small cabinet and air conditioner.
The dining room has a big wooden dining table and chairs and a wonderful view of the sea. Displayed on the wall are native art collections and china wares. The villa can accommodate a maximum of 4 persons.
Breakfast is free plus transfers from the airport/pier and vice versa.
Honeycomb (Room B and C)
The rooms at Honeycomb are themed suites. Room B is a wood inspired room while Room C is a bamboo inspired room. Each room is fully air conditioned and has one queen-sized bed, one full bed, sofa beds, bedside table, lampshades, refrigerator and cable TV.
The bedroom is separated from the veranda by a curtained glass sliding wall. The veranda faces the sea and is provided with a rounded glass table and two upholstered chairs. The bathroom has tiled floors up to almost halfway of the wall. The rest of the wall is of glass. It is provided with toilet, bathtub, plastic curtains, hot and cold shower, large mirror, and towels.
Breakfast is free and transfer from airport/pier and vice versa.
The suites can accommodate a maximum 4 persons and every extra person will be charged Php 320/day.
Beehive (Room D, E, F, G and Barn)
The Beehive rooms are fully air conditioned and provided with a queen-sized bamboo bed with mattress, bedcovers, linens, and an extra sofa bed. Above the headboard and at both ends are placed wall night lamps with a native décor at the center.
The bedroom opens to a full veranda with a spectacular view of the sea. The rooms have toilet and bath with hot and cold shower, refrigerator and cable TV.
Breakfast is free and transfers from airport/pier and vice versa.
The room can accommodate up to 3 persons.
Function Halls
The Barn
The Barn is a newly opened function room in the midst of tropical trees overlooking the sea. It is furnished with wooden tables with native woven matting and centerpieces and wooden chairs with cushions. It can accommodate 40 - 50 persons and ideal for conferences and meetings.
A fully air conditioned room is available in the attic which is provided with a king-sized bamboo bed with mattress, bedcovers and linens, and lampshades.
Open Air Function Area
This Function area is overlooking the sea and can accommodate up to 30-40 guests.
It offers full catering services with honey-based cooking and fresh homegrown ingredients. It is furnished with audio-video facilities and has an open barbeque pit.
A two-tiered swimming pool is available for in-house guests.
Bohol Bee Farm Restaurant
This open-sided restaurant uses wooden tables and chairs some of which are antiques and unique in design. Tables have raffia matting woven with light colors. The mat is woven in the farm and is one of their saleable products. Sumptuous food is made from 100% natural ingredients and homegrown.
The restaurant serves refreshing drinks that are truly thirst-quenching.
Hilot Area
The Hilot Area is located at the edge of the cliff where traditional massage is offered. It is an open-sided thatched cottage with reed curtains all around. Inside are elevated bamboo beds with mattresses, white bedcovers and pillows. Outside are wooden lounging beds with white mattresses, provided with a small wooden table in between.
The cottage has an attic where 2 covered mattresses with pillows are provided. The cottage has a wonderful view of the sea and the surrounding garden is landscaped using white rounded stones with big red square tiles as pathways.
The Swimming Pool
The hotel's swimming pool is located in the middle of the farm banana and other tropical plants.
Bohol Bee Farm Buzz Café
The Buzz Café restaurant/cafe is located at the Upper Ground Floor of the Island City Mall, Tagbilaran City, Philippines.
Aside from serving organic gourmet dishes, the Café serves as a product display center, an ordering station and an information center.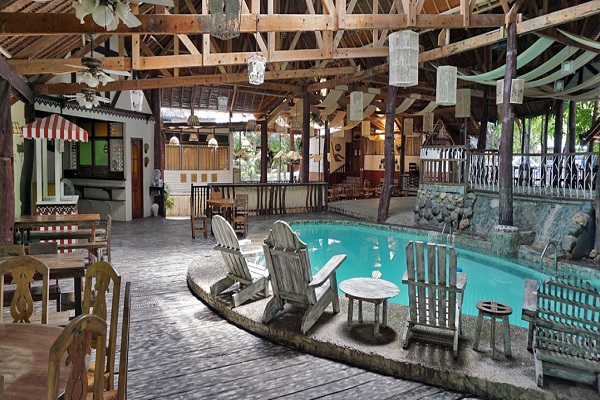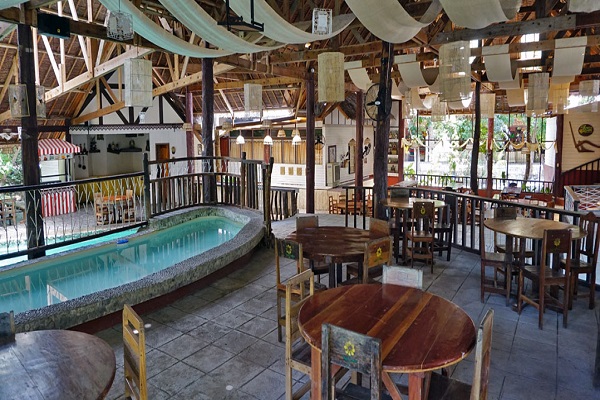 Bohol Bee Farm Activities
Basket Making; Farm Tour; Furniture Making; Horseback Riding; Organic Farming; Paddling Raffia Making; Sewing/Craft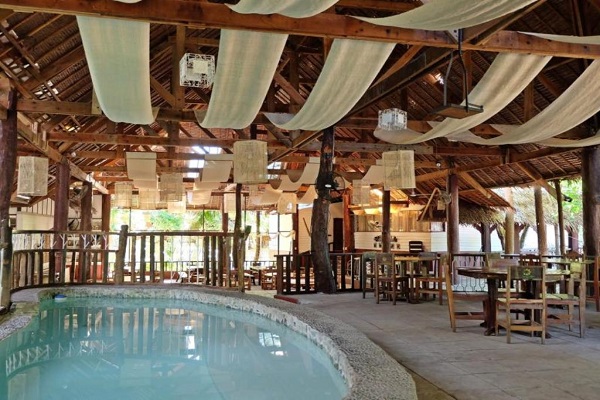 Farm Products
Fans, Furniture, Hats, Raffia, Mats, Shoulder Bags, Spread Bags, Raffia Mats, Wall Decors, Weaved Hammocks, Window Curtains, Wine Bags, Bread, Bee Pollen, Choco Spread Cookies (Honey & Coconut), Honey (Pure), Honey Spread (Honey & Cheese) Honeyed Bahalina (Coconut Wine) Honeyed Salabat (Ginger Tea) Kape Mais (Corn Brew) Mango Spread (Mango & Honey) Pastries Pesto Spread (Basil, Garlic & Honey) Squash Muffins
Overview
The Bohol Bee Farm Hotel is a unique establishment in that it offers its guests with a wide range of native products and home-grown organic food and dishes that are 100% preservative free.
The Hotel has well-designed architectural buildings housing luxurious rooms with furniture made from bamboo and native materials.
The hotel has lined-up activities showing how each of their products are made; from raffia weaving, basket making, sewing, painting, organic farming, furniture and bag making.
This shows the generous and hospitable spirit that the management and staff carry. Instead of hiding their talents from competitors' eyes, they share what they know to all who are interested.
Healthy living, overall balance and inner peace are part of the services and lessons offered in the Bohol Bee Farm to give you a rejuvenated mind, body and spirit.
Learn and apply this alternative lifestyle for a better health while enjoying the sea view, the lush greens and quiet paths of the garden, and the luxurious and comfortable accommodations.
Top of Bohol Bee Farm
Alona Kew White Beach Resort | Alona Palm Beach Hotel | Alona Tropical Beach Resort| Alona Vida Beach Resort | Alumbung Resort Bohol | Amarela Boutique Resort|Amorita Beach Resort | Ananyana Beach Resort | Balicasag Island Dive Resort | BelleviewRock Resort Bohol | Bituon Beach Resort Bohol | Blue Sky Sea Resort | Bohol Beach Club | Bohol Bee Farm Hotel| Bohol Plaza Resort | Bohol Sea Resort of Danao | Bohol Tropics Resort Hotel | Cabilao Beach Club | Cabilao Island Diving| Casa Juana Lodging House|Cherrys Home Hotel|Chriscentville Hotel |Coco White Beach Resort | Crystal Coast Resort | Dapdap Beach Resort Bohol | El Portal Inn Bohol| Eskaya Beach Resort | Flower Beach Diving Resort | Flower Garden Resort| Flushing Meadows Resort Bohol | Hotel La Roca Bohol | Isis Bungalows Resort Hotel Bohol|Isla Hayahay Beach Resort | Jagna Lodge Bohol|Jayveeh Long Beach Island Resort| Ladaga Inn Hotel and Restaurant|La Estrella Beach Resort Bohol | Lost Horizon Resort Bohol | Metrocentre Hotel Bohol | Nuts Huts Retreat Bohol | Olmans View Resort| Panglao Island Nature Resort| Paragayo Resort | Philippine Islands Divers Resort | Polaris Beach and Dive Resort Bohol | Sun Apartelle Resort Bohol | Swiss Bamboo House Resort|Tagaro's Vacation House |Taver's Pension House|Tierra Azul Alona Beach House |Villa Alzhun Tourist Inn |Water Gate Tourist Inn |Water Paradise Resort|Wregent Plaza Hotel
Check out for Bohol Hotel Deals

Back to Bohol