Lamanok Island Bohol
Secure your Cebu Bohol ferry tickets today to start your unforgettable journey!
Lamanok Island is often referred to as the "Cradle of Civilisation" in the Philippines, filled with mystical charm and historic significance. It's located in Anda, Bohol and is known for its prehistoric paintings, fossilized giant clams, and a sacred lagoon. This hidden gem is a cultural treasure trove and a haven for ecotourism.
What to Expect

When you arrive, you can expect to be guided through a journey back in time. There are several caves around the island, with the most famous one being a burial site featuring hematite paintings believed to be from the Metal Age.
The island is also rich in biodiversity. With lush mangrove forests and clear blue waters, it's a great place for nature lovers. The mystical lagoon is surrounded by rock formations and mangroves, providing a serene environment.
There's also a "Santos-Santos" area where locals offer sacrifices or prayers during special occasions. It's considered sacred by the locals, adding a spiritual touch to the area.
Recommended Bohol Philippines Tours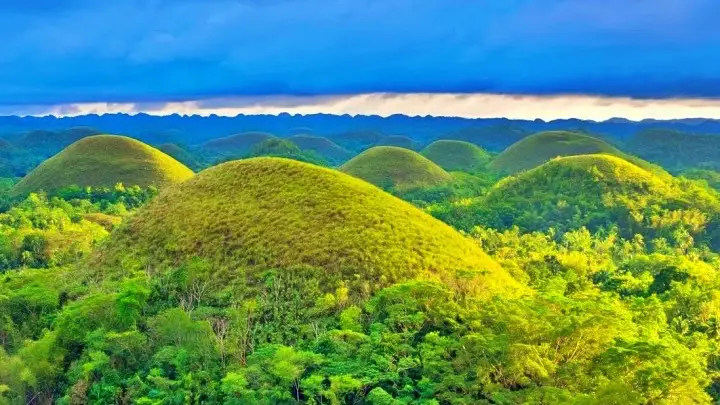 [ Bohol Sight Seeing Day Trips  - Check Out Availability ]
[ Full Day Cruise and Sailing Tours - Check out Availability ]
[ Full Day Adventure Tours - Check out Availability ]
Discover more of Bohol's natural wonders through our recommended tours. Click on the links below to embark on unforgettable adventures:
Ready to explore the beautiful islands of Cebu and Bohol? Secure your ferry tickets today through 12go and start your unforgettable journey!
Lamanok Island is part of the municipality of Anda in Bohol, Philippines. It's a small island or islet located in a lagoon protected by larger limestone islands.
These islands form a natural barrier, making the waters around Lamanok Island calm and clear, suitable for boat rides to explore the area.
In terms of vegetation, the island is known for its lush and preserved mangrove forest. These mangroves are vital in providing habitat for many species of wildlife and maintaining the ecological balance of the area.
The distance of Lamanok Island from the mainland of Anda is about 1.5 kilometers. The island is easily accessible via a short boat ride from Lamanok Point, which takes approximately 15 to 20 minutes.
Remember, while visiting Lamanok Island or any natural site, it's important to respect the environment and local regulations in order to preserve these beautiful locations for future generations.
Enjoy your visit to Lamanok Island and the beauty and history it has to offer.
How to Get There

From Tagbilaran City, take a van or bus at Dao Terminal going to Anda. This journey will take about 3 hours. Upon reaching Anda town proper, hire a tricycle or habal-habal (motorbike taxi) to take you to Lamanok Point. From there, you'll take a short boat ride to reach the island itself.
Tours and Fees

Guided tours are available and they are the best way to experience Lamanok Island. The local guides are knowledgeable and can provide detailed information about the historical and cultural significance of the place.
The tour fee often includes the boat ride, guide fee, and entrance fee.
As of my last knowledge(2021), the fees were around PHP 300 per person but they might have changed since then, so it's best to check before you go.
Tips for Visiting

Make sure to wear comfortable clothes and footwear as there's a bit of walking involved.
Bring water and snacks with you.
Always listen to your guide and respect the sacred areas.
Remember to leave no trace behind. Help preserve the beauty and cleanliness of the island.
Visiting Lamanok Island is not just about enjoying the beauty of nature, but it's also about appreciating history and culture.
It's a reminder of the rich heritage and diverse ecosystem of the Philippines. Enjoy your visit to this extraordinary place!