Bohol Habitat Conservation Center
The Bohol Habitat Conservation Center, formerly known as Simply Butterflies
Secure your Cebu Bohol ferry tickets today to start your unforgettable journey!
The Bohol Habitat Conservation Center, formerly known as Simply Butterflies, is a unique conservation effort located in Bilar, Bohol. This is not just a garden, but a dual-purpose conservation center dedicated to both education and preservation of Bohol's native butterflies.
Visitors to the center can witness nearly 200 species of butterflies in their natural habitat, fluttering freely in the garden.
Complimentary guided tours are offered, providing guests with an immersive experience and the opportunity to learn more about these beautiful creatures.
The center also features a small butterfly enclosure for an up-close encounter with the butterflies, as well as an educational display area designed to deepen the understanding of the butterfly life cycle and behaviors.
To complement your visit, the Bohol Habitat Conservation Center features a restaurant offering a variety of affordable and tasty dishes, including vegetarian options.
A standout on their menu is the homemade natural fruit ice cream - a refreshing treat after exploring the garden.
To make this educational and conservation experience accessible to all, entrance to the Bohol Habitat Conservation Center is free.
It's a must-visit for nature enthusiasts, families, and anyone who appreciates the beauty and importance of butterflies in our ecosystem.
Recommended Bohol Philippines Tours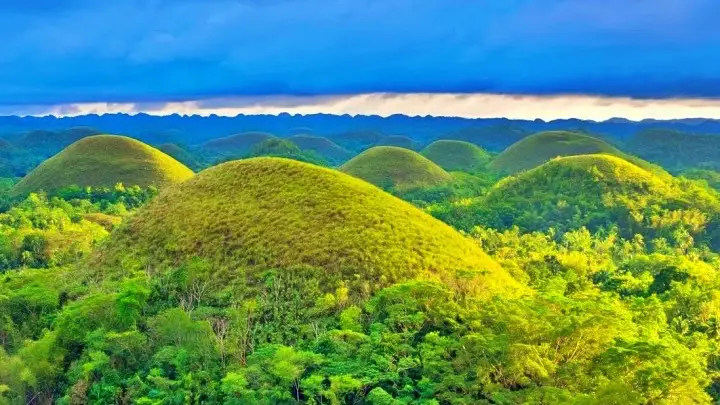 [ Bohol Sight Seeing Day Trips  - Check Out Availability ]
[ Full Day Cruise and Sailing Tours - Check out Availability ]
[ Full Day Adventure Tours - Check out Availability ]
Discover more of Bohol's natural wonders through our recommended tours. Click on the links below to embark on unforgettable adventures:
Ready to explore the beautiful islands of Cebu and Bohol? Secure your ferry tickets today through 12go and start your unforgettable journey!
The Bohol Habitat Conservation Center was the first butterfly livelihood breeding and conservation program in Bohol.
Its main goal is to protect and strengthen the natural environment of the butterflies through plant research, breeding and releasing.
Aiming to raise the butterfly population in Bohol, the Center also seeks ways and means to bring money into the local economy using butterflies and butterfly by-products.
Local town folks have been taught how to breed butterflies and at present, a community of paid breeders has been formed.
Likewise, the Center is into the study, research, and preservation of host plants which are dwindling due to illegal poaching and deforestation. The breeding of common butterflies for export plus their by-products help to fund host-plant research, development and the breeding of rare butterflies.
Only hand bred sources, not those captured from the wild, are used by the center to protect the butterfly population.
A large number of hand bred butterflies are also released into the wild from time to time thus increasing local population.
Only the surplus from these hand bred butterflies are used for making by-products for both the local and foreign markets.
Bohol Habitat Conservation Center: Location
Bohol Habitat Conservation Center is situated in Bilar, Bohol, Philippines. Bilar is an interior town located 41 kilometers from Tagbilaran City.
The Center is 1 kilometer from the Bilar market and 5 minutes away from the Mahogany Man-Made Forest.
Along the highway going to Carmen town, about 5 minutes from the man-made forest, you will find colored flags on your right-hand side with an "Open" sign.
Walk or drive on in about 50 meters and you will arrive at the entrance to the Center which is behind the car park.
Saint Jude buses, available at the Dao Integrated Terminal in Tagbilaran City, ply the route to Bilar and onwards to Talibon. Ride the bus bound for Talibon and tell the driver to drop you off at Simply Butterflies and they will do so gladly.
For a more guided tour, you can hire a van at the Terminal. Two towns after Bilar are the famed Chocolate Hills.
Facilities and Services
Butterfly Garden
The Butterfly Garden is an open landscaped garden planted with flowering plants that attract the butterflies to feed on them. Over sixty (60) species of local butterflies visit the garden naturally. The place is full of butterflies. Seats are provided wherein you can relax and watch the lovely creatures as they flutter about. Pathways are also available if you want to stroll around the garden.
Butterfly Enclosure
The Butterfly Enclosure is an area covered with nets. Inside the net enclosure you will find a waterfall, other water sources, and shade plants where the butterflies rest. A sunny area is full of flowering plants where the butterflies feed. More than twenty (20) species of local butterflies live, feed, play and breed here. Caterpillar feeding displays and information are available in the area.
The center features an enclosed area that lets you get close to the butterflies. This area provides opportunities for amazing close-up photographs and a chance to appreciate the intricate details and beauty of these insects.
Bohol Habitat Conservation Center Nature Trail

Nature Trails and Gardens is situated on a small hill covered with trees and other tropical plants. The center boasts meticulously maintained trails that wind through lush vegetation, allowing visitors to appreciate not just the butterflies but also the local flora.
The garden areas are designed to mimic the natural habitats of different butterfly species, creating a sanctuary where they can thrive.

This is an ideal site for eco-lovers. The cool shade of the overhanging trees that cover the winding trail and the different species of fauna and flora around tempts one to explore the area. Here you will find butterflies, birds, insects and other small wildlife.
The Display Area or Visitor Center

The Visitor Center is a roofed building with open sides that lets the fresh air in. Display Area: The display area houses a variety of preserved butterfly specimens and educational exhibits.
Here, visitors can learn more about the different butterfly species, their habitats, and their roles in the ecosystem.

It displays butterfly and insect collections. Exhibitions are held in the Center and these are changed periodically. The center also houses the restaurant.
Bohol Habitat Conservation Center Restaurant

After exploring the center, visitors can enjoy a meal at the on-site restaurant, which offers a selection of local and international dishes. Vegetarian options are available, and the restaurant's homemade natural fruit ice cream is a must-try.

The Restaurant is housed under the roof of the Visitor Center. Full meals and light snacks are served in this open-sided yet covered pavilion which overlooks the garden. Barbeque Stand
The Barbeque Stand is located at the main garden. Food and refreshments are also available here. The atmosphere is cool and fresh among the various flowering plants and local fauna. Short menu is BBQ, hamburgers, sandwiches and rice dishes. Try their BBQ Buko, which is unique to the place and very delicious!
Pagoda
A small pagoda is provided in the open garden where one can relax under shade and watch the butterflies flutter by.
Bohol Habitat Conservation Center: Gift Shoppe

A gift shoppe is provided where one can avail of butterflies and butterfly by-products.

The gift shop offers a selection of butterfly-themed souvenirs, educational materials, and locally-made crafts, making it the perfect place to pick up a memento of your visit or a gift for someone back home.
Dry papered butterflies and live pupae from A-1 hand bred butterfly specimens are exported. By products, such as key chains and other art pieces, are all hand produced by the local village folks. These products are made from wings of butterflies that have lived out their life inside the public viewing enclosure of the Center.
Accessibility: The center is designed to be accessible to all, with well-maintained paths suitable for strollers and wheelchairs. The staff is committed to ensuring that every visitor enjoys their visit to the fullest.
Other Facilities

For the butterflies, there is a feeding area, a plant farm, a breeding center and a product workshop.
Live Butterfly Releases
Simply Butterflies Conservation Center accepts orders for live butterflies. These are unique and magical gifts that gives a touch of elegance to any occasion. One can choose from many butterfly releasing containers. Price depends upon the number of butterflies and their sizes.
Butterfly Products
For sale and export, the Center offers butterfly products such as dry papered butterflies and live pupae taken from the hand-bred stock of A-1 butterfly specimens.
Butterfly By-Products
To sustain Simply Butterflies Conservation Project the Center created a line of butterfly by-products. These art pieces are all hand produced by local village folks and made from the wings of the butterflies that have outlived their time inside the public viewing butterfly enclosures. Products range from framed butterflies, butterfly wing mosaics, and key chains.
See Also:
Top of Bohol Habitat Conservation Center
The Bohol Habitat Conservation Center is more than just a tourist attraction; it's a place of learning and a testament to the importance of conserving our natural world.
Every feature and amenity is designed with this purpose in mind, offering visitors a unique opportunity to connect with nature and understand the vital role that butterflies play in our ecosystem.