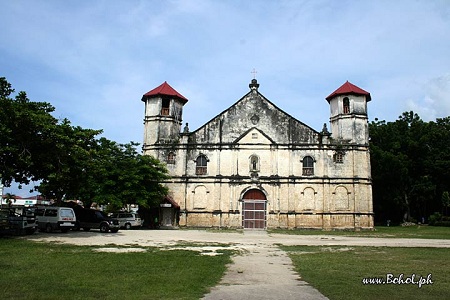 Dimiao Attractions
Secure your Cebu Bohol ferry tickets today to start your unforgettable journey!
The town of Dimiao has its share in Bohol's list of natural and man-made attractions, all worthy of a visit.
Dimiao Church
The Dimiao church is dedicated to San Nicolas Tolentino. It is centuries-old, built in the later half of the 19th century. The church houses some relics hailing from the Spanish Regime and is being preserved..
When the parish was founded, is uncertain, although baptism records dates back to the year 1750. A building stands behind the church that served once as a convent and is now a school..
Recommended Bohol Philippines Tours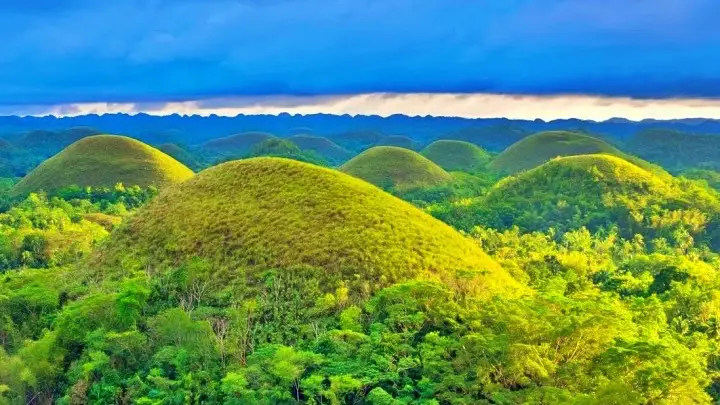 [ Bohol Sight Seeing Day Trips  - Check Out Availability ]
[ Full Day Cruise and Sailing Tours - Check out Availability ]
[ Full Day Adventure Tours - Check out Availability ]
Discover more of Bohol's natural wonders through our recommended tours. Click on the links below to embark on unforgettable adventures:
Ready to explore the beautiful islands of Cebu and Bohol? Secure your ferry tickets today through 12go and start your unforgettable journey!
Ermita Ruins
The Ermita Ruins are the ruins of a coralline limestone structure built during the Spanish Regime. It lies parallel to the nave of the St. Nicholas Tolentino Church in the town of Dimiao, Bohol. It was allegedly used as a military fortress, a chapel and a burial site of the members of the Spanish clergy. Archaeological excavations were done in 1995 and 1998 in a quest to uncover its mysterious past..
Balbalan Beach
Balbalan Beach lies on a long stretch of white sandy beach facing the Mindanao Sea. It is only 5 minutes drive away from the town center. The waters are unpolluted and crystal clear, very ideal for swimming. Out on the deep are colorful coral reefs – a haven for adventurous divers. Sailing is also a pastime in the area..
Imelda Beach
Imelda Beach boast of a stretch of white sand fringed with tall coconut palm trees. The waters are clear and unpolluted. The beach is fairly accessible, lying along the National Highway. It was once the venue of an encampment of the Boys and Girls Scouts of Bohol..
Dimiao Twin Falls
The Dimiao Twin Falls cascades over a cliff and is a beautiful sight to behold. Nestled 14 kilometers away from the highway, its rugged pathway is a challenge to trekkers who are rewarded with a panoramic view of the falls upon arrival. Dry land near the foot of the falls is ideal for picnics. .
Pahangog Twin Falls & Caverns
The Pahangog Twin Falls cascades over a 30-meter high cliff surrounded by a lush forest of tropical trees and flora. A natural basin was carved out from underneath the falling waters and serves as a natural swimming pool for bathers. .
Two caves lie near to the falls with rock formations carved out by centuries of gushing waters; one cavern has a naturally-contoured basin that fills up with water before flowing outwards from the cave..
Rice Terraces
The rice terraces of Dimiao are a wondrous sight. Although not occupying a large area as that of Mt. Banawe, the terraces are still beautiful to behold especially when it is covered and looks like a velvety green layered field or during near-harvest season when the fields turn into gold..
McArthur's Cap
The McArthur's Cap is a rock formation resembling an army officer's cap that one encounters when entering the town of Dimiao. The rock formation has become an emblem and called such at the successful return of Gen. Douglas McArthur, considered by most post-war Filipinos as a hero, upon the defeat of the Japanese Army during World War II..
Badiang Peak
Badiang Peak is a rugged mountain of Dimiao which has been constantly visited by trekkers and mountain climbers. Hours of trekking along pathways and climbing over boulders are rewarded with a panoramic view of Dimiao and its neighboring lowlands from atop the mountain peak.
Back to
Dimiao Bohol Philippines
Back to
Bohol