Bohol to Cebu Ferry Expedition: Navigating the Waters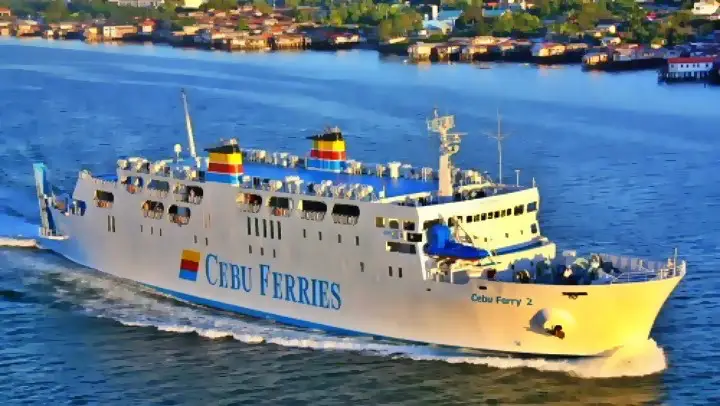 Secure your Cebu Bohol ferry tickets today to start your unforgettable journey!
Embarking on a ferry voyage from Bohol to Cebu is an excellent way to explore the stunning Philippine islands while enjoying a convenient and scenic journey.
With several ferry companies operating on this route, travelers have multiple options to choose from based on their preferences and budget.
In this article, we will delve into the details of the Bohol to Cebu ferry experience, including travel time, ticket prices, ferry companies, and essential tips for a smooth journey.
Some Facts about the Trip from Bohol to Cebu

When it comes to traveling from Bohol to Cebu, the most convenient option is by sea, that is, by taking the Ferry.
Although there is also the possibility of flying, it often involves layovers in cities such as Cagayan de Oro, Davao, or Manila, making the journey longer, more expensive, and less hassle-free.
Distance from Bohol to Cebu

The distance between Tagbilaran, the capital of Bohol, and Cebu City is approximately 90 kilometers.
Duration of the Bohol to Cebu Ferry Journey

A ferry ride from Bohol to Cebu typically takes around 2 hours. However, if you choose to travel by plane, including layovers, the total travel time can range from 2 hours to several hours, depending on the duration of the layover.
Note that flights depart from the New Bohol airport on Panglao Island, so additional time should be allocated to reach the airport.
Cost of the Bohol to Cebu Trip

The cost of transportation from Bohol to Cebu varies depending on the mode of travel.
Ferry tickets can be as low as PHP400, but for more upscale options, such as flying with Philippine Airlines, prices can range from PHP4,000 and above.
Traveling from Bohol to Cebu by Ferry

Several ferry companies operate regular trips between Tagbilaran and Cebu.
Some ferries offer open-air decks, providing an opportunity to enjoy the scenic journey with islands scattered across the sea.
The staff onboard ensures passenger safety by providing safety instructions before departure.
Bohol to Cebu Ferry Schedule

The Tagbilaran-to-Cebu route is popular, with over 20 departures per day operated by three main ferry companies.
The earliest ferry departs at 5:50 am with SuperCat, followed by Ocean Jet at 6 am.
The last ferry of the day leaves Bohol at 6:30 pm.
Choosing a Ferry Company for the Bohol-Cebu Trip

All the ferry companies provide comfortable options with open-air decks and cabins for tourists and business class passengers. It's important to note that they dock at different piers in Cebu. Ocean Jet offers more departures, while SuperCat via 2Go has six daily trips, and Weesam has three daily boats.
Duration of the Sea Journey

Fastcrafts typically cover the distance between Tagbilaran and Cebu City in about two hours.
Ferry Ticket Costs to Cebu

The ticket prices depend on the ferry operator and the class of the cabin.
Weesam offers the cheapest non-aircon options starting at PHP400, but it is recommended to invest an additional PHP100 for a more comfortable tourist class seat.
Ocean Jet offers open-air, tourist, and business class tickets priced at PHP600, PHP800, and PHP1,300, respectively.
SuperCat is slightly cheaper with PHP550 for tourist class and PHP850 for business class tickets.
Traveling from Bohol to Cebu by Plane

The former Tagbilaran airport in Bohol has been replaced by the New Bohol International airport on Panglao Island. Both Cebu Pacific and Philippine Airlines operate flights from this airport to Cebu.
When flying with Cebu Pacific, expect ticket prices ranging from PHP2,900 to PHP3,700. Layovers in cities like Cagayan de Oro, Davao, or Manila may be included, but the actual flight time should not exceed 2 hours.
Philippine Airlines also offers flights to Cebu with layovers in Clark, Manila, or Davao. Ticket prices can range from as low as PHP2,700 to as much as PHP18,000 for a one-way
Recommended Online Booking for Ticket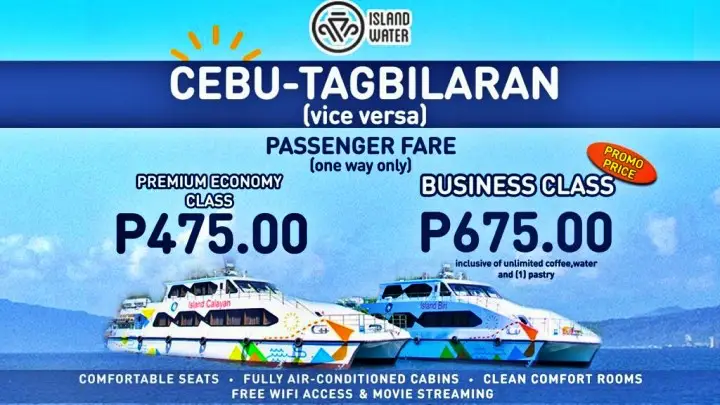 Ticket Prices and Ferry Companies:

When it comes to ticket prices, there are options available to suit various budgets. Ferry ticket prices from Bohol to Cebu typically start at ₱440, offering affordable transportation between the two destinations.
However, ticket prices may vary based on the ferry company, class of accommodation, and additional amenities offered. It is advisable to book your tickets in advance to secure the best fares and ensure a seamless travel experience.

Recommended Bohol Philippines Tours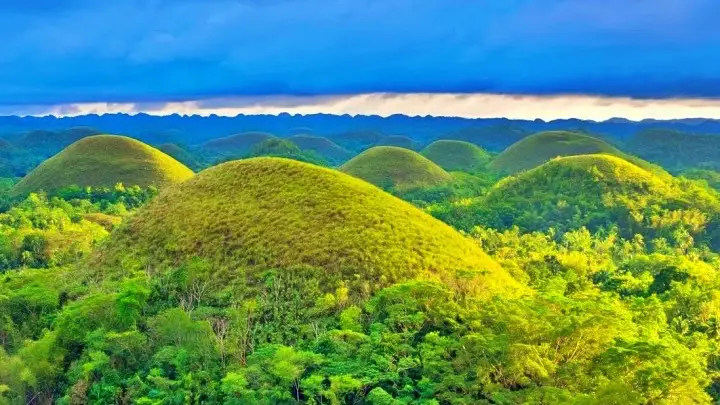 [ Bohol Sight Seeing Day Trips  - Check Out Availability ]
[ Full Day Cruise and Sailing Tours - Check out Availability ]
[ Full Day Adventure Tours - Check out Availability ]
Discover more of Bohol's natural wonders through our recommended tours. Click on the links below to embark on unforgettable adventures:
Ready to explore the beautiful islands of Cebu and Bohol? Secure your ferry tickets today through 12go and start your unforgettable journey!
Bohol to Cebu Ferry Companies and Timetable

Several reputable ferry companies operate on the Bohol to Cebu route, providing travelers with a range of choices.
Among the well-known ferry companies serving this route are Lapulapu Shipping Lines, Lite Shipping, My Bohol Guide, Oceanjet, Supercat, and Trans Asia.
Each company offers its unique services, amenities, and schedules.
Conducting research and comparing the offerings of these ferry companies will help you find the one that best suits your preferences and travel requirements.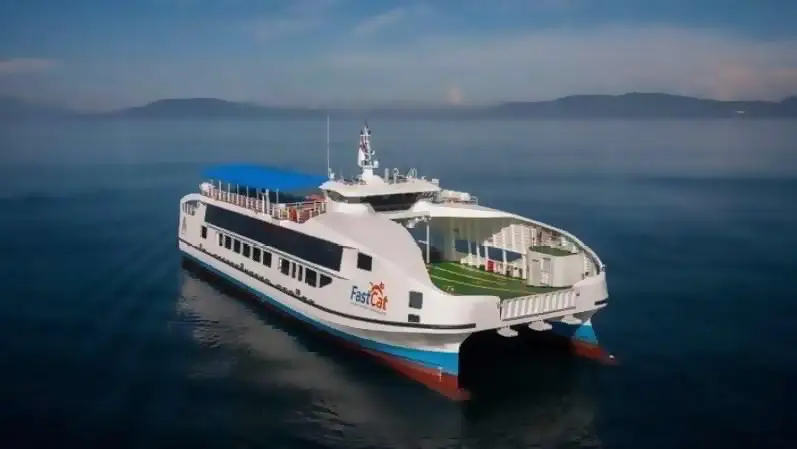 For SuperCat Bohol to Cebu Details
- Departure Location: Tagbilaran Bohol Pier
- Departure Times: 10:30 and 17:00 (Monday to Sunday)
- Passengers must check-in 45 minutes before the published departure time to confirm their seats.
- Bookings made outside office hours will be processed when the office resumes.
- Ensure the correct time and date of the trip before proceeding to payment.
- Present the e-ticket at the terminal to skip the line.
- Luggage: Maximum 15 kilos free baggage allowance per person, excess baggage charged at PHP 15/kilo.
- Each passenger can bring two hand-carried baggages not exceeding a total volume of 0.10 cbm.
- All baggage must be tagged with the owner's name and address.
- Infants, children, students, seniors, and PWDs may be eligible for discounted rates; relevant identification required.
- Pregnant women require a doctor's certificate of fitness to travel and may need to sign a waiver.
- Senior citizen discounts apply to both Filipino citizens and foreign nationals; appropriate identification required.
- Pregnant passengers need a certificate of fit to travel issued by their doctor, regardless of the number of months of pregnancy.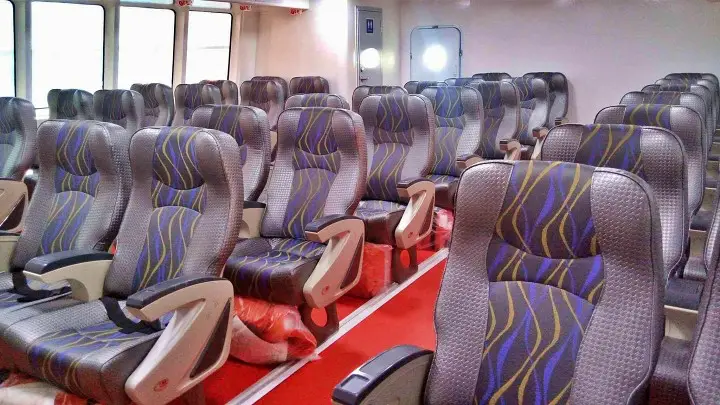 Tips for a Hassle-Free Bohol to Cebu Ferry Journey

1. Book in advance: To secure your preferred departure time and avail any early bird discounts, it is recommended to book your ferry tickets in advance.
2. Consider amenities and services: Depending on your needs and preferences, look for ferry companies that offer amenities such as comfortable seating, onboard facilities, or discounted rates for children.
3. Check the ferry timetable: Familiarize yourself with the ferry schedules to plan your journey effectively. Take note of any additional departures during peak seasons to accommodate higher demand.
4. Plan your logistics: Determine the distance between your accommodation in Bohol and the ferry port. It is advisable to use mapping applications like Google Maps to estimate travel time and ensure a timely arrival.
5. Stay informed about weather conditions: Keep track of weather forecasts, especially during the rainy season, as ferry schedules may be subject to changes or cancellations due to adverse weather conditions.
Here are some key facts about Bohol to Cebu Ferry:

Cheapest Transport: The cost of transportation from Bohol to Cebu starts at ₱440.
Fastest Transport: The journey from Bohol to Cebu can take as little as 1 hour and 15 minutes, depending on the mode of transport chosen.
Earliest Departure: The first departure from Bohol to Cebu is at 4:00 AM, offering an early morning option for travelers.
Latest Departure: The last departure from Bohol to Cebu is at 10:00 PM, providing a late evening option for those traveling later in the day.
Departures per day: There are a total of 63 departures per day, giving travelers plenty of options to choose from based on their preferred timing.
Distance: The distance between Bohol and Cebu is approximately 63 kilometers, making it a relatively short journey.
Transport Companies: Several transport companies operate on this route, including Apekoptravel, Cebu Pacific, Lite Shipping, Oceanjet, and Supercat. Travelers can choose the company that best suits their preferences and needs.
These facts provide an overview of the available options for transportation from Bohol to Cebu, allowing travelers to plan their journey accordingly.
Table Summary: Bohol to Cebu ferry schedule

- Philippine Airlines Economy: Departs at various times from 00:00 to 21:45, priced at ₱13,132.
- FastCat Economy Class: Departs at 05:00, arriving at 06:30, priced at ₱449.
- Oceanjet Tourist Class: Departs at 06:00, arriving at 07:50, priced at ₱1,024.
- Supercat Business SPR: Departs at 08:30, arriving at 10:30, priced at ₱1,380.
- Oceanjet Open-Air: Departs at 10:40, arriving at 12:40, priced at ₱1,003.
- Oceanjet Business Class: Departs at 13:00, arriving at 15:00, priced at ₱1,485.
- Oceanjet Tourist Class: Departs at 15:20, arriving at 17:20, priced at ₱1,024.
- Oceanjet Tourist Class: Departs at 17:40, arriving at 19:30, priced at ₱1,026.
- Philippine Airlines Economy: Departs at 18:30, arriving at 20:10, priced at ₱21,704.
- Cebu Pacific Economy: Departs at 21:15, arriving at 18:30, priced at ₱11,378.
- Trans Asia 2nd Class Non AC Lying: Departs at 22:00, arriving at 02:00, priced at ₱471.
Please note that the schedule and prices are subject to change, so it's recommended to check for the most up-to-date information before planning your trip.
Popular Routes: Bohol to Cebu Ferry

From Bohol:

- Bohol → Cebu
- Bohol → Siquijor
- Bohol → Camiguin
- Bohol → Manila
- Bohol → Oslob
To Bohol:
- Cebu → Bohol
- Manila → Bohol
- Oslob → Bohol
- Dumaguete → Bohol
- Siquijor → Bohol
These routes indicate the popular destinations from Cebu Pier and Bohol, along with their corresponding origins and destinations.
The routes cover various locations such as Tagbilaran Pier, Manila, Ozamis Pier, Manila North Harbor Pier 4, Siquijor, Camiguin, Oslob, Cebu, Ormoc Pier, Dumaguete, and Cagayan De Oro Pier.
Here are some popular routes in the Philippines:

1. Manila → Cebu: This route connects the capital city of Manila to the vibrant city of Cebu. It is a frequently traveled route due to the cultural and economic significance of both cities.

2. Puerto Princesa → El Nido: This route takes you from Puerto Princesa, the capital of Palawan, to the stunning island of El Nido. It is a popular choice for tourists looking to explore the beautiful beaches and limestone cliffs in the region.
3. Oslob → Cebu: This route connects Oslob, a town in Cebu known for its whale shark watching activities, to Cebu City. It is a convenient option for travelers who want to experience swimming with whale sharks and then continue their journey to Cebu.
4. Manila → Baguio: This route is favored by tourists and locals alike who want to escape the heat of Manila and enjoy the cool climate of Baguio, a popular mountain retreat. Baguio is known for its scenic views, flower gardens, and vibrant local culture.
These popular routes offer diverse experiences, whether it's exploring urban centers, relaxing on pristine beaches, encountering marine life, or immersing in natural beauty.
Conclusion:
Embarking on a ferry adventure from Bohol to Cebu presents an exciting opportunity to explore the enchanting islands of the Philippines while enjoying the convenience and beauty of sea travel. With multiple ferry companies offering their services on this route, travelers can choose the options that best suit their preferences and budget. By planning ahead, selecting a reputable ferry company, and following essential tips, you can ensure a seamless and memorable journey as you sail across the stunning waters that connect Bohol and Cebu.
Ref: https://www.cpa.gov.ph
Top of Cebu to Bohol Ferry
Top of Cebu to Bohol Ferry