What to Do in Bohol: Your Ultimate Guide to Unforgettable Experiences
Secure your Cebu Bohol ferry tickets today to start your unforgettable journey!
What to Do in Bohol: Unveiling Bohol's Natural Wonders and Cultural Treasures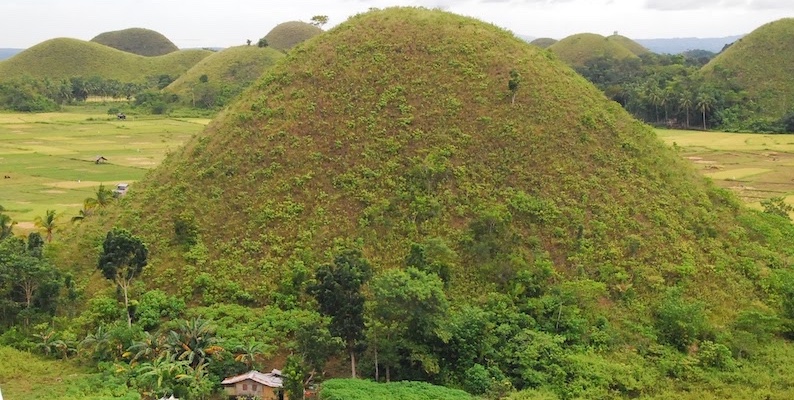 Welcome to the ultimate What to Do in Bohol Bucket List: Top Experiences and Hidden Gems! If you're planning a visit to this captivating island in the Philippines, you're in for a treat.
Bohol is a destination that seamlessly blends natural wonders, cultural treasures, and thrilling adventures, offering a myriad of experiences to satisfy every traveler's wanderlust.
From Iconic Landmarks to Untouched Paradises
In this comprehensive What to Do in Bohol list, we've carefully curated the top 50 things you can do in Bohol, ensuring that you make the most of your time on this enchanting island.

From iconic attractions that have put Bohol on the global map to lesser-known hidden gems waiting to be discovered, we've left no stone unturned in showcasing the diverse tapestry of experiences that await you.
Immerse yourself in the mesmerizing landscapes of the Chocolate Hills, stand in awe of the graceful tarsiers, embark on a river cruise through the lush Loboc River, or bask in the sun-kissed beauty of Bohol's pristine beaches.
But that's just the beginning! Our list delves deeper, uncovering lesser-known treasures, off-the-beaten-path adventures, and encounters with the warm-hearted locals that will leave a lasting impression on your Bohol journey.
Whether you're an adventurous soul seeking thrilling outdoor activities, a culture enthusiast yearning to explore historical sites, or a nature lover craving tranquility amidst breathtaking vistas, our Bohol Bucket List has something special for everyone.
So grab your notepad, get ready to be inspired, and let's embark on an unforgettable journey through What to Do in Bohol top experiences and hidden gems.
It's time to create memories that will last a lifetime. Let the adventure begin!
Recommended Bohol Philippines Tours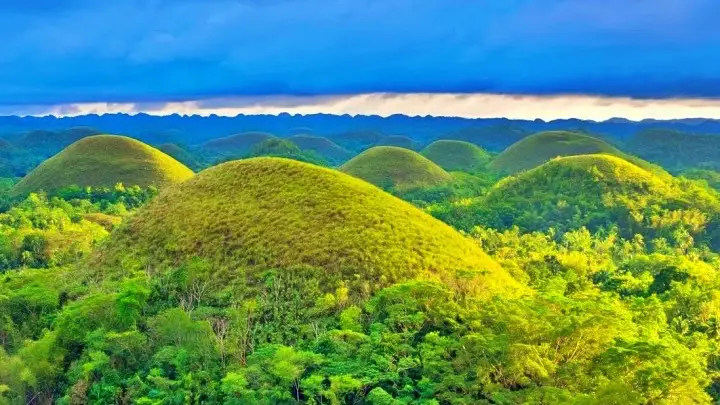 [ Bohol Sight Seeing Day Trips  - Check Out Availability ]
[ Full Day Cruise and Sailing Tours - Check out Availability ]
[ Full Day Adventure Tours - Check out Availability ]
Discover more of Bohol's natural wonders through our recommended tours. Click on the links below to embark on unforgettable adventures:
Ready to explore the beautiful islands of Cebu and Bohol? Secure your ferry tickets today through 12go and start your unforgettable journey!
What to Do in Bohol Countryside
1. Visit the Chocolate Hills: Witness the iconic cone-shaped hills that turn chocolate brown during the dry season, offering a mesmerizing sight unlike any other.

2. Explore the Tarsier Conservation Area and see the tarsiers: Encounter the world's smallest primates up close in their natural habitat, and learn about the efforts to protect these adorable creatures.
3. Take a river cruise along the Loboc River: Hop aboard a floating restaurant and enjoy a leisurely cruise while indulging in delicious local cuisine, surrounded by the lush greenery and serene waters of the Loboc River.
4. Relax on the white sands of Alona Beach: Unwind on the picturesque shores of Alona Beach, known for its crystal-clear waters, palm-fringed coastline, and vibrant marine life.
5. Dive or snorkel in Balicasag Island: Dive into the colorful underwater world surrounding Balicasag Island, where vibrant coral reefs and diverse marine species await your exploration.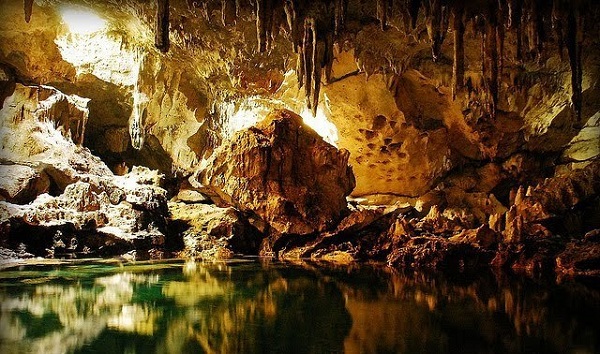 What to Do in Bohol: Spelunking
6. Explore the Hinagdanan Cave in Panglao: Venture into the enchanting depths of Hinagdanan Cave, characterized by its stunning stalactite formations and an underground pool of shimmering turquoise waters.

7. Visit the Baclayon Church and Museum: Step back in time at the historic Baclayon Church, one of the oldest stone churches in the Philippines, and explore its adjacent museum showcasing religious artifacts and cultural heritage.
8. Explore the historic Blood Compact Shrine: Discover the symbolic site commemorating the blood compact between the Spanish explorer Miguel López de Legazpi and Bohol's chieftain, Sikatuna, symbolizing friendship and diplomacy.
9. Take a countryside tour and visit the man-made forest: Embark on a scenic journey through Bohol's countryside, passing through a captivating man-made forest of towering mahogany trees that create a stunning canopy above the road.
10. Enjoy a scenic drive along the Loboc-Loay River: Take in the picturesque views as you drive along the scenic road that follows the meandering path of the Loboc-Loay River, surrounded by lush greenery and tranquil waters.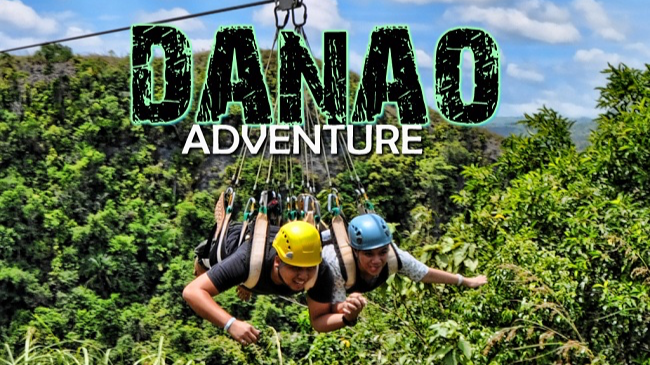 What to Do in Bohol: Ziplining
11. Experience the thrill of ziplining at Danao Adventure Park: Seek adventure at Danao Adventure Park, where you can soar through the air on exhilarating ziplines, rappel down cliffs, and conquer thrilling outdoor challenges.

12. Take a refreshing dip in the pools of the Mag-Aso Falls: Immerse yourself in the cool cascades of the Mag-Aso Falls, a multi-tiered waterfall surrounded by lush foliage, offering a refreshing oasis in nature.
13. Explore the mesmerizing landscapes of Anda's caves (e.g., Combento Cave, Cabagnow Cave): Delve into the mysterious world of Anda's caves, where you can marvel at unique rock formations, swim in crystal-clear pools, and embrace the natural beauty that surrounds you.
14. Discover the beautiful Pahangog Twin Falls: Trek through lush trails to reach the picturesque Pahangog Twin Falls, where twin streams of water cascade down a moss-covered cliff into inviting pools below.
15. Enjoy a relaxing beach day at Dumaluan Beach: Bask in the sun and sink your toes into the powdery white sands of Dumaluan Beach, a serene and idyllic spot perfect for unwinding and beachside leisure.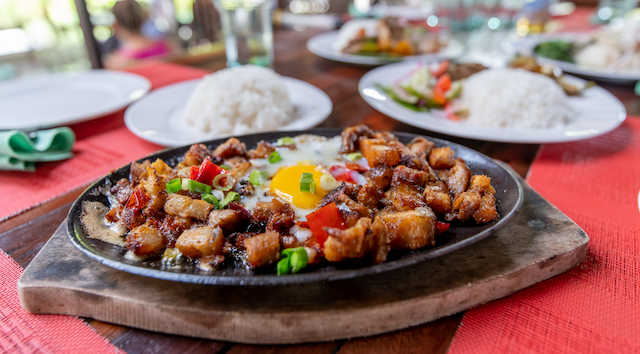 What to Do in Bohol: Culinary Treats
16. Visit the Bohol Bee Farm and indulge in organic treats: Explore the Bohol Bee Farm, a sustainable farm and eco-resort, and savor organic delights made from locally sourced ingredients, including their famous honey-based products.

17. Witness the breathtaking views at Sagbayan Peak: Marvel at the panoramic vistas from Sagbayan Peak's observation deck, offering sweeping views of the Chocolate Hills and the surrounding countryside.
18. Take a river cruise at Abatan River and Mangrove Forest: Cruise along the enchanting Abatan River, surrounded by lush mangrove forests, and learn about the vital ecosystem while spotting diverse bird species.
19. Explore the underwater world in Anda's Anda White Beach Reef: Strap on your snorkeling gear or dive equipment and discover the vibrant marine life thriving in Anda's picturesque White Beach Reef, teeming with colorful coral formations and tropical fish.
20. Discover the unique-shaped Lamanoc Island and its rock formations: Explore Lamanoc Island's intriguing rock formations, ancient burial sites, and mystic caves, known for their unique shapes and fascinating cultural significance.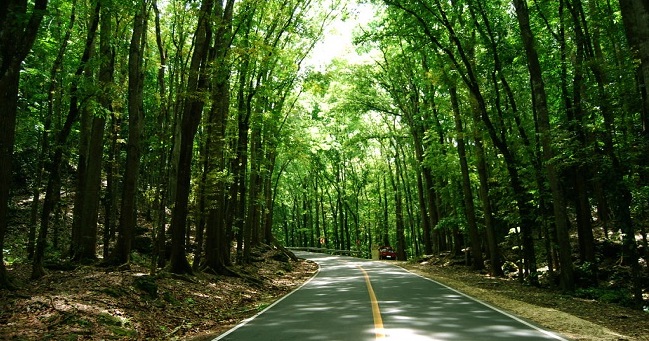 What to Do in Bohol: Scenic Drives
21. Get a glimpse of rural life at the Sikatuna Tree Park: Immerse yourself in the rural charm of the Sikatuna Tree Park, where you can relax amidst centuries-old trees, enjoy a picnic, and observe local farm activities.

22. Marvel at the natural wonder of Anda's Candijay Rice Terraces: Admire the beauty of Candijay's terraced rice fields, carved into the rolling hillsides, showcasing the agricultural ingenuity and cultural heritage of the locals.
23. Enjoy a scenic drive along the coastal road of Loay: Embark on a scenic coastal drive along Loay's picturesque road, offering breathtaking views of the sparkling ocean and charming coastal scenery.
24. Go island hopping to nearby islands like Pamilacan Island: Hop aboard a boat and explore the neighboring islands of Bohol, such as Pamilacan Island, known for its rich marine biodiversity, pristine beaches, and opportunities for dolphin and whale watching.
25. Explore the Butterfly Conservation Center in Bilar: Immerse yourself in a world of fluttering colors at the Butterfly Conservation Center in Bilar, where you can observe various butterfly species in a natural habitat and learn about their life cycles.
What to Do in Bohol: Relax at the Beach
26. Relax at the tranquil Momo Beach: Escape the crowds and find serenity at Momo Beach, a peaceful haven where you can unwind on the soft sands and soak up the calm ambiance.

27. Witness the magnificent sunrise at Punta Cruz Watchtower: Wake up early and head to Punta Cruz Watchtower to catch the breathtaking sunrise, painting the sky with vibrant hues over the sparkling sea.
28. Visit the Nueva Vida Sur Farm and experience organic farming: Immerse yourself in sustainable agriculture at Nueva Vida Sur Farm, where you can learn about organic farming practices and even participate in farm activities.
29. Take a dip in the hot springs of Bohol Bee Farm: Indulge in a rejuvenating experience at Bohol Bee Farm's hot springs, where you can relax and soak in the therapeutic waters surrounded by nature.
30. Explore the breathtaking beauty of Danajon Bank, a double barrier reef system: Dive into the underwater wonderland of Danajon Bank, home to a diverse marine ecosystem and stunning coral formations that will leave you in awe.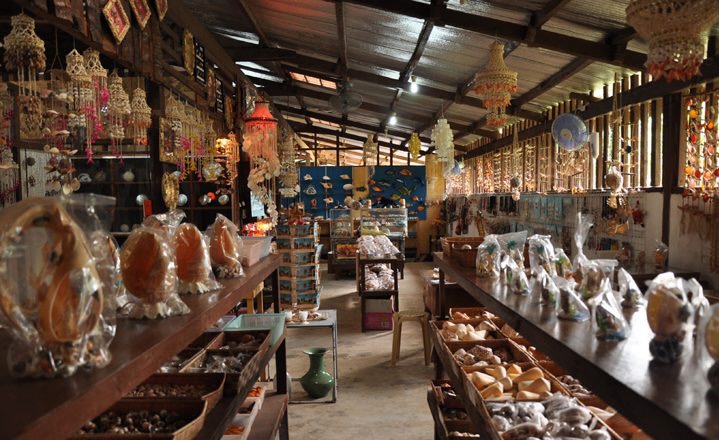 What to Do in Bohol: Culture
31. Learn about Bohol's history at the Bohol Provincial Capitol Complex: Delve into Bohol's rich history and heritage at the Bohol Provincial Capitol Complex, where you can explore historical exhibits and learn about the province's governance.

32. Experience the thrill of riding an ATV at Loboc Eco-Tourism Adventure Park: Get your adrenaline pumping as you ride an ATV through Loboc Eco-Tourism Adventure Park, traversing thrilling trails and enjoying scenic views.
33. Try paddleboarding or kayaking in the calm waters of Loboc River: Glide along the peaceful waters of Loboc River on a paddleboard or kayak, immersing yourself in the tranquility of the surroundings.
34. Go on a dolphin watching tour in Bohol Sea: Embark on an unforgettable dolphin watching tour in the Bohol Sea, where you can witness these graceful creatures in their natural habitat.
35. Explore the scenic Anda de Boracay Resort's rock formations and natural pools: Discover the beauty of Anda de Boracay Resort, known for its captivating rock formations and natural pools that offer a picturesque setting for relaxation and exploration.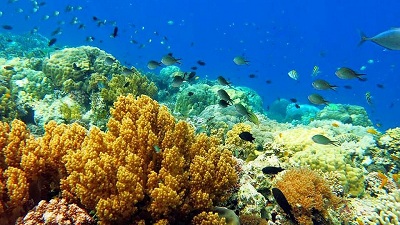 What to Do in Bohol: Scuba Diving
36. Discover the underwater world while diving at Balicasag Marine Sanctuary: Dive into the crystal-clear waters of Balicasag Marine Sanctuary and witness the vibrant coral reefs and marine life that thrive in this protected area.

37. Take a day trip to the charming town of Anda and visit Anda Church: Explore the quaint town of Anda and pay a visit to the historic Anda Church, a centuries-old structure that stands as a testament to the town's rich heritage.
38. Go bird-watching at Rajah Sikatuna National Park: Immerse yourself in nature's symphony and spot a variety of bird species at Rajah Sikatuna National Park, a haven for bird-watching enthusiasts.
39. Relax and unwind at the secluded Doljo Beach: Escape the hustle and bustle and find tranquility at Doljo Beach, a secluded stretch of sand where you can soak up the sun and enjoy the peaceful ambiance.
40. Visit the historic Punta Cruz Church Ruins in Maribojoc: Explore the remnants of Punta Cruz Church Ruins, a historical site that showcases the ruins of an old church, providing a glimpse into Bohol's past.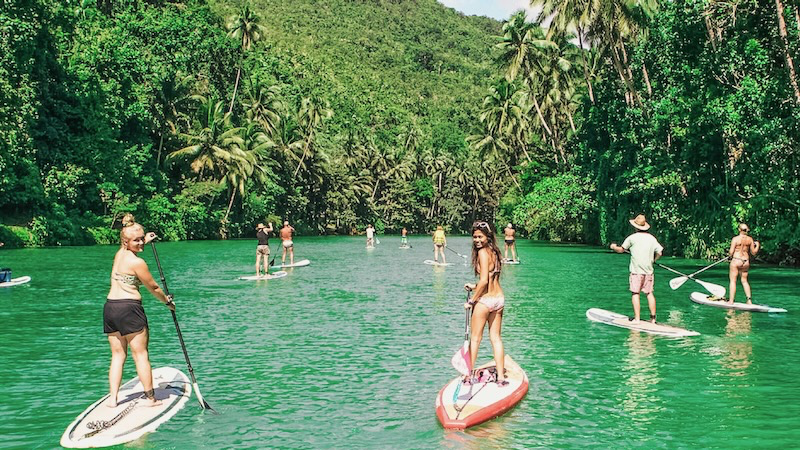 What to Do in Bohol: Water Activities
41. Take a dip in the natural pool of Can-Umantad Falls in Candijay: Refresh yourself in the emerald waters of Can-Umantad Falls, a majestic waterfall with a natural pool that invites you to take a revitalizing dip.

42. Explore the unspoiled beauty of the Canawa Cold Spring: Discover the enchanting Canawa Cold Spring, a hidden gem nestled amidst lush greenery, where you can take a dip in the crystal-clear spring waters and relax in nature's embrace.
43. Enjoy a scenic drive along the coastal road of Panglao Island: Take a leisurely drive along the scenic coastal road of Panglao Island, where you can admire panoramic views of the coastline and appreciate the island's natural beauty.
44. Experience the vibrant nightlife of Panglao: As the sun sets, Panglao Island comes alive with a vibrant nightlife scene. Indulge in beachside bonfires, live music performances, and beach parties under the starry sky. Dance the night away, socialize with fellow travelers, and create unforgettable memories in this lively tropical setting.
45. Learn about the local handicrafts at the Bohol Bee Farm's souvenir shop: Browse through the Bohol Bee Farm's souvenir shop, where you can find a variety of locally made handicrafts, organic products, and unique souvenirs to take home.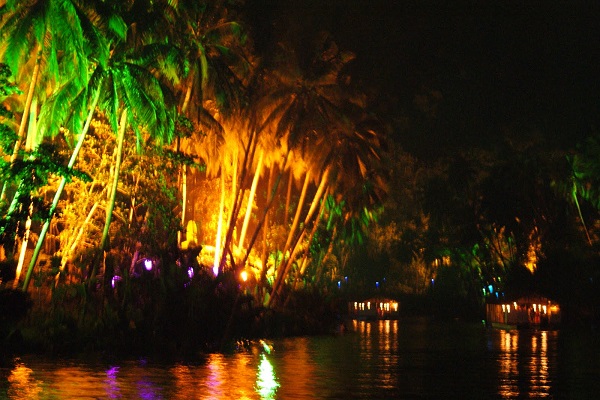 What to Do in Bohol: Firefly Tour
46. Explore the captivating landscapes of Dimiao Twin Falls: Venture to Dimiao and witness the awe-inspiring beauty of the twin falls nestled amidst a lush forest. Feel the cool mist on your face as the cascading water creates a magical ambiance, making it a perfect spot for relaxation and nature appreciation.
47. Join a firefly-watching tour along the Abatan River: Embark on a magical firefly-watching tour along the Abatan River. Cruise through the tranquil waters as the trees come alive with the flickering lights of fireflies, creating a mesmerizing display of nature's beauty.
48. Explore the historical Tagbilaran City: Take a trip to Tagbilaran City, the capital of Bohol, and delve into its rich history. Visit landmarks like the St. Joseph Cathedral, the National Museum-Bohol Branch, and the Plaza Rizal, immersing yourself in the city's cultural heritage.
49. Visit the Philippine Tarsier Foundation in Corella: Learn more about the Philippine tarsiers and their conservation efforts at the Philippine Tarsier Foundation in Corella, where you can observe these fascinating creatures in a protected environment.
50. Explore the stunning underwater landscapes while scuba diving in Anda's Anda Reef: Dive beneath the surface of the sea and explore the captivating underwater landscapes of Anda Reef, filled with vibrant corals, tropical fish, and marine biodiversity.
That is just 50 of so many what to do in Bohol. These are just a glimpse of the amazing experiences the island has to offer. Enjoy your adventures on this beautiful island!