Tagbilaran City Travel Guide
Tagbilaran City Travel Guide: Discover the City of Friendship and Natural Beauty

Old Provincial Capitol Building
Secure your Cebu Bohol ferry tickets today to start your unforgettable journey!
Welcome to Tagbilaran City, the vibrant capital and beating heart of Bohol province, Philippines. Nestled on this enchanting island, Tagbilaran seamlessly combines the allure of a provincial town with the significance of a thriving city. As the main point of entry to Bohol, it proudly stands as the political, social, and economic center of the province, earning its well-deserved reputation as the "City of Friendship."
With a population of approximately 105,000 residents, Tagbilaran embraces a sense of community that warmly welcomes visitors from near and far. Here, time seems to slow down, and the city's relaxed atmosphere is reminiscent of a charming provincial town. While the city may not boast the hustle and bustle of larger metropolises, its understated charm captivates travelers seeking a respite from the frenetic pace of life.
Tagbilaran's tranquil ambiance extends many advantages to its visitors. The locals, known as Tagbilaranons, are renowned for their genuine friendliness and warm hospitality, ensuring that every guest feels right at home. Safety is a prevailing characteristic of the city, providing a secure environment for exploration and fostering a sense of ease and relaxation.
Dr. Jose P. Rizal Monument in Plaza Rizal
As the gateway to Bohol's wonders, Tagbilaran offers a glimpse into the captivating experiences that await throughout the province. While strolling through its streets, you'll find establishments that operate at their own unhurried pace, granting you the opportunity to savor the simple pleasures of life. Whether it's engaging in conversations with locals, discovering historical landmarks, or immersing yourself in the natural beauty that surrounds the city, Tagbilaran will paint a vivid picture of the authentic Bohol experience.
Get ready to embark on a remarkable journey through Tagbilaran City, where the fusion of a close-knit community, serene surroundings, and a warm embrace of friendship creates an enchanting tapestry that will leave an indelible mark on your travel memories.
tagbilaran City tourist attractions

Tagbilaran City offers a multitude of attractions that will enchant both history enthusiasts and nature lovers alike. Let's embark on a journey to explore the city's historical landmarks and embrace its natural beauty.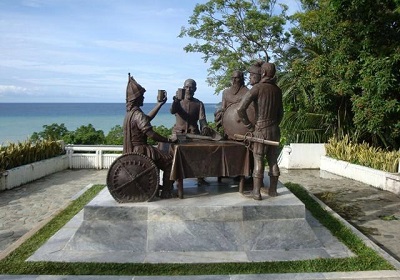 Sandugo Statue
Historical Landmarks:

Begin your exploration at the iconic Blood Compact Marker, a site of profound historical significance. This marker commemorates the first "Treaty of Friendship" between Datu Sikatuna, a native chieftain, and Don Miguel Lopez de Legazpi, a representative of the Spanish monarchy, which took place in 1565.

Immerse yourself in the rich history of the region at the Bohol Museum. Housed in the former residence of former President Carlos P. Garcia, this museum showcases exhibits that bring to life the heritage of Bohol through artifacts and memorabilia of the Garcia family.
Marvel at the architectural beauty of the Bohol Cathedral, dedicated to St. Joseph. Admire the intricate Baroque design as you take a moment for reflection and soak in the spiritual ambiance of this sacred place.
Pay homage to one of Bohol's most esteemed sons at the Pres. Carlos P. Garcia Memorial Park. Explore the expansive grounds adorned with a monument and a life-size bronze statue of President Carlos P. Garcia, a symbol of pride for the province and the fourth President of the Philippines.
Dawn Mass at St. Joseph's Cathedral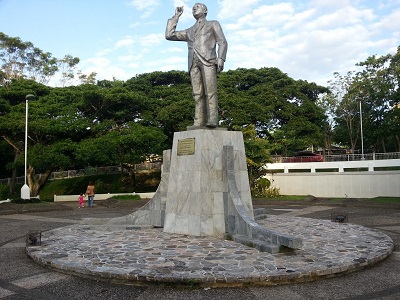 The statue of Pres. Carlos P. Garcia, the most notable Boholano
Recommended Bohol Philippines Tours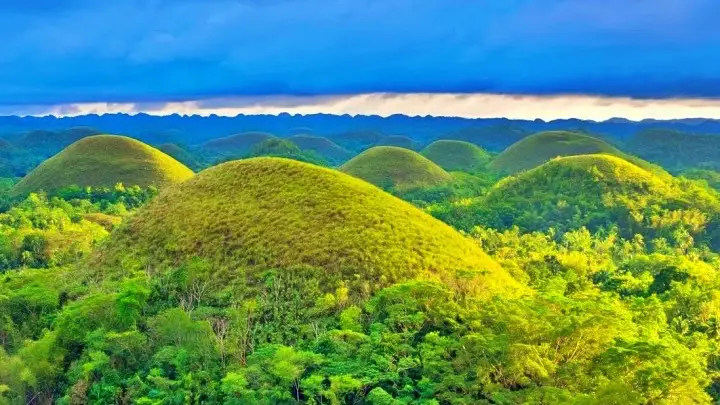 [ Bohol Sight Seeing Day Trips  - Check Out Availability ]
[ Full Day Cruise and Sailing Tours - Check out Availability ]
[ Full Day Adventure Tours - Check out Availability ]
Discover more of Bohol's natural wonders through our recommended tours. Click on the links below to embark on unforgettable adventures:
Ready to explore the beautiful islands of Cebu and Bohol? Secure your ferry tickets today through 12go and start your unforgettable journey!
---
Natural Beauty and Parks:

Indulge in a day of relaxation at Kaingit Beach, a serene cove with crystal-clear blue waters. Bask in the sun, take refreshing swims, and enjoy beachside picnics in this idyllic coastal retreat.

Take a leisurely stroll along the Jaycee Promenade, a waterfront project that offers breathtaking views of Tagbilaran Bay and Panglao Island. Witness the spectacular hues of sunset painting the sky as you revel in the beauty of nature.
For awe-inspiring vistas, venture to Banat-I Hill and Elly Hill. From the top of Banat-I Hill, behold panoramic views of the Mindanao Sea, neighboring provinces, and the picturesque Strait of Panglao Island. Ascend Elly Hill to capture the essence of the lush rolling hills and sprawling plains below, a paradise for photography enthusiasts and nature lovers.
A significant historical landmark in Tagbilaran is the Blood Compact Marker, located in Barangay Bool. This marker commemorates the blood compact or treaty of friendship between Datu Sikatuna, a native chieftain, and Don Miguel Lopez de Legazpi, a Spaniard representing the King of Spain. It is considered the first "Treaty of Friendship" between the Filipino and Spanish races.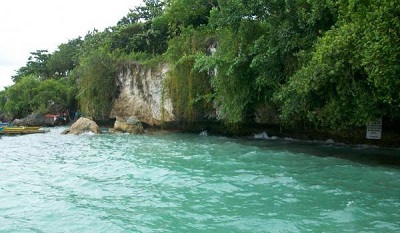 The Kaingit Cove
One of the main highlights is the Kaingit Beach, a picturesque cove with clear blue waters, making it a popular destination for beach lovers. The beach is well-maintained by the city government and offers a serene environment for relaxation.
The Provincial Capitol Building is another notable attraction, featuring Spanish architectural design with arcs and columns. This massive stone building serves as the seat of the provincial government of Bohol.
Just across the street lies the Plaza Rizal, where visitors can relax under the shade of trees and observe the numerous pigeons that inhabit the area. The plaza displays flags of various nations, and during national days, the corresponding flag is raised.
The Bohol Cathedral, dedicated to St. Joseph, is a picturesque church located near the Plaza Rizal. It is a prominent religious site and showcases Baroque architecture. The cathedral serves as the seat of the Diocese of Bohol and holds religious celebrations throughout the year.
To pay tribute to the great Boholano leader, the Pres. Carlos P. Garcia Memorial Park was established. This park covers 11 hectares of rolling terrain and features a marble base monument and a life-size bronze statue of President Carlos P. Garcia, the fourth President of the Philippines and a native of Bohol.
Other notable attractions include the Ubujan Marker, which commemorates the bravery of Captain Francisco Salazar and his men during a battle against Japanese forces in 1942, and the Bohol Museum, located in the former home of President Carlos P. Garcia.
The museum houses the Garcia family's memorabilia, old relics, furniture, and a collection of shells found on Bohol's shores, providing visitors with a glimpse into the island's rich history.
Bohol National Museum

The Bohol National Museum is a cultural treasure trove that showcases the rich heritage and history of Bohol. Situated in Tagbilaran City, the museum boasts a collection of artifacts, artworks, and exhibits that offer insights into the province's indigenous cultures, colonial influences, and contemporary arts. Visitors can delve into the archaeological finds, religious relics, traditional crafts, and historical documents on display, providing a deeper understanding of Bohol's past and present. The museum serves as a platform for preserving and promoting Boholano culture and is a must-visit destination for history buffs and culture enthusiasts.
The View at the top of Banat-i Hill
For breathtaking views, visitors can head to Banat-I Hill and Elly Hill. Banat-I Hill offers a scenic panorama of the Mindanao Sea, Negros, Siquijor provinces, and the Strait of Panglao Island.
Elly Hill provides an exquisite view of the lush rolling hills and plains below, offering a perfect spot for nature enthusiasts and photographers.
Stairway to the top of Elly Hill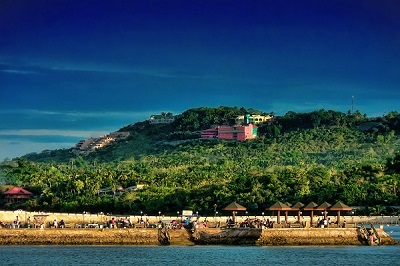 Jaycee Promenade, view from the sea
The Jaycee Promenade is a popular spot for an afternoon stroll and sunset viewing. Located in the K of C reclamation area, it is a joint project of the Bohol Jaycees and the city government. From here, visitors can enjoy a panoramic view of Tagbilaran Bay and the neighboring Panglao Island.
---
getting to tagbilaran city
There are several ways to get to Tagbilaran, depending on your starting point. Here are the most common transportation options:
1. By Air: Tagbilaran has its own airport, the Bohol-Panglao International Airport (TAG). You can book a flight from major cities in the Philippines, such as Manila or Cebu, to Tagbilaran. The flight duration is typically around 1 to 1.5 hours. From the airport, you can take a taxi or arrange for a transfer to your accommodation in Tagbilaran.
2. By Sea: If you prefer a scenic journey, you can reach Tagbilaran by sea through the Tagbilaran City Seaport. There are regular ferry services from other ports in the Philippines, such as Cebu, Dumaguete, and Manila. Travel time varies depending on the distance and the type of vessel, ranging from 1.5 to 4 hours. Once you arrive at the seaport, you can easily find transportation options, such as tricycles or taxis, to reach your desired destination within Tagbilaran.
3. By Land: If you are already in Bohol or nearby provinces, you can also travel to Tagbilaran by land. Buses and vans operate regular routes to Tagbilaran from major cities and towns in Bohol, as well as neighboring provinces like Cebu and Dumaguete. The travel duration depends on the distance, but it generally ranges from 1 to 4 hours.
It's recommended to check the schedules and availability of flights, ferry services, or land transportation options beforehand to plan your trip accordingly. Additionally, consider factors such as weather conditions and any travel advisories that may be in place during your intended travel dates.
Within the city, the Dao Integrated Terminal in the Dao district serves as the main transportation hub for buses and vans. It provides convenient connections to different parts of the province. Buses and vans operate at regular intervals, usually every 30 minutes from dawn until dusk, with departures depending on passenger load.
---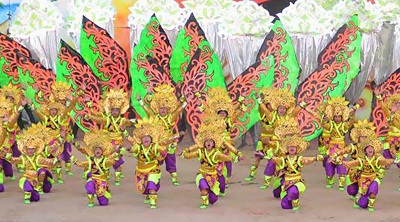 Tagbilaran City celebrates various festivals throughout the year. Join in the festivities and experience the vibrant culture of the locals. Some notable festivals include the Sandugo Festival, showcasing the city's rich history and the blood compact ritual, and the Tagbilaran Ubi Festival, celebrating the versatile purple yam, a local delicacy.
---
Geography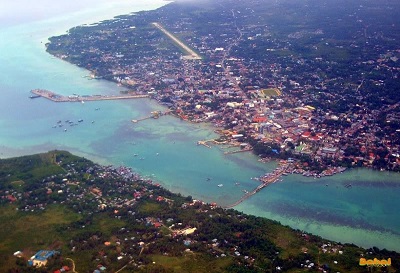 Nestled in the southwestern part of the province, Tagbilaran City spans a vast land area of 3,270 hectares, encompassing a picturesque landscape of ridges, rolling hills, and a captivating 13-kilometer coastline.
Geographically blessed, the city offers a diverse natural environment that will surely captivate every visitor.
Tagbilaran City is divided into 15 barangays or districts, each with its own unique charm and character.
Starting with Bool, Booy, Cabawan, Cogon, Dao, Dampas, Manga, Mansasa, San Isidro, Taloto, Tiptip, Ubujan, and the vibrant districts of Poblacion 1st, 2nd, and 3rd.
Each district contributes to the colorful tapestry that forms the vibrant cityscape of Tagbilaran.
Whether you find yourself exploring the lush hillsides, embracing the coastal beauty, or immersing yourself in the distinct ambiance of each district, Tagbilaran City offers a harmonious blend of natural wonders and urban charm.
Discover the enchanting landscapes and vibrant neighborhoods that make Tagbilaran an enticing destination for adventurers and seekers of authentic experiences.
Nearby Attractions

Panglao Island:
Just a short distance from Tagbilaran, Panglao Island is a must-visit destination.
Explore its pristine white sand beaches, such as Alona Beach and Dumaluan Beach, renowned for their crystal-clear waters and vibrant marine life.
Don't miss the chance to go snorkeling or diving in Balicasag Island, famous for its colorful coral reefs.
Chocolate Hills:
A short drive from Tagbilaran will take you to the world-famous Chocolate Hills, Bohol's iconic natural wonder.
Marvel at the perfectly cone-shaped hills that turn chocolate brown during the dry season.
Climb to the top of the viewing deck for an awe-inspiring panoramic view of this unique landscape.
Local Cuisine:
Indulge in the flavors of Tagbilaran by sampling its local cuisine.
Don't miss the opportunity to try the city's specialty dishes.
Taste the delicious "kakanin" or native delicacies made from rice, such as "bibingka" (rice cake) and "puto" (steamed rice cake), which are commonly sold in local markets and food stalls.
For seafood lovers, Tagbilaran offers a wide array of fresh seafood dishes.
Savor the flavors of grilled fish, shrimps, crabs, and squid, cooked with local spices and served with a side of steamed rice.
Don't forget to try the famous "kinilaw," a Filipino ceviche made with fresh fish or seafood marinated in vinegar, calamansi juice, and spices.
Shopping and Souvenirs

Take a leisurely stroll through Tagbilaran's vibrant markets and souvenir shops.
Dao Public Market:
Dao Public Market is a bustling hub of commerce located in Tagbilaran City. It is a vibrant marketplace where locals and visitors alike can find a wide array of fresh produce, meats, seafood, and other culinary ingredients. The market offers a lively and authentic shopping experience, with vendors showcasing their goods in colorful stalls. From fruits and vegetables to local delicacies, the Dao Public Market provides a glimpse into the daily life and culinary culture of Tagbilaran City.
Souvenir Shops:
Souvenir shops in Tagbilaran City offer a treasure trove of mementos and keepsakes for travelers. These shops are filled with an assortment of items that capture the essence of the city and its surrounding attractions. Visitors can find a variety of handicrafts, trinkets, clothing, and accessories that reflect the local culture and traditions. Whether it's a keychain, traditional woven products, or handcrafted souvenirs, these shops provide opportunities to take home a piece of Tagbilaran and share the memories of the visit with loved ones.
Bohol Delicacies:
Bohol is known for its delectable culinary offerings, and exploring the various Bohol delicacies is a treat for the taste buds. From the world-famous chocolate hills to the exotic tarsiers, the province offers a diverse range of local delicacies that showcase its rich flavors and unique ingredients. Some popular Bohol delicacies include peanut kisses (sweet peanut-based treats), calamay (sticky rice dessert), kalamay sa bohol (sticky rice cake), and budbud kabog (sticky rice cake made from millet). These delicacies can be found in local shops, markets, and food stalls, allowing visitors to savor the authentic flavors of Bohol and bring home a taste of the province.
Island City Mall (ICM):
Located in the heart of Tagbilaran City, Island City Mall (ICM) stands as a premier shopping and entertainment destination. As the largest shopping complex in Bohol, ICM offers a diverse range of retail outlets, boutiques, and specialty stores, catering to both local residents and visitors. Shopaholics will delight in the array of fashion, electronics, home decor, and other goods available. The mall also houses a variety of dining options, from local delicacies to international cuisines, ensuring that every palate is satisfied. Additionally, ICM features entertainment facilities such as cinemas, providing a perfect venue for relaxation and leisure activities.
Bohol Quality Mall (BQ Mall):
Bohol Quality Mall (BQ Mall) is a popular shopping hub in Tagbilaran City. This multi-level mall offers a wide selection of shops, including clothing stores, electronics retailers, supermarkets, and more. Visitors can browse through an assortment of products, from trendy fashion items to household essentials. The mall also features dining options, food courts, and cafes, making it a convenient spot to grab a bite to eat or enjoy a cup of coffee. With its central location and diverse shopping offerings, BQ Mall is a go-to destination for both locals and tourists looking for a satisfying retail experience.
Alturas Supermarket:
Alturas Supermarket is a well-known grocery store chain in Bohol, with one of its branches located in Tagbilaran City. It offers a wide range of groceries, fresh produce, meats, seafood, and household essentials. The supermarket provides a convenient shopping experience for locals and visitors, catering to their daily needs and ensuring a reliable source for quality products.
Plaza Marcela:
Plaza Marcela is a public square and gathering place situated in the heart of Tagbilaran City. It serves as a hub for social activities, community events, and recreational purposes. The plaza features open spaces, manicured gardens, and benches where people can relax and enjoy the surroundings. It often becomes a focal point for festivals, performances, and celebrations, fostering a sense of community and providing a vibrant atmosphere in the city center.
Shoppers' Mart:
Shoppers' Mart is a retail establishment in Tagbilaran City, offering a range of products and household goods. It caters to the shopping needs of the local community, providing a convenient option for purchasing daily necessities and other essentials. Shoppers' Mart is known for its affordable prices and wide selection, making it a go-to destination for residents seeking convenience and value.
Symbols of the City of Tagbilaran
Symbols of the City of Tagbilaran reflect the unique identity and cultural heritage of the city. Here are the symbolic elements:
Flag: The Tagbilaran Flag represents the city's pride and unity. It may feature distinctive colors, patterns, or symbols that symbolize the values and aspirations of Tagbilaran.
Hymn: The Tagbilaran Hymn is a musical composition that embodies the spirit and essence of the city. It is sung with pride and serves as a rallying point for Tagbilaranons.
Dance: The Kuradang is a traditional dance closely associated with Tagbilaran. This lively and festive dance showcases the vibrant culture and lively spirit of the people.
Bird: The Tailor Bird, also known as "tamsi" in the local language, is the chosen avian symbol of Tagbilaran. This bird represents the city's resilience and adaptability.
Flower: The Bougainvillea is the designated floral symbol of Tagbilaran. Known for its vibrant and colorful blooms, the Bougainvillea represents the beauty and liveliness of the city.
Tree: The Acacia tree holds significance as the symbolic tree of Tagbilaran. This sturdy and majestic tree embodies strength, stability, and longevity.
Plant: The Golden Duranta, a flowering shrub with golden blossoms, is the chosen plant symbol of Tagbilaran. It represents prosperity, beauty, and growth.
Fish: The Danggit, a popular local fish, is the designated fish symbol of Tagbilaran. As a staple seafood in the area, the Danggit represents the bountiful coastal resources and the city's connection to the sea.
These symbols serve as proud representations of the unique identity and cultural heritage of Tagbilaran City, adding depth and meaning to its vibrant community.
Safety Tips

While exploring Tagbilaran City, it's important to prioritize your safety. Here are a few tips to keep in mind:

Stay hydrated and carry a water bottle with you, especially during outdoor activities.
Apply sunscreen and wear a hat or cap to protect yourself from the sun's rays.
Stay alert and be cautious of your belongings in crowded areas.
Follow local rules and regulations, especially when visiting natural attractions or protected areas.
Conclusion

Tagbilaran City, the City of Friendship, invites you to experience its rich history, stunning natural beauty, and warm hospitality.
From exploring historical landmarks to indulging in local cuisine and enjoying picturesque views, this charming city has much to offer.
Whether you're a history enthusiast, nature lover, or simply seeking a relaxing beach getaway, Tagbilaran City promises a memorable and delightful travel experience.
So pack your bags and embark on an unforgettable journey to Tagbilaran, where friendship and adventure await.

---