Rajah Sikatuna National Park
Rajah Sikatuna National Park
Secure your Cebu Bohol ferry tickets today to start your unforgettable journey!
Rajah Sikatuna National Park is a haven for nature lovers and a bird-watcher's paradise. It is the widest remaining forest in Bohol. This forested karst limestone areas were recognized and declared a National Park under Proclamation No. 129 in July 10, 1987.
Recommended Bohol Philippines Tours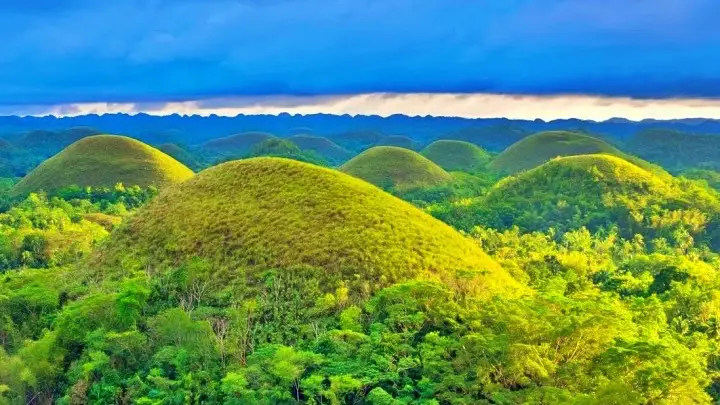 [ Bohol Sight Seeing Day Trips  - Check Out Availability ]
[ Full Day Cruise and Sailing Tours - Check out Availability ]
[ Full Day Adventure Tours - Check out Availability ]
Discover more of Bohol's natural wonders through our recommended tours. Click on the links below to embark on unforgettable adventures:
Ready to explore the beautiful islands of Cebu and Bohol? Secure your ferry tickets today through 12go and start your unforgettable journey!
The park is now known as the Rajah Sikatuna Protected Landscape (RSPL) as renamed by the DENR (Department of Environment and Natural Resources). It covers the towns of Bilar, Valencia, Carmen, Sierra Bullones, Garcia Hernandez, Dimiao and Batuan.
With a total land area of 9,023 hectares, 4,700 hectares is made up of natural forests, 1,600 hectares of man-made forest, 690 hectares occupied and the rest has cogonal features which are subject to rehabilitation.
The development of the RSPL is anchored on three objectives: potable water source and irrigation, biodiversity reserve, and eco-tourism. It provides a scenic view for tourists going to Carmen who can view the forest and the rice fields fronting the reserve.

Wildlife is undisturbed and roams freely in the park's interiors. Countless species of birds, butterflies, flora and fauna thrive in the area. With a minimal entrance of P20.00, one can traverse the countless trails set up for visitors who want to go on a nature trek or bird watching.
The Rajah Sikatuna National Park is home to various species of birds. In your bird-watching trips it is advisable to bring birdcall tapes. The taped bird sounds will lure even the naturally shy birds from their habitats. This is the only way that you will see the rare bird species and get some pictures of them for documentation. If you're lucky, you can spot one or two of them as they fly about in the park.
Butterfly Sanctuary
A butterfly sanctuary, otherwise known as the Simply Butterflies Conservation Center is found in Bilar and within the area of jurisdiction of the Rajah Sikatuna Protected Landscape (RSPL) although it is an independent entity. The center seeks to protect and strengthen the natural environment of the butterflies through plant research, breeding and releasing.
Tarsiers
Tarsiers can be found in the forests within the Rajah Sikatuna National Park's area of jurisdiction. These nocturnal mammals measures 4 to 5 inches and is considered as the world's smallest primate. Its size is no longer than an adult man's hand and weigh only about 113 to 142 grams or four to five ounces.
With its tail longer than its body, it has large brown eyes, hairless ears and long finger-like claws. It has gray fur and a nearly naked tail. Their long, partly hairless tail arcs over their back when they hop on the ground. Tarsiers have large mesmerizing eyes, each of which is bigger than its brain. Just click the link for more details on tarsiers.
Monkeys
Monkeys have made the woodlands of the Park as their home. They are friendly though a bit mischievous and are used to seeing people everyday. If you will not watch out, they will steal your food, your hat, or whatever items you leave about.
Bats
There are 26 bat species (fruit and insect bats) found in RSNP, some dwelling in limestone karst caves that are found in the reserve. These bats represent 30% of the 73 species found in the Philippines. The flying lemur, which looks like a big bat, is also a native of the Park.
Plants & Trees
There are 16 verified species of Dipterocarps within the reserve; which is 30% of the 45 known species in the Philippines. Four of these are considered critically endangered by the DENR. All provide both economic and environmental value to the country.
There are 17 species of Apitong; the 17th specie being found in Danao. The seeds of the 18th specie have been found although the mother tree has not yet been found. Also, a specialist from the National Museum discovered 90 new fern kinds in Bohol bringing the total to 173 from the previous number of 73 species.
Conservation Measures Taken
Local residents and officials were given the capacity to manage the various ecosystems and resources within their area of jurisdiction. Protection patrols have been set up to apprehend illegal timber cutters and poachers.
Click for FREE information and compare prices of Bohol Island hotels and beach resorts
General orientation and training to biodiversity conservation and protection as well as eco-tourism were given to all municipal officials, Barangay Captains, line agencies personnel and selected persons in the municipality.
Information materials about various aspects of biodiversity and ecotourism, focusing on the flora, fauna and ecotourism sites and facilities are being distributed in schools and to all who are interested.
Location
Rajah Sikatuna National Park is located at Logarita, Bilar, Bohol. Bilar is an interior town located 41 kilometers Northeast of Tagbilaran City, the lone city of Bohol.
How to Get There
St. Jude buses are available at the Dao Integrated Terminal at Tagbilaran City. These buses ply the route to Talibon and passes by the Bilar Market con terminal. From the terminal, one can hire a "habal-habal" (motorcycle taxi) and instruct the driver to bring you to the park's headquarters at Logarita which is 3.5 kilometers away; though much nearer on a shortcut route.
Specifically, take the small road opposite that of the Bilar Catholic Church. 300-400 meters away, and over a bridge, one will see a footpath to the right which follows the river. The footpath is about 40 meters after the bridge. Traverse this footpath for 2 kilometers and you will arrive straight at the Park's Headquarters.
If you are on a vehicle, a drivable road to HQ continues straight after the bridge and until you come to the entrance gate.
Caves
There are 130 caves already mapped within the reserve as well as limestone formations, providing geological value to the park. 37 caves are found in six barangays of Sierra Bullones, and these caves have been mapped by local residents. These caves are now being used for adventure ecotourism and as show caves. The caves are the habitats of some bat species.
Hanging Bridge
A hanging bridge, way over a stream, is within the Park premises. The bridge is made up of bamboo poles only. Adventuresome spirits may enjoy crossing the bridge with only one bamboo pole as foothold. On the bridge, the view of the Park's rugged terrain and the winding stream below is breathtaking.
Swimming Pool
A swimming pool is within the Park and located near the headquarters. The pool is being fed with water from the Logarita Spring. Although the pool is quite small, it is a favorite spot for the locals who go there for relaxation and to refresh in it's fresh, clean and cool spring water. Small thatched cottages are along the pool to give shade to the bathers.
Accommodations
A hostel is available if one plans to stay overnight. The hostel is small with only three double rooms which can be had at P50 a night. A birder's and visitor's logbook is in the hostel. The birder's logbook is very informative and contains a list of birds that have made the park their habitat.
A number of chalets are available at Camp Magsaysay, a Scout Camp and Nature Center inside the Rajah Sikatuna National Park. Expect these chalets to have very basic facilities such as beds, toilet and water.
For those who prefer more modern facilities, a hotel is available at Carmen town, two towns after Bilar. The hotel is situated on a hill and offers better accommodations than those in Bilar. A view deck is provided after going up 214 steps where one can see the whole expanse of the famed Chocolate Hills.
Top of Rajah Sikatuna National Park