Baclayon Hotels and Inns
Secure your Cebu Bohol ferry tickets today to start your unforgettable journey!
Baclayon Hotels, Inns and other forms of accommodation is available from several providers. You can choose from home-stays in the historic ancestral houses, to high-class luxury resorts and spas. Baclayon is only 7km from Tagbilaran City, a short hop in a jeepney or motorbike. The place is an ideal base for a short holiday in Bohol.
Recommended Bohol Philippines Tours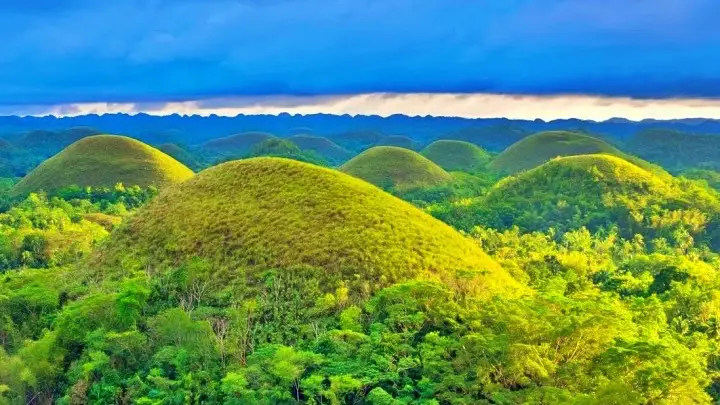 [ Bohol Sight Seeing Day Trips  - Check Out Availability ]
[ Full Day Cruise and Sailing Tours - Check out Availability ]
[ Full Day Adventure Tours - Check out Availability ]
Discover more of Bohol's natural wonders through our recommended tours. Click on the links below to embark on unforgettable adventures:
Ready to explore the beautiful islands of Cebu and Bohol? Secure your ferry tickets today through 12go and start your unforgettable journey!
Cheap Baclayon Hotels
Bohol Narra Homestay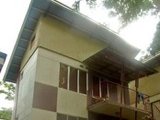 Nestled in a tranquil locality beside the sea and surrounded by luscious trees, Bohol Narra Homestay provides a great family option with one room comprising of four beds available. Php1200 per night (for 2) including breakfast.
Pobalcion, Baclayon,
☎ +63-38-540-9435
Homestay de Bai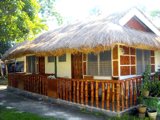 Located very centrally beside the Baclayon Church, Homestay de Bai offers simple and clean air-con rooms with an ideal location. Room prices are Php1000–1200 per room per night (for 2) including breakfast.
Poblacion, Baclayon;
☎ +63-38-540-9056.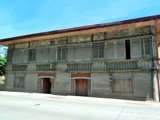 The Malon House dates back to the late 19th century. It is the largest heritage house in Baclayon - home to six (6) generations of the prominent Malon family. It is a huge two-story wooden structure, now grayish in color due to the onslaught of the elements for centuries. As unassuming as it looks from the outside, inside it's historic grandeur is realized with antique furniture, religious icons, paintings, and impressively large wooden floorboards.
However, you will not get a good nights sleep as the house is located next to a busy road and has no glass windows. Even if you manage to fall asleep with the traffic noise on the background, the choir of roosters will surely wake you up at 4 am. Breakfast will be cooked at 5 and left to sit on the table in the dining room.
If you get out of bed at 6 or 7 am you are to experience cold, greasy food with ants crawling all over it. Rooms including breakfast are Php1200 per night.
Read more about the Malon House
Poblacion, Baclayon
☎ +63-38-540-9514
Mary's Pamilacan Cottages
Located right on the shore front of Pamilacan Island, these very basic but clean cottages offer a ideal escape from the hustle and bustle of mainland towns. Prices are; Cottage Php500 pp/night including breakfast and dinner; Cottage including 3 meals Php750 pp/night; Large cottage including meals Php1000 pp/night
Pamilacan Island,
☎ +63-917-7021468.
Mid-Range
Bohol Coconut Palms Resort
Bohol Coconut Palms Resort have opened their doors to provide you with wonderful facilities and warm service. It is truly a venue you can enjoy with your family, friends, and even your colleagues. The resort also has a function room that can accommodate 200 people. You can also find pleasure in their leisure facilities. These include a semi-Olympic-size swimming pool with slides and kiddie pool with fountain. Best rates on official website start at Php 1,300.
Aba-a St. Laya, Baclayon Bohol, Philippines 6301,
☎ (02) 526 0157, [19].
Luxury
The Peacock Garden Luxury Resort and Spa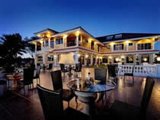 Peacok Garden is an elegant German-owned and managed resort perched on a hill with an extremely impressive infinity pool overlooking the seascape and Pamilacan Island. This was the first resort in Bohol to be granted 5-star accreditation. The resort features a fine-dining restaurant, a Roman-inspired spa, a wine cellar, music and dance club, fitness room and a member's only cigar lounge. Prices range Php8,000 - 18,000 per room per night.
Upper Laya, Baclayon;
Source:
Wikitravel and others
Top of Baclayon Hotels and Inns
See also other Bohol Hotel listings.