Panglao Island Hotels
Secure your Cebu Bohol ferry tickets today to start your unforgettable journey!
Featured Resorts
Bohol Divers Resort is located at Barangay Tawala in Panglao town, 20 meters away from Alona Beach. The resort features above par accommodations: 12 La Residencia Houses, 12 Villa Suite Rooms, 18 Chateau Rooms and 1 Chalet House which is beachfront. It boasts of 2 swimming pools, a restaurant, beach bar, reef dive shop, outdoor games facilities and more.
Recommended Bohol Philippines Tours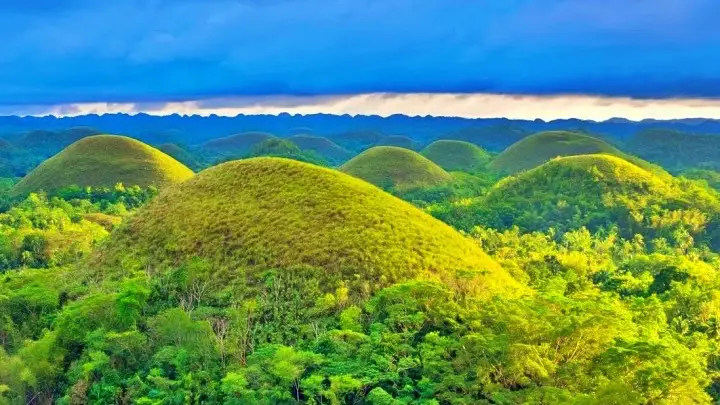 [ Bohol Sight Seeing Day Trips  - Check Out Availability ]
[ Full Day Cruise and Sailing Tours - Check out Availability ]
[ Full Day Adventure Tours - Check out Availability ]
Discover more of Bohol's natural wonders through our recommended tours. Click on the links below to embark on unforgettable adventures:
Ready to explore the beautiful islands of Cebu and Bohol? Secure your ferry tickets today through 12go and start your unforgettable journey!
Panglao Town Non-Beachside Resorts
Alonaland Resort is located at Tawala, Panglao town at Panglao Island, Bohol. The resort offers cottages, bungalows and two-storey houses offering room accommodations that are fully equipped with beds, aircon, private bath, hot and cold water, etc. The resort also has a restaurant that offers breakfasts, snacks, and other dishes plus all kinds of beverages.
Alumbung Beach Resort is located at Barangay Danao in Panglao Town. The resort is only 5-minute walk away or a 2-minute ride to Alona Beach. Guests have a choice of either a Tropical Villa or the Lumbung Cottage. The native-style cottages are called "lumbungs", which are traditional native Balinese rice barns where the upper part of the hut serve as a rice barn and the ground floor as a meeting place for the family. Both accommodations have their bedrooms situated upstairs and the kitchen, bathroom and lanai are downstairs. High-speed wireless internet is available throughout the property.
Banana Land Resort is located at Barangay Tawala in Panglao town at Panglao Island, Bohol. Existing since1993, the resort features 10 native-styled bungalows spread in a palm grove property of approx. 5,200 square meters. It is non-beachfront since it is about 200 meters away from Alona Beach. Bungalows are equipped with ventilating fan and fridge; additional air-conditioned bungalows with hot and cold water are forthcoming. Guests can choose from a Family house or a duplex where they can cook their own meals. However, the resort's main building serves breakfast, lunch and dinner by request.
Belleview Rock Resort is situated on a cliffside at Barangay Tawala in Panglao town. The resort has 9 family suites, spacious, very clean, fully air conditioned and provided with queen-sized beds with all modern amenities for full comfort. It also functions as a dive center with complete dive facilities that offer scuba diving packages, scuba diving equipment rental, Philippine scuba diving safaris and PADI certification courses. It boasts of a freshwater swimming pool and a kiddie pool with a round pool bar that offer refreshing cocktail drinks and delicious snacks and also a restaurant.
Calypso Swiss Resort is located at Barangay Danao in Panglao town. The resort features small huts with fan and bathroom; a concrete building housing aircon rooms; scuba dive shop and a restaurant serving Filipino and Swiss cuisine. A rectangular swimming pool is situated outside. The resort is a 3-minute walk away from the beach.
Casa Bianca is located at the Poblacion of Panglao town, 1-2 km from the beach. It lies along one of the main roads of the town, near the historical Panglao Church and park where one can also see the tallest stone watchtower of Bohol. It is much nearer to Doljo Beach yet Alona Beach is only a few minutes ride away. Formerly known as Casa Mañana, the house is a two-storey native building good for 10-15 persons with 5 bedrooms: 3 standard rooms with aircon, 1standard room non-aircon and 1 attic room. There are two toilets and bathrooms; one on each floor. It is provided with a kitchen with refrigerator, a dining room and a dirty kitchen.
ChARTs Resort is located at Ester Lim Drive at Barangay Tawala in Panglao town, Panglao Island, Bohol. It is a non-beachfront resort boasting of whitewashed Mexican-styled buildings that houses standard and suite room accommodations equipped with all modern amenities for a comfortable and convenient stay. Aside from room service, the resort offers complete transfer services, tours and other activities.
Cherry's Home Hotel Bohol features a big yellow building situated in a corner lot at Barangay Tawala and a big house at Barangay Bolod, both of Panglao town. The Tawala house is located 150 meters away from Alona Beach while the Bolod house is only a 5-minute drive to Alona Beach. Both houses have fully-furnished room accommodations.
Citadel Alona Inn is located at lot 4480-A, Purok 7, Barangay Tawala at Panglao town. The Inn is a mere 8 minute walk, about 200 meters, from Alona Beach. Completed in 2005, this two-storey inn offers bed & breakfast accommodations to divers, backpackers, and transient business travellers. The whitewashed imposing building houses ten (10) room accommodations with common bathrooms for male and female at each floor; each with a shower and toilet cubicle. Aside from rooms, the 2nd floor gives way to a kitchen/dining room with a balcony where guests can dine and relax at will. A bar and art gallery is located at the ground floor plus the reception room with TV lounge. The rear garden is provided with two (2) large umbrella-shaded sitting areas, and a BBQ and wash-up sink. Ample parking space is available.
Evelyn's Place is located at Danao, Panglao Town, Panglao Island.
Flower Garden Resort is located at Barangay Tawala in Panglao town and situated at the back of Alona Palm Beach Resort, about 150 meters from Alona Beach. Flower Garden is a 4-star hotel featuring 3 Swiss-looking two-storey houses, a duplex and a single bungalow. Rates are per house or bungalow, not per person, and include fresh drinks, beers, laundry, and may be taken with or without air-conditioner. Swiss run, the houses have fully-equipped kitchen where one can cook. It is provided with gas stoves, pots & pans, cooking utensils and a refrigerator. A pear-shaped swimming pool is newly added to the garden with a makeshift falls and where plastic lounge chairs and tables are provided.
FM Schaffner Pension House & Videoke Bar is located at Poblacion, Panglao Town at Panglao Island.
Heartland Inn is situated along Ester Lime Drive at Barangay Tawala of Panglao town. Ester Lim Drive is a wide cemented auxiliary road. The Inn features a two-storey thatched house with a double bed at the upper floor, near the stairs and the veranda where a dressing area and cabinet are provided. At the ground floor one will find the living room, the kitchen with refrigerator, and the toilet and bath. Both upper and lower verandas overlook the garden and are provided with two bamboo armchairs and small tables. Booking requires at least one week notice.
Mondsee Land Resort offers standard, deluxe and family rooms which are only about 5-minute walk to Alona Beach. The family rooms are equipped with a kitchenette; the deluxe and standard rooms are spacious; all having verandas where most have pool views. The resort also has a restaurant, bar, coffee shop and a swimming pool.
Oasis Resort features 7 native-style cottages with two rooms each and is located right at the back of their Dive Center, around 50 meters away from the beach. The rooms are provided with aircon or fan, mini bar, private toilet and bath with hot & cold water. The resort has its own swimming pool, restaurant and bar. All rooms overlook the swimming pool while the restaurant and bar faces the lush gardens and the pool. The restaurant serves both international and Filipino dishes.
Paragayo Resort features 12 native-inspired yet modern cottages in three categories: standard fan rooms, standard aircon rooms, and deluxe rooms. The hotel type non-beachfront resort is set amidst well-manicured gardens of coconut palm trees and other tropical plants with paved pathways, adding to its tranquil and cool ambiance. Wireless high-speed internet access is available throughout the resort. The resort also offers special package rates to participants of seminars and conventions.
Whites & Greens Beach Resort offers no-frills accommodations, far from the fast-paced urban lifestyle without missing some of the necessary convenience like Wi-Fi Internet and an air conditioner. Outside, under the trees are nice nooks for some book reading, listening to music or simply admiring nature while sipping a glass of cold refreshment. It has 6 bungalows and 4 cottages and a beautifully-landscaped garden.
Samira's Pyramid features 8 rooms in two categories: standard rooms and deluxe rooms. All rooms have electric fan; standard rooms have common toilet and bath while the deluxe room have private toilet and bath. The resort has diving facilities, a snack bar and a sundry shop.
Sun Apartelle Resort The resort is under German management and offers exclusive and comfortably furnished apartments with first-class services. It has a swimming pool, a restaurant, a full liquor and cocktail bar, a dive shop and a reception area where various items are sold such as personal toiletries, souvenir items and his and hers beach and leisurewear.
Villa Anita is a two storey building of Mediterranean design situated along Esther Lim Drive, at Barangay Tawala in Panglao town. This luxurious villa is only a few meters away from the famous Alona Beach and features 6 single room accommodations that are fully air-conditioned with toilet and bath, hot & cold shower, refrigerator and cable TV. Food and drinks are served by their restaurant: JJ's Bar and Restaurant which is also the entertainment center.
Bohol Towns Hotels, Pension Houses and Resorts ome-away-from-home fully equipped with all the facilities and amenities that will make your stay comfortable. Little jungle paradise is so different
Bohol Dauis Hotels and Resorts Pension Houses, Inns and other establishments offering room accommodations are only few in comparison to those found at Alona Beach yet their clientele have grown.
Panglao Island Hotels - offers cottages, bungalows and two-storey houses offering room accommodations that are fully equipped with beds, aircon, private bath, hot and cold water, etc.
Bohol Tagbilaran City Hotels - Bohol Tropics Resort Hotel Casa Juana Lodging House Chriscentville Hotel El Portal Inn Bohol La Roca
Panglao Island Beach Resorts offers Continental, Filipino and English cuisines served by well-trained staff. Amidst trees and Bermuda grass is a swimming pool.
Cabilao Beach Resort is situated near the village of Cambaquiz on the north-eastern point of the island, directly on the white palm-fringed beach. The resort boasts of 4 double bungalows, one triple