Flower Garden Resort Bohol
Secure your Cebu Bohol ferry tickets today to start your unforgettable journey!
The Flower Garden Resort Bohol is a 4-star hotel; and true to its name, lies amidst beautifully landscaped gardens full of blooming flowers, palms and rich greenery. Upon entering the property, you are greeted by a road sign made more beautiful by cascading bougainvillea flowers around it.
Attractive pathways lead to 3 Swiss-looking two-storey houses, a duplex and a single bungalow. The rates are per house or bungalow, not per person and by standards, is a lot cheaper. One house is more or less Php 1,100 only and includes fresh drinks, beers, laundry, and may be taken with or without air conditioning.
The houses have fully-equipped kitchens where you can do your own cooking. Gas stoves, pots & pans, cooking utensils and a refrigerator are provided. This is quite advantageous for those on a tight budget or on special diets.
The Resort has no restaurant nor do they serve meals. You are expected to cook your own food. Otherwise, you can take your meals from restaurants of neighboring resorts which dots the shoreline and only 5-10 minutes walk away.
It is not along the beach yet it takes only a 5-minutes walk thru Alona Palm Beach Resort to reach the blue waters beyond; approximately 150 meters from the beachfront, just behind the expensive Alona Palm Beach Resort.
A pear-shaped swimming pool is newly added to the garden with a makeshift falls. Plastic lounge chairs and tables are provided where guests can relax and commune with nature. The whole property exudes peace and quiet.
The Swiss owners and staff are very warm, friendly, gracious but discreet. Their ready smiles are nothing but contagious!
Recommended Bohol Philippines Tours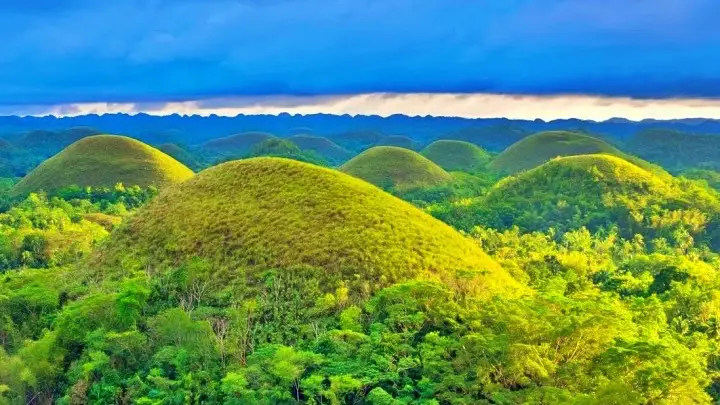 [ Bohol Sight Seeing Day Trips  - Check Out Availability ]
[ Full Day Cruise and Sailing Tours - Check out Availability ]
[ Full Day Adventure Tours - Check out Availability ]
Discover more of Bohol's natural wonders through our recommended tours. Click on the links below to embark on unforgettable adventures:
Ready to explore the beautiful islands of Cebu and Bohol? Secure your ferry tickets today through 12go and start your unforgettable journey!
Location
The Flower Garden Resort is located at Tawala, Panglao, Bohol, Philippines.
Panglao Island is considered as the "tourist spot" of the province of Bohol. It is divided into two municipalities, Panglao and Dauis and connected to mainland Bohol by two bridges. Panglao Island is the best jump-off point to other beautiful spots which the Province of Bohol is well-known of.
Facilities and Services
Two-storey Houses
There are 3 two-storey houses that are typical Swiss houses in that it has stiff slanting wooden roofs and the walls are painted white. A balcony is provided at the 2nd floor and a terrace at the ground floor.
The Living Room has a sofa, center table and stools covered with flower upholstery. Bathroom has hot and cold water. Guests have the option of choosing an air conditioner or a fan and pay accordingly.
The kitchen is fully equipped with gas stove, pots & pans, cooking utensils and a refrigerator. Walls have sparse decorations, complete lighting fixtures and the whole place has a homey atmosphere.
Duplex
Walls, balusters and columns are painted white while flooring is of maroon tiles and the roof of brown color. The spacious bedroom showcases 2 beds covered with cotton bedcovers and linen. Between the beds is a small white table with stools.
A fan-chandelier is on the ceiling yet an air-conditioner is also provided. Guests are given the option to choose what appliance to use. The place is well lighted with a fully equipped kitchen with gas stove, pots & pans, cooking utensils and a refrigerator; and a bathroom with hot and cold shower.
Bungalow
Walls, balusters and column are painted white while floors are of red tiles and the roof, of brown color. Bedrooms are very spacious with either one or two beds covered with cotton linens. A small table plus stools are provided.
The bungalow is also provided with a fully equipped kitchen with gas stove, pots & pans, cooking utensils and a refrigerator. The bathroom has hot and cold water. Lighting features are ok.
Overview
Flower Garden Resort Hotel is only a small property yet the beautifully landscaped garden gives an ambiance of peace and tranquility. It is a nook where one can relax, refresh and do away with stress brought about by the hustle and bustle of city life. The place offers a sense of seclusion and privacy and is best for newlyweds and older couples.
If you want to go snorkeling or sunbathing, the beach is only 5-minutes walk away. For night life and fun, you can always join the activities of the neighboring resorts. If you hate the thought of cooking your own meals, restaurants are available on neighboring resorts which are only 5 minutes walk away.
All in all, the Resort may not have the facilities you want, like restaurants, yet they are available and readily accessible. And the rates, they are way below those of their neighbors!
Come . . . take advantage of what Flower Garden Resort Bohol has to offer: low rates, excellent lodgings, beautiful gardens, efficient staff, plus wonderful facilities that are just around the corner!
Top of Flower Garden Resort Hotel