Bohol Town Hotels, Resorts, Pension Houses
Secure your Cebu Bohol ferry tickets today to start your unforgettable journey!
Calape Hotels and Resorts
Isla Hayahay Beach Resort is a beachfront resort situated on the flat island of Pangangan amidst tall coconut palm trees and sparse vegetation including corn and cassava; with limestone outcrops dominating most of its vacant and undeveloped areas. The resort has an area of 946 hectares where about 115 hectares has been declared as a Mangrove Swamp Forest Reserve.
Recommended Bohol Philippines Tours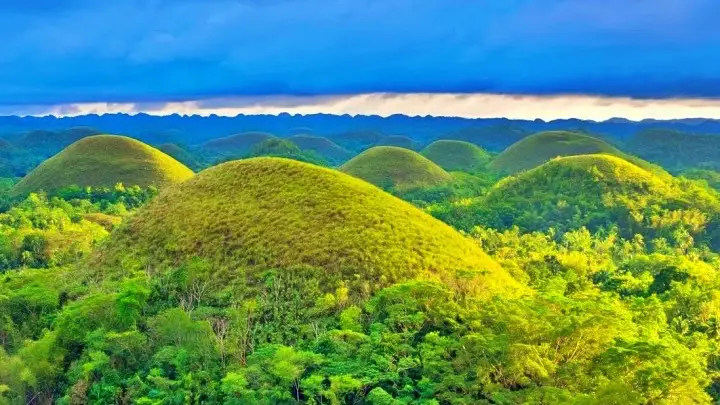 [ Bohol Sight Seeing Day Trips  - Check Out Availability ]
[ Full Day Cruise and Sailing Tours - Check out Availability ]
[ Full Day Adventure Tours - Check out Availability ]
Discover more of Bohol's natural wonders through our recommended tours. Click on the links below to embark on unforgettable adventures:
Ready to explore the beautiful islands of Cebu and Bohol? Secure your ferry tickets today through 12go and start your unforgettable journey!
Guindulman Bohol Hotels and Resorts
Bituon Beach Resort is under German and Filipino management and is situated on top of some cliffs in Basdio, Guindulman. The resort consists of 11 well-maintained bungalows in native style with a good view of the Bohol Sea. The bungalows are made mostly of bamboo and wood skillfully constructed with thatched roofing amongst a well landscaped tropical garden. Coco White Beach Resort is located directly on a beachfront along Guindulman Bay, fringed with tall coconut palm trees, intermittent flowering and verdant tropical plants. The place exudes a peaceful and serene ambiance brought about by the well-kept gardens, natural contour of the land, the cool sea breeze, and the sound of waves on the seashore.
Check out the best hotel deals in the island of Bohol
Jagna
Jagna Lodge Bohol - homey and situated on a cliff overlooking the Bohol Sea is a home-away-from-home fully equipped with all the facilities and amenities that will make your stay comfortable. It is a home-away-from-home
Loboc
Nuts Huts Retreat Bohol - mountain resort on the banks of the green Loboc River Nuts Huts Retreat Bohol is really that, a retreat. This little jungle paradise is so different from the sun and sea of Panglao Island; tropical garden on the waterside and built thatched huts on stilt
Talibon
Jayveeh Long Beach Island Resort is a fairly new resort that is nestled on a small island blessed with fine white sand and unpolluted crystal clear blue waters declared a marine sanctuary by the Municipality of Talibon where it belongs.
Water Gate Tourist Inn is a relatively new hospitality business geared towards providing comfortable lodgings to transient travelers and a function destination for up and going Talibonons.
Tubigon
LHT's Pensionne is ideally located along Bohol's circumferential road and so within easy access to rides to and from the town proper of Tubigon, a bustling town of Bohol which is only a two-hour boat ride to Cebu City.
Rederlyn Pensionne House is a two-storey building in an attractive green and peach color. Newly renovated with the third floor still under construction, the pensionne house now offers comfortable and luxurious rooms, a function room & restaurant and a convenience store at the ground floor. More rooms are available at the 2nd floor.
Valencia Bohol
Badiang Spring Resort is a small resort situated along the coast of Valencia town near a cliff blessed with a natural spring that fills up two swimming pools and flows out to the sea below. This is the only resort in Bohol where guests can enjoy both the cool spring water and the warm waters of the sea below.
Tagaro's Vacation House is a house for rent situated in Valencia, Bohol, directly on the sea front. The house is fully furnished with all the facilities and amenities needed for utmost comfort and is very near the famous Imelda Beach which is only 5 minutes drive away. It is also 7-10 minutes ride to Badiang Spring, one of Bohol's tourist attractions where two swimming pools are being fed by an underground spring outlet.
Bohol Towns Hotels, Pension Houses and Resorts ome-away-from-home fully equipped with all the facilities and amenities that will make your stay comfortable. Little jungle paradise is so different
Bohol Dauis Hotels and Resorts Pension Houses, Inns and other establishments offering room accommodations are only few in comparison to those found at Alona Beach yet their clientele have grown.
Panglao Island Hotels - offers cottages, bungalows and two-storey houses offering room accommodations that are fully equipped with beds, aircon, private bath, hot and cold water, etc.
Bohol Tagbilaran City Hotels - Bohol Tropics Resort Hotel Casa Juana Lodging House Chriscentville Hotel El Portal Inn Bohol La Roca
Panglao Island Beach Resorts offers Continental, Filipino and English cuisines served by well-trained staff. Amidst trees and Bermuda grass is a swimming pool.
Cabilao Beach Resort is situated near the village of Cambaquiz on the north-eastern point of the island, directly on the white palm-fringed beach. The resort boasts of 4 double bungalows, one triple
Anda Beach Resorts on a short stretch of white sandy beach with cliffs on the sides dotted with small bamboo and nipa thatched huts surrounded by Bermuda grass under coconut trees
Alona Beach Resorts and Hotels are famous for its coral white sand that stretches one and a half kilometers and ends in rocky cliffs at both sides. Find your hotels here.