Bilar bohol: Discover the Natural Wonders of a Tranquil Interior Town
Secure your Cebu Bohol ferry tickets today to start your unforgettable journey!
Welcome to Bilar Bohol, a hidden gem nestled in the interior of the island. This charming 5th class municipality is renowned for its stunning natural beauty, serene landscapes, and diverse wildlife. Located northeast of Loboc, Bilar offers a tranquil escape from the bustling city life, inviting visitors to immerse themselves in the tranquility of its surroundings.
Situated approximately 40.9 kilometers from Tagbilaran, Bilar is accessible through the famous zigzag road known locally as "tina-i sa manok." As you wind your way through this scenic route, be prepared to be enchanted by the captivating views and lush greenery that surround you.
Covering an area of 13,315 hectares, Bilar boasts a total forested area of 6,221 hectares, accounting for 46% of its land. This vast expanse of pristine forests has earned the town the distinction of being declared a National Park and a part of the Rajah Sikatuna Protected Landscape. Bilar has become a favored destination for birdwatchers, offering opportunities to spot a variety of avian species in their natural habitat.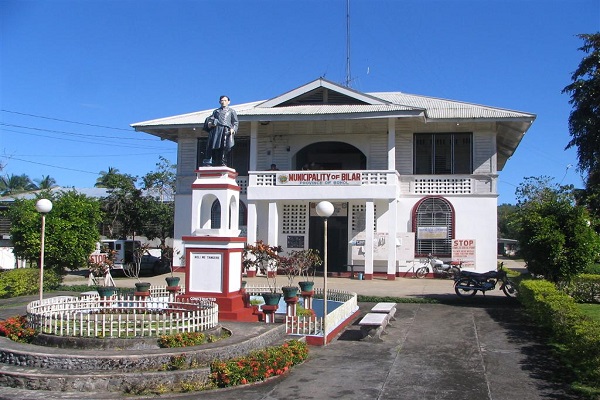 With 19 barangays, Bilar Bohol is home to a close-knit community that takes pride in their town's natural treasures. From enchanting waterfalls and tranquil rivers to captivating wildlife and vibrant ecosystems, Bilar offers a wealth of attractions for nature enthusiasts and adventure seekers alike.
Join us as we embark on a journey through Bilar's scenic landscapes, discover its hidden gems, and experience the untouched beauty of Bohol's tranquil interior town.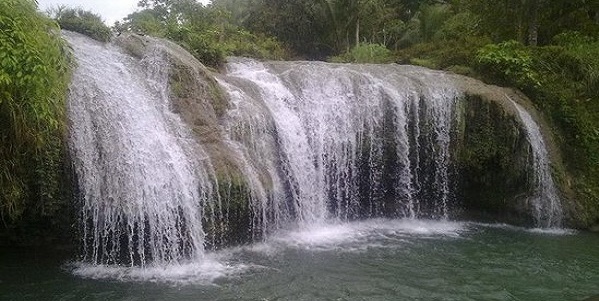 Mag-aso Falls, Bilar, Bohol
Bilar Bohol: What to Do
Welcome to Bilar, a charming town nestled in the province of Bohol. Prepare for an exciting travel adventure as we explore the delightful attractions and activities this tranquil destination has to offer:
Immerse in Scenic Beauty:
Prepare to be mesmerized by Bilar's breathtaking natural landscapes. Marvel at the lush green hills, enchanting rivers, and majestic waterfalls that adorn this picturesque town. Nature lovers and photography enthusiasts will find endless opportunities to capture the beauty of the countryside.
Discover the Man-Made Forest:
Get ready for a unique experience as you venture into the famous Man-Made Forest. Walk through the dense canopy of towering mahogany trees and feel the coolness of the surroundings. This serene forest is a favorite spot for scenic walks and capturing memorable photos.
Embark on a River Cruise:
Don't miss the chance to explore the renowned Loboc River, just a stone's throw away from Bilar Bohol. Hop aboard a scenic river cruise and indulge in a delectable buffet of local cuisine. As you sail along the emerald waters, you'll be entertained by live music and traditional performances, immersing yourself in the local culture.
Witness the Bohol Habitat Butterfly Conservation Center:
Experience the vibrant world of butterflies at the Bohol Habitat Butterfly Conservation Center (formerly Simply Butterflies Conservation Center) in Bilar. Observe various species fluttering about in their natural habitat and learn about their fascinating life cycles. It's an educational and awe-inspiring adventure for visitors of all ages.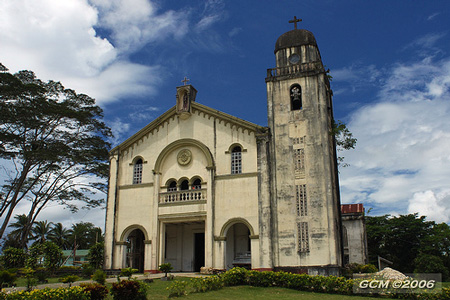 Visit St. Isidore the Farmer Parish Bilar Church:
Welcome to the St. Isidore the Farmer Parish in Bilar, Bohol. As a prominent religious landmark under the jurisdiction of the Diocese of Tagbilaran, this parish has a rich history dating back to its establishment in 1829. Proclaimed as a parish in 1831, it has become a spiritual haven for the faithful in the area.
Dedicated to St. Isidore the Laborer, the patron saint of farmers and laborers, this parish celebrates its feast day with great joy and reverence on May 15th each year. The St. Isidore the Farmer Parish is not only a place of worship but also a testament to the deep-rooted faith and devotion of the local community.
If you plan to attend a Mass, here is the schedule of Masses at the parish: on Wednesdays, Thursdays, and Fridays, the Masses are held at 6:00 PM. On Saturdays, you can join the faithful for the 7:00 AM Mass, and on Sundays, Masses are held at 6:00 AM, 8:00 AM, 10:00 AM, and 5:00 PM.
Whether you're seeking spiritual solace, exploring the religious heritage of the region, or simply admiring the architectural beauty of this sacred place, the St. Isidore the Farmer Parish offers a serene and uplifting experience for visitors.
Engage in Adventurous Pursuits:
Bilar Bohol offers a plethora of outdoor activities for thrill-seekers. Embark on thrilling treks or hikes through the nearby hills and forests, uncover hidden waterfalls, or take a refreshing plunge in natural springs. Adventure enthusiasts will find no shortage of exciting escapades in Bilar and its surrounding areas.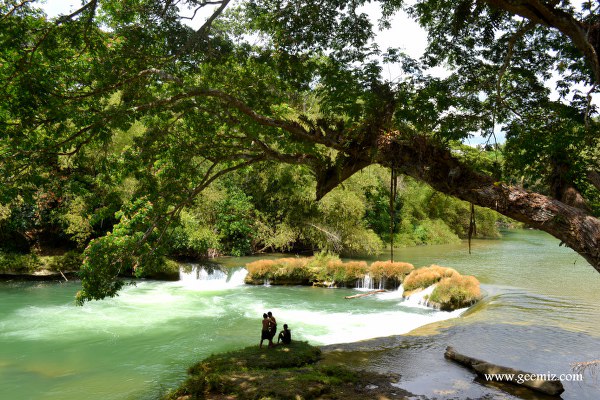 Busay Falls, Bilar, Bohol
Logarita Spring & Pool:
Nestled within the Rajah Sikatuna National Park, Logarita Spring & Pool is a hidden gem that promises a refreshing oasis. Dive into the cool and crystal-clear waters fed by the spring, known for its cleanliness and safety for drinking. The surrounding moss-covered pool adds to the serene ambiance, while native cottages provide shade for relaxation. Enjoy eco-tours, birding, or simply bask in the tranquility of this picturesque spot.

Discover the Rajah Sikatuna National Park:
Immerse yourself in the untouched beauty of the Rajah Sikatuna National Park, a vast forested area encompassing Bilar and other towns. This protected landscape is a paradise for nature enthusiasts, offering diverse wildlife, bird species, and lush flora. Explore the park's trails, spot adorable tarsiers, and marvel at the wonders of nature.
The Rajah Sikatuna National Park spans across multiple municipalities in Bohol. The municipalities that cover parts of the park are Bilar, Carmen, Sierra Bullones, Garcia Hernandez, Dimiao, and Batuan. These municipalities contribute to the preservation and conservation of the park's diverse flora and fauna, making it a valuable natural treasure in the province. You can explore different sections of the park in these municipalities and witness the beauty of its protected landscape.
Bilar Catholic Church:

Step back in time at the Bilar Catholic Church, the oldest existing structure in town. Constructed in 1870 and dedicated to San Isidro Labrador, the church showcases a blend of stone and wooden architecture. Visit for a spiritual experience and to appreciate its historical significance.
Valmoria Hill:
Explore Valmoria Hill, named after a brave commander. Discover the remains of a fort, including a dug-out and a tunnel leading to an ammunition factory. This historical site offers insight into Bilar's past and the resilience of its people.
Boy Scout and Girl Scout Campsites:
Experience the great outdoors at the Boy Scout Campsite at Magsaysay Camp and the Girl Scout Campsite at Bilarma Camp. These campsites provide opportunities for camping, outdoor activities, and communing with nature.
Wahig-Pamacsalan Dam:
Just a short distance from Bilar, the Wahig-Pamacsalan Dam offers a picturesque setting for boating and sports fishing. Surrounded by lush greenery, the dam is a perfect spot to unwind and enjoy the beauty of the outdoors.
Delight in Bilar Bohol Local Delicacies:
Indulge in the gastronomic delights that Bilar has to offer, especially the renowned "Ubi Kinampay" or purple yam. Sample various dishes and desserts made from this unique ingredient, savoring the distinct flavors of the local cuisine.
Bilar Bohol is a haven of natural wonders, cultural landmarks, and warm hospitality. Whether you seek relaxation, adventure, or a deeper connection with nature and heritage, this tranquil town promises an unforgettable journey for every type of traveler. Get ready to create lasting memories in the heart of Bohol's scenic beauty.
Recommended Bohol Philippines Tours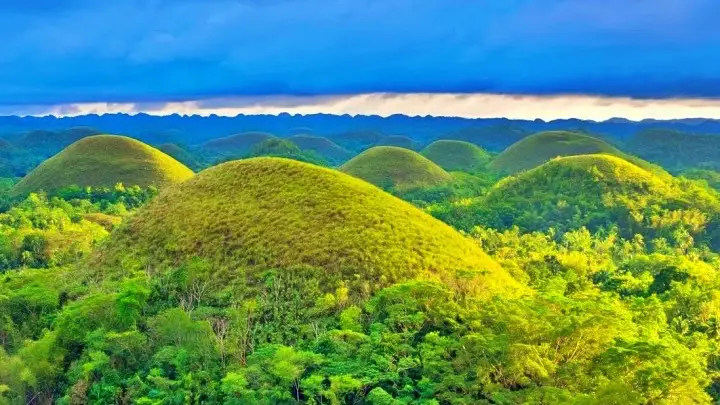 [ Bohol Sight Seeing Day Trips  - Check Out Availability ]
[ Full Day Cruise and Sailing Tours - Check out Availability ]
[ Full Day Adventure Tours - Check out Availability ]
Discover more of Bohol's natural wonders through our recommended tours. Click on the links below to embark on unforgettable adventures:
Ready to explore the beautiful islands of Cebu and Bohol? Secure your ferry tickets today through 12go and start your unforgettable journey!
Bilar Bohol: what to eat & drink
When visiting Bilar, Bohol and its surrounding areas, you can enjoy a variety of special delicacies, local cuisine, and unique products. Here are some recommendations:
Delicacies and Local Food:
Binagol: A traditional delicacy made from grated taro (gabi) mixed with coconut milk, brown sugar, and other ingredients. It is usually wrapped in banana leaves and steamed.
Budbud Pilit: A sticky rice cake wrapped in banana leaves and served with a side of coconut milk. It is a popular breakfast or snack option.
Sikwate: A traditional hot chocolate drink made from tablea (local chocolate tablets) and served with suman (sticky rice) or puto (rice cake).
Restaurants and Food Establishments:
Loboc River Cruise Restaurants: Enjoy a delightful buffet-style meal while cruising along the scenic Loboc River. Indulge in local dishes, grilled seafood, and traditional Filipino cuisine.
Floating Restaurants in Loboc: Experience dining on floating restaurants that offer a unique ambiance and serve a variety of local dishes. Enjoy the views while having your meal.
Local Carinderias and Eateries: Explore the local carinderias (small eateries) and food stalls in Bilar Bohol and nearby towns. Try local specialties such as grilled seafood, sinigang (sour soup), and other Filipino dishes.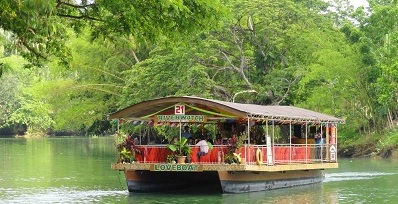 Special Products and Handicrafts:
Woven Products: Look out for beautiful woven items such as bags, baskets, and mats made by local artisans. These products showcase the craftsmanship and creativity of the community.
Handmade Souvenirs: Purchase unique souvenirs like keychains, magnets, and handicrafts that reflect the local culture and heritage of Bilar Bohol.
Agri Produce:
Local Fruits: Enjoy a variety of fresh tropical fruits such as mangoes, bananas, pineapples, and coconuts. These fruits are abundant in Bohol and are known for their delicious flavor.
Rice and Corn Products: Sample locally-produced rice and corn products such as rice cakes, corn-based snacks, and rice delicacies like suman and bibingka.
Make sure to explore the local markets, souvenir shops, and food establishments to discover more delightful delicacies, food options, and unique products that showcase the flavors and craftsmanship of Bilar and Bohol.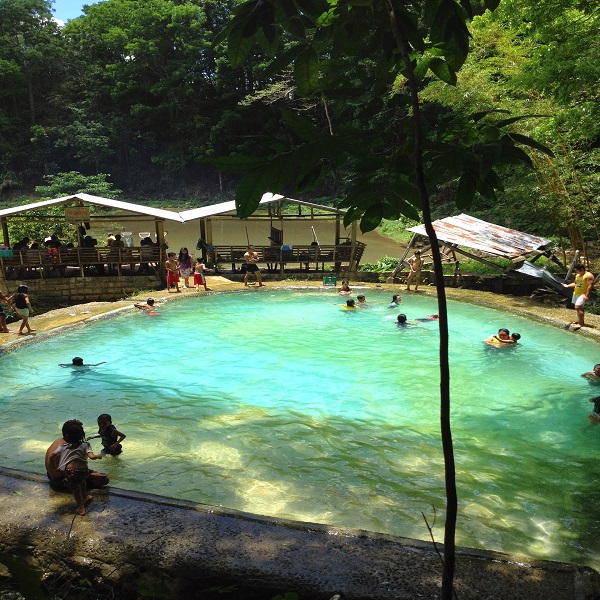 Bilar Bohol: Historical Background
Bilar Bohol, with its 19 barangays, is not only blessed with breathtaking natural wonders but also steeped in rich history. This close-knit community takes great pride in their town's heritage and the abundant treasures it holds. As we delve into Bilar's past, we uncover a story of resilience, progress, and the preservation of its natural resources.
The foundation of Bilar's history can be traced back to 1870, with the construction of the Roman Catholic Church, dedicated to Saint Isidore. This historic structure, still standing today, serves as a testament to the town's deep-rooted faith and celebrates its feast day every May 15. By 1879, the population of Bilar had grown to 5,669, setting the stage for a thriving community.
During the Spanish Regime, the people of Bilar thrived through rice farming, herding, and lumbering. They harnessed the fertile lands, building intricate rice paddies and terraces that yielded bountiful harvests twice a year. The town's prosperity grew hand in hand with these industries, leading to a thriving economy.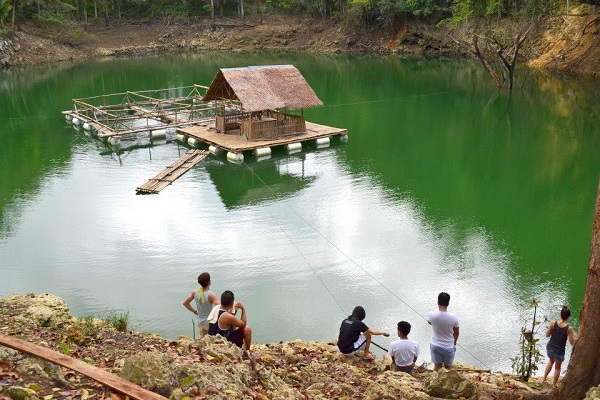 Mijapo Lake, Bilar, Bohol
However, Bilar's history also bears witness to tumultuous times. It played a significant role during the Spanish-American War, with Sitio Cambaliga in Bilar serving as the seat of the Military government of Bohol. The fort, situated on Valmoria Hill, named after a courageous commander, stood as a testament to the town's fortitude.

The Japanese occupation brought further challenges, as Bilar Bohol endured the destruction of its forests through wanton cutting and burning. However, the resilient spirit of the town prevailed, and Bilar embarked on a journey of revival and development.
Through the years, Bilar transformed into a prosperous town, with rice and corn farming at its core. Efforts were made to reforest the depleted forests, and the man-made forest of majestic mahogany trees now serves as an iconic attraction. The implementation of advanced farming techniques and improved irrigation systems resulted in increased yields of rice and corn, solidifying Bilar's position as an agricultural powerhouse.
Today, Bilar proudly bears the title of Bohol's eco-tourism center. Its natural resources have been carefully developed, drawing tourists to enchanting spots such as Quezon Plaza, Logarita Spring and Pool, and the Regional Girl Scout and Boy Scout Campsites. The Rajah Sikatuna Protected Landscape, formerly known as Rajah Sikatuna National Park, has become a haven for birdwatchers and eco-enthusiasts, while the Bohol Habitat Conservation Center (formerly Simply Butterflies Conservation Center) adds a touch of wonder with its butterfly sanctuary.

As we explore Bilar's present-day charm, let us not forget the trials and triumphs that have shaped this tranquil town. Join us as we unravel the layers of Bilar's history and discover its captivating blend of natural beauty, cultural heritage, and sustainable tourism initiatives.
Bilar Bohol: where to stay
When visiting Bilar, Bohol and its surrounding areas, you can choose from a variety of accommodation options that cater to different preferences and budgets. Here are some of the best accommodation options available in Bilar and nearby areas:
E.A.T. Danao Hilltop Cottage:
Located in Bilar, this hilltop cottage offers comfortable rooms with scenic views of the surrounding mountains. It provides a peaceful retreat for travelers looking for a serene and nature-oriented accommodation.
Loboc River Resort:
Situated in nearby Loboc, this resort offers cozy rooms with river views and direct access to the famous Loboc River. Enjoy the tranquil ambiance and explore the nearby attractions.
Fox & the Firefly Cottages:
Nestled in the lush greenery of Loboc, this eco-friendly resort offers charming cottages and treehouses. Experience a unique stay amidst nature and enjoy the tranquility of the surroundings.
Bohol Bee Farm:
Located in nearby Dauis, Bohol Bee Farm is an eco-resort that offers comfortable rooms and a farm-to-table dining experience. Explore the organic farm and enjoy delicious meals made from fresh produce.
Loboc River Resort:
Situated along the Loboc River, this resort offers spacious rooms and cottages with beautiful views of the river and surrounding nature. Enjoy the swimming pool, restaurant, and easy access to river cruises.
Villa Limpia Beach Resort:
Located in nearby Panglao Island, this beachfront resort offers comfortable rooms and a relaxing ambiance. Enjoy the pristine beach, swimming pool, and delicious dining options.
Amorita Resort:
Situated in Panglao Island, this luxurious resort offers elegant rooms and villas with stunning views of the sea. Enjoy the infinity pool, spa services, and delectable dining options.
Henann Resort Alona Beach:
Located in Panglao Island, this upscale resort offers modern rooms and suites with access to a private beach. Relax by the pool, enjoy water sports activities, and indulge in the resort's restaurants.
These accommodation options provide a range of amenities, comfortable rooms, and convenient locations for travelers to enjoy their stay in Bilar and the surrounding areas of Bohol.
bilar bohol: getting there & around
To get to Bilar from Tagbilaran City, you have several transportation options available:
By Public Bus:
You can take a Ceres Bus from Tagbilaran City to Bilar. Ceres Buses are the primary mode of transportation on the island and operate on a regular schedule. Look for buses bound for Bilar or Carmen, as they pass through Bilar. The bus ride usually takes around 1 to 1.5 hours depending on traffic and stops.
By V-Hire:
V-Hires, which are vans for hire, also operate between Tagbilaran City and Bilar. They offer a faster and more convenient option for transportation. You can find V-Hire terminals in Tagbilaran City, typically located near the Dao Integrated Bus Terminal. The journey by V-Hire usually takes around 45 minutes to an hour.
Car Rentals:
If you prefer more flexibility and independence, you can rent a car or hire a private vehicle to drive from Tagbilaran City to Bilar. Several car rental agencies operate in Tagbilaran City, and you can book a rental vehicle in advance or upon arrival at the airport.
If you're arriving by sea at the nearest seaport, which is Tagbilaran City Port, you can follow the same transportation options mentioned above to reach Bilar.
If you're arriving at Panglao Airport, which is the nearest airport to Bilar, you can take a tricycle or a taxi to the bus terminal or V-Hire terminal in Tagbilaran City. From there, you can proceed with the bus or V-Hire options to reach Bilar.
It's advisable to check the schedules and availability of transportation options beforehand, especially for buses and V-Hires, to ensure a smooth and timely journey to Bilar.
Check the Bohol Tourism website for more information.
Go to homepage from Bilar Bohol.
Top of Bilar