Bohol's UBI Festival

Bohol, known for its pristine beaches, breathtaking landscapes, and rich cultural heritage, has an annual tradition that brings together locals and visitors in a vibrant celebration of one of its most treasured agricultural products - the ubi, or purple yam.
The Ubi Festival, held with great fanfare each year, showcases the versatility, flavors, and cultural significance of this unique tuber.
Let's delve into the Ubi Festival, highlighting its importance, festivities, and the deep-rooted connection between Bohol and this humble purple yam.

Secure your Cebu Bohol ferry tickets today to start your unforgettable journey!
Recommended Bohol Philippines Tours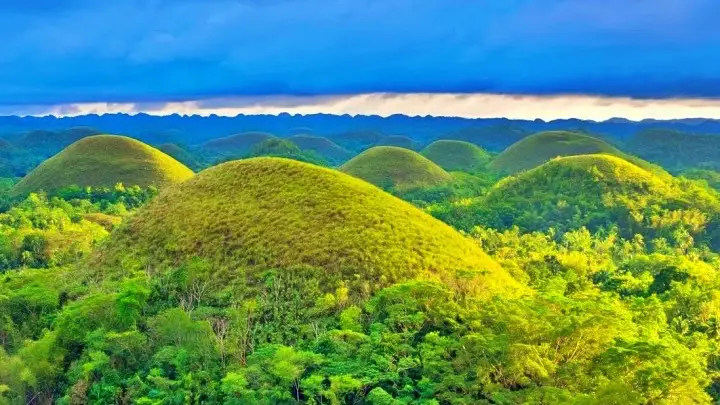 [ Bohol Sight Seeing Day Trips  - Check Out Availability ]
[ Full Day Cruise and Sailing Tours - Check out Availability ]
[ Full Day Adventure Tours - Check out Availability ]
Discover more of Bohol's natural wonders through our recommended tours. Click on the links below to embark on unforgettable adventures:
Ready to explore the beautiful islands of Cebu and Bohol? Secure your ferry tickets today through 12go and start your unforgettable journey!
Honoring the Ubi:
Ubi is sacred to us Bol-anons! We venerate it! So much so, that we kiss it whenever it accidentally falls on the ground. Well, we were taught to do this since we were small by our parents and elders. It is an ingrained habit!

And why?
The lowly Ubi saved our parents and our ancestors countless of times from hunger and eventual death.
It was the only crop that thrives during droughts and easily available in the mountains when they went to hide from their oppressors during the Japanese, American and even during the Spanish occupation.
Common Staple
They value the Ubi so much so that descendants were taught to value it and were exhorted to plant it wherever possible: in plastic and clay pots and direct on the ground in their backyards.
The trailing stems and the heart-shaped leaves of the Ubi is a common sight on the island.
Ubi is God-given!
It thrives in the most inhabitable soil: over rocky and sandy terrain. It is produced much in Dauis, Guindulman, Alburquerque and other towns.
It is Bohol's provincial plant and the only plant reflected in its Bohol Hymn.
Ubi Kinampay
Now, Bohol is recognized as the largest Ubi producer in the country!
And it is the main source of Ubi Kinampay – a variety which is sweet and purple-colored, a favorite ingredient for ice cream, cakes and pastries and now made into jam, pastilles, candies and other desserts.

Demand for Bohol's Ubi and its by-products are steadily growing, locally and in the global market. The local government is now in the lookout for ways and means to produce more of it to meet the demands.
Farmers are now exhorted to plant it. Training and seminars are given out to educate more farmers on Ubi farming.
January Fiesta
It now rings loud and clear that the lowly Ubi did not only save our ancestors from death, it will eventually lift up Bohol's economy from decline to prosperity!
So it is only fitting that we Bol-anons set a special day out of every year to give it honor.

And what is the proper time for revelry and rejoicing?
Harvest time!
The Ubi is usually harvested on the month of January so the festival is scheduled on this month.
And it is on this occasion that Ubi farmers gather to share ideas on farming and investment opportunities for their product; exhibit their produce and sell it at a much lower price than usual to attract buyers to the affair.
Festivities and Highlights:

Ubi Display and Exhibition:
The Ubi Festival showcases the diverse varieties and sizes of ubi through colorful displays and exhibitions.
Farmers proudly present their finest harvests, allowing visitors to appreciate the remarkable range of shapes, sizes, and hues that this humble root crop can possess.
Culinary Delights:
One of the highlights of the Ubi Festival is the wide array of ubi-inspired culinary creations.
From traditional favorites like bibingka (rice cake) and suman (sticky rice rolls) infused with ubi, to innovative dishes like ubi ice cream, pastries, and even savory dishes incorporating this versatile tuber, visitors are treated to a gastronomic adventure that showcases the ubi's versatility and unique flavor.
Ubi Farm Tours:
Guided tours to local ubi farms offer visitors an opportunity to witness firsthand the cultivation, harvesting, and processing techniques of this agricultural gem.
Gain insights into the meticulous farming practices employed by local farmers and discover the journey of the ubi from farm to table.
Ubi Cooking Demonstrations:
Renowned chefs and culinary experts demonstrate the art of cooking with ubi, sharing their knowledge and showcasing creative recipes that elevate the humble tuber to new culinary heights.
Attendees can learn cooking techniques, gain recipe inspiration, and experience the exquisite flavors of ubi-based dishes.
Cultural Performances and Contests:
The Ubi Festival also features lively cultural performances, showcasing traditional dances, music, and costumes that celebrate Bohol's heritage.
Additionally, contests such as the "Ubi King and Queen" pageant, where contestants wear outfits and accessories inspired by the ubi, add a touch of glamour and excitement to the festivities.
Ubi Market:
Local farmers and artisans set up stalls offering a wide range of ubi products and handicrafts for purchase.
Visitors can bring home a piece of Bohol by buying ubi-related products such as jams, chips, candies, and even ubi-infused beauty and wellness products.
The Ubi Festival in Bohol stands as a testament to the deep cultural connection between the province and the humble purple yam.
Through this grand celebration, locals and visitors alike come together to honor the ubi's contribution to the agricultural heritage and culinary traditions of Bohol.
As the Ubi Festival continues to grow each year, it serves as a platform to promote the ubi as a versatile and sustainable crop, fostering appreciation for its flavors and showcasing its importance in the province's cultural fabric.
So, join in the festivities and immerse yourself in the vibrant colors, flavors, and traditions of the Ubi
Check out These Other Bohol Delicacies
Back to Top

Back to Bohol