Purple Yam, Ube or Ubi Kinampay
Secure your Cebu Bohol ferry tickets today to start your unforgettable journey!
Hey, anybody heard of Ubi Kinampay? This is one of Bohol's special food crops.
In fact, Bohol is the largest producer of UBI in the Philippines! And it is only in this place that it is much revered and considered as SACRED!
To prove this, the Ubi Kinampay is the only staple Boholano crop mentioned in its Bohol Hymn!
Sacred Treatment of a Special Yam - Ubi
Having Boholano parents makes the sacred treatment of this special yam taken for granted.
We grew up holding it in awe. I did not know why then yet we were taught to kiss the yam if it falls accidentally to the ground.
And being Spanish bred, my parents does not entertain questions. Their word is law!
Recommended Bohol Philippines Tours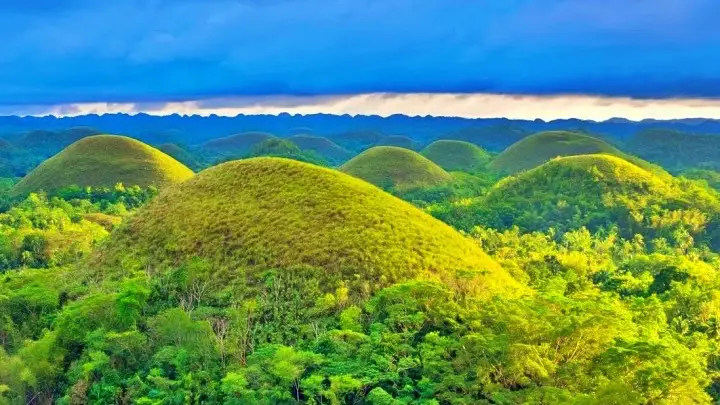 [ Bohol Sight Seeing Day Trips  - Check Out Availability ]
[ Full Day Cruise and Sailing Tours - Check out Availability ]
[ Full Day Adventure Tours - Check out Availability ]
Discover more of Bohol's natural wonders through our recommended tours. Click on the links below to embark on unforgettable adventures:
Ready to explore the beautiful islands of Cebu and Bohol? Secure your ferry tickets today through 12go and start your unforgettable journey!
A Short History of Ubi
It is only upon searching for data on the Ubi that I learned the reason behind this special treatment.
The Ubi, countless of times, helped the Boholanos survived through the years. During droughts when all food crops die, only the Ubi survived to give nourishment to the people.

And through the wartime years: Spanish, American and Japanese occupations, when food was scarce, the Ubi and other root crops plus the lowly bananas and coconut were the only food immediately available to natives in hiding in the mountains.
The gist of this comes from vivid tales of my parents who both survived the Japanese occupation.
Ubi -  Will last for Years
The more I think of the Ubi and Purple Yam observing it – it is truly miraculous! It will last for years in your storage bin.
Try cutting off a portion and the cut portion will heal, turn into brown and hardens. It will not rot as all other vegetables do.
And even if it has long been in storage, it can germinate when planted! It is truly sacred then! God made it so!
By far, Purple Yam is the most expensive tuber crop in the Philippines; more so than the potato, the camote (sweet potato), cassava and taro. It is highly nutritive. It is rich in carbohydrates, contains starch, vitamins A and B, iron and minerals.
Ubi Yam Variety
Ubi or Purple Yam comes in so many varieties. Aside from the kinampay, other varieties are the baligonhon, binanag, binato, binugas, gimnay, iniling, kabus-ok and tamisan.
Bohol produces almost all the varieties yet the province is known for the Ubi Kinampay or Purple Yam.

Ubi Kinampay ranges from a marbled white-purple variety to deep Purple Yam.
It is native to the province, especially in the rocky and sandy soils of Panglao Island and Guindulman.
The municipality of Dauis which is found in Panglao Island and the municipality of Guindulman are recipients of government funding for Purple Yam or Ubi production.
Ubi Agribusiness Development
They are the chosen of sites for the Bureau of Agricultural Research's (BAR) Community-based Participatory Action Research (CPAR) project which deals on "Ubi Agribusiness Development".

Purple Yam is also heavily planted in the towns of Alburqueque, Antequera, Baclayon, Corella, Cortes, Dauis, Dimiao, Garcia-Hernandez, Lila, Loay, Loon, Mabini, Maribojoc, Panglao, Sikatuna, and Ubay.
Other towns not mentioned plants Ubi yet in small quantities. Boholanos plant them in large clay pots or broken plastic tubs or directly in their backyards.
The climbing Ubi stalks and the longish heart-shaped leaves are common sights along fences and low-lying walls of houses in Bohol. Other varieties have leaves shaped like the island of Bohol.
Ubi Purple Yam Polvoron
Bohol's Ubi Kinampay stands out because of its unique aroma and sweet taste making it the favorite of food processors who produce ice cream, cakes and pastries. It is even made into pastilles and candies and now into polvoron.

Ubi polvoron is fast becoming a Boholano delicacy wherein the Ubi meat is boiled and mashed then mixed with butter, milk and sugar then pressed and cut into small circles. Wow! With its violet color, the polvoron already looks yummy and delicious much more so than the plain polvoron made of flour!
The Increasing Demand for Purple Yam Tubers
Major food processors are based mostly in Luzon and their demand for fresh Ubi tubers has increased steadily thru the years. And on top of these, foreign countries such as Australia, Canada, Japan, Taiwan, U.S. and other countries demand processed yam products.

Locally, and in foreign lands, it is marketed either in puree or powder form. Others are sliced thinly into chips and dried while some are cubed and cooked in syrup. Ubi Ice Cream is becoming a worldwide favorite; and thru the internet, many are learning the intricate procedure of Jalea making and other Filipino desserts with Ubi as main ingredient.
Only During Fiesta Month of May
Demand for Ubi and its byproducts are increasing annually and so income is envisioned in the expansion of Ubi plantations. Yet Ubi production is slow. To say the least, it takes 8 months to a year before an Ubi plant can be harvested. And many Boholano believes that the yam has to be planted during the month of May or it will not produce tubers.

I scoffed at this idea at first but my farmer father-in-law is adamant and said that this is true with Ubi. It will not produce tubers if planted outside of the month of May. His knowledge is purely based on past experience. We cannot do otherwise but believe old folks! Hope the other "experts" on this field can enlighten us further on this issue.
Tagged as one of the Philippines' five banner crops for export by the Department of Trade and Industry (DTI), the government is in the lookout for ways and means to produce more of this delectable tuber. Processing is also being perfected to meet the demands from food producers locally and abroad.

Check out These Other Bohol Delicacies