Balilihan Town Bohol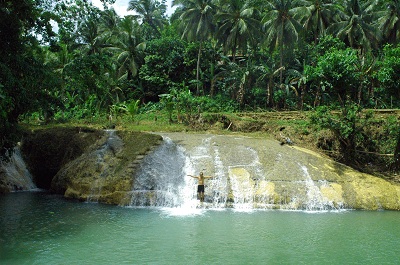 Secure your Cebu Bohol ferry tickets today to start your unforgettable journey!
Located in the interior part of Bohol, the beautiful municipality of Balilihan is a hidden gem waiting to be discovered by travelers seeking a serene and picturesque destination. With its lush landscapes, rich cultural heritage, and natural wonders, Balilihan offers a unique and off-the-beaten-path experience in the heart of the Philippines.
Balilihan is said to have derived its name from the abundant grass called "balili" that used to grow in the area. This small town is nestled amidst rolling hills, verdant forests, and scenic countryside, providing a tranquil and idyllic setting for those who want to escape the hustle and bustle of city life.
The municipality is located about 22 kilometers northeast of Tagbilaran City, the capital of Bohol. Accessible by land transportation, Balilihan offers a peaceful retreat away from the crowded tourist spots, allowing visitors to immerse themselves in the authentic beauty of rural Bohol.
balilihan attractions
Here's a list of attractions in Balilihan, Bohol
1. Mt. Carmel Hill & Belfry:
Located in the heart of Balilihan Town, Mt. Carmel Hill is home to a centuries-old Spanish belfry made from adobe and limestone. These materials were hauled from Baclayon, its mother town, on foot in the years 1835-1844. Withstanding natural calamities and the test of time, the belfry now towers on top of the hill like a sentinel guarding the whole town. Climb the concrete stairways to reach the top and enjoy the stunning vistas.
2. Balilihan Church (San Agustin Parish Church):
This church is a heritage site, showcasing an exquisite blend of architectural styles. The church's interior is adorned with paintings by Ray Francia, and its altars feature a mix of Corinthian columns, neogothic spires, Baroque volutes, and Art Deco openwork.
3. Balilihan Parks and Plaza:
Take a leisurely stroll or have a picnic at Balilihan's parks and plaza. These well-maintained public spaces offer a relaxing environment, perfect for unwinding and enjoying the town's ambiance.
4. Kawasan Falls:
Situated in Barangay Candasig, Kawasan Falls is a picturesque waterfall surrounded by tropical plants and rugged cliffs. It cascades into a natural pool, inviting visitors to take a refreshing swim. The falls can be reached by trekking through a network of hiking trails.
5. Camugao Falls:
Located in Barangay San Isidro, Camugao Falls is a hidden gem in Balilihan. The falls feature a 30-meter bridal veil-like cascade, surrounded by lush vegetation. To reach the falls, visitors must navigate a slippery and rocky trail, adding to the adventure. The falls has a beautiful backdrop of green and lush vegetation with lots of ferns and other tropical plants. The water cascades into a basin forming a natural pool where people can bathe and refresh themselves. 
6. Niluksuan Falls:
The Niluksoan Falls can be found in Barangay Sal-ing of Balilihan Town and is situated at the foot of a hill with tilled lands at its sides looking so much different from that of Camugao and Kawasan. There are no cliffs or mountain sides to contend with. The thin and clear stream flows into a semi-spherical cone before cascading into a wide basin. 
Although the falls is relatively short in terms of height, it is wide and looks like a white, transparent curtain as it falls into the basin. Local folks, especially little kids, jump into the pool using a makeshift diving board made from coconut lumber or jump into the water direct from the coconut trees that line the sides of the pool. "Lukso" means "to jump" and "Niluksuan" refers to a place jumped over. This may be the reason why the place got its name of "Niluksuan Falls". 
The trip to the town of Balilihan coming from Tagbilaran City is estimated at 45 minutes on a bus. At the Poblacion, motorcycles are available for hire to get you near the falls yet one has to walk for another 10 minutes to reach the area of the falls and the pool.

7. Magsija Swimming Pool:
A man-made pool fed by a nearby spring, Magsija Swimming Pool offers a refreshing alternative to the natural waterfalls in Balilihan. The pool is a popular spot for locals and visitors to cool off and relax. Rather than go trekking and climbing over rugged terrain to reach the falls of Balilihan, the barrio folks chose to bathe in this pool for a change. 

Recommended Bohol Philippines Tours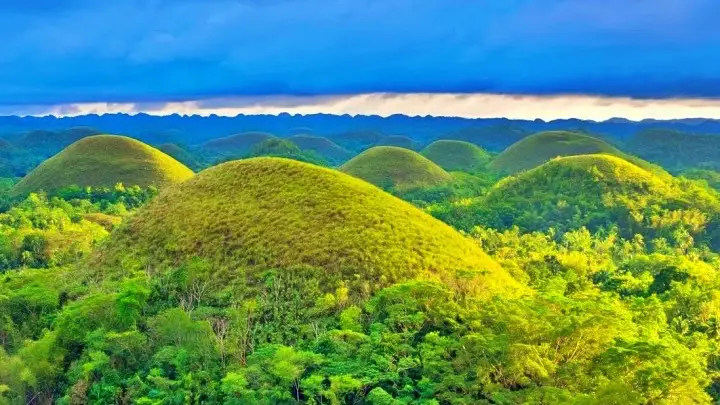 [ Bohol Sight Seeing Day Trips  - Check Out Availability ]
[ Full Day Cruise and Sailing Tours - Check out Availability ]
[ Full Day Adventure Tours - Check out Availability ]
Discover more of Bohol's natural wonders through our recommended tours. Click on the links below to embark on unforgettable adventures:
Ready to explore the beautiful islands of Cebu and Bohol? Secure your ferry tickets today through 12go and start your unforgettable journey!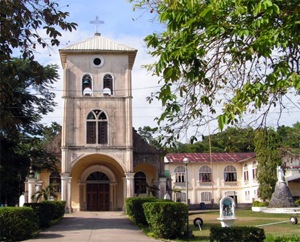 One of the prominent attractions in Balilihan is Mt. Carmel Hill. Situated in the heart of the town, this hill is home to a centuries-old Spanish belfry made of adobe and limestone. The belfry stands proudly atop the hill, serving as a symbol of the town's rich history and heritage. Climbing the concrete stairways to reach the top rewards visitors with breathtaking panoramic views of Balilihan and its surrounding countryside.

Balilihan is also known for its churches. The Balilihan Church, also known as the San Agustin Parish Church, is a heritage site that showcases a fusion of architectural styles. With its intricate details, beautiful paintings by Ray Francia, and unique combination of design elements, the church is a testament to the artistic and cultural heritage of the town.
Nature lovers will find their haven in Balilihan with its stunning waterfalls. Kawasan Falls, located in Barangay Candasig, captivates visitors with its cascading waters surrounded by tropical plants and rugged cliffs. It is a perfect spot to cool off and enjoy the natural beauty of the area. Camugao Falls, situated in Barangay San Isidro, offers a tranquil retreat amidst lush vegetation. The falls' picturesque backdrop and natural pool make it an ideal place to unwind and reconnect with nature. For those seeking a more serene swimming experience, Magsija Swimming Pool provides a man-made freshwater pool fed by a nearby spring.
Exploring Balilihan is not just about its natural wonders; it's also an opportunity to immerse yourself in the local culture and heritage. The town's people are warm and welcoming, and you can witness their way of life as you visit the local markets, interact with the locals, and learn about their traditional industries such as pottery making and weaving.
Getting to Balilihan is relatively easy. From Tagbilaran City, you can take a jeepney or bus ride that will take approximately 30-45 minutes. Once you arrive in Balilihan, you can hire a motorcycle or tricycle, locally known as "habal-habal," to reach the different attractions in the area.
Balilihan offers a refreshing and authentic experience for travelers seeking a tranquil getaway. With its stunning landscapes, rich cultural heritage, and natural wonders, this charming municipality is a destination worth exploring in Bohol.
One of the defining characteristics of Balilihan is its strong religious heritage and the deep faith of its residents. The majority of the population in Balilihan is composed of Roman Catholics who actively practice their religion. The town celebrates its feast day on July 16, honoring Our Lady of Mt. Carmel as their patron saint. This religious celebration is a significant event in the town, marked by processions, religious rituals, and cultural festivities that showcase the devotion and faith of the community.
Barangay Hanopol holds particular importance in terms of religious significance. It was established as a separate parish, and its former chapel was converted into the Santo Niño Parish Church. This church is located 33 kilometers from Tagbilaran City and 11 kilometers from the Poblacion of Balilihan. The Santo Niño Parish Church serves as a place of worship and spiritual guidance for the local community.
Under the leadership of Mayor Victoria Chatto, Balilihan is also making strides towards becoming the vegetable basket of the province. The municipality recognizes the potential of its agricultural resources and aims to enhance vegetable production to meet the demands of larger markets. Farmers in Balilihan have come together to form the Balilihan Vegetable Growers Association, enabling them to collaborate, share resources, and collectively market their harvests. This group effort ensures that specific vegetable production can be efficiently organized, meeting the requirements of potential buyers and establishing valuable market connections.
Balilihan is characterized by its distinct rural and urban areas. Barangays Del Carmen Norte and Del Carmen Weste, located in the Poblacion, are classified as "Urban" according to the National Statistics Office (NSO) report from June 2006. These urban barangays have populations of 748 and 835, respectively, based on the 2007 census records. These urban areas provide a more developed infrastructure and amenities, while the rest of the barangays in Balilihan maintain their rural charm, with agriculture and farming as prominent economic activities.
These characteristics of Balilihan reflect the town's religious devotion, agricultural potential, and the balance between urban and rural lifestyles. Visitors to Balilihan can witness the strong religious traditions, experience the agricultural initiatives, and appreciate the unique blend of rural and urban communities that contribute to the town's vibrant and diverse identity.
more about balilihan
The Municipality of Balilihan has set its foundation day on September 29, 1828; supposedly the day when the town was separated from its mother town, Baclayon. The date is questionable though, for per historical records, its founding date was officially recorded on another date. How and why this is so is yet to be clarified.
The town and parish of Balilihan were from Baclayon in 1829, to make room for Dagohoy?s followers after the revolt, which lasted eight decades, were put to an end by a massive assault by Spanish troops from Cebu. The Recollects administered the parish until 1898. The present church was probably completed in the early 20th century.
For Balilihan, its name was derived from a grass called balili which grew in abundance in the locality. ?Balilihan? means a place where plenty of "balili" grows.
To get to Balilihan, you can travel by land from Tagbilaran City. It takes approximately 30-45 minutes by jeepney or bus, with options available from Cogon Terminal or Dao Integrated Bus Terminal. Once in Balilihan, you can hire a motorcycle (habal-habal) to reach the specific attractions you wish to visit.
Enjoy your exploration of Balilihan and its natural wonders!