Bohol Books
Secure your Cebu Bohol ferry tickets today to start your unforgettable journey!
Looking to delve deeper into the wonders of Bohol? Our website provides valuable insights, but if you're eager for more knowledge, we've compiled a list of the best books about Bohol available on Amazon. By purchasing these books through our links, you'll not only expand your understanding of our beautiful island in the Philippines Archipelago but also support our website in bringing you more engaging articles.
These books offer a wealth of information, from stunning photographs capturing the essence of Tagbilaran in "Bohol: Around Tagbilaran in Pictures" by Rob Benton, to historical accounts like "Reducción de Bohol" by Mariano Ricafort that reveal the early years of the province. Immerse yourself in the rich heritage of Bohol with "Visita Iglesia Bohol: a guide to historic churches" by Regalado Trota Jose, or explore the captivating stories of migration in "Bohol outmigrants: a case study" by Elisea S. Adem.
Remember, when you use our Amazon links to make your purchase, you contribute to our efforts in showcasing the wonders of Bohol. So click on the titles, embark on a journey of discovery, and enjoy the pleasure of reading about our beloved island. Happy reading!
The Bohol Name in History by Ancestry.com (Jul 1, 2007)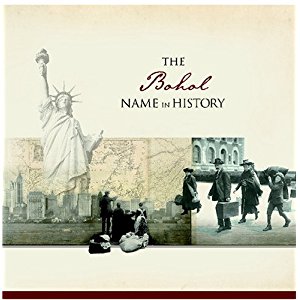 If you want to know the history of Bohol, this book contains information which were researched and studied from census records, military records, ships' logs, immigrant and port records, and other trustworthy sources. This book is part of the "Our Name in History" series. This series is a collection of fascinating facts and statistics created to tell and pass the story of previous generations, together with its short historical commentary. Name Meaning and Origin, Immigration Patterns and Census Detail, Family Lifestyles, Military Service History, and Comprehensive Source Guide for future research are just some of the topics included in this book. There is also a "Discover Your Family" section which provides tools and guidance on how you can get started learning more about your own family history. 
Check out Now the best Bohol hotel deals
This book is a rich collection of essays that are comprehensive in scope and abundant in detail about the province's early prehistoric evidence, flora and fauna, unique icons, santos and furniture, colonial church architecture, folk beliefs, food and recent development in the performing arts. This book discusses the history, art, archeology, culture, natural resources and wildlife of the island province. There are also photos and archival materials found in the book. 
Lonely Planet Diving & Snorkeling Philippines by Tim Rock

Philippines offers abundant diving sites for those who simply loves diving with its 7000 islands and more and its countless coral reefs. One can either choose snorkeling alongside whale sharks or cruising with mantas or thresher sharks. Or he could explore WWII wrecks or simply hanging out near the kaleidoscopic walls and reefs. Truly, this tropical paradise will fascinate divers of all skill levels. This book, Lonely Planet Diving and Snorkeling guide, cover the best dive sites around the world. In this guide are the detailed dive information to 125 sites, full-color photos throughout, easy to read maps of dive regions, dive icons and skill evaluation for all sites, and diving services and live-aboards. 
Recommended Bohol Philippines Tours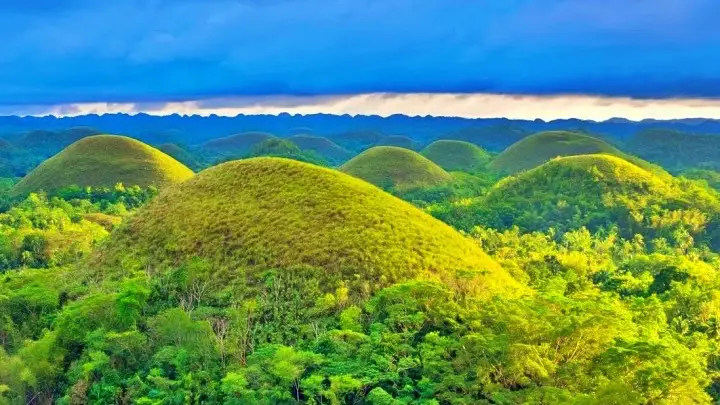 [ Bohol Sight Seeing Day Trips  - Check Out Availability ]
[ Full Day Cruise and Sailing Tours - Check out Availability ]
[ Full Day Adventure Tours - Check out Availability ]
Discover more of Bohol's natural wonders through our recommended tours. Click on the links below to embark on unforgettable adventures:
Ready to explore the beautiful islands of Cebu and Bohol? Secure your ferry tickets today through 12go and start your unforgettable journey!
---
---
Tarsiers: Past, Present, and Future (Rutgers Series in Human Evolution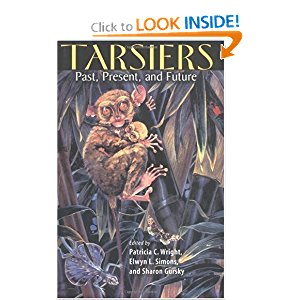 Tarsiers are group of living species which are small-bodied, nocturnal, and solitary creatures. They resemble lower primates in their behavior and morphology while some genetic evidence aligns them more closely with higher primates such as monkey, apes, and humans, thus making their unique combination of behavior and anatomy an interesting and controversial study among primate behaviorists, evolutionists, and taxonomists. This book of stimulating and compendious work brings readers an up-to-date knowledge about tarsiers and their ancestors. Contributors to this volume draw on a range of scientific disciplines to provide a detailed examination of the past, present, and future of these intriguing primates. 
---
Exciting Philippines by Elizabeth Reyes (June 10, 2010)

From its bustling metro areas to the coastal beaches and mountain towns, this book, Exciting Philippines, by Elizabeth V. Reyes explores many corners of this exotic country Philippines.

This is the 2010 edition. Below is also a good reference although it is the 2001 edition.
Elizabeth Reyes has written or coauthored several books about the Philippines, architecture, interiors, houses, lifestyles, etc.
---
Exciting Philippines by Elizabeth Reyes (April 1, 2001)

Philippines is a country composed by a number of islands in the southeastern Pacific Ocean. It is known for its diversity and its beauty. This book, Exciting Philippines, captures the visual splendor of this unique and exotic country in Asia with its 100 full-color photographs of the country's people, festivals, and architecture. It also reveals the humor and style of its people. This books is a fascinating and affordable primer for globe-trotters and armchair explorers alike in its true exciting series style.
---
Returning a Borrowed Tongue: An Anthology of Filipino and Filipino American Poetry by Nick Carbo (Jan. 1, 1995)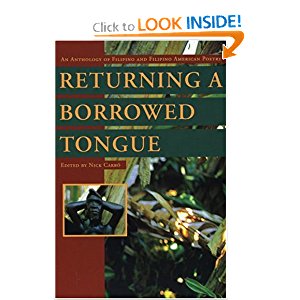 This book gathers the work of prominent poets who are Filipinos or Filipino-Americans. This book is a must read for those trying to understand the assimilation of Filipinos into the American society.
Some of the works and poems in this book are:
Holy Order by Gemino H. Abad
Sauna 2 by Karina Africa-bolasco
Pall Hanging Over Manila by Mila D. Aguilar
Light Invested by Carlos A. Angeles
Pizza And Pretense by Nerissa S. Balce
Quiet Evening Home Away by Joann Balingit
Driving To Katoomba by Merlinda Bobis
Good Friday by Rofel G. Brion
Dear Rosario by Maria Elena Caballero-robb
Depths Of Fields by Luis Cabalquinto
An Afternoon In Pangasinan With No Elctricity by Regie Cabico
I Found Orpheus Levitating by Nick Carbo
The Family Tree by Catalina Cariaga
Dinakdakan by Maria Luisa Aguilar Carino
13 June 1994 by Virginia Cerenio
Dolce Far Niente by Fidelito Cortes
Li Pos Of The Polis by Simeon, Jr. Dumdum
La Puente by Elsa Rediva E'der
Summer Nostalgia by Virginia E. Escandor
Examining The I by Jean V. Gier
Aleng Maria by Eugene Gloria
The Deepest Well In Madras by N. V. M. Gonzalez
Pacific Crossing by Vince Gotera
Souvenirs by Jessica Tarahata Hagedorn
April In Houston by Dolores De Iruretagoyena De Humphrey
Absence by Jaime Jacinto
Bohol's Tarsier Population by Clovis L. Nazareno
The Floor by Yolanda Palis
Untitled by Patrick Pardo
La Querida by Bino A. Realuyo
Black Silk Pajamas by Danton Remoto
Cutting Back The Ifugao Past by Alfred Robles
The End Of The Affair by E., Jr. San Juan
Carillonneur by Ricardo M. De Ungria
Patio by Manuel A. Viray
Andy Warhol Speaks To His Two Filipino Maids by Alfred A. Yuson
Once Upon A Seesaw With Charlie Chan by Cyn Zarco

And many other.
---
Culture and Customs of the Philippines (Culture and Customs of Asia) by Paul A. Rodell (October 30, 2008)

This books is a stand-out, one-stop resource on Philippine culture and customs. Current observations of the social scene that take into account a wide variety of factors, from influences of geography and climate to circumstances of history to socioeconomic and political factors will fascinate the readers together with its painstaking review of every major element of culture. Information on this book is useful to both the general readers and the researchers looking for a scholarly introduction to the country through its balanced and detailed description of a complex society with a tangled past and multifaceted culture. It is also equally useful to teens and adults for the details and insights it provides into Filipino life. 

---
Seven Natural Wonders of Asia and the Middle East (Seven Wonders) by Michael Woods and Mary B. Woods (April 2009)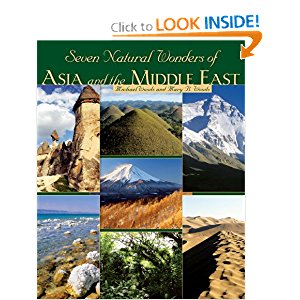 The world is full of wonders – from majestic mountains and bubbling volcanoes to amazing plants and animals. Nature has created these without even any human influence and these wonders are found across all the continents and oceans of this planet. This book is all about the seven greatest wonders of Asia and the Middle East. There is the Mount Everest which is located between Nepal and Tibet and it is considered the tallest mountain on Earth. There is also the Chocolate Hills in the Philippines which looks like a field of chocolate kisses during the dry season and is covered of fresh green grass during the wet season. One can also read about the salty Dead Sea which sits between Israel and Jordan and where everything just floats. If you will swim in this sea, you wouldn't even sink. There are still many natural wonders that Asia and the Middle East holds from its dripping wet rain forests, a spooky desert, to its strange rock formations in fascinating detail.

The author of this book is Michael Woods which is a science and medical journalist in Washington, D.C. He had won many national writing awards. His wife, Mary B. Woods, is also a writer. They also write together and their previous books include the eight-volume Ancient Technology series, the Disasters Up Close series, and the Seven Wonders of the Ancient World series.
---
A Guide to the Birds of the Philippines by Robert S. Kennedy, Pedro C. Gonzales, Edward C. Dickinson, Hector Miranda, and Timothy H. Fisher

Philippines is the home of nearly 172 species of birds that are not found anywhere else in the world and many of these are endangered as the result of high levels of habitat destruction in the Philippine forest. Thus, the knowledge and study of the endemic characteristics of the birds of the Philippines are of critical importance. This book represents a huge advance in the documentation of the Philippine avifauna and the accompanying text gives detailed information about the plumage, voice, range, distribution, status, habitat, life history, and behavior of the birds and includes helpful distribution maps for all the species highlighted. This book is the first and only guide to cover all 572 species of birds known to occur within the 7,100 islands that comprise the Philippines and is now the essential reference for birdwatchers visiting the archipelago and for researchers conducting scientific studies of the islands' birds. Created by an expert team of authors and artists that includes two prominent Philippine ornithologists, this book combines over 60 years of experience and research and is beautifully illustrated with 72 specially painted color plates, showing all species recorded from the Philippines except four rare accidental species. This book will truly appeal to ornithologists and avid birders and at the same time enthrall conservationists and all nature lovers. 
---
Philippine Diving: Ultimate Guide to Apo Island, Bohol, Cebu, Siquijor (2004)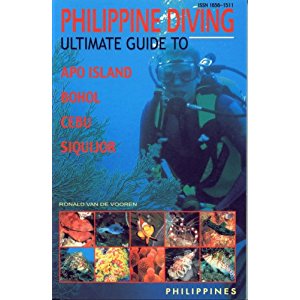 This book, Philippine Diving: Ultimate Guide to Apo Island, Bohol, Cebu, Siquijor features the different dive sites in the Visayas specifically on the mentioned sites. 
---
Dagohoy (Ang Mandirigmang Hindi Sumuko) by Rene Villanueva and Paul Eric Roca (2002)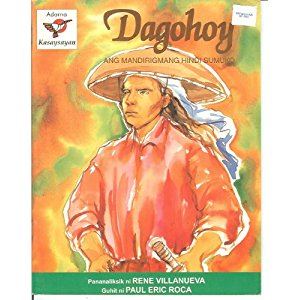 Dagohoy is a brave hero of the province of Bohol in the Philippines who fought for the freedom of Bohol against the Spaniards from the 1744 until 1829, which is roughly 85 years. His full name is Francisco Dagohoy. The Dagohoy rebellion stemmed not from a religious conflict but was ignited by forced labor, Spanish oppression, excessive tax collection and payment of tributes implemented by the Spaniards and the Jesuit priests at that time. The rebellion even outlasted several Spanish Governor Generals and several missions. 
---
Visayan Vignettes: Ethnographic Traces of a Philippine Island by Jean-Paul Dumont (Jun 1, 1992)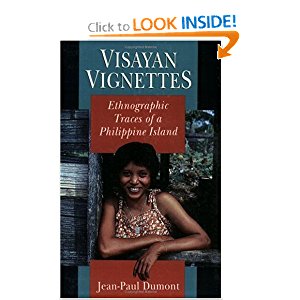 The author, Jean-Paul Dumont, is the Clarence J. Robinson Professor of Anthropology at George Mason University and author of several books in English and French. Accordint to Resil B. Mojares of the Philippine Graphic, "To read the book is to appreciate the highly contingent, provisional, oblique, open-ended way in which people try to make "sense" of another culture." Also, according to Ronald Provencher of the Journal of Asian Studies, "This book is an interestingly complex ethnography that approaches the self-critical dialectical ethnography called for two decades ago…It is a welcome contribution to postmodernist theory and to the ethnography of the Visayas." 
---
Surrender on Cebu: A Pow's Diary--Wwii - (May 2002) by William Miner and Lewis A. Miner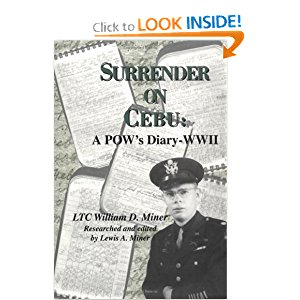 Surrender on Cebu is a story of Bill Miner during World War II. It is a series of accounts describing the author's service on the island of Cebu and his subsequent capture and imprisonment by Japanese forces. It is a forceful and disturbing story that encompasses adventure, courage, persecution, death and liberation. The author's ability to have survived and transcend the experience, and further, to have gone on to a substantial academic career and meaningful retirement are all enormous accomplishments. The people mentioned in the book are factual. 
---
Filipinos in Stockton (Images of America: California) - (Feb. 18, 2008) by Dawn B. Mabalon Ph.D., Rico Reyes, Filipino American National, Historical Society

The first Filipino settlers arrived in Stockton, California, around 1898, and through most of the 20th century, this city was home to the largest community of Filipinos outside the Philippines. Because countless Filipinos worked in, passed through, and settled here, it became the crossroads of Filipino America. Yet immigrants were greeted with signs that read Positively No Filipinos Allowed and were segregated to a four-block area centered on Lafayette and El Dorado Streets, which they called Little Manila. In the 1970s, redevelopment and the Crosstown Freeway decimated the Little Manila neighborhood. Despite these barriers, Filipino Americans have created a vibrant ethnic community and a rich cultural legacy. Filipino immigrants and their descendants have shaped the history, culture, and economy of the San Joaquin Delta area. 
---
and some more bohol books
1. "Bohol: Around Tagbilaran in Pictures" by Rob Benton

- Published in 2018, this book showcases the beauty of Tagbilaran in Bohol through stunning photographs, capturing the essence of the city.
2. "Your guide to Bohol: Philippines" by an unknown author
- First published in 2006, this guidebook provides essential information about Bohol, including its attractions, culture, and travel tips.
3. "Reducción de Bohol" by Mariano Ricafort
- This historical book, first published in 1830, explores the reduction or reorganization of Bohol during the Spanish colonial period.
4. "Visita Iglesia Bohol: a guide to historic churches" by Regalado Trota Jose
- Published in 2001, this guidebook focuses on Bohol's historic churches, providing insights into their architecture, history, and significance.
5. "Bohol: the capsulized history" by Carliloso Añasco
- This book, first published in 1998, offers a concise overview of Bohol's history, summarizing key events and developments in the province.
6. "Bohol outmigrants: a case study" by Elisea S. Adem
- Published in 1982, this case study examines the migration patterns and experiences of Bohol residents who have moved to other areas.
7. "Bohol: 2000 Central Visayas tourism situationer" by Philippines. Department of Tourism
- Released in 2000, this publication provides an overview of the tourism situation in Bohol and its role in the Central Visayas region.
8. "Bohol biographies" by an unknown author
- Published in 1995, this book features biographies of notable individuals from Bohol, highlighting their contributions and achievements.
9. "Bohol 2000" by Bohol (Philippines). Bohol League of Sec...
- This book, published in 1999, presents an overview of Bohol's development initiatives and progress in the year 2000.
10. "Strategic planning: the Bohol experience" by an unknown author
- Released in 2004, this book discusses the strategic planning processes and experiences of Bohol, showcasing its development strategies.
11. "The Bohol Environment Code of 1998" by Bohol (Philippines)
- First published in 1998, this book provides an in-depth look at the environmental policies and regulations implemented in Bohol, aiming to protect and conserve the province's natural resources.
12. "Tubod: the heart of Bohol" by Ramon N. Villegas
- Published in 2003, this book explores the town of Tubod, delving into its rich history, cultural heritage, and notable landmarks that make it a significant part of Bohol.
13. "The Bohol we love: an anthology of memoirs" by Marjorie Evasco
- Released in 2017, this anthology features personal memoirs and stories from various authors who have a deep connection and love for Bohol, showcasing the province's charm and allure.
14. "The Bohol guerrillas in action" by Pio B. Ferandos
- Published in 1981, this book chronicles the brave actions and contributions of the Bohol guerrillas during World War II, highlighting their resistance efforts against the Japanese occupation.
15. "Medium-term development plan CY 2004-2009: Bohol Province" by Bohol (Philippines)
- This publication, first released in 2004, outlines the medium-term development plan of Bohol Province, detailing the goals, strategies, and initiatives for the years 2004 to 2009.
16. "An ordinance codifying the general administrative ordinances of the Province of Bohol: Provincial Ordinance no. C-001" by Bohol (Philippines)
- First published in 1998, this book presents the codified general administrative ordinances of the Province of Bohol, providing a comprehensive guide to local governance and regulations.
17. "An ordinance enacting the Revenue Code of the Province of Bohol: Provincial Ordinance no. 97-001" by Bohol (Philippines)
- This publication, released in 1998, contains the revenue code of the Province of Bohol, which governs taxation and revenue generation policies within the province.
18. "Birds of Cebu and Bohol Philippines" by Arribas, Nilo Jr
- Published in 2014, this book focuses on the avian species found in Cebu and Bohol, providing information on their characteristics, habitats, and conservation status.
19. "Bohol Island: its coastal environment profile: enhancing and facilitating greater partnership between all coastal stakeholders in implementing coastal resource management in the Province of Bohol" by Stuart J. Green
- Released in 2002, this book offers a comprehensive profile of Bohol's coastal environment, emphasizing the importance of collaborative efforts in coastal resource management.
20. "Manganese deposits of the Anda Peninsula, Bohol" by Norberto S. Fernández
- First published in 1956, this geological study focuses on the manganese deposits found in the Anda Peninsula of Bohol, providing insights into their formation and significance.
Please note that the availability and accessibility of these books may vary, and it is recommended to check with local libraries, bookstores, or online platforms for more information on obtaining or accessing these publications.
Check out for Bohol Hotel Deals
Back to Top: Bohol Books
Back to Bohol