Bohol Tropics Resort Hotel
Secure your Cebu Bohol ferry tickets today to start your unforgettable journey!
The Bohol Tropics Resort Hotel is a seaside hotel with a magnificent view of Tagbilaran Bay. The resort is situated on a cliff overlooking the Tagbilaran wharf and is a few minutes' drive from the Tagbilaran Airport.

The resort offers various accommodations from ballrooms, function rooms and guestrooms, all elegantly furnished with modern amenities for utmost comfort. For recreation and entertainment, the resort has restaurants, swimming pools and bars situated in beautifully landscaped gardens.
Recommended Bohol Philippines Tours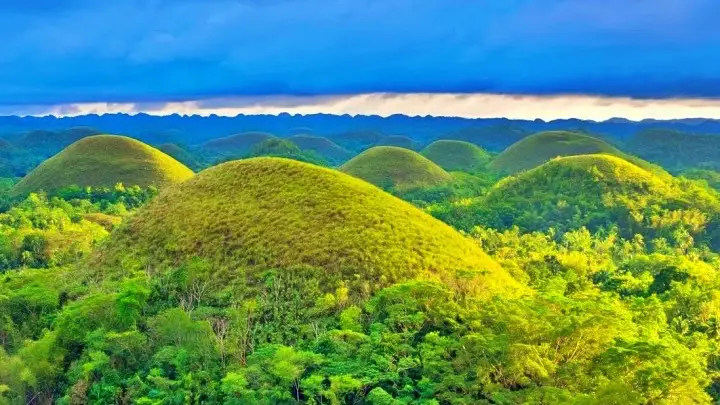 [ Bohol Sight Seeing Day Trips  - Check Out Availability ]
[ Full Day Cruise and Sailing Tours - Check out Availability ]
[ Full Day Adventure Tours - Check out Availability ]
Discover more of Bohol's natural wonders through our recommended tours. Click on the links below to embark on unforgettable adventures:
Ready to explore the beautiful islands of Cebu and Bohol? Secure your ferry tickets today through 12go and start your unforgettable journey!
Location
The Bohol Tropics Resort Hotel is located in Graham Avenue, Tagbilaran City, Bohol, Philippines. Tagbilaran is the provincial capital of the province of Bohol. It is the hub of commerce and the lone city of the province and often coined as the "City of Friendship".
Facilities and Services
Rooms
The rooms at Bohol Tropics are fully air-conditioned and equipped with facilities like: spacious bathrooms with hot and cold shower, cable TV, refrigerator, and telephone.
The Superior Bayview Rooms and the Deluxe Horizon Suites all have private verandahs overlooking the Tagbilaran Bay.
The Presidential Suite is ultimate in luxury and comfort with its own Jacuzzi and bubble bath.
The Ambassador Garden room has handcrafted native furnishings and provided with a leisurely bath.
The Terrace Rooms are elegantly furnished yet at an attractive low price.
Restaurants and Bars
Cafe Atanacio
The Sea View Cafe Atanacio is a covered yet open-sided restaurant that lets the cool sea breeze in as you dine, sip cool drinks and relax after a hectic day. The restaurant is located at the top floor and commands a breathtaking view of the city harbor and Tagbilaran Bay. The view here is lovely even at night, what with the harbor lights and the twinkling lights of small fishing boats spread across the Bay.
Foods here are very delicious, to mention the tangigue steak (or blue marlin), porterhouse steak, grilled prawns and crispy fried chicken. Try their fruit baskets, too. A tantalizing variety of local fruits sliced and chilled to quench your thirst.
Le-Eng Chinese Cuisine
The restaurant is fully air-conditioned and serves delectable traditional Chinese and oriental cuisines. The guests' favorites are the chop suey, the bird's nest soup and the succulent fish lips.
Seglim Seafoods & Ihaw Ihaw
Seglim Seafoods and Ihaw-Ihaw offers fresh, sumptuous grilled seafood dishes and native Filipino cuisine. Choose from sizzling squid, grilled tangigue (blue marlin), fresh kinilaw, lapu-lapu in sweet & sour sauce, or grilled prawns ala tropic.
Other Facilities, Amenities and Services
All conference rooms are fully air-conditioned and furnished with modern facilities to expedite proper communication and multi-media presentations. The Resort have experience meeting planners to help in setting up venues for different occasions ranging from an intimate conference to a theater set-up either for conventions, weddings and other events.
A professional catering staff offers extensive experience in coordinating your special occasion with services inclusive of flowers, decorations, audio/visual equipment and entertainment.
Presidential Conference Room
The Presidential Conference Room can cater to a cozy group of 12 people, fully air-conditioned and provided with modern amenities for communication.
Sandugo Grand Ballroom
The Ballroom is very accessible and situated near the gate of the Bohol Tropics property. The Ballroom is huge and can accommodate up to 1,200 people for a theater style and 650 people for a banquet style. The Ballroom is fully air-conditioned and provided with all modern amenities necessary for functions.
Harbor View Function Hall
This hall is elevated above and facing the Tagbilaran City harbor. It has a fantastic view of the Tagbilaran Bay and is perfect for smaller functions up to 500 for theater style and 250 for banquet.
Flamingo Boardrooms
The Flamingo Function Rooms (1 & 2) provide a view of the pool and each room seats up to 50 people and are equipped with modern communication facilities. The Harbor View commands a majestic view of Tagbilaran Bay and can seat up to 300 people.
Bayside Area
The Bayside Area is good for theme parties or outdoor entertainment and can seat up to 1,500 guests. The area is beautifully landscaped with white sand and palm trees, with waves lapping just inches away.
Poolside Area
Bohol Tropics can accommodate large functions during business hours and after-hours at the pool area. The resort has 3 large pools with lounging areas. Aside from swimming, guests can relax there while sipping cocktail drinks and snacks.
Fisherman's Wharf
The Fisherman's Wharf offers the most scenic view of the Bay Area and is Bohol's only convention wharf that can accommodate up to 100 people. With the cool sea breeze constantly blowing, the area is ideal for theme parties. The Fisherman's Wharf extends to the bay with a wooden boardwalk. It is a nice venue for a romantic moonlight walk on clear nights.
Dive Shops
Bohol Tropics has 3 dive shops. Experience the thrill of an underwater adventure in Balicasag Island-one of the best dive sites in the country, with the resorts' professional divers. Some of the best diving sites in Southeast Asia are located in Bohol. You can enjoy cliff diving and see numerous variations of aquatic life and sunken wrecks.
Bohol Tropics is affiliated with Korean, Japanese, and Taiwanese dive shops within walking distance of our resort. They are Blue Coral (Japanese), Blue Water (Korean), Rover Dive Shop (Taiwanese).
Hotel Activities
Test your vocal chords and sing your heart out at Club J Videoke. The club has 6 rooms for privacy. Dance until the wee hours at the laser disco and the ballroom dance floor. Kids can enjoy and pass their time at the kiddies playground while the parents are on business. Practice your laps at the 3 large swimming pools and view the gardens surrounding them. For more strenuous activities, the guest can play tennis, jet ski or scuba dive.

Hotel Facilities
Basketball Court; Boardrooms; Bridal Cars; Children's Playground; Convention Center; Disco/Ballroom; Dive Shops; Function Halls; Game Hall; Karaoke Bar; Live Music Bar (Nightly); Restaurant Outlets (3); Souvenir Shop; Swimming Pools w/ Jacuzzi (3); Tennis Court; Volleyball court; Water Falls; White Sand Park; Water Sports
Room Amenities and Services
Air-conditioned Rooms; Cable TV; Coffee Table for Two; Digital Safety Deposit Box; Fax/Copier Machines; Hot/Cold Water; Jacuzzi/Bath Tub; PABX Telephone System; Personal Fridge ; Spacious Bathroom; WiFi Internet Connection; ; Hotel Services; Airport/Seaport Transfer (Free); Computerized Wake-Up Call; Foreign Currency; Laundry Services; Massage Services; Travel & Tour Services; 24-Hours Room Service; ; * Free Entrance Disco/Ballroom; * Free Entrance Karaoke Bar;
Overview
Graham Avenue, the road outside the Bohol Tropics property, is still a dirt road but quite passable. Upon entering the property, you will feel you have entered another world altogether.
Bohol Tropics Resort Hotel is vast with well arranged buildings and landscaped gardens on a rolling terrain with wide cemented roads. The whole place exudes comfort and luxury. The view from the Café Atanacio and the terrace rooms is simply breathtaking. What more from the Bayside Area?
Food is great! Have a helping of their potato salad, grilled tangigue steak, grilled prawns, and yummy fried chicken crisps and a lot more.
A plus for the resort is its location. It is within the City itself and quite accessible and near to malls, to the wharf and the airport.
It may not have a white sandy beach but the 3 pools can quench your thirst for swimming. Otherwise, you can go to Panglao Island to enjoy the white sandy beaches and the salty waters of the blue sea.
Discount Booking Online
Top of Bohol Tropics Resort Hotel