Discover Boracay's Pristine Beaches and Tropical Charm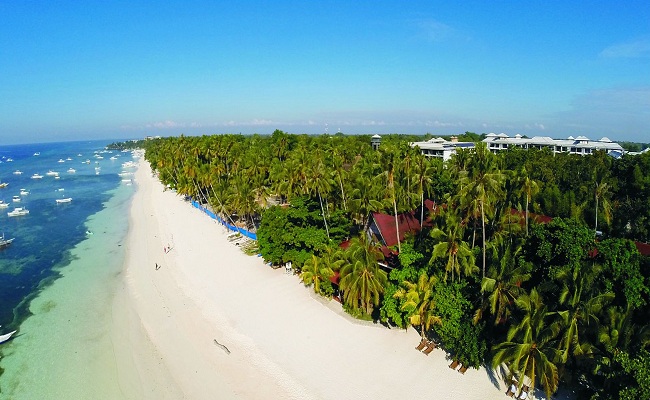 Secure your Cebu Bohol ferry tickets today to start your unforgettable journey!
Welcome to Boracay, a tropical paradise in the Philippines that captivates travelers from around the world with its pristine white-sand beaches, crystal-clear turquoise waters, and vibrant atmosphere. Situated in the province of Aklan, Boracay is renowned for its postcard-perfect beauty, making it a must-visit destination for beach lovers, adventure enthusiasts, and those seeking a blissful escape.
At the heart of Boracay lies White Beach, an iconic stretch of powdery sand that stretches for four kilometers. Here, you can bask in the warm tropical sun, swim in the clear azure waters, and indulge in a myriad of water activities, from snorkeling and paddleboarding to kayaking and parasailing. The beachfront is lined with a wide array of restaurants, bars, and shops, offering a vibrant atmosphere day and night.
For those craving a more secluded and tranquil experience, head to Puka Shell Beach. Named after the beautiful puka shells that wash ashore, this beach offers a serene escape from the bustling crowds, allowing you to unwind amidst nature's beauty.
Beyond the beaches, Boracay beckons adventure seekers with its exhilarating activities. Dive into the deep blue waters at Ariel's Point, where you can experience cliff diving, snorkeling, and kayaking. Embark on a hike or ATV ride to the summit of Mount Luho and marvel at panoramic vistas of the island and its surrounding seas.
Recommended activities in Boracay:

1. Boracay: Island and Beach-Hopping Boat Tour with Snorkeling

- Duration: 4 hours
- Price: From ₱ 1,200 per person
2. Boracay: Solo or Tandem Parasailing Experience

- Duration: 1 day
- Price: From ₱ 2,500 per person

3. Caticlan: Shared Airport Transfer From/To Boracay
- Duration: 1-2 hours
- Price: From ₱ 928 per person

4. Boracay: Dualtron E-Scooter Ride
- Duration: 2 hours
- Price: From ₱ 1,400 per person

5. Boracay: Helmet Diving Experience with Photos and Videos
- Duration: 20 minutes
- Price: From ₱ 1,100 per person

6. Boracay: Helicopter Tour
- Duration: 10-20 minutes
- Price: From ₱ 16,000 per group up to 2

7. From Boracay: Mainland Off-road ATV or Zipline Experience
- Duration: 2 hours
- Price: From ₱ 1,250 per person
- Rating: 3.3/5 (11 reviews)
8. Boracay: Introduction to Scuba Diving Experience
- Duration: 3 hours
- Price: From ₱ 3,500 per person

9. Boracay: Sunset Cruise with Water Activities
- Duration: 2 hours
- Price: From ₱ 800 per person

10. Boracay: Jet Ski Experience
- Duration: 1 day
- Price: From ₱ 4,500 per person

Please note that these ratings and prices are subject to change.
Each activity offers a unique adventure and allows you to explore the stunning beauty of Boracay. Whether you want to snorkel, parasail, ride an ATV, or enjoy a sunset cruise, there's something for everyone to enjoy. Don't miss the chance to make unforgettable memories in this tropical paradise.
Boracay also boasts enchanting islands and hidden coves waiting to be explored. Discover Crystal Cove Island, where you can navigate through intriguing caves and marvel at stunning rock formations. Immerse yourself in the vibrant marine life while snorkeling in its crystal-clear waters.
As the sun sets, Boracay's nightlife comes alive. Join a pub crawl and experience the energetic atmosphere as you hop from one bar to another, savoring delicious cocktails and enjoying live entertainment.
To complete your Boracay experience, wander through D'Mall, a bustling shopping and dining district. Indulge in delectable local cuisine, shop for unique souvenirs, or simply soak up the lively atmosphere.
Boracay is a destination that offers a perfect blend of natural beauty, thrilling adventures, and vibrant experiences. Whether you seek relaxation on the beach, adrenaline-pumping activities, or an unforgettable nightlife, Boracay will leave you with cherished memories and a longing to return. Welcome to this tropical paradise where dreams of paradise become a reality.
top attractions in Boracay
1. White Beach: Boracay's most famous beach, White Beach, is a stunning stretch of powdery white sand and crystal-clear turquoise waters. It offers a vibrant atmosphere with numerous beachfront restaurants, bars, and shops.

2. Puka Shell Beach: Located on the northern part of Boracay, Puka Shell Beach is known for its tranquil ambiance and beautiful seashells. It offers a more secluded and serene beach experience compared to White Beach.
3. Ariel's Point: A popular day trip destination, Ariel's Point offers cliff diving, snorkeling, and kayaking activities. It's an adventure-filled spot with breathtaking views of the ocean and surrounding cliffs.
4. Mount Luho: For panoramic views of Boracay, visit Mount Luho, the highest point on the island. You can hike or rent an ATV to reach the viewpoint and enjoy sweeping vistas of the coastline.
5. Crystal Cove Island: Take a boat trip to Crystal Cove Island, which features stunning rock formations, hidden caves, and crystal-clear waters perfect for snorkeling. It's a great spot for exploring and enjoying the natural beauty of Boracay.
6. Diniwid Beach: Located adjacent to White Beach, Diniwid Beach offers a quieter and more laid-back atmosphere. It's a peaceful spot with picturesque views, perfect for relaxation and enjoying the sunset.
7. Boracay Pub Crawl: Experience the vibrant nightlife of Boracay by joining a pub crawl, where you can visit different bars and clubs, meet new people, and enjoy lively entertainment.
8. Bulabog Beach: Known as the kiteboarding and windsurfing capital of Boracay, Bulabog Beach offers thrilling water sports activities. It's a great spot for adventure enthusiasts looking to try their hand at these exhilarating sports.
9. Magic Island: Another popular cliff diving spot, Magic Island features various diving platforms of different heights, allowing visitors to leap into the deep blue waters below. It's an adrenaline-pumping experience for thrill-seekers.
10. D'Mall: Located in Station 2, D'Mall is a bustling shopping and dining area in Boracay. It offers a wide range of shops, restaurants, and stalls selling souvenirs, clothes, accessories, and local delicacies.
These attractions provide a mix of natural beauty, thrilling activities, stunning viewpoints, and vibrant experiences that make Boracay a popular destination for travelers seeking sun, sand, and adventure.
Your second block of text...