Buenavista Bohol Philippines
Secure your Cebu Bohol ferry tickets today to start your unforgettable journey!
Buenavista is situated on the northern coast of the province of Bohol about 82.6 kilometers from Tagbilaran City. It was previously a barrio of Inabanga and in 1874 it was separated from that town and annexed to the town of Getafe. It was made into an independent municipality in 1960.
Recommended Bohol Philippines Tours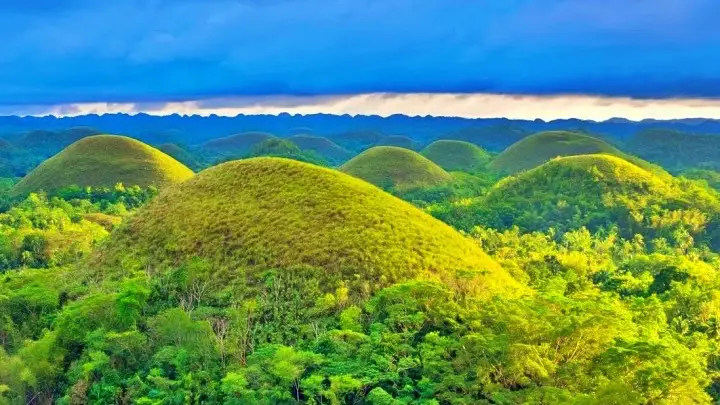 [ Bohol Sight Seeing Day Trips  - Check Out Availability ]
[ Full Day Cruise and Sailing Tours - Check out Availability ]
[ Full Day Adventure Tours - Check out Availability ]
Discover more of Bohol's natural wonders through our recommended tours. Click on the links below to embark on unforgettable adventures:
Ready to explore the beautiful islands of Cebu and Bohol? Secure your ferry tickets today through 12go and start your unforgettable journey!
The area was previously called "Pangpang" because of a prominent limestone cliff found in the barrio. At the arrival of the Spaniards, they were very impressed by the beautiful view of the distant sea and of verdant hills and slopes and eventually referred to the place as "Buenavista". "Buena" in Spanish means "good" and "vista" means view. So "Buenavista" means "good view".
Among the barrios of Getafe, Buenavista has shown marked improvement. It has steadily grown in size and importance and is considered as a 4th class outstanding community. It now covers a land area of 8,730 with a population of 26,443 people according to the 2007 census.
The municipality of Buenavista is politically subdivided into 35 barangays, namely: Anonang, Asinan, Bago, Baluarte, Bantuan, Bato, Bonotbonot, Bugaong, Cambuhat, Cambus-oc, Cangawa, Cantomugcad, Cantores, Cantuba, Catigbian, Cawag, Cruz, Dait, Eastern Cabul-an, Hunan, Lapacan Norte, Lapacan Sur, Lubang, Lusong (Plateau), Magkaya, Merryland, Nueva Granada, Nueva Montana, Overland, Panghagban, Poblacion, Puting Bato, Rufo Hill, Sweetland and Western Cabul-an.
The people of the municipality of Buenavista are mostly Roman Catholics and their faith revolves mainly around their church which is advocated to the Holy Rosary. The people celebrate its feast day on October 6 with much devotion. The feast day involves the 9-day Novena Masses and other activities which brings this sleepy town to life.
As their means of livelihood, the people are into weaving of saguran, mats, raffia; nipa thatches and broom making, hats and baskets making plus kinugay and natok making aside from the main occupation of fishing and farming.
The town boasts of various attractions where guests can enjoy the sun, sand and the sea in tranquil settings such as those in Cabul-an Island, Pandao Island, Sente Nenay Beach Resort and Tumoytumoy Beach Resort. A newly developed Baywalk Eco-Adventure Park also offers guests diversions thru activities such as picnics, boating, swimming and more.
The town also offers local and foreign tourist with the Cambuhat River and Village Tour where guests are treated to such activities as a river tour while observing cultured oyster farms and feasting on oysters and other seafood; watching interpretative dances performed by the community; and detailed instructions on the process of loom weaving and more.
The municipal government of Buenavista aimed to further develop and manage their God-given resources to uplift the economic situation of the town. A five-year coastal management plan for the whole town has been implemented including that of the management of the whole area of the town, the development of sustainable products and services.