Carmen, Bohol: Where Nature and Adventure Unite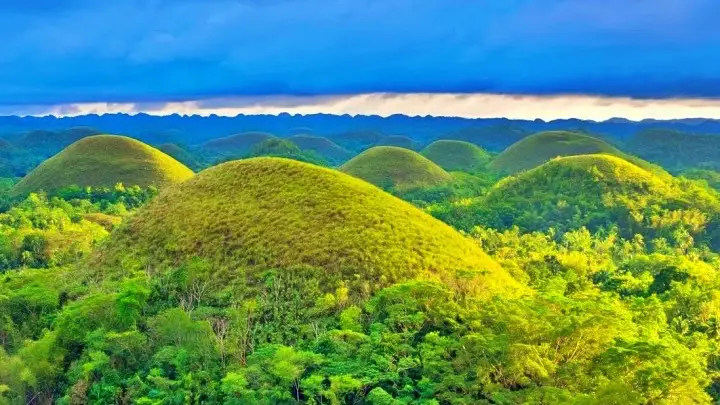 Secure your Cebu Bohol ferry tickets today to start your unforgettable journey!
Carmen, located in Bohol, is a small and rural municipality known for its most famous attraction, the Chocolate Hills.
The town is situated in the middle of Bohol, approximately 58.8 kilometers from Tagbilaran City, the capital. It is a strategic location where two national roads intersect.
The municipality covers 29,804 hectares of land and is home to a population of around 43,153 people.
Carmen is primarily an agricultural area, known for its cassava, coconut, rice, banana, pineapple, and vegetable crops. The local economy also involves trading and other businesses, particularly in the Poblacion area.
Carmen is home to several educational institutions, including the Central Visayas State College of Agriculture, Forestry, and Technology, and the private St. Anthony's Academy.
The Carmenanons, the residents of Carmen, predominantly speak Visayan or Cebuano but are also proficient in English, which has been taught in schools since childhood.
Religion plays a significant role in the community, with the majority of Carmenanons being Roman Catholics. Religious activities are centered around the barangay chapels, but major events take place at the Carmen Parish Church, dedicated to San Antonio Abad.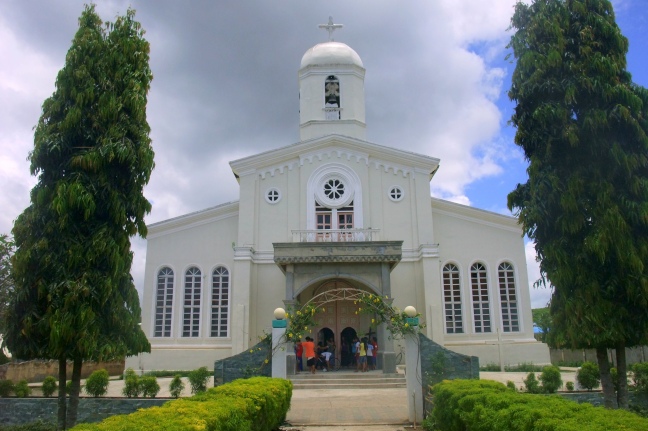 carmen bohol attractions
Chocolate Hills:
The iconic Chocolate Hills are the most famous attraction in Carmen. These cone-shaped hills, numbering more than 1,200, create a breathtaking landscape that turns brown during the dry season, resembling chocolate mounds. Visitors can enjoy panoramic views from viewing decks and witness the natural beauty of this geological wonder.

Church of St. Anthony Abad:
The Church of St. Anthony Abad is a historic church in Carmen. Built in the 1800s, this stone church showcases architectural grandeur and serves as a significant religious site. Surrounding the church is a well-kept plaza, adorned with centuries-old acacia trees, creating a serene ambiance.
Fatima Rosary Hill:
Fatima Rosary Hill is a pilgrimage site located in Barangay Buenavista. It features a tall image of the Virgin of Fatima atop the hill, surrounded by statues of the three children to whom the Blessed Virgin appeared. Visitors can enjoy panoramic views of the Chocolate Hills and the surrounding rolling terrain from the hill's peak.
Cabasi Spring:
Situated in the municipality of Carmen, Cabasi Spring offers a cool and refreshing experience. The spring's crystal-clear waters are located inside a cave, providing a natural swimming area for visitors. It is a popular spot for locals and tourists to relax and enjoy the tranquility of nature.
Lasang-Lasang Park:
Known as the "forest" in the local language, Lasang-Lasang Park is a mini-forest in Carmen. It is home to a variety of tropical plants, trees, and wildlife, creating a natural sanctuary. A spring within the park supplies water and irrigates the surrounding lowland areas, adding to the park's beauty.
Kokok & Nueva Vida Sur Caves:
The Kokok and Nueva Vida Sur Caves offer thrilling adventures for cave enthusiasts. These caves feature giant chambers, fascinating stalactite and stalagmite formations, and pools of spring water. Exploring these caves provides a unique and memorable experience for adventurous travelers.
In addition to the previously mentioned attractions, Carmen, Bohol offers the following thrilling experiences:
Chocolate Hills Adventure Park:
Located amidst the stunning landscape of the Chocolate Hills, the Chocolate Hills Adventure Park provides a range of exciting activities for adventure enthusiasts. Visitors can enjoy adrenaline-pumping experiences such as ziplining, rope courses, and bike zip tours, all while taking in breathtaking views of the surrounding hills.
Sky's the Limit Hot Air Balloon Rides:
For a unique and unforgettable adventure, Sky's the Limit Hot Air Balloon Rides in Carmen offer a bird's-eye view of the picturesque landscape. Visitors can soar high above the Chocolate Hills and witness the beauty of Bohol from a different perspective, creating memories that will last a lifetime.
Chocolate Hills ATV Rental:
Exploring the Chocolate Hills on an all-terrain vehicle (ATV) is a popular choice for thrill-seekers. Chocolate Hills ATV Rental provides the opportunity to traverse the rugged terrain, navigate through trails, and witness the magnificence of the hills up close, creating an exhilarating adventure.
Graham ATV Rental:
Graham ATV Rental is another option for those looking to embark on an exciting ATV adventure in Carmen. Visitors can rent ATVs and explore the scenic surroundings, including the famous Chocolate Hills. It's an excellent way to combine adventure and natural beauty while enjoying the thrill of off-road exploration.
Additionally, Carmen is home to The Home, a refuge for orphaned, abandoned, neglected, and maltreated children, as well as an 11-hectare property owned by the Catholic Women's League called the House of Charity.
These attractions in Carmen, Bohol, cater to a range of interests, from natural wonders and religious sites to outdoor adventures. Visitors can immerse themselves in the beauty of the Chocolate Hills, explore historic churches, embrace the serenity of natural springs, and embark on exciting cave explorations. Each attraction contributes to the diverse and captivating experiences that Carmen has to offer.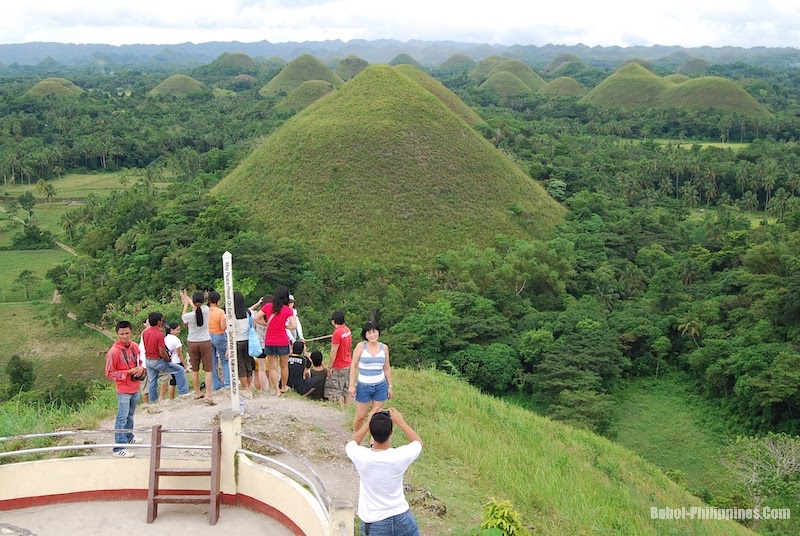 Recommended Bohol Philippines Tours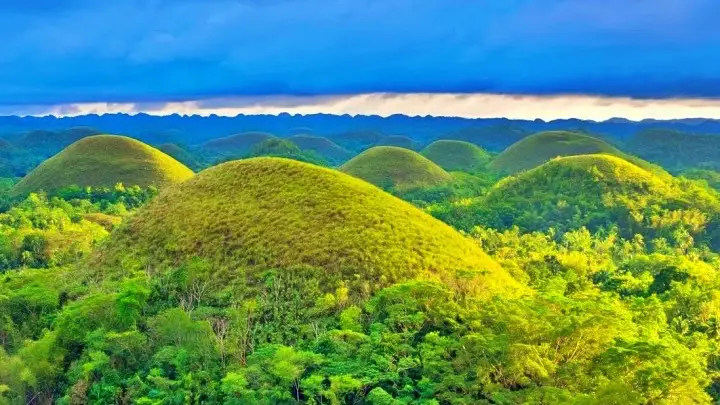 [ Bohol Sight Seeing Day Trips  - Check Out Availability ]
[ Full Day Cruise and Sailing Tours - Check out Availability ]
[ Full Day Adventure Tours - Check out Availability ]
Discover more of Bohol's natural wonders through our recommended tours. Click on the links below to embark on unforgettable adventures:
Ready to explore the beautiful islands of Cebu and Bohol? Secure your ferry tickets today through 12go and start your unforgettable journey!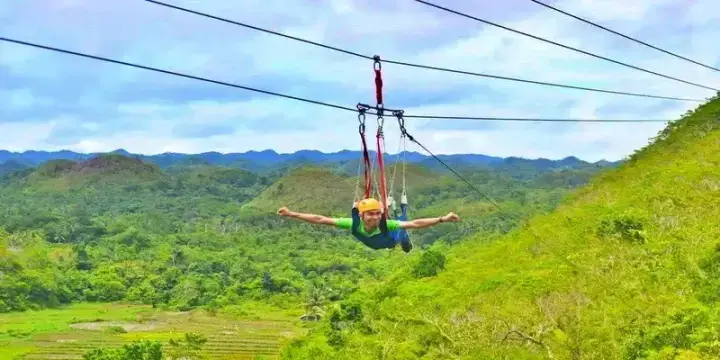 What to eat in Carmen, Bohol
Special Delicacies and Food:
Binagol: A sweet delicacy made from grated coconut, glutinous rice, and chocolate, usually wrapped in banana leaves.
Calamay: A sticky rice dessert made from glutinous rice, coconut milk, and brown sugar.
Sikwate and Budbud: A popular breakfast combination consisting of hot chocolate made from tablea (local cocoa tablets) and sticky rice cakes.
Kalamay Hati: A sticky rice cake topped with coconut caramel sauce.
Peanut Kisses: Bite-sized peanut candies made from locally grown peanuts.
Restaurants:
The Buzzz Café: Located at the Chocolate Hills Complex, this café offers a wide range of local and international dishes with stunning views of the Chocolate Hills.
Loboc River Resort Restaurant: Enjoy a buffet-style meal on a floating restaurant while cruising along the Loboc River.
The Floating Restaurant: Another floating restaurant along the Loboc River that offers a scenic dining experience with live entertainment.
Casa Amihan: A cozy restaurant in Carmen known for its Filipino cuisine, including seafood dishes and local favorites.
Bohol Bee Farm: A renowned farm and restaurant that serves organic dishes made from fresh farm produce, including honey-based products.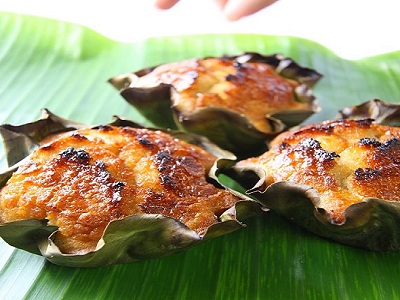 carmen bohol vibrant marketplaces and specialty stores
While exploring Carmen, Bohol, make sure to check out the town's vibrant marketplaces and specialty stores, where you can find a variety of enticing products. Here are some of the items you can purchase:
1. Cassava-based Products: Don't miss the chance to try or bring home cassava chips, cassava cakes, and other delicious treats made from Carmen's abundant cassava harvest.
2. Coconut-based Products: Carmen's extensive coconut groves offer an array of coconut-derived products. Look out for coconut oil, coconut vinegar, macaroons, and coconut candies, among other delightful options.
3. Locally Grown Rice: Carmen's agricultural heritage includes rice cultivation. Take home aromatic rice varieties like Jasponica and Dinorado, as well as rice-based goodies like rice cakes and rice cookies.
4. Handcrafted Bamboo and Rattan Items: Carmen is known for its skilled artisans who create intricate handicrafts. Discover beautifully woven baskets, mats, hats, and other items made from bamboo and rattan.
5. Fresh Fruits and Vegetables: Embrace the bountiful produce of Carmen by indulging in tropical fruits like pineapples, bananas, and mangoes. Don't forget to explore local markets for an authentic farm-to-table experience.
6. Native Delicacies: Treat yourself to local delicacies such as bibingka (rice cake) and budbud (sticky rice), which highlight the region's culinary traditions and flavors.
Remember to support local businesses and farmers as you explore Carmen, and savor the opportunity to bring home these unique and flavorful products that represent the town's rich agricultural heritage.
carmen bohol colorful history
Carmen, Bohol, previously known as Ymbaya, was originally a village under the municipality of Bilar in Bohol. In 1868, due to its growing population, the people of Carmen petitioned for independence, and the town was officially established on March 1, 1869, by Governor General Jose de la Gandara. The town's name was changed to Carmen in honor of the Lady of Mt. Carmel of Spain, although local myth suggests that it was named after a popular figure in the community.
For the first five years, Carmen remained under the parish of Bilar. However, in 1874, it became a separate parish with Father Pedro Nolasco San Juan serving as the first parish priest. Each barangay within the municipality was given a Spanish name and assigned a patron saint, which is celebrated annually with a fiesta.
During the American regime, Carmen played a significant role in the resistance against the Spaniards. Following the proclamation of the first Philippine independence in 1898, Carmen experienced a brief period of freedom and peace. However, the Treaty of Paris, which ceded the Philippine Islands to the United States, sparked unrest among Filipinos who resented the act.
The American troops faced resistance in Bohol, and the Resistance Government of Bohol moved its seat to Carmen due to its strategic location. Warfare broke out near the village of Carmen on August 31, 1899, as the Boholanos revolted against the misconduct and bullying of the American troops. The fighting continued until 1902 when the Filipinos eventually surrendered to the Americans. The transition to civil government in Bohol took place on April 3, 1902, after which the American troops left the island.
During the Japanese occupation in World War II, the Japanese soldiers entered Tagbilaran City and occupied Bohol in May 1942. Carmen served as the seat of the Resistance Government of Free Bohol, with Atty. Conrado Marapao, Sr. appointed as the governor of the Free Local Civil Government of Bohol. The people of Carmen, like the rest of Bohol, endured widespread destruction of properties and loss of lives during the Japanese occupation. Bohol was finally declared liberated on May 25, 1945, by Major General William H. Arnold, the Commander of the American Division.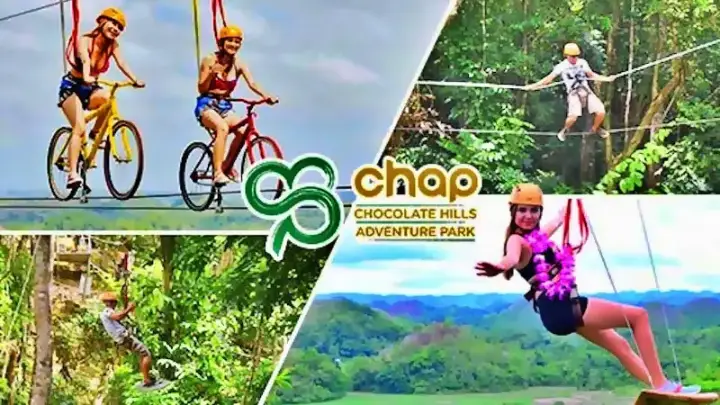 Carmen, Bohol Geography: A Scenic Haven of Chocolate Hills and Natural Beauty

The topography of Carmen, Bohol is a sight to behold. As one explores the area, they will encounter a diverse terrain that ranges from gently sloping to rolling hills. This category accounts for a substantial 62% of the total land area, making it a dominant feature of the landscape. The eastern and northern portions of the municipality are characterized by this undulating topography, creating a captivating visual feast for visitors.

However, it is the southwestern portion of Carmen that truly captures the imagination. Here, the world-famous Chocolate Hills rise from the plains, forming an awe-inspiring spectacle. These hills, which seem to stretch as far as the eye can see, are named for their resemblance to mounds of delectable chocolate. During the summer months, a magical transformation occurs as the grassy hills turn a rich, dark chocolaty brown, complementing the surrounding rice paddies. It is a sight that leaves visitors in awe of nature's artistry.
Amidst the bareness of the chocolate hills themselves, the bases of these geological wonders are adorned with a thick tapestry of tropical shrubs and towering coconut trees. The contrast between the grass-covered hills and the lush vegetation at their feet adds a touch of serenity to the landscape. It is a reminder of the resilience and harmony found in nature.
Carmen's climate and the surrounding natural resources further enhance its allure. Being elevated, the town enjoys a humid climate that immerses visitors in a soothing ambiance. The relative humidity is highest in November, reaching an average of 86%, while May is the hottest month, with an average temperature of 29.31 degrees Celsius. The climate is influenced by various monsoons and trade winds, which bring evenly distributed rainfall throughout the year. This climate fosters the growth of forests, which cover a significant portion of Carmen's land area. These forests, encompassing approximately 36.31% of the municipality, have been recognized as natural monuments and protected landscapes. They provide a sanctuary for diverse flora and fauna, adding to the ecological significance of the region.
As visitors explore the captivating landscapes of Carmen, Bohol, they will also encounter the rich mineral resources that lie beneath the surface. The town is blessed with manganese and limestone, with the chocolate hills predominantly composed of the latter. These geological wonders not only captivate the eye but also serve as a testament to the geological history and unique geological processes that have shaped the area.
Carmen is a municipality located in the province of Bohol, Philippines. It is situated in the central part of the island of Bohol, approximately 52 kilometers northeast of Tagbilaran City, the capital of Bohol. The town is surrounded by lush greenery, rolling hills, and scenic landscapes, making it a captivating destination for nature lovers.
Adjoining towns to Carmen include Batuan to the south, Bilar to the southwest, Dagohoy to the northeast, and Sierra Bullones to the northwest. These towns offer additional attractions and opportunities for exploration.
useful facts for travelers visiting Carmen, Bohol
1. Language: The majority of the people in Carmen, Bohol are educated and can speak English, Visayan, and Tagalog, making communication easier for travelers.

2. Education: Carmen has a well-established education system, with six primary schools, 26 elementary schools, and five national high schools. The town is also home to St. Anthony's Academy, a private school, and the Bohol Institute of Technology (BIT) for college education.
3. Health Services: The town has the Congressman Simeon G. Toribio Memorial Hospital, which serves not only Carmen but also neighboring municipalities. It has a 50-bed capacity and is staffed by doctors, nurses, midwives, dentists, pharmacists, and medical technologists. There are also Barangay Health Stations and the Carmen Health Office providing health services.
4. Water and Sanitation: Safe water is accessible to most households through the Community Water System. The town has a high percentage of households with sanitary toilets (98%), ensuring proper sanitation practices.
5. Safety and Security: Carmen is considered relatively peaceful, with a low crime rate. The police force has a police-to-population ratio of 1:3,495 and employs a police woman assigned to the women's and children's desk.
6. Sports and Recreation: Carmen offers sports and recreational facilities, such as the Carmen Sports Complex and numerous basketball courts spread across the barangays. Basketball is a favorite pastime, and tournaments are often held during fiestas.
7. Communication and Transportation: Communication facilities, including cellular phones, landline telephones, postal and telegraphic services, VHF radios, and the internet, are available in Carmen, Bohol. Local transportation is primarily through "habal-habal" or motorcycles-for-hire. Buses and vans stop at the Carmen Public Market, and the roads, including the National Road, are well-maintained.
8. Electricity: The Bohol Electric Cooperative (BOHECO) provides electricity throughout the municipality, with an energization program covering all 29 barangays. However, a few households still rely on alternative means for lighting during nighttime.
where to stay
Chocolate Hills Complex Resort: Located in Carmen, Bohol, this resort offers comfortable rooms, a swimming pool, and stunning views of the Chocolate Hills. It is a great choice for nature lovers and those who want to explore the nearby attractions.
Eskaya Beach Resort and Spa: Situated in Panglao Island, just a short distance from Carmen, this luxury resort provides a secluded and serene setting. It offers private villas with their own pools, a beautiful beachfront, and a range of amenities and activities.
Amorita Resort: Another fantastic option in Panglao Island, Amorita Resort offers stylish and spacious rooms, a cliffside infinity pool, and direct access to Alona Beach. Guests can enjoy breathtaking views and indulge in various water activities.
Loboc River Resort: Nestled along the scenic Loboc River, this resort features native-style cottages surrounded by lush greenery. It offers a peaceful atmosphere, river views, and an on-site restaurant serving local and international cuisine.
Bohol Bee Farm: Known for its eco-friendly practices and organic farming, Bohol Bee Farm offers comfortable accommodations with a rustic charm. Guests can enjoy the farm-to-table restaurant, wellness spa, and explore the farm's facilities and activities.
The Peacock Garden Luxury Resort and Spa: Located in Baclayon, this luxurious resort offers elegant rooms, a relaxing spa, and stunning views of the Bohol Sea. It provides a tranquil and upscale retreat for travelers seeking ultimate comfort and serenity.
Bluewater Panglao Beach Resort: Situated in Panglao Island, this beachfront resort features modern rooms, a large swimming pool, and direct access to a white sandy beach. It offers a range of amenities, including restaurants, a spa, and water sports facilities.
These accommodation options provide a range of choices to suit different preferences and budgets, ensuring a comfortable and enjoyable stay for visitors exploring Carmen and its surrounding areas.
getting to Carmen Bohol
To get to Carmen from Tagbilaran City, you can take a public bus, v-hire (van for hire), or a private car rental. At the Dao Terminal in Tagbilaran City, you will find Ceres buses and v-hires bound for Carmen. The journey takes approximately 1.5 to 2 hours, depending on the traffic and road conditions. The v-hires are a convenient option for faster travel.
If you are arriving by sea, you can take a ferry from Cebu City to Tagbilaran City. From the Tagbilaran seaport, you can proceed to the Dao Terminal and follow the same transportation options mentioned above.
For those arriving at Panglao Airport, you can take a taxi or tricycle to the Dao Terminal in Tagbilaran City and then board a Ceres bus or v-hire to Carmen.
Car rentals are also available in Tagbilaran City and Panglao Island, providing the flexibility of exploring Carmen and its surroundings at your own pace.
Whether you choose to travel by bus, v-hire, or car rental, the journey to Carmen, Bohol offers scenic views of the countryside and is an opportunity to immerse yourself in the natural beauty of Bohol.
Check the Bohol Tourism website for more information.
Go to homepage from Bohol Carmen, Bohol.