Chocolate Hills, Sagbayan Bohol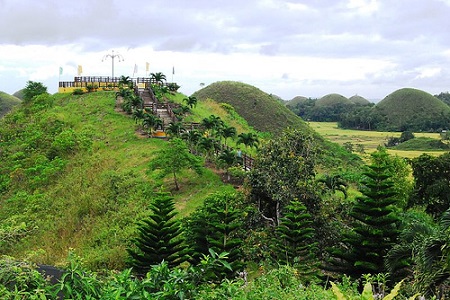 Sagbayan Peak: A Breathtaking View of Bohol's Chocolate Hills and Beyond

Secure your Cebu Bohol ferry tickets today to start your unforgettable journey!
Bohol, a tropical paradise in the Philippines, is renowned for its natural wonders, and one of its most iconic attractions is the famous Chocolate Hills. While there are several viewing points to admire these geological marvels, Sagbayan Peak stands out as an exceptional destination. In this comprehensive travel guide, we will delve into the wonders of Sagbayan Peak, from its panoramic views of the Chocolate Hills to the other attractions that make it a must-visit destination in Bohol.
Recommended Bohol Philippines Tours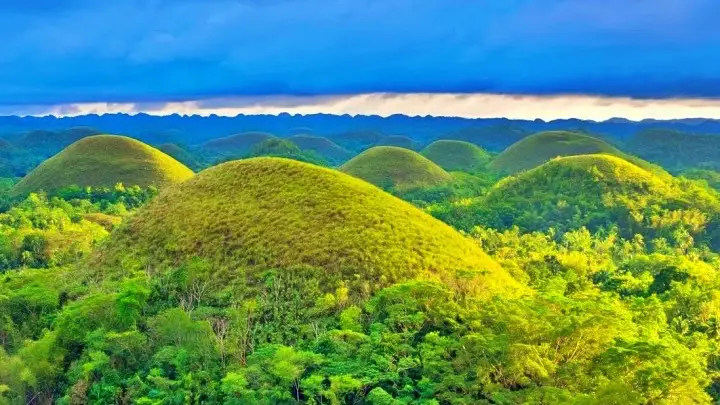 [ Bohol Sight Seeing Day Trips  - Check Out Availability ]
[ Full Day Cruise and Sailing Tours - Check out Availability ]
[ Full Day Adventure Tours - Check out Availability ]
Discover more of Bohol's natural wonders through our recommended tours. Click on the links below to embark on unforgettable adventures:
Ready to explore the beautiful islands of Cebu and Bohol? Secure your ferry tickets today through 12go and start your unforgettable journey!
1. Getting to Sagbayan Peak:

Sagbayan Peak is located in the municipality of Sagbayan, approximately 75 kilometers northwest of Tagbilaran City. Travelers can reach Sagbayan Peak by private car, hired transport, or by joining a guided tour. The scenic journey itself offers glimpses of Bohol's countryside, with its lush greenery and traditional villages.
2. The Chocolate Hills Experience:
Upon arriving at Sagbayan Peak, visitors are treated to a magnificent panoramic view of the Chocolate Hills. These unique geological formations, which resemble chocolate kisses, stretch as far as the eye can see. Sagbayan Peak provides an elevated vantage point, allowing you to appreciate the undulating hills and their mystical beauty. Don't forget to bring your camera to capture this awe-inspiring natural wonder.
3. The Chocolate Hills Complex:
Apart from the stunning views, Sagbayan Peak offers a range of attractions within the Chocolate Hills Complex. Here are some highlights to explore:
a. Viewing Deck: Enjoy the unobstructed vistas of the Chocolate Hills from the viewing deck. Take in the breathtaking scenery and marvel at the geological wonders that have captivated visitors for generations.
b. Butterfly Dome: Immerse yourself in a world of vibrant colors as you explore the Butterfly Dome. Discover various species of butterflies and learn about their life cycles and ecological significance.
c. Aviary: Enter the Aviary and get up close to a diverse array of bird species. Marvel at the vibrant plumage and melodic songs of these feathered creatures.
d. Sagbayan Peak Adventure Park: For the thrill-seekers, the Adventure Park offers an exhilarating experience. Try the zipline, rappelling, or wall climbing, and enjoy an adrenaline rush against the backdrop of the Chocolate Hills.
4. Sagbayan Peak Complex:
Beyond the Chocolate Hills Complex, Sagbayan Peak also features a variety of attractions within its sprawling complex:
a. The Hanging Bridge: Cross the suspension bridge and enjoy panoramic views of the surrounding landscapes. The bridge provides an exciting way to appreciate the natural beauty of the area.
b. Mini Zoo: Discover a collection of exotic and endemic animals at the Mini Zoo. Get acquainted with Philippine wildlife, including tarsiers, monkeys, snakes, and other fascinating creatures.
c. Botanical Garden: Take a leisurely stroll through the tranquil Botanical Garden, where you can admire a wide array of colorful flowers, plants, and trees. It's a perfect spot for nature lovers and photography enthusiasts.
d. Restaurant and Souvenir Shop: Refuel and relax at the on-site restaurant, offering local delicacies and refreshments. Don't forget to browse through the souvenir shop for unique mementos to commemorate your visit.
5. Cultural Performances and Festivals:
Sagbayan Peak also showcases the rich cultural heritage of Bohol. Visitors may be fortunate enough to witness traditional dance performances, music recitals, or cultural exhibits that highlight the artistic and cultural traditions of the local communities. Additionally, during festive seasons, Sagbayan Peak hosts colorful celebrations and street parades that showcase the vibrant spirit of Boholano
6. Exploring the Surrounding Area:
While Sagbayan Peak offers a plethora of attractions, there are more treasures to explore in the surrounding area. Consider including these nearby destinations in your itinerary:
a. Sagbayan Peak Rice Terraces: Just a short distance from Sagbayan Peak, you'll find the picturesque Sagbayan Peak Rice Terraces. These terraces showcase the ingenuity of local farmers and offer a stunning backdrop for nature walks and photography.
b. Abatan River Community Life Tour: Embark on a unique cultural experience by joining the Abatan River Community Life Tour. This immersive tour takes you along the scenic Abatan River, where you can witness the traditional ways of the local community, including boat-making, fishing techniques, and crafts.
c. Inambacan Falls: Take a refreshing break from the tropical heat and visit the enchanting Inambacan Falls. Located in the nearby town of Carmen, this hidden gem offers a tranquil atmosphere and the opportunity to cool off in its crystal-clear waters.
d. Punta Cruz Watchtower: History enthusiasts shouldn't miss the chance to visit the Punta Cruz Watchtower. Located in Maribojoc, this centuries-old structure provides panoramic views of the coastline and a glimpse into Bohol's rich maritime history.
7. Tips for Visiting Sagbayan Peak:
To make the most of your visit to Sagbayan Peak, consider the following tips:
a. Best Time to Visit: The best time to visit Sagbayan Peak is during the dry season, from December to April, when the weather is generally sunny and rainfall is minimal. This ensures clearer views of the Chocolate Hills and more favorable conditions for outdoor activities.
b. Bring Essentials: It's advisable to bring sunscreen, a hat, and insect repellent, as well as comfortable walking shoes for exploring the complex and its surrounding areas.
c. Respect Nature and Wildlife: When visiting the Butterfly Dome, Aviary, and Mini Zoo, ensure that you follow the guidelines provided to protect the welfare of the animals and their habitats.
d. Support Local Communities: Consider purchasing souvenirs from local vendors and supporting the cultural initiatives and conservation efforts in the area.
Conclusion:
Sagbayan Peak offers a truly breathtaking experience for visitors seeking to witness the beauty of Bohol's Chocolate Hills and explore the surrounding attractions. With its panoramic views, diverse activities, and cultural highlights, Sagbayan Peak promises an unforgettable adventure. Make sure to include this remarkable destination in your Bohol itinerary and create memories that will last a lifetime.