Explore Clarin Bohol: A Coastal Town Steeped in History and Natural Charm
Secure your Cebu Bohol ferry tickets today to start your unforgettable journey!
Clarin Town
Nestled in the northwestern part of Bohol province, Clarin Bohol is a charming coastal town around 60.9 kilometers from the city of Tagbilaran. Strategically situated almost halfway between Tubigon and Inabanga, Clarin is a hub connecting surrounding regions and holds a rich history that echoes in its rustic streets and friendly locals.
Once part of Tubigon, Inabanga, and inland Carmen, today Clarin Bohol thrives as a 5th class municipality. With a population of around 18,871, as per the 2007 census, people in Clarin primarily cluster around the Poblacion area, the town's vibrant heart housing the Catholic Church, public market, and a myriad of businesses.

This inviting town is divided into 24 barangays, namely: Bacani, Bogtongbod, Bonbon, Bontud, Buacao, Buangan, Cabog, Caboy, Caluwasan, Candajec, Cantoyoc, Comaang, Danahao, Katipunan, Lajog, Mataub, Nahawan, Poblacion Centro, Poblacion Norte, Poblacion Sur, Tangaran, Tontunan, Tubod, and Villaflor.
Recommended Bohol Philippines Tours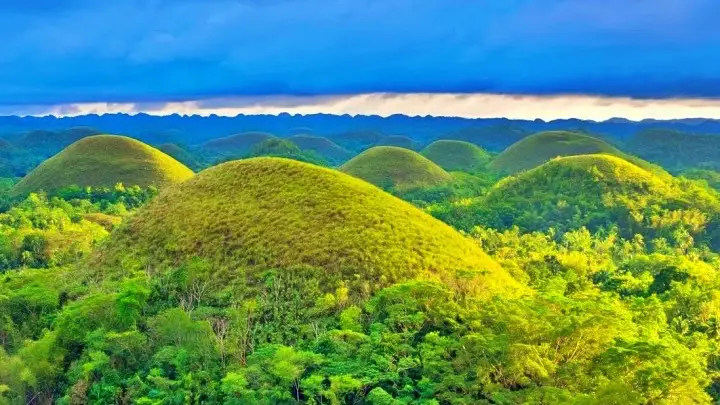 [ Bohol Sight Seeing Day Trips  - Check Out Availability ]
[ Full Day Cruise and Sailing Tours - Check out Availability ]
[ Full Day Adventure Tours - Check out Availability ]
Discover more of Bohol's natural wonders through our recommended tours. Click on the links below to embark on unforgettable adventures:
Ready to explore the beautiful islands of Cebu and Bohol? Secure your ferry tickets today through 12go and start your unforgettable journey!
Education and People of Clarin

A notable part of Clarin's community structure is its strong emphasis on education. Nine of the 24 barangays host elementary schools, namely: Clarin Central, Bonbon, Lajog, Nahawan, Bacani, Danahaw, Buangan, Bogtongbod, and Cabog. The barangays of Buntod and Buacao are home to primary schools, while secondary education is offered at the Clarin National School of Fisheries.

The locals, primarily originating from the neighboring island of Cebu, are known for their hard work, peace-loving nature, friendliness, and a good sense of humor. Engaging in trading goods with other Bohol towns and Cebu, the people of Clarin contribute to the town's bustling commerce.
Historical Glimpses and Attractions

Originally named "Can-Ogong" after a popular inhabitant, Ogong, who had a habit of hanging up bamboo tubes for salted fish, the town was a "visita" of Inabanga in 1852 and of Tubigon in 1881. It was officially declared a municipality on January 31, 1919, and renamed Clarin in honor of Bohol's first Civil Governor, Hon. Anecito Clarin.

Clarin Bohol was established as a parish five years later and a provisional church dedicated to St. Michael the Archangel was erected. The feast day of this patron saint, September 29, is celebrated with great enthusiasm in the town. Between 1927 and 1937, the Recollects administered the parish before it was handed over to the seculars.
Clarin Bohol Church
Clarin Church: The historical Clarin Church, dedicated to St. Michael the Archangel, is a significant attraction that appeals to history buffs and architecture enthusiasts. Its stunning architecture and rich past make it a must-visit landmark in the town.
A visit to Clarin is incomplete without exploring the historical Clarin Church. Its majestic architecture stands as a symbol of the town's rich past.
Clarin Bohol Freshwater Fish Farm
Unwind at the Clarin Freshwater Fish Farm

For those who want to relax and engage in a unique activity, the Clarin Bohol Freshwater Fish Farm offers an unforgettable experience. Here, visitors can learn about aquaculture, enjoy the serene surroundings, and sample the freshest catches.
An ideal spot for families and nature lovers, this fish farm provides a unique opportunity to understand aquaculture, revel in the serene surroundings, and taste some of the freshest catches.
Clarin House (Actually in Loay Town)
Clarin House: This ancestral house is actually located in Loay. The house is a marvel of local architecture and a symbol of the town's historical past. Visitors can get a glimpse into the lifestyle of the bygone era and the heritage of the region.
Clarin Bohol Educational Institutions
Educational Institutions: The various schools like Clarin Central, Bonbon, Lajog, Nahawan, Bacani, Danahaw, Buangan, Bogtongbod, Cabog, Buntod, and Buacao present an opportunity to understand the town's education system and interact with the local community.
Clarin Bohol Local Markets
Clarin Bohol Local Markets: A visit to the local markets, especially the public market in Poblacion area, can offer you an authentic glimpse into the local lifestyle, colorful produce, fresh seafood, and local handicrafts.
Clarin Bohol Barangays Exploration
Barangays Exploration: Exploring the 24 different barangays can offer an insight into the local way of life, their traditions, and cultures. Each barangay has its unique charm and attractions.
Clarin Festivals and Celebrations
Festivals and Celebrations: Joining the local festivals such as the feast day of St. Michael the Archangel on September 29, can give visitors a chance to experience the town's vibrant culture and traditions.
World War II Historical Sites
World War II Historical Sites: For history enthusiasts, visiting the central school building which was used as a concentration camp during World War II can provide a deeper understanding of the town's resilience during difficult times.
The World War II history of Clarin is still palpable, as the town was once occupied by Japanese forces. They used the central school building as a concentration camp for suspected enemies.
Today, this serves as a stark reminder of the resilience of Clarin's people.
Other Attractions in Clarin Bohol
Binaliw Falls: Nestled in Barangay Cantoyoc, the enchanting Binaliw Falls is an adventurous trekker's delight. A 500-meter trek through verdant landscapes reveals a breathtaking view of the falls, with roots draping over the water, and huge boulders sculpted by the wind and water. The falls also conceal a mysterious cave that connects to the neighboring town of Inabanga. This stunning natural attraction is approximately 10 minutes by car from the port of Clarin.
Bogtongbod Caves: Close to Binaliw Falls, the Bogtongbod Caves stand as majestic natural rock formations, sure to mesmerize visitors with their crystalline stalactites and stalagmites. These caves present an enticing challenge for spelunking enthusiasts and offer a unique adventure opportunity.
Tangub Spring: Just a few meters away from the Bogtongbod Caves, Tangub Spring is a natural oasis, offering cool, clean water. Its surrounding lush flora creates a tranquil setting where visitors can unwind and refresh.
Tontonan Heights: On the return journey from the caves to Clarin, a stop at the panoramic Tontonan Heights is a must. It offers breathtaking views of the town of Clarin below, the island of Cebu across the sea, and several interspersed islands. This vantage point provides a fantastic opportunity for some memorable photography.
Clarin Boardwalk and Majigpit Island: Located close to the town's center, the Clarin Boardwalk is a peaceful spot to observe various species of birds, enjoy fishing, or take a banca ride to nearby Majigpit Island. This island is a fish sanctuary, and snorkeling here offers a chance to explore the vibrant marine life.
The natural beauty and varied landscape of Clarin make it an attractive destination for nature lovers, adventure seekers, and those who appreciate the tranquility of coastal life. Each of these attractions contributes to the rich tapestry of experiences that await in this charming town.
Clarin Town Summing Up

Steeped in history and brimming with a friendly community and natural charm, Clarin Bohol is a must-visit destination for those seeking an authentic Bohol experience.
From visiting the historical Clarin Church and exploring local education establishments to unwinding at the Clarin Freshwater Fish Farm, this town offers a variety of attractions for history buffs, nature lovers, and culinary adventurers.
So, immerse yourself in the local culture, engage with the town's friendly people, and create unforgettable memories in the heart of Bohol - the captivating town of Clarin.