Coco White Beach Resort
Secure your Cebu Bohol ferry tickets today to start your unforgettable journey!
The Coco White Beach Resort is located directly on a beachfront along Guindulman Bay, fringed with tall coconut palm trees, intermittent flowering and verdant tropical plants. The place exudes a peaceful and serene ambiance brought about by the well-kept gardens, natural contour of the land, the cool sea breeze, and the sound of waves on the seashore.
Ten (10) big bungalows are situated on a small hill with a good view of the bay. The bungalows are all built of native materials such as bamboo, nipa leaves for roofing and amakan for the walls. The beach can be reached thru three small paths.
Coco White Beach Resort is a PADI Dive Resort with a dive school. Instructions are given either in the English or German languages. The resort also provided a pool where one can practice diving techniques.
The resort is well protected by the bay of Guindulman so swimming, snorkeling and scuba diving can be enjoyed all year round. A spa is also available as well as a games room where guests can avail of billiard equipments, play dart and other games.
A nursing service can be arranged if one wants to go on an escapade without the children in tow. Facility for internet access is available. In fact, the resort is the only one in the area to offer this service.
The resort is a small family corporation under Swiss Management and the contact persons are Conny Lieberherr and Reto Clavadestcher. The resort looks back to over 20 years of successful business in the tourism industry.
Recommended Bohol Philippines Tours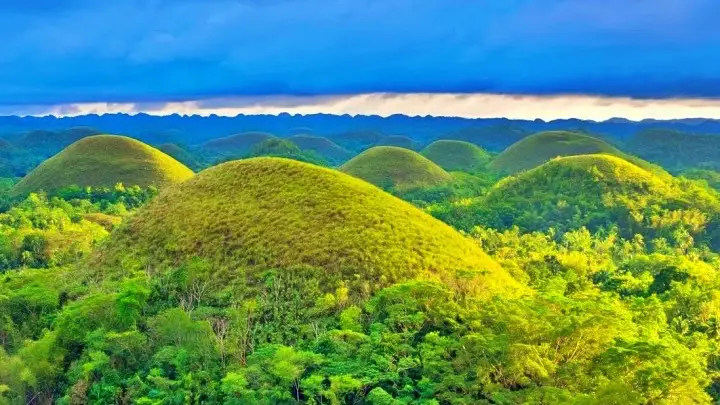 [ Bohol Sight Seeing Day Trips  - Check Out Availability ]
[ Full Day Cruise and Sailing Tours - Check out Availability ]
[ Full Day Adventure Tours - Check out Availability ]
Discover more of Bohol's natural wonders through our recommended tours. Click on the links below to embark on unforgettable adventures:
Ready to explore the beautiful islands of Cebu and Bohol? Secure your ferry tickets today through 12go and start your unforgettable journey!
Location
Coco White Beach Resort is located at Basdio, Guindulman, Bohol. It lies half-way to Anda, the next town after Guindulman, which is also blessed with white sand beaches, overhanging cliffs, and caves.
Facilities and Services
The Coco White Beach Resort boasts of ten (10) bungalows spread over a large area; all with a fantastic view of the garden and the Guindulman Bay. One can enjoy viewing on the balconies, the sun as it sets in the horizon.
Service is excellent. Guests can expect good and personalized service from the resort's crew. The resort now offers online services with its newly installed internet connections; the first and only one in the area.
Accommodations
Ten (10) big bungalows are built in native style for a truly tropical feel. The bungalows are equipped with air conditioning, fan, safe, private toilet and bath with hot and cold showers and set in a beautiful garden of palm trees and other verdant tropical plants.
Where to Wine and Dine
Coco White restaurant is spacious and also constructed of native materials such as bamboo, amakan and nipa. The place is set amidst exotic plants where one can dine with a pleasing ambiance. Asian and Western food is served and food is prepared from the freshest ingredients available daily. A garden terrace is provided where one can dine while viewing the bay and the setting sun at dusk.
Other Facilities
The resort is a PADI accredited resort with a dive school. Dive gears and equipments are available for rent at a reasonable price. The resort also has a swimming pool where guests can learn how to dive initially or just while away the time refreshing themselves in cool freshwaters.
Room Amenities
Air conditioner, fan, beds, bedcovers, blankets, pillows, towels, safe, private toilet and bath, hot & cold shower, balconies.
Resort Facilities/Services
Bungalows, restaurant, dive school, reception, laundry services, nursing services, internet access, power supply, standby generator, etc.
Overview
The tropical sun, white sand, blue sea, and warm smiles of the resort's crew greet one upon arrival at Coco White Beach Resort. For a truly remarkable and memorable vacation, the resort is a very good choice.
For a change of scenery from the crowded beaches of Alona, the resort offers wide-open spaces, a pristine beach, shells and corals to collect, caves to explore, and an underwater world that is truly amazing in its bounty.
Enjoy to the full the rich natural beauty of the place; the stone formations carved out by the battering waves, the overhanging cliffs with sparse vegetation, and the well tendered gardens.
Wallow in comfort and style in the resort's bungalows after a fun-filled day at the beach and beyond. There is so much to do in so little time, that is, if your vacation is only for a short duration. The resort welcomes bookings that last for weeks or months.
Top of Coco White Beach Resort