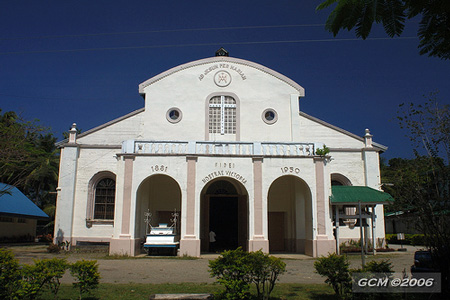 Guindulman Church
Dedicated to the Nuestra Señora de la Consolacion, Guindulman located on the banks of the Tabajan River was organized as a town to receive the returning bands of Dagohoy's followers who had fled to the mountains after his revolt.
---
---
A portico was built in front of the facade and supports a balcony.
The Recollects inaugurated the parish in 1798 remaining there until 1898, and returning in the early 20th century to remain until 1937. The town was put to the torch by Americans during the Fil-American War and by the Japanese during World War II, but the church and convento, however, were spared.
Fray Antonio Fernandez, the first Recollect parish priest (1798-1807) built the first church but it was burnt during a raid by Dagohoy's followers in 1829.
A new church was built in its place and is mentioned in Redondo (1886, 184) as of modern construction. This neoclassical church survived to the 20th century but now stands in ruin behind the present church.
Another church was begun in 1881, a decade after a new convento was completed (1877). The church took more than half a century to finish culminating in 1950.
The present church is of mixed material, the lower register of coral stone and the upper of concrete, reflecting the long time it took to complete it.
The church interior is relatively bare, with ornaments from the 1950s and 60s.
The 1877 convento beside the church is separated by a road and is now used as a school.
---