Guindulman General Information
Secure your Cebu Bohol ferry tickets today to start your unforgettable journey!
Out of 19 barangays, barangays Sawang and Tabajan encompasses the Poblacion or the center of the town. The center of commerce is in Tabajan where the Municipal Hall, the public market, the church and the St. Mary's Academy are located. Yet many establishments are sprouting also in the Sawang area..
The municipality is thriving with several financial institutions such as banks, pawnshops and establishments offering lending and insurance services. It has several gasoline stations, hardwares, drugstores, bakeries and restaurants. It does not have any hotels or lodging houses in the town proper yet a few beach resorts along the coast offer room accommodations..
Telecommunications is more in demand nowadays than before with the onslaught of the cell phone. This modern gadgetry is longed for by rich and poor alike and no household are without a set or two. Towers were constructed to serve the demand for phone services. Other telecommunication establishments are availably, to wit: Bureau of Telecommunications, PLDT Public Calling Office (International & Local), Bohol Law Enforcement Communications System (BLECS) and Islacom/Globelines Telephone Network.
.
Health wise, the municipality is equipped with 2 hospitals, 1 medical clinic, 1 dental clinic and 7 Health Centers (the main Health Center having a doctor, nurse, dentist, medical technologist and 8 midwives and sanitary inspectors). Two public ambulances are available for any untoward events..
The people are generally educated since majority of them underwent elementary and secondary education. Most, if not all, speaks Filipino (or Tagalog), Cebuano (with distinct Boholano-Guindulmanon accent) and English (which is the medium of instruction in all schools). There are four (4) high schools (3 public and 1 private which is the St. Mary's Academy). Each barangay has its Elementary School; and for the very young, those aged 3-6 are spread over 22 Day Care Centers..
It is strange, but people here have a common expression of "cholera" which connotes a certain illness. But the people do not call on God to punish them with this illness; it is just a common word which comes out whenever they talked. My father often utters this word – in fact i grew up with it. Only when i visited his hometown and got acquainted with my relatives that i realized that this word is a common expression among them. Together with the hard accent, the word "cholera" is their identifying mark. .
Recommended Bohol Philippines Tours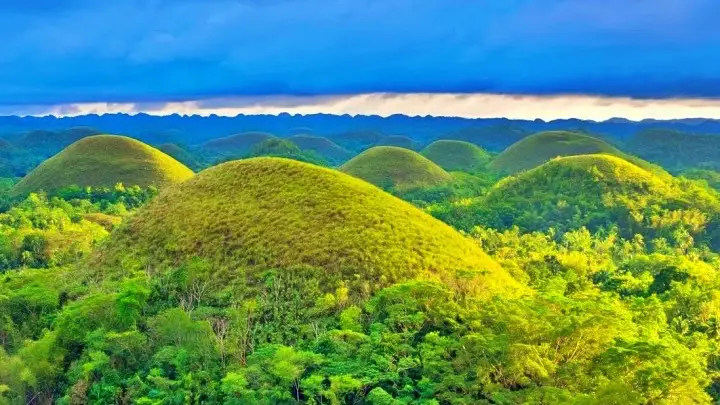 [ Bohol Sight Seeing Day Trips  - Check Out Availability ]
[ Full Day Cruise and Sailing Tours - Check out Availability ]
[ Full Day Adventure Tours - Check out Availability ]
Discover more of Bohol's natural wonders through our recommended tours. Click on the links below to embark on unforgettable adventures:
Ready to explore the beautiful islands of Cebu and Bohol? Secure your ferry tickets today through 12go and start your unforgettable journey!
Due to many past calamities that hit the town, the Guindulmanon folks have grown to be resilient, persevering and hardworking. They value their God-given bounties with the sea teeming with fish and seafood and land rich in minerals such as manganese, asbestos, red clay, copper, chromites and more. Guindulman is often the source of bangus fries, sought after by fishpond operators..
If not employed elsewhere, most of the town folks are into fishing and agriculture. Coastal barangays: Cabantian, Guianacot, Canhaway, Sawang, Tabajan, Trinidad and Basdio turn Guindulman Bay into a "City of Lights" when fishing at night with their boats lighted with small lamps or what locals call "lamparas"..
Others are into the farming of agricultural products such as rice, corn, coconut, bananas and root crops. There are ricefields found along the coast yet the larger portions are found in Barangays: Bulawan, Casbu, Bato, Catungawan Sur, Catungawan Norte, Guio-ang, Cansiwang, Mayuga, Tabunoc, Lombog, Bayong and Baibas..
Organically grown bananas can be found in Barangay Guio-ang. The Guio-ang Multi-purpose Cooperative, with 20-farmer members, is exporting these bananas to Japan. Some of the farmers tend the crop, others do the packing and a few look after off-farm activities such as the marketing of their product..
All barangays of the municipality are well-lighted with power coming from the National Power Corporation and distributed in the area by BOHECO II. Drinking water is pumped from a spring up the Guindulman ranges and distributed throughout the town. However, other households make use of wells and their own electric pumps to generate water..
What the municipality of Guindulman direly need are good roads in order to transport their produce to the town market and other places. Aside from the newly finished national road, all other roads of the town are badly in need of repair. Because of impassable roads, the people are lethargic in undergoing farming activities causing more and more people to go below the poverty line.