Isla Hayahay Beach Resort
Secure your Cebu Bohol ferry tickets today to start your unforgettable journey!
The Isla Hayahay Beach Resort is a beachfront resort situated on the flat island of Pangangan amidst tall coconut palm trees and sparse vegetation including corn and cassava; with limestone outcrops dominating most of its vacant and undeveloped areas. The resort has an area of 946 hectares where about 115 hectares has been declared as a Mangrove Swamp Forest Reserve.
Pangangan Island is surrounded by crystal blue sea which is ideal for a wide range of water activities including the exhilarating sport of scuba diving, snorkeling, fishing, and others. Guests can also do island hopping or avail of a leisurely cruise around Calape Bay and beyond.
Isla Hayahay Beach Resort offers 8-duplex rooms fully equipped with modern facilities and amenities coupled with efficient and prompt service for comfort and convenience of guests. Staff is composed of members of the local fishing community. It is owned by an Anglo-Filipino couple who fell in love with the place, stayed and developed the property.
Hayahay: literally means comfort or affluence yet in the locality means the coolness that one feels when the soft breeze fans the skin giving a sense of comfort and peace. With the verdant surroundings, minus the noise and crowds, guests can bask in tranquility.
Being a marine sanctuary and with its diverse and rich marine life, Pangangan island offers fantastic snorkeling and diving sites – coral gardens, caves, plunging undersea walls to coral seamounts.
Recommended Bohol Philippines Tours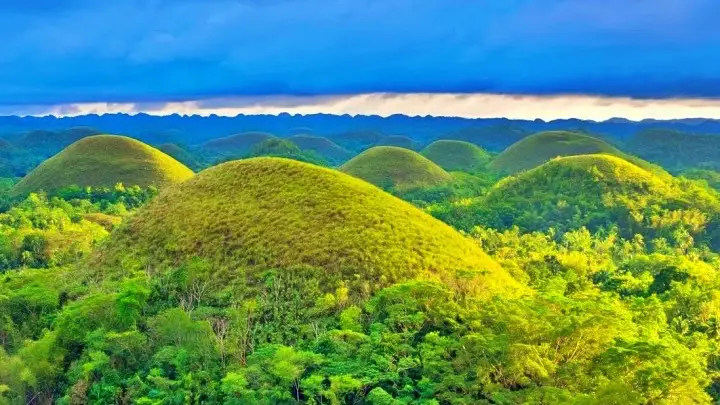 [ Bohol Sight Seeing Day Trips  - Check Out Availability ]
[ Full Day Cruise and Sailing Tours - Check out Availability ]
[ Full Day Adventure Tours - Check out Availability ]
Discover more of Bohol's natural wonders through our recommended tours. Click on the links below to embark on unforgettable adventures:
Ready to explore the beautiful islands of Cebu and Bohol? Secure your ferry tickets today through 12go and start your unforgettable journey!
Location
Isla Hayahay Beach Resort is located at Barangay Lomboy, Pangangan Island, Calape, Bohol. It is about 4.5 km off the east coast of Calape, Bohol, easily accessible by land where a 3.5 kilometer causeway connects it to the mainland of Bohol. This coral-and-limestone causeway is lined and protected from strong waves and typhoons by mangroves.
Calape is a town situated in the northwestern part of Bohol, along the western coast, facing the island of Cebu on the north. It is about 41 kilometers from Tagbilaran City and is adjacent to the town of Tubigon, Bohol's second major port.
How To Get There
Guests can avail of international flights to Mactan International Airport then travel by car/taxi for 30 minutes to Pier 3 in Cebu City port. A 2-hour ferry ride to Tubigon follows, where the resort is located about 45 min away by car. One can fly via Tagbilaran City then take a 1-hr trip by car/taxi to the resort. Transfer from Tagbilaran City airport and Tubigon port can be arranged.
Facilities and Services
The Isla Hayahay Beach Resort offers 8-duplex rooms equipped with air conditioner, double/twin beds, cable TV, and private toilet/bath with hot and cold shower and a private terrace or patio. A room can only accommodate a maximum of 3 adults or 2 adults & 2 children under the age of 10 years.
Guests are given free complimentary range of tea & coffee and purified drinking water, available at the ground floor area of the restaurant, 24 hours a day. No charges for children under the age of 3 years sharing with parents.
Where To Wine and Dine
The resort has its own restaurant that serves Asian and Continental cuisine for breakfast, lunch, and dinner; and a bar that serves local and imported wines, spirits and beers. There is abundance in local fruits, vegetables and seafood. A wide variety of snacks and beverages are also available during the restaurant's opening hours while the bar is open from 12:00 noon until 11:00 p.m.
Offering convenient and relaxing dining, guests can also enjoy their snacks or meals in the comfort of their rooms or under the thatched kiosks in the garden or seafront sundeck areas. Other functions catered to are business meetings, seminars, retreats, weddings, christenings, graduation parties, reunions, and others. The private white sand beach can also be a venue for special functions.
Organized Activities to Indulge In
The sea around Pangangan Island is ideal for a wide range of water activities. Guests can snorkel, dive, fish, island hop or take a leisurely cruise around Calape Bay and beyond. Often you can see dolphins frolicking around the area. Equipment rentals are available.
There are prohibited zones within the bay where water based activities are restricted and even prohibited. Guests are advised to refer their activities to the resort staff beforehand to ensure their safety.
Snorkeling
A 2-hrs accompanied snorkel trip around the bay's reefs is inclusive of boat hire with a minimum of 2 persons.
Diving
Diving is inclusive of boat trip to professional dive school with a dive time duration of approximately 45 minutes.
Fishing
Accompanied fishing trip is inclusive of boat hire which lasts for two hours for a minimum of 2 persons.
Island hopping
Island hopping is done with a visit to Mantatao or Inanuran Island which is home to indigenous fishermen of Calape. You can buy various types of shellfish at the small marketplace and the locals will even cook them for you if you like!
Cabilao and Sandingan Islands are major diving sites around Bohol. Here, you can snorkel and see stunning corals. The package is inclusive of a picnic lunch and will last for 4 hours with a minimum of 2 persons.
Water cruise
The water cruise is a trip around Calape Bay which lasts for 2 hours with a minimum of 2 persons.
Dolphin/Whale Watching
Dolphins are frequent visitors to the bay and even the occasional whale has been spotted feeding. Whale watching lasts for 4 hours with a minimum of 2 persons.
Room Amenities
Air conditioner, cable TV, double/twin beds, mattresses, bedcovers, blankets, pillows, private toilet and bath, hot and cold shower, towels, terrace or patio, complimentary tea/coffee and purified drinking water.
Resort Facilities/Services
Air conditioned accommodations, airport/boat transfers, bar, garden, restaurant, thatched huts, room service, laundry services, private white sand beach, power supply, seafront sundeck, standby generator, aqua sport equipment rentals, guided tours, boat hire, etc.
Overview
Isla Hayahay Beach Resort is a tranquil paradise . . . a haven for solitude! You can relax and unwind in an authentic setting of a local fishing community, far from the noise and bustle of city living.
Enjoy the fine white sand beach and the crystal clear blue waters rich in marine life. Lap up the tropical sun while sunbathing or frolicking on the beach. Avail of guided aqua sport activities including island hopping and tours.
Dine on meals prepared from freshly cached seafood and enjoy the variety of wines, spirits and liquors available at the resort's bar. The resort offer comfortable and modern equipped rooms, all geared up for your comfort and convenience. Bask in the friendly and warm attention of the resort owners and their staff.
Isla Hayahay Beach Resort . . . your home away from home!
Top of Isla Hayahay Beach Resort