La Estrella Beach Resort Bohol
Secure your Cebu Bohol ferry tickets today to start your unforgettable journey!
La Estrella Beach Resort Bohol is situated on a stretch of white sandy beach fringed with coconut palm trees at Cabilao Island. Its surrounding crystal clear water makes it ideal for swimming, snorkeling and diving. The island is almost completely surrounded by an intact coral reef – the habitat of schools of reef fishes, colored corals, and anemones.
Recommended Bohol Philippines Tours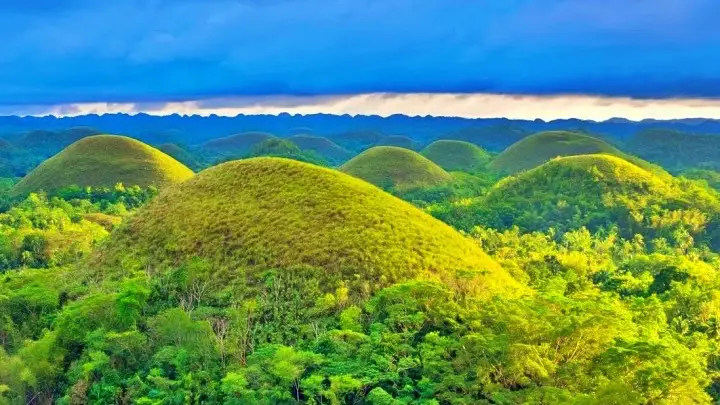 [ Bohol Sight Seeing Day Trips  - Check Out Availability ]
[ Full Day Cruise and Sailing Tours - Check out Availability ]
[ Full Day Adventure Tours - Check out Availability ]
Discover more of Bohol's natural wonders through our recommended tours. Click on the links below to embark on unforgettable adventures:
Ready to explore the beautiful islands of Cebu and Bohol? Secure your ferry tickets today through 12go and start your unforgettable journey!
The resort boasts of comfortable bungalows made out of local materials and provided with native furniture and an attractive chandelier ceiling fan. The bungalows have spacious toilet and bath with cold shower and a terrace either facing the well-landscaped garden or the sea.
The resort prides itself of an exotic garden full of flowering plants like orchids, bougainvillea, suntans, and other ornamental and herbal plants and trees. Grown are bergamot, ginger, galangal, basil, lemon grass, turmeric and plenty of aloe vera.
Aside from accommodations, the resort has a restaurant and bar, a dive center and a wellness temple where massage services are availed of.
Location
The La Estrella Beach Resort Bohol is located at Cabilao Island, Loon 6327, Bohol, Philippines. Cabilao Island is a 7.2 square kilometer tongue-shaped island, which is under the jurisdiction of Loon, Bohol. Loon town is located in the western coast of Bohol 27.4 kilometers from the capital, Tagbilaran City, and has a land area of 11,975 hectares.
Facilities and Services
La Estrella Beach Resort Bohol's main building houses the reception area, office, restaurant and bar, bathrooms, a seawater aquarium and provides equipments for billiards and darts.
The resort provides all houses with electric fans. Its private generator supplies 220V, 60 Hz electricity to the restaurant at daytime.
From 6:00 pm to 12:00 midnight, the island's generator supplies power to the whole resort while solar lamps illuminate the resort's surroundings at nighttime.
 Accommodations
Hobbit House (1)
The Hobbit House is a small but cozy house made of native materials. The bedroom is provided with a king-sized bed with white cotton bedcovers and linens plus a mosquito net to keep insects at bay. A small carpet is at the foot side of the bed. You may also choose to sleep at the rooftop where a queen-sized bed is provided. The house has a toilet and bath with cold shower. The bath has a glass wall covering.
Safari House (3)
The Safari House is made up of native materials with a very steep thatched roof provided with a terrace with a garden view. This two-storey bungalow is spacious enough for a family of four. It is provided with beds plus mosquito nets, a large toilet and bath with shower, and a terrace with bamboo chairs. A hammock is placed under the shady trees in front of the house where guests can relax.
Deluxe Bungalow (2)
The Deluxe bungalows are spacious and completely screened with a terrace. It is made up of native materials with native furniture gracing the rooms and a chandelier fan in the ceilings. The bungalows are provided with its own toilet and bath with shower. For relaxation, the bungalows are provided with hammocks under the shade of trees.
Superior Deluxe Bungalow (1)
The Superior Deluxe Bungalow offers a beach and garden view and is good for 2-3 persons. It is made of local native materials with thatched roofing and a terrace. The spacious room is provided with twin beds and over it hangs a chandelier electric fan. The tiled bathroom is provided with a toilet and bath with cold shower.
Superior A-Frame Bungalow (4)
The Superior A-Frame Bungalow is made of local native materials with very steep roofing and provided with a private bathroom with shower and a terrace with a garden view. It has a queen-sized bed with mattress and mosquito net, bedcovers, linen and a bedside table.  Table and chairs are provided and the lightly curtained windows let the sea breeze in. A beautiful hammock is provided outside. The Bungalow can accommodate up to 3 persons.
Wellness Temple
The La Estrella Beach Resort has a wellness temple where guests can avail of massage services or a pedicure and manicure. The temple is a native thatched open gazebo provided with a bed for a proper massage and has tiled floors and situated amidst a lush and well-landscaped garden.
Restaurant/Bar
The interior of the restaurant has a native design and provides space for a pool table, a piano, an information center, a bar and an office with internet access. The restaurant offers local and international dishes with a varied and versatile menu.  Variety and versatility of the menu is attributed to the work experience of the owner in the restaurant industry in Germany for many years coupled with her travels abroad. The La Estrella Beach Resort also has a beach bar.
La Estrella Beach Resort Bohol Dive Center
La Estrella Beach Resort has its own dive center called the "Cabilao Dive Center". The best dive spot in the island is the House Reef where pygmy seahorse, nudibrances, pipefish, frogfish, gobies, jacks, tunas, barracudas and naboleons live. Thresher and hammerhead sharks can also be found.
The reef shelf, 50 to 100 meters wide, terminates into a perpendicular underwater down to depths beyond 50 meters. The water temperatures in the dive areas of Cabilao vary between 26 and 30 degrees Celsius. The visibility can range from 20 to 40 meters. 
Tour Services
The resort has its own banca if you decide to go island hopping. The resort can also arrange your tour of the various beautiful spots of Bohol Island as listed above and many more.
Overview
La Estrella Beach Resort Bohol is another resort that the Boholanos can be proud of. Native facilities and modern amenities can compete with those resorts in Panglao Island. It boasts of the same white sandy beach and crystal clear, unpolluted waters and is also accessible to the other tourist spots of Bohol.
The advantage is that the island is small and secluded and less populated. It is not connected to the main island of Bohol, as Panglao is, so people traffic is nil. It is a very peaceful place, far from the "madding crowd", a place where you can really relax and commune with nature. Coupled with good food and efficient yet discreet service, total rejuvenation of self can be achieved.
Get advantage of this dream hideaway! La Estrella Beach Resort Bohol
Top of La Estrella Beach Resort Bohol