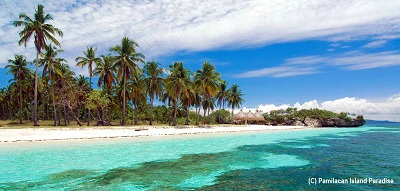 Dolphin Watching Pamilacan Tour
Dolphin Watching
Watch dolphins at play near Pamilacan Island guided by former whale and dolphin hunters whose boats have been refitted for tourists.
Stated package rate above is subject to change without prior notice. If hotel required is other than Tierra Azul, our partner hotel, price of the package will be adjusted basing upon the room rates of the hotel wanted. Other hotels do not offer free breakfasts, so package conditions may be affected too. Prices are confirmed once paid and so will not be subject to any untoward price changes.

Best season is from March to June and early in the morning for positive results although one can see resident dolphins the whole year round. Get on board local outrigger boats that are covered and can accommodate up to 7 passengers. Feel safe for life vests are provided.
Dolphins commonly sighted are the Risso's dolphin, the playful spinner dolphin, the bottlenose dolphin, the spotted dolphin and the Fraser's dolphin.
Visit and experience pure island living at Pamilacan Island which is the home of 235 families whose hunter-members have turned stewards of the sea and tour guides. The island has a 200-year-old Spanish fort that served as a watch station during the Spanish Regime.
Enjoy a local lunch by the unspoiled white sand beaches and immerse yourself in the clear blue waters for a refreshing dip!
ITINERARY:
Day 1: Arrival
Tagbilaran airport or seaport pick up then to our partner hotel.
Tour In-charge will help you settle at chosen accommodation.
Spend the rest of the day at your leisure.
Meals: None
Transfers: Airport pick up
Notes: Travel time from airport to Panglao Island and on towards our partner hotel: 30-45 minutes.
Day 2: Dolphin Watching with Pamilacan Island Side Trip
5:00 AM – Breakfast
5:45 AM - Tour Departs
Tour Includes:
Dolphin Watching Tour
Pamilacan Island Side trip
Pamilacan Unguided Village Tour.
Swimming & Snorkeling.
Meals: Free breakfast. Suggest early or packed breakfast. Contact front desk to arrange this.
Lunch will be at Pamilacan Island excluding drinks.
Transfers: Boat Transfers, Spotter & Entrance Fees included.
Notes:
Front Desk will inform you as soon as your boat man arrives for pick up. Bring your swim gear and extra clothes and wear flip flops. You may get wet! Bring necessary medicine if prone to seasickness. Snorkeling gear is available for an unlimited use at a rental fee of Php 100; although rate may be subject to change without prior notice. Ask the boatman.
Day 3:
7:00 – Breakfast
Spend the rest of your stay at your leisure.
Meals: Free breakfast
Transfers: From partner hotel to airport/seaport
Notes:

Room package dictates that for more than two guests, 3 persons are assigned to a room (twin beds and extra mattress) to be able to get the lowest rate possible. Yet if guests prefer a room each, then package price will be adjusted accordingly per room rate.
Hotel/Resort Standard Check out time is 12:00 NN
Pick Up Time for Transfers to Airport/Seaport:Tagbilaran City Flight Departures is 2 ½ hours prior to Estimated Time of Departure and Seaport Departures is 1 ½ hour prior to Estimated Time of Departure.
Transfers outside the package routes or the scheduled time should be booked earlier and may be subject to additional charges.
Booking and Reservation Request
Fill up the form below and our Travel Consultant will get back to you as soon as possible. Only after your confirmation will you receive instructions on how to finalize your reservation.
Please allow 15 working days lead-time before arrival for us to process your request. Last Minute Bookings may have extra charges.
Notes: