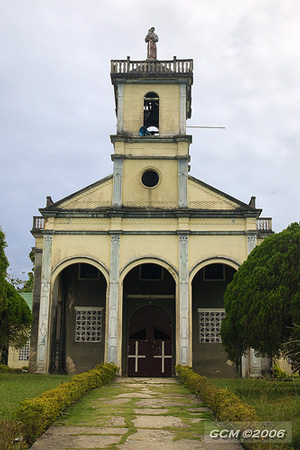 A Sacred Haven: St. Anthony of Padua Parish in Sikatuna
Sikatuna Church, officially known as St. Anthony of Padua Parish, is a historic church located in the Municipality of Sikatuna, Province of Bohol, Philippines. 
Located in the province of Bohol, Sikatuna is blessed with lush greenery, rolling hills, and a refreshing atmosphere. The town itself boasts a peaceful ambiance, making it an ideal destination for those seeking respite from the bustling city life. Within Sikatuna, visitors can explore the historic St. Anthony of Padua Parish, which dates back to the early 20th century. Immerse yourself in the religious heritage of the area and witness the architectural beauty of the church.
---
---
Here's a travel guide to Sikatuna Church, including some quick facts and information:
QUICK FACTS:

- Parish Name: St. Anthony of Padua Parish
- Diocese: Diocese of Tagbiliran
- Vicariate: St. Peter the Apostle
- Type: Parish
- Date Established: 1931 (Founded), 1935 (Proclaimed Parish)
- Feast Day: June 13
- Patron Saint: St. Anthony of Padua
- Titular: St. Anthony de Padua
SCHEDULE OF MASSES:
- Monday: None
- Tuesday: None
- Wednesday: 6:00 PM
- Thursday: 6:00 PM
- Friday: 6:00 PM
- Saturday: 7:00 AM
- Sunday: 6:00 AM, 8:00 AM, 10:00 AM, 5:00 PM
HISTORY:
The St. Anthony of Padua Parish, part of the Roman Catholic Diocese of Tagbiliran, was established in 1931. It is situated in the Municipality of Sikatuna, which is located in the province of Bohol. The parish celebrates its Fiesta every year on the 13th day of June, honoring its patron saint, St. Anthony of Padua.
Visiting Sikatuna Church provides an opportunity to explore the rich history and cultural heritage of the region. The church is an important religious and historical landmark in Bohol, known for its architectural beauty and spiritual significance. It attracts both locals and tourists who are interested in religious tourism and heritage sites.
When planning your visit, be sure to check the schedule of masses to attend a service if you wish. The church offers several mass timings throughout the week, including Sunday masses held at 6:00 AM, 8:00 AM, 10:00 AM, and 5:00 PM. Wednesday, Thursday, and Friday masses take place at 6:00 PM, while a Saturday mass is held at 7:00 AM.
Sikatuna Church, with its serene surroundings and historical charm, provides a peaceful environment for prayer, reflection, and appreciation of religious and architectural beauty.
Nearby Attractions
Sikatuna, with its idyllic setting and proximity to remarkable attractions, is a hidden gem waiting to be explored. From the tranquil charms of the St. Anthony of Padua Parish to the mystical allure of the Loboc Mystic River, the region offers a diverse range of experiences within a convenient 30-minute ride. The Bilar Man-made Forest and Tarsier Conservation Area further enhance the allure of Sikatuna, providing opportunities to appreciate the marvels of nature and engage in eco-tourism. Whether you seek spiritual solace, natural wonders, or cultural immersion, Sikatuna and its nearby attractions will captivate your senses and leave a lasting impression on your heart.
The Mystical Forest of Loboc:
Bilar Man-made Forest:
The Tarsier Conservation Area:
Nestled in the charming municipality of Sikatuna in Bohol, Philippines, the Mirror of the World Garden Park offers visitors a unique opportunity to embark on a global journey without leaving the tranquil confines of this picturesque town. Just a short ride away from Sikatuna, this enchanting park showcases meticulously crafted replicas of iconic landmarks from around the world. Immerse yourself in a world of architectural marvels, cultural diversity, and stunning landscapes as we explore the captivating Sikatuna Mirror of the World Garden Park.
---