Viva Santisima Trinidad

Early of May 25, 2013, Talibongnons were wakened by the "Diana" wherein a band went round the town playing lively music to rouse the people and to herald the arrival of a very special day. The much awaited feast of their beloved patron has arrived and all hearts were bursting with anticipation.  The day ahead hold a lot of promise for everyone!
---
---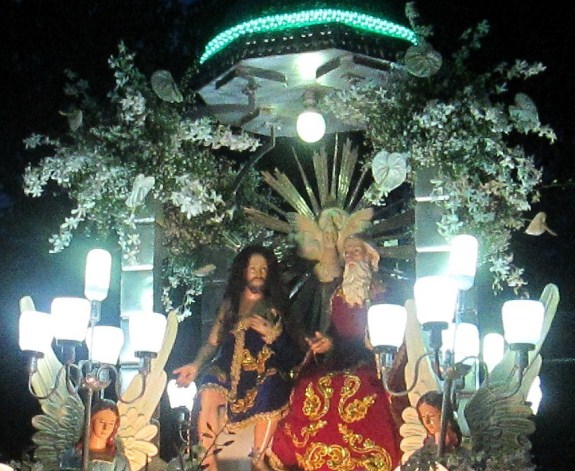 It is not the feast of a saint….nor just of anybody…..but the feast of the Triune God: God the Father, God the Son, and God the Holy Spirit, three (3) Divine Persons in one God! Bishop Vicente Noel cannot stress it enough during the Concelebrated Mass at 9 A.M.  He made the congregation shout three (3) times: Viva Santisima Trinidad!!! And the shout reverberated throughout the church!  From the deepest recesses of our hearts, we shouted for joy and acclaimed the greatness of our God!

Everybody had a reason to celebrate.  It is the 183rd celebration of the Feast of the Blessed Trinity! And to give homage, everybody thronged to the Cathedral to attend the Masses scheduled for the day.  Those preparing feasts attended the dawn Mass so that they will be free to concentrate on their preparations and tend to their guests.  Giving thanks is apt, for God did favor Talibon with so many blessings.
Outside, the church was a hive of activity.  Vendors selling balloons, toys and other knick knacks paraded the grounds. Balloons are no longer the simple rounded balloons of old.  They are now multi-colored and in different shapes.  Little tykes were mesmerized by them and parents had no heart to refuse a pointing finger.  Not on that day!  For generosity was in the air! 

People were everywhere!  The Church and Municipal plazas were full of people: full of the little tykes, the youth and the not so young! Business was brisk.  The okay-okay stalls were "flooded".  Is it really a sign of a thriving economy?  When people prefer used clothing to the real and brand new ones?  The patrons have a reason for these…..okay okays are branded, of much better quality and CHEAP!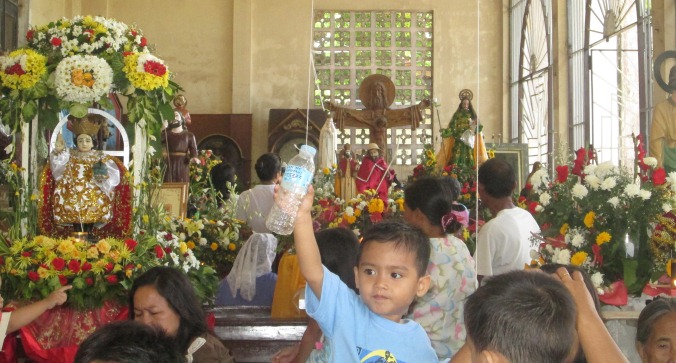 The Fluvial Parade followed immediately after the culmination of the Concelebrated Mass.  From the church, the different images of the patron saints of the 25 barangays, while escorted by the hermanos and hermanas, paraded towards the Talibon pier and embarked on boats and outrigger boats bedecked with buntings and banners.
The Fluvial Parade is an age-old religious practice.  Participating boats believe that they will receive special blessings.  The boats follow a short sea route on the outskirts of Talibon Bay.  Fishermen and all those on board asked God to bless the waters while imploring the intercession of all the saints represented by the images on board ship; and that He may continue to provide the much needed food that the municipality is thriving on.  Talibon is well known for its blue crabs, siganids (danggit), sea shells and mullosks.
THE FEASTS.  I believe that all the people in downtown Talibon were able to partake of food at lunchtime since in is an ingrained habit of all Boholanos, and so of Talibongnons, to open their homes to all seeking nourishment and food on fiesta day.  Targets are the relatives, friends, and friends of friends.  You will only go hungry if you let your bashfulness take the upperhand! Feasts lasts the whole day. Viva Santisima Trinidad!!! (ellen marie o. buno)
---