Tour Payment Policy
Secure your Cebu Bohol ferry tickets today to start your unforgettable journey!
TERMS AND CONDITIONS
Please read and understand
The following terms and conditions apply to all Tours organized by A1 Online Communication and Advertising Services (herein after referred to as "Bohol-Philippines.Com") For this purpose, the term "Tours" shall include all room accommodation bookings at hotels, resorts, excursions, tours, transfers, rentals, etc., that have been organized on your behalf by Bohol-Philippines.Com.
If your booking includes Bohol Flights or Bohol Accommodations or other service, provided by someone other than Bohol-Philippines.Com or its appointed agents, whether Bohol-Philippines.Com has acted as the agent or not, then your contract shall be subject to the conditions set forth in the applicable Philippines Travel and Tour Operator's policies, or in the case of an Airline, the airline's applicable booking conditions. These conditions do not affect your statutory rights.
Any arrangements which you make while on your Bohol Vacation and which are not made through Bohol-Philippines.Com are ones for which we have no responsibility or liability.
1. Making a Booking

When you make a booking with us you undertake that you have the authority to accept and do accept these booking conditions on behalf of yourself and your party. A contract will exist upon our accepting any monies from you towards the booking or upon the issue of our confirmation or itinerary, whichever is the earlier. These conditions in conjunction with the information set out in our published information form the entire agreement between yourself and Bohol-Philippines.Com.
When you make a booking with Bohol-Philippines.Com and we accept it, the total cost of the Bohol Tour Package becomes due and payable immediately, unless we have agreed in writing that you should pay an initial deposit. In any event, the full amount of your Bohol Tour Package must be credited to Bohol-Philippines.Com a minimum of 30 days BEFORE your scheduled departure. (This is so because some services require full payment to confirm booking.)
2. Prices

Prices are fixed at the time of booking and generally will not be subject to any surcharges. The only exception will be an increase in our costs arising as the result of any government action including but not limited to, new or increased taxes such as VAT. When a surcharge is payable an administration charge of $5.00 per person, together with an amount to cover travel agents commission (if applicable) will be added. If this means that you have to pay more than 20% of the original booking price you will be entitled to a full refund of all monies paid in respect of your booking, except an amendment charge. Should you decide to cancel because of this then you must exercise your right to do so within fourteen days from the date we advised you of the amount due.
We reserve the right to change our prices at any time before you book including any special rates that we may offer from time to time, which may not be the same as those published on this website. Please note that ALL RATES are determined based on the actual time of travel, and NOT the booking date. In some cases, posted rates may expire or become invalid after the booking date and before the actual date of travel. In this case, we will confirm and charge the new rate that will be in effect at the time of travel. (see VALID FROM DATES below room rates, to confirm validity)
3. Payments

Bohol-Philippines.Com accepts payment by (1) bank transfer, (2) cash payment, (3) PayPal, or (4) credit card.
Clients to shoulder any charges resulting in the transaction. Payments to be received net of charges or amount as stated in the quotation given.
Bank Transfer
ALL PAYMENTS made by bank transfer should be made to the following Bohol-Philippines.Com Metro Bank account: (Absolutely NO Other Account)
Remit to:

A1 ONLINE COMMUNICATION & ADVERTISING SERVICES
Account No. 123-7-12351843-4
Metrobank, Tagbilaran-Main Branch, CP Garcia Ave., Tagbilaran, Bohol
Name: Metrobank
SWIFT BIC: MBTCPHMM
Full Name: Metropolitan Bank & Trust
website: http://www.metrobank.com.ph
NOTE: For security reasons, we DO NOT accept bank transfers to any other bank account.
Cash Payments
Cash payments may be received in our office and should NOT be sent by regular mail, in parcels or by any other non-secure method, without prior written approval from Bohol-Philippines.Com. All CASH payments as-well as any other payment method will be issued a voucher signifying our receipt of money paid.
Checks
Checks may be accepted as payment, but often require lengthy processing times of up to 6 weeks before release. Payments made by check are not considered "paid", until fully cleared by our Metro bank and released for payment.
4. Western Union
With 245,000 Western Union Agent locations worldwide, it is easy to send and receive money. Choose to send money in minutes, the next day or directly to a bank account. Use cash, a credit card, or a debit card.
Credit Cards
For security reasons, Credit Card payments using your, Visa, MasterCard, American Express are accepted online, via XOOM our credit card processing company. If you already have a PayPal Account you can click on the Paypal link to make your payment.
5. Receipt of Payment

Upon receipt of payment, you will receive the following, (1) a Bohol-Philippines.Com confirmation number, (2) a detailed trip itinerary, (3) a voucher showing your full payment.
6. Changes by You

If you wish to change your booking with Bohol-Philippines.Com in any way and we can accept the change, we reserve the right to charge $5.00 per person, per amendment provided that your instructions are provided in writing, and are received at least 60 days prior to your scheduled departure. Thereafter, except as provided by applicable law, cancellation charges as specified in Condition 7 below, shall apply.
7. If Booking is cancelled

You or any member of your party may cancel all or part of your Tour at any time, proved that the cancellation is made in writing to us by the person who made the original booking. You will receive a refund of the amount paid (excluding any amendment charge) less the cancellation fees specified below.
Period before Scheduled Departure Date that Notice of Cancellation is Received
Cancellation Charge as % of Booking Price
46 days or more: None
31 - 45 days: 25%
15 - 30 days: 50%
Less than 15 days: 100%(no refund)
8. Special note:
If your Bohol-Philippines.Com package includes international or domestic air tickets, Bohol-Philippines.Com acts as an agent for the airline or Bohol flight consolidator and the airline or flight consolidators' cancellation or amendment charges shall apply.
9. If We Amend your Booking
It is unlikely that we will have to amend your Bohol Tour Package booking. However, occasionally changes may become necessary which we reserve the right to make at any time. Most of these changes are minor and we will advise you at the earliest possible date.
Confirmed dates will be as shown on your itinerary. Should a material change become necessary, we will inform you as soon as reasonably possible. You may decide whether or not to accept the change, however you must accept or reject the proposed change in writing within 72 hours of notification, otherwise we will assume that you have accepted the proposed change.
If you do not wish to accept a material change, we will give you a full refund and in addition, whether or not you accept a material change prior to departure, we will also give you compensation for your inconvenience based on the following:
Period before Scheduled Departure Date within which a material change is notified
Compensation payable to you or your travel agent, per person

30 days or more: Nil
15 days to 29 days: $10
14 days or less: $20
10. These are the only forms of compensation that may be paid to you. As we do not control the day-to-day management of your Bohol accommodations, it is possible that we may be advised that the reserved Bohol accommodation may not be suitable or available upon your arrival. If this happens, we will endeavor to provide accommodation of at least the same standard, in the same geographic area. If only accommodation of a lower standard is available, then we will refund the difference of the advertised price between the accommodation booked and that available together with compensation of $10.00 per person for your inconvenience.
IMPORTANT NOTICE: We are not responsible for changes which arise as a result of events outside of our control, such as technical or maintenance problems with transportation, changes imposed by re-scheduling or cancellation of Bohol flights by an airline, or main charter company, war or threat of war, civil strife, industrial disputes, natural disasters, bad weather or terrorist activity.
11. If We Cancel your Booking
We reserve the right in any circumstance to cancel your booking. However, in no case will we cancel your booking less than 30 days prior to departure, unless it is for reasons outside of our control or for non-receipt of payment by you. If we do cancel your booking (other than for late or non-payment) we will offer you a full refund of all monies paid in respect of the Bohol Tour booking.
12. Our Liability
Our obligations, and those of our suppliers providing any service or facility involved in any part of your Bohol Tour are to take reasonable skill and care to arrange for the provision of such services and facilities and, where we or our supplier is actually providing the service or facility, to provide them with reasonable skill and care.
13. Documentation
Where Bohol travel and health documents are necessary to comply with the requirements of the Philippines Islands you may wish to visit, then it is YOUR RESPONSIBILITY to procure them. If failure to obtain any such documents results in fines, surcharges or any other financial penalty being imposed upon us, then you agree to reimburse us accordingly. You must ascertain by consulting your own doctor, if necessary the specific precautions deemed prudent for the country or destination you intend to visit and to ensure that the appropriate medication, inoculations or other precautions are taken.
14. Conditions of Carriage & Bohol Accommodations
We are neither a carrier nor a provider of Bohol accommodations. Each journey (whether undertaken or not) that you book by land, sea or air is governed by the conditions of the carrier undertaking to provide that carriage. Some of these conditions limit or exclude liability and are often the subject of international agreements. Copies of the applicable agreements are available for inspection at the offices of the carrier concerned.
It is your responsibility to re-confirm the onward or return sectors of any air journey with the carrier concerned and according to such carrier's regulations. When you book Bohol accommodations (whether provided or not) its availability or provision is subject to the 'house rules' of the Bohol hotel or other Bohol accommodation providing or undertaking to provide such accommodations.
15. Termination
We reserve the right in our absolute discretion to terminate your Bohol Tour without notice should your behavior be such that it is likely in our opinion, to cause distress, damage, annoyance or danger to any other person. In such circumstances, no refund or compensation will be due to you.
16. Unused Services
No refund will be due to you in respect to the non-utilization of any part of the Bohol Tour arrangements made for you, by Bohol-Philippines.Com Agency.
17. Insurance
It is a condition of the agreement between us, that you take out adequate Bohol Vacation insurance against cancellation charges, unexpected curtailment of your vacation, medical expenses arising overseas including repatriation, loss or damage to luggage and personal liability claims against you.
Should you fail to secure such Philippines Travel Insurance coverage prior to your Philippines Travel, then you accept full responsibility for yourself and all of the members of your party, and indemnify Bohol-Philippines.Com Agency and our overseas Philippines Travel agents and representatives (as applicable) for any and all costs that may arise, which would otherwise have been met, had such Philippines travel insurance been in force.
18. Complaints
We do our VERY BEST to ensure that your Bohol tour arrangements go according to plan. However, if you have a complaint arising out of what we have agreed to provide for you, please let us know at the earliest possible opportunity. If necessary by calling our main office at +639183731999 from wherever you may be. If a problem arises during your Bohol trip, please contact us immediately, so we can help you.
If your complaint cannot be resolved locally, you should advise us within 30 days of the incident, in writing, by giving your Bohol-Philippines.Com confirmation number, a detailed description of your complaint and other relevant information. Please mail written complaints or feedback to:
Ellen Marie O. Buno
General Manager
San Augustine, Talibon
Bohol, Philippines 6325
Tel: +63 9183731999
Please Note: that if you do not follow our complaint procedure, we CAN NOT accept responsibility for your complaint, as we would have been deprived of the opportunity to investigate the matter on your behalf, and where possible, help you to resolve the problem.
19. Applicable Law
Any contract or dispute between us and these Bohol-Philippines Reservations conditions are to be governed by and construed in accordance with Philippines law. Both parties agree to submit to the exclusive jurisdiction of the Courts of Tagbilaran City, Bohol, Philippines.
20. Effective Date
The effective date of this policy is October 2, 2009. It replaces all prior privacy policies issued by Bohol-Philippines.Com. We reserve the right to change our policy at any time. Revisions of this policy will be posted on our Bohol-Philippines.Com website and mailed to our customers periodically, as required by law. Visitors to this Bohol Travel Website should review our policies from time to time to stay abreast of changes.
Recommended Bohol Philippines Tours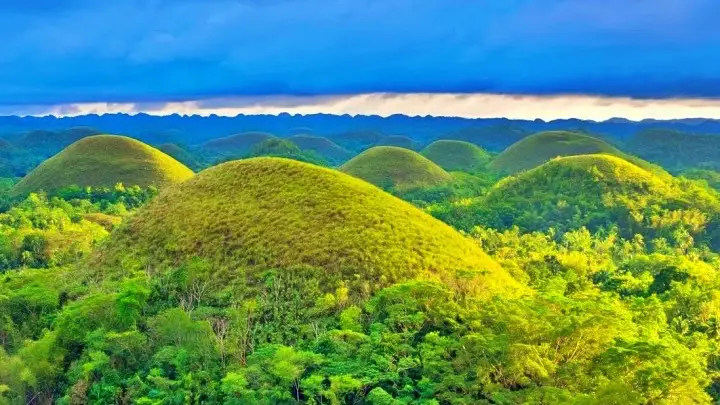 [ Bohol Sight Seeing Day Trips  - Check Out Availability ]
[ Full Day Cruise and Sailing Tours - Check out Availability ]
[ Full Day Adventure Tours - Check out Availability ]
Discover more of Bohol's natural wonders through our recommended tours. Click on the links below to embark on unforgettable adventures:
Ready to explore the beautiful islands of Cebu and Bohol? Secure your ferry tickets today through 12go and start your unforgettable journey!