Discover Ubay: Bohol's Hidden Gem of Nature, Culture, and Innovation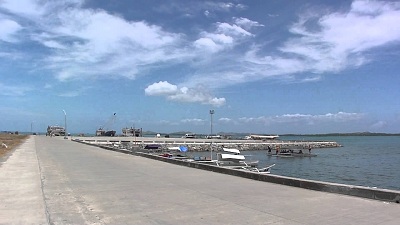 Secure your Cebu Bohol ferry tickets today to start your unforgettable journey!
Ubay bohol
Nestled in the province of Bohol, Ubay is a vibrant municipality that holds a significant place in the heart of the Visayas region in the Philippines. Situated in the northeastern part of the province, Ubay boasts a strategic location that makes it easily accessible from major cities and tourist destinations.
As one of the largest municipalities in Bohol, at 292.05 hectares, Ubay covers a vast area and is renowned for its natural beauty, rich agricultural landscapes, and fascinating cultural heritage. It serves as a gateway to various stunning destinations in the region, offering visitors a diverse range of attractions and experiences.
Ubay's location along the coast grants it breathtaking views of the Camotes Sea, while its proximity to neighboring towns and islands adds to its allure. The municipality is bordered by Alicia and Mabini to the south, Trinidad and San Miguel to the west, and the Bohol Sea to the east.
Beyond its geographical splendor, Ubay is also recognized for its contributions to agriculture and research. It houses the renowned Ubay Stock Farm, a sprawling government facility dedicated to animal breeding and research. Additionally, the Bohol Experimental Station in Ubay plays a pivotal role in the advancement of agricultural practices, particularly in the field of rice production.
Ubay Attractions & Sites: what to do
Ubay Bohol's significance as a municipality in Bohol cannot be overstated. Its cultural heritage, natural wonders, and commitment to agricultural innovation make it a must-visit destination for travelers seeking an authentic and enriching experience in the heart of Bohol.
1. Explore Ubay Stock Farm:
Visit the expansive Ubay Stock Farm, one of the largest government stock farms in the country, located in Barangay Lomangog. Discover imported breeds of cattle and witness ongoing research in cattle, carabao, goat, sheep, and ostrich breeding.
2. Visit Bohol Experimental Station:
Explore the Integrated Agricultural Research Center and delve into the world of rice research and development. Learn about innovative farming techniques and advancements in rice production.
3. Marvel at Capayas Dam:
Admire the grandeur of Capayas Dam, one of the largest dams in Bohol. Enjoy the scenic views and understand its vital role in providing water for both household and agricultural purposes.
4. Experience Ubay Agri-Park:
Immerse yourself in the first agri-park in the Visayan region. Interact with agricultural experts, learn about farm technology advancements, and gain insights into various aspects of modern farming.
5. Discover Cultural and Historical Sites:
Explore local cultural and historical landmarks, such as churches, ancestral homes, and markers. Dive into the rich heritage of Ubay and gain a deeper understanding of its past.
6. Engage in Outdoor Activities:
Engage in outdoor adventures like hiking, nature walks, or water-based activities. Discover the natural wonders of Ubay, including beautiful beaches, caves, and lush landscapes. Take part of a Forestation Project. Swim beside Floating Cottages.
7. Indulge in Local Cuisine:
Treat your taste buds to the flavors of Ubay by sampling local delicacies. Savor traditional dishes and culinary delights unique to the region. 
Indulge in a refreshing buko juice at the Philippine Coconut Authority (PCA), where you can taste the pure and natural goodness of coconut water straight from the source. Treat yourself to a creamy and delightful ice cream made from carabao's milk at the Philippine Carabao Center, showcasing the rich flavors of this local dairy product. For a unique and flavorful experience, take a sip of Bugnay Wine, a local specialty made from the fruits of the bugnay tree, known for its sweet and tangy taste. Enjoy these distinct beverages in Ubay and savor the authentic flavors of the Philippines.
8. Attend Festivals and Events:
Check the calendar for vibrant festivals and events held in Ubay throughout the year. Immerse yourself in the colorful celebrations, traditional dances, music, and cultural showcases. 
Experience the vibrant Ubay-ubay Festival, a celebration in honor of the patron saint, Sr. Santo Niño. Similar to Cebu's Sinulog, this festival features a grand street parade and a dance competition. Held every last Friday of January, it attracts crowds of people who gather along the town's major roads and venues to witness the colorful festivities.
Ubayanons, now residing elsewhere in the country and abroad, often come home during fiesta to celebrate the affair with their loved ones and share the joy of reviving the beautiful old, old story on the origin of the place.
9. Relax in Nature:
Unwind in the tranquility of Ubay's natural surroundings. Take leisurely walks along the shoreline, enjoy picnics by the beach, or find a peaceful spot to embrace the beauty of the landscape. Relax at Cambugsay Healing Hills. 
10. Engage with the Local Community:
Interact with the friendly locals and experience their warm hospitality. Engage in conversations, learn about their way of life, and participate in community activities to truly immerse yourself in the local culture.
In Ubay Bohol, there is a delightful blend of agricultural innovation, cultural heritage, and natural beauty, offering visitors a well-rounded experience that captures the essence of this enchanting municipality in Bohol.
ubay port & island hopping activities
Ubay Bohol, with its newly renovated port, offers an excellent starting point for various sea water activities and island hopping adventures. Explore the wonders of the surrounding Visayas islands with these exciting options:

1. Island Hopping: Embark on thrilling island hopping tours from Ubay Port, allowing you to visit nearby islands such as Bilangbilangan Island, Lapinig Island, or Pangapasan Island. Discover secluded beaches, vibrant coral reefs, and enjoy snorkeling in crystal-clear waters.
2. Snorkeling and Swimming: Take advantage of the coastal beauty near Ubay by snorkeling and swimming in the pristine waters. Explore the underwater world teeming with colorful marine life in spots like Barangay Badiang or Talisay, where coral reefs and tropical fish await.
3. Beach Excursions: Relax and unwind at the beautiful beaches surrounding Ubay. Enjoy the white sands and tranquil atmosphere of Candabong Beach or venture to Virgen or Bacong for picturesque coastal experiences.
4. Fishing and Boating: Engage in local fishing traditions or rent a boat from Ubay Port for a leisurely ride along the coast. Experience the thrill of catching fish while immersing yourself in the serenity of the sea.
5. Trips to Visayas Islands: Utilize Ubay Port as a gateway to explore other captivating Visayas islands. With regular ferry services, you can embark on exciting journeys to destinations such as Cebu, Negros, or Leyte, each offering unique cultural experiences and natural wonders.
Ubay's newly renovated port enhances its accessibility and opens up a world of possibilities for sea water activities, island hopping, and unforgettable adventures. Make the most of Ubay's coastal charm and convenient transportation hub to create cherished memories of your time exploring the Visayas region.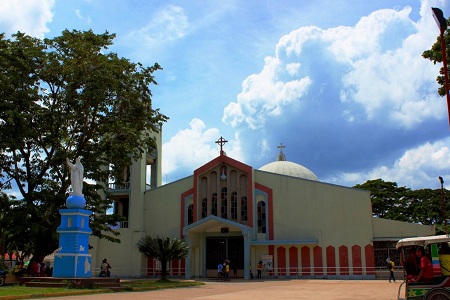 ubay church
Visit Ubay Bohol Church of Sr. Santo Niño, a significant religious landmark in the town. Here's some of it's history and architecture:
Historical Significance:
In the past, Ubay was under the jurisdiction of Talibon both ecclesiastically and civilly. However, in 1840, it gained independence as a municipality, and in 1877, it became a parish.
Dagohoy Rebellion:
The town of Ubay played a role in the Dagohoy Rebellion, as followers of Dagohoy were resettled in the area as early as 1810. This rebellion was a significant event in Philippine history.
Reconstruction and Donations:
Although the original Ubay church of Sr. Santo Niño was described as provisional and made of wood in 1886, it was later rebuilt by Fray Buenaventura Marrodan (1891-97). The Reyes family contributed greatly to the reconstruction, donating a bell dated 1872, inscribed with the name Toribio Reyes, the first gobernadorcillo of Ubay.
Architectural Changes:
The present Ubay Church is a product of new construction. While some parts, such as the apse, narthex, and entrances to the transept, belong to a church built in the 1920s, the majority of the church was rebuilt after it was damaged by a typhoon in 1968.
By visiting Ubay Church, you can appreciate its historical significance, observe the architectural changes made over the years, and gain insights into the town's religious heritage.
Recommended Bohol Philippines Tours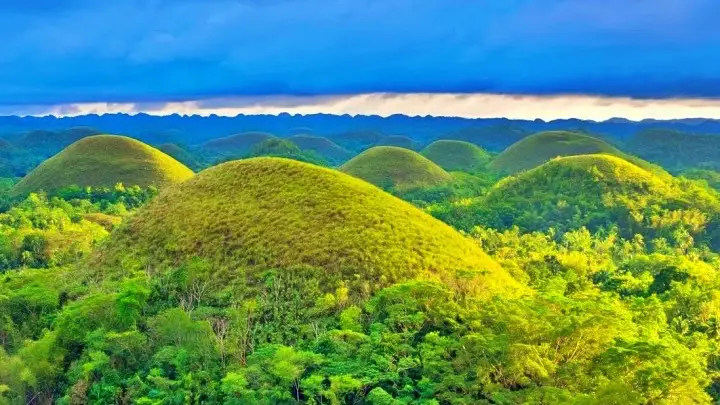 [ Bohol Sight Seeing Day Trips  - Check Out Availability ]
[ Full Day Cruise and Sailing Tours - Check out Availability ]
[ Full Day Adventure Tours - Check out Availability ]
Discover more of Bohol's natural wonders through our recommended tours. Click on the links below to embark on unforgettable adventures:
Ready to explore the beautiful islands of Cebu and Bohol? Secure your ferry tickets today through 12go and start your unforgettable journey!
Ubay Bohol: food & drink
When exploring Ubay Bohol, be sure to tantalize your taste buds with the delightful local cuisine and refreshing drinks available in the area. Here's a guide to the food and drink scene in Ubay:
1. Ubay Lechon: Don't miss the chance to savor Ubay's famous lechon, a mouthwatering roasted pig that is a must-try delicacy in the Philippines. Enjoy the crispy skin and succulent meat, often accompanied by a flavorful dipping sauce.
2. Seafood Delights: Ubay's coastal location offers an abundance of fresh seafood. Indulge in a variety of seafood dishes, including grilled fish, shrimp, squid, and crab. Visit local restaurants and eateries to savor the flavors of the sea.
3. Boholano Delicacies: Sample traditional Boholano delicacies that showcase the unique flavors of the region. Try binagol, a sticky rice cake made with coconut and sweetened with caramelized sugar. Don't forget to taste budbud kabog, a sticky rice dessert wrapped in banana leaves and infused with the aroma of millet seeds.
4. Fresh Tropical Fruits: Ubay and the surrounding areas are known for their abundance of tropical fruits. Enjoy the sweetness of ripe mangoes, pineapples, bananas, and other local fruits. You can find them at local fruit stands or markets.
5. Halo-Halo: Cool down with a refreshing bowl of halo-halo, a popular Filipino dessert made with crushed ice, sweetened fruits, jellies, beans, and topped with evaporated milk and leche flan. It's a delightful treat to beat the heat.
6. Local Drinks: Quench your thirst with refreshing local beverages. Try the buko juice (coconut water) served straight from the coconut, or opt for the unique flavors of tuba, a fermented coconut sap. You can also find a variety of fruit shakes and refreshing natural juices.
7. Local Bakeries: Visit Ubay's bakeries to taste freshly baked bread and pastries. Savor pandesal, a soft and slightly sweet bread roll perfect for breakfast or as a snack. Don't forget to try other local favorites like ensaymada and pan de coco.
8.Ube Calamay: Indulge in the sweet and delightful Ube Calamay, a purple rice cake made with purple yam. This delicacy is said to have originated in Ubay due to the town's abundant Ube plantations.
9. Fried Ube bread: Try the mouthwatering Fried Ube bread, a deep-fried bread filled with purple yam, offering a unique and delicious taste.
10. Chocobao: Savor the chocolate-flavored pasteurized carabao milk called Chocobao. Produced by the Philippine Carabao Center in Barangay Lomangog, it is a nutritious and delightful treat.
11. Puto cheese: Taste the special Puto cheese made from the milk of carabao, a traditional Filipino rice cake with a cheesy twist.
Indulge in refreshing treats and unique flavors during your visit to Ubay, Bohol. Here are other must-try experiences:
1. Savor a Buko Juice at the Philippine Coconut Authority (PCA): Quench your thirst with the tropical goodness of Buko Juice. Visit the Philippine Coconut Authority to enjoy a freshly extracted coconut water straight from the source. It's a refreshing and hydrating delight.
2. Treat yourself to Ice Cream from the Philippine Carabao Center: Head over to the Philippine Carabao Center and indulge in their delicious ice cream made from carabao's milk. Experience the creamy and rich flavors that highlight the local dairy industry.
3. Experience Bugnay Wine: Take a sip of Bugnay Wine, a unique local beverage made from the fruit of the bugnay tree. Known for its tangy and slightly sweet taste, Bugnay Wine offers a distinct flavor profile that is worth trying during your visit to Ubay.
Immerse yourself in the flavors of Ubay and explore these delightful culinary experiences. Whether you're enjoying the refreshing Buko Juice, savoring the creamy carabao's milk ice cream, or experiencing the unique taste of Bugnay Wine, these treats will add a touch of local flavor to your journey.
As you explore Ubay, immerse yourself in the local flavors and culinary delights. From savory dishes to sweet treats and refreshing drinks, Ubay offers a delectable food and drink scene that will leave you satisfied and craving for more.
what to do near ubay
Ubay Bohol serves as a convenient base for exploring the nearby attractions that offer a diverse range of activities and natural wonders. Here are some notable destinations worth visiting:
1. Lamanok Island: Take a boat ride from Ubay to Lamanok Island, a hidden gem known for its archaeological significance. Explore the rock formations and caves adorned with ancient rock paintings, providing insights into the island's prehistoric past. Experience the tranquility of this secluded island while marveling at its unique geological features.
2. Canumantad Falls: Embark on a scenic journey to the town of Candijay, where Canumantad Falls is located. This stunning waterfall cascades into natural pools where you can take a refreshing dip. Immerse yourself in the lush greenery surrounding the falls and enjoy the serene ambiance of this natural paradise.
3. Rice Terraces: Discover the breathtaking beauty of the Cadapdapan Rice Terraces in Candijay. Marvel at the intricate layers of rice paddies carved into the mountainside, resembling steps that blend harmoniously with the landscape. Capture stunning panoramic views and gain insights into the traditional farming practices of the locals.
4. Sea of Clouds: Experience the ethereal beauty of a sea of clouds at Mount Mayana in Alicia, just a short distance from Ubay. Trek to the summit during the early morning hours to witness the mesmerizing phenomenon as the clouds gently blanket the surrounding valleys, creating a surreal and magical atmosphere.
5. Anda Adventure: Head to the town of Anda and indulge in thrilling outdoor activities. Explore the captivating Anda Cave, where you can swim in its crystal-clear waters and marvel at the impressive rock formations. Engage in snorkeling or diving adventures to explore vibrant coral reefs and encounter diverse marine life.
6. Danao Adventure Park: Visit the neighboring town of Danao and experience adrenaline-pumping activities at Danao Adventure Park. Try exhilarating adventures like ziplining, rappelling, river kayaking, and more, all amidst a stunning natural setting. Satiate your thirst for excitement and create lasting memories in this adventure-filled destination.
Ubay Bohol's proximity to these attractions allows travelers to embark on exciting day trips and immerse themselves in a wide range of natural wonders and thrilling experiences. From historical sites and cultural treasures to awe-inspiring landscapes and adventurous escapades, there is something for everyone to enjoy near Ubay.
History of Ubay Bohol
Ubay, a municipality in Bohol, has a rich history that dates back to the Spanish colonial era. Prior to Spanish rule, the area was part of the municipality of Talibon. However, on January 15, 1876, the Spanish government officially proclaimed Ubay as a separate town, granting it its own municipal status.
The name "Ubay" itself has an interesting origin. According to legend, it derives from the word "ubay-ubay," which means "alongside" in the local dialect. This term was used by inhabitants and traders who traveled along the town's shorelines, avoiding the strong currents of the renowned Cunigao Channel. The path taken by the native people to reach the center of trade ran alongside the sandy beach. Eventually, this term became the adopted name of the community, giving birth to the town's distinctive identity.
Over the years, Ubay Bohol has grown and developed, witnessing changes and progress while still preserving its cultural heritage. Today, it stands as a municipality with its own stories and a unique place in the history of Bohol.
Ubay geography
Ubay is a municipality situated in the northeastern part of Bohol, Philippines. It boasts a diverse geography characterized by both coastal and inland features. With its strategic location, Ubay enjoys stunning views of the Camotes Sea to the east and is bordered by Alicia and Mabini to the south, Trinidad and San Miguel to the west.
The landscape of Ubay is a mix of flatlands, rolling hills, and mountainous areas. The town gradually transitions from elevated valleys to lower-lying coastal areas as it approaches the sea. The coastal regions of Ubay offer picturesque beaches, while the inland areas are adorned with verdant agricultural lands and scenic vistas.
Within Ubay, there are notable rock formations, such as the Sierra Bullones, Jagna Andesite, and Quaternary Aluminum. These geological formations contribute to the municipality's unique terrain and natural beauty. Additionally, Ubay is home to swamps, mangroves, and coral formations, which enhance the ecological diversity of the area.
The climate in Ubay Bohol is typically tropical, with warm temperatures throughout the year. Rainfall is relatively evenly distributed, making the region suitable for agricultural activities.
Ubay's geography presents a captivating backdrop for various outdoor adventures and scenic exploration. From the coastlines to the rolling hills, visitors can immerse themselves in the natural wonders and captivating landscapes that Ubay has to offer.
Ubay Bohol: where to stay
When planning your stay in Ubay Bohol, you'll find a range of accommodations that cater to different preferences and budgets. Here are some options for where to stay in Ubay:
1. Resorts and Beachfront Hotels: If you prefer to be close to the coastal beauty, consider staying at one of the beachfront resorts or hotels in Ubay. These establishments offer comfortable rooms, stunning ocean views, and convenient access to the beach. Look for options like beach resorts or boutique hotels that provide a relaxing seaside retreat.
2. Inland Hotels and Guesthouses: If you prefer a more secluded and peaceful environment, you can choose to stay at hotels or guesthouses located inland. These accommodations offer a tranquil setting, away from the bustling coastal areas. You can find a variety of options, from budget-friendly guesthouses to mid-range hotels that provide comfortable amenities.
3. Farm Stays and Eco-Lodges: For a unique and immersive experience, consider booking a farm stay or eco-lodge in the rural areas surrounding Ubay. These accommodations allow you to connect with nature, learn about local agriculture, and enjoy a serene countryside ambiance. Farm stays often provide opportunities to participate in farming activities or explore the natural surroundings.
4. Homestays and Airbnb: If you're looking for a more personal and authentic experience, consider staying in a homestay or booking a private room through Airbnb. This option allows you to stay with local families, giving you a chance to immerse yourself in the local culture, traditions, and hospitality.
When choosing your accommodation, consider factors such as location, amenities, budget, and the type of experience you desire. It's advisable to book your accommodation in advance, especially during peak travel seasons, to ensure availability and secure the best rates.
Ubay Bohol: getting there & around 
Getting to Ubay, Bohol, and navigating around the area is relatively easy with various transportation options available. Here's a guide on how to get to Ubay and how to get around once you're there:
By Air: The nearest airport to Ubay is the Bohol-Panglao International Airport (TAG), located in Panglao Island. From the airport, you can hire a taxi or arrange for a private transfer to Ubay, which takes approximately 1.5 to 2 hours depending on traffic conditions.
By Ferry: If you're coming from other islands in the Visayas region, you can take a ferry to Tagbilaran City Port. From Tagbilaran, you can hire a taxi or take a public bus or van to Ubay, which is approximately 2 to 3 hours away.
By Bus or Van: Ubay is well-connected to other towns and cities in Bohol through bus and van transportation. Public buses and vans operate from the integrated bus terminal in Tagbilaran, offering regular trips to Ubay. The journey takes around 2 to 3 hours, depending on the traffic and road conditions.
By Private Vehicle: If you have your own vehicle or are renting one, you can drive to Ubay using the national highway network. Ubay is easily accessible from other towns in Bohol, as well as neighboring provinces.
Getting Around Ubay:
Once you're in Ubay, there are several modes of transportation available for getting around the area:
Tricycles: Tricycles are a common mode of transportation in Ubay. They are motorcycle-driven vehicles with a sidecar and can take you to various destinations within the town.
Habal-Habal: Habal-habal refers to motorcycle taxis, which are a popular and affordable way to travel short distances or reach more remote areas not easily accessible by other vehicles. Negotiate the fare with the driver before starting your journey.
Public Jeepneys: Public jeepneys are a common mode of transportation for longer distances within Ubay and to neighboring towns. They follow specific routes and can be a cost-effective option for traveling to different areas.
By Bus: Long-distance Ceres buses operate regular routes to and from Ubay, connecting it to other towns and cities in Bohol and neighboring provinces. You can catch a Ceres bus from the integrated bus terminal in Tagbilaran, offering a convenient and affordable option for travel.
Private Vehicle Rental: If you prefer more flexibility and convenience, you can rent a car, motorcycle, or bicycle from rental agencies in Ubay. This allows you to explore the town and its surroundings at your own pace.
It's always advisable to plan your transportation in advance, especially for longer trips or during peak travel seasons. Remember to consider factors like travel time, availability of vehicles, and local transportation schedules to ensure a smooth and enjoyable journey in and around Ubay.
Ubay seaport in Bohol
The Ubay seaport in Bohol serves as an important gateway to various destinations in the Philippines. It is conveniently located just a few minutes away from Ubay Poblacion and is the commercial center of northeastern Bohol. The seaport provides connections to Leyte, Samar, and Manila through regular barge services. It also serves as a gateway to Mindanao via Southern Leyte.
The port accommodates medium-sized conventional and Roll-on/Roll-off (RORO) vessels, with reinforced concrete piers and ongoing construction of a Passenger Terminal Building (PTB) to enhance passenger services. With four vessels plying the route to Cebu City daily, the port serves as a link to the hub of Central Visayas.
The Ubay Bohol seaport has undergone significant improvements as part of the government's Strong Republic Nautical Highway program. It has a wide and clean pier, with a scenic view of the crystal blue sea and neighboring islands. Cargo handling, mooring, and other port services are efficiently managed by local corporations and shipping lines.
Whether you're traveling to other islands or enjoying the picturesque view, the Ubay seaport provides a convenient and well-maintained transportation hub for both passengers and cargo.
Check out for Bohol Hotel Deals
Back to Top: The town of Ubay, Bohol Philippines
Back to Bohol