Alburquerque Bohol: rich Cultural Heritage & Attractions
Secure your Cebu Bohol ferry tickets today to start your unforgettable journey!
Alburquerque Bohol unique experiences
Alburquerque, a charming town in Bohol, is a perfect destination for travelers seeking a unique experience. With its rich historical heritage, vibrant cultural festivals, stunning natural landscapes, and warm hospitality, Alburquerque has something for everyone.
The town showcases its Spanish colonial past through well-preserved structures like the San Pedro Church, which features impressive architecture from the 1800s. Exploring these historical sites allows visitors to delve into Alburquerque's fascinating history.
Cultural enthusiasts will be delighted by the Sandugo Festival, held annually in July. This lively event commemorates the Blood Compact between Datu Sikatuna and Miguel Lopez de Legazpi and offers colorful street dances, parades, music, and cultural performances.
Nature lovers can enjoy breathtaking views from the Alburquerque Bohol Watchtower, situated on a hill. The panoramic vistas encompass the Bohol Sea and the town's surroundings, providing an ideal setting for photography and appreciation of the town's beauty.
For adrenaline junkies, the nearby Loboc Eco-Tourism Adventure Park offers thrilling ziplining experiences. Soar through the treetops and take in the stunning views of the Loboc River and the lush rainforest.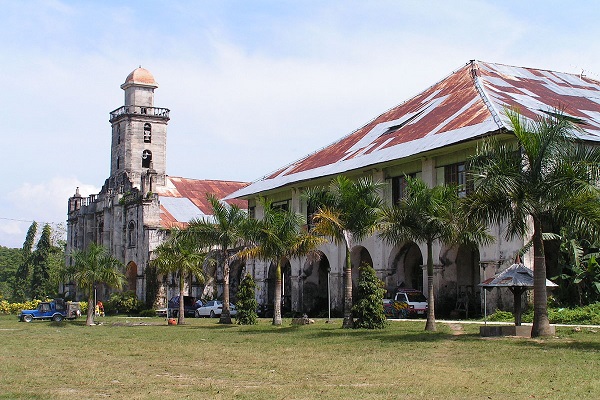 Alburquerque's locals are known for their warmth and friendliness. Engaging with the community allows visitors to learn about their traditions and immerse themselves in the local culture.
Food enthusiasts can savor delicious Boholano dishes like chicken tinola, kinilaw, and other Filipino delicacies. Local eateries are perfect places to sample these mouthwatering treats or seek recommendations from the friendly locals.

Alburquerque's strategic location makes it an excellent starting point for exploring other popular attractions in Bohol. The famous Chocolate Hills, Tarsier Conservation Area, Loboc River Cruise, and white sand beaches are easily accessible from the town.
Whether you're interested in history, nature, adventure, or relaxation, Alburquerque Bohol offers a blend of cultural heritage, natural beauty, and warm hospitality. Immerse yourself in the town's history, discover picturesque landscapes, and create unforgettable memories in this hidden gem of Bohol.
Alburquerque Bohol Attractions
Alburquerque offers a diverse range of attractions that showcase the natural beauty, cultural heritage, and wildlife of the region. Whether you're interested in wildlife encounters, exploring caves, admiring architectural marvels, or enjoying scenic landscapes, Alburquerque has something to offer every visitor.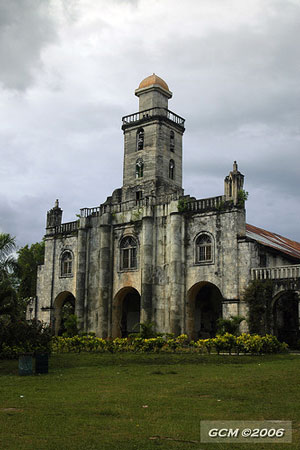 Sta. Monica Church and Convent:
Marvel at the historical and architectural beauty of the Sta. Monica Church and Convent. Built in 1842, this religious site is deeply revered by the locals. Experience the vibrant cultural celebrations during the feast of Sta. Monica, held annually on the 4th of May. Enjoy discos, competitions, and sports tournaments as part of the festivities.
Bohol Python and Wildlife Park:
Explore the Bohol Python and Wildlife Park, where you can encounter a diverse array of wildlife, including pythons, reptiles, birds, and mammals. Learn about these fascinating creatures and their conservation efforts while enjoying interactive experiences.
Lourdes Spring:
Visit Lourdes Spring, a tranquil spot known for its fresh spring water and serene ambiance. Take a leisurely stroll around the area, relax on the lush surroundings, and immerse yourself in the peaceful atmosphere. This natural spring provides a perfect escape from the hustle and bustle of daily life.
Recommended Bohol Philippines Tours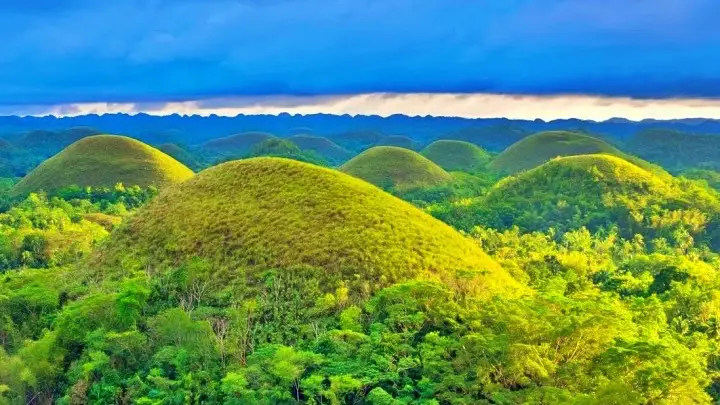 [ Bohol Sight Seeing Day Trips  - Check Out Availability ]
[ Full Day Cruise and Sailing Tours - Check out Availability ]
[ Full Day Adventure Tours - Check out Availability ]
Discover more of Bohol's natural wonders through our recommended tours. Click on the links below to embark on unforgettable adventures:
Ready to explore the beautiful islands of Cebu and Bohol? Secure your ferry tickets today through 12go and start your unforgettable journey!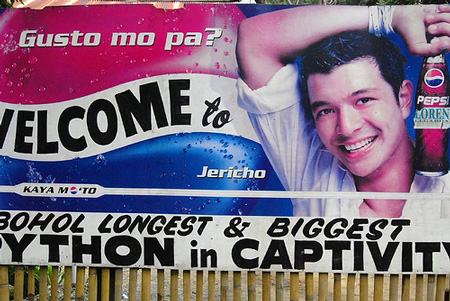 Bohol Balai Inc.
Explore the Bohol Balai Inc., a large hut that serves as a showcase for native handicrafts, fashion items, delicacies, and other souvenir items. Immerse yourself in the vibrant culture of Alburquerque Bohol through the assortment of locally made products, including woven raffia, baskets, brooms, and pottery.
Municipal Marine Sanctuary:
Visit the Municipal Marine Sanctuary in Barangay Sta. Filomena, where you can enjoy a pristine beach and a Mangrove Protected Area. Relax on the sandy white beach, rent a cottage, and take a refreshing swim in the crystal-clear blue waters. Explore the mangrove forests, which provide a habitat for various marine species, shorebirds, reptiles, and insects. Hop on bamboo rafts and delve into the marine ecology of the area.
Butterfly Sanctuary:

Step into a world of fluttering beauty at the Butterfly Sanctuary. Witness these delicate creatures in their natural habitat, as they gracefully fly amidst the lush foliage. Learn about the lifecycle of butterflies, their unique adaptations, and the importance of preserving their natural habitats.
Tagbuane River:
Embark on an adventure along the Tagbuane River, which flows through the town of Alburquerque. Trek through rolling terrains, verdant grasslands, and picturesque landscapes. Immerse yourself in the natural beauty of the surroundings and appreciate the serene atmosphere as you traverse the river.
Bohol Python and Wildlife Park
As you explore the park, you'll have the opportunity to encounter various animal species, including reptiles, birds, mammals, and exotic creatures. Marvel at the impressive pythons, monitor lizards, and other reptiles as they gracefully move within their enclosures. The park was once home to "Prony," one of the longest and heaviest pythons in captivity.
Cultural Festivities:
Immerse yourself in the vibrant cultural festivities of Alburquerque Bohol. Experience the local celebrations, such as discos, competitions, and sports tournaments, during the feast of Sta. Monica. Engage with the warm-hearted locals, participate in traditional activities, and witness the rich cultural heritage of the town.
Protected Seascape and Landscape:
Alburquerque is surrounded by stunning natural landscapes and a protected seascape. Immerse yourself in the beauty of the coastal areas, enjoy the pristine beaches, and witness the vibrant marine life that thrives in these protected waters.

Kangcaramel Cave:
Embark on an exciting adventure by exploring Kangcaramel Cave. Discover its unique rock formations, stalactites, and stalagmites as you delve deep into the cave's intricate chambers. Marvel at the natural wonders and the hidden beauty within.

Sikatuna Mirror of the World:
Opened last 2018, Mirror of the World and Botanical Garden displays some famous landmarks from around the world. The Park opens in separate phases, introducing new landmarks to the visitors. Phase 1 opened in late 2018, beginning with the Christ the Redeemer in Rio de Janeiro, the Eiffel Tower in Paris, the Golden Gate Bridge of California, the Merlion in Singapore, and the Statue of Liberty in New York.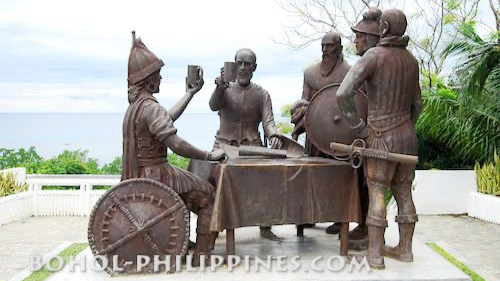 Alburquerque Bohol Other attractions
Sta. Fe Beach Resort: Enjoy the sun, sand, and sea at this beach resort, which provides a relaxing getaway with its picturesque coastline and tranquil atmosphere.

Calamay Making: Learn about the traditional process of making calamay, a sweet sticky rice delicacy, and sample this local treat.
Ceramics Making: Visit a ceramics workshop to witness skilled artisans crafting intricate pottery pieces by hand. You may even have the chance to try your hand at creating your own ceramic masterpiece.
Salt Making: Explore the salt-making process in Alburquerque Bohol, where you can witness locals harvesting salt from salt beds or evaporation ponds.
Loom Weaving: Discover the art of loom weaving and observe skilled weavers create beautiful textiles and fabrics using traditional techniques.
Basket and Broom Making: Witness local artisans skillfully crafting baskets and brooms from natural materials, showcasing their traditional craftsmanship.
Aquarium Fish: Explore an aquarium facility that showcases a diverse array of colorful and exotic fish species from the surrounding waters, providing a unique underwater experience.
Alburquerque, a municipality in Bohol, Philippines, is known for its rich cultural heritage and traditional industries that showcase the craftsmanship and resourcefulness of its people. The town takes pride in producing various native products that have become synonymous with its identity.
Alburquerque Bohol fiestas
Immerse yourself in the vibrant cultural celebrations of Alburquerque by participating in local festivals. These festivities often include colorful processions, traditional dances, music, and delicious local cuisine. Join in the revelry and witness the rich cultural heritage of the town.
Cultural Properties in Alburquerque, Bohol
1. Santa Monica Church: Construction of this church began in 1885 and was completed in the 1930s. It stands as a testament to the town's rich religious heritage.

2. Escuela de niños: This cultural property in Alburquerque showcases the historical significance of education in the town.
3. Alburquerque Public Market: The public market of Alburquerque is recognized as a cultural property, representing the vibrant local trade and commerce.
4. Plaza Ancestral House: This ancestral house, built around 1915, is a cultural property that reflects the architectural style of its time.
5. Ungab Ancestral House: Built around 1925, this ancestral house is a living testament to the town's history and cultural heritage.
6. Daral Ancestral House: Built around 1930, this ancestral house provides a glimpse into the past, showcasing the architectural traditions of Alburquerque Bohol.
7. Manlangit Ancestral House: Built around 1953, this ancestral house bears an inscription on its floor, offering insights into the family history and heritage.
8. Bongabong Ancestral House: This ancestral house represents the cultural legacy of Alburquerque and its prominent families.
9. Sinajon Ancestral House: Built before 1931 and remodeled around 1950, this ancestral house exhibits a blend of architectural styles and historical significance.
10. Dumagan Ancestral House: This ancestral house stands as a reminder of the town's cultural and architectural heritage.
These cultural properties reflect the rich history, architectural styles, and cultural traditions of Alburquerque, providing visitors with a deeper understanding of the town's cultural identity.
Alburquerque Bohol what to do
In Alburquerque Bohol, there are plenty of activities to engage in and experiences to cherish. Here are some things to do in the municipality:
Explore the Countryside:
Take a leisurely bike ride or a scenic drive through Alburquerque's countryside. Enjoy the picturesque landscapes, breathe in the fresh air, and immerse yourself in the tranquility of nature.
Visit Local Farms:
Alburquerque is known for its agricultural heritage, and visiting local farms offers a glimpse into the traditional way of life. Engage in farm tours, learn about organic farming practices, and savor the flavors of freshly harvested produce.
Attend Cultural Festivals:
Immerse yourself in the vibrant culture of Alburquerque by participating in local festivals and celebrations. Experience traditional dances, music performances, and taste local delicacies prepared during festive occasions.
Trek to Hidden Waterfalls:
Embark on an adventure to discover the hidden waterfalls in the surrounding areas of Alburquerque. Engage in a trekking expedition, marvel at the cascading waters, and take a refreshing dip in natural pools.
Alburquerque Bohol food & drink
Indulging in the local cuisine is a must when visiting Alburquerque Bohol. The municipality offers a variety of culinary delights that showcase the flavors of Bohol. Some popular dishes to try include:
Sikwate and Budbud:
Start your day with a traditional Boholano breakfast of sikwate (chocolate drink) paired with budbud (sticky rice). The rich and aromatic chocolate paired with the sticky rice makes for a delightful combination.
Seafood Delicacies:
Being a coastal town, Alburquerque is renowned for its fresh seafood. Sample dishes like grilled fish, shrimp sinigang (sour soup), and kinilaw (ceviche) prepared with locally caught seafood.
Ube Delights:
Bohol is famous for its ube (purple yam), and Alburquerque offers various ube delicacies like ube halaya (jam), ube pastries, and even ube ice cream. Don't miss the opportunity to indulge in these sweet treats.
Alburquerque Bohol history
Alburquerque Bohol, formerly known as Looc, is located in the southwestern part of Bohol, approximately 12 kilometers from Tagbilaran. During the Spanish colonial era, Looc was a thriving settlement due to its proximity to the coast and a sheltered cove that provided a suitable harbor for sea crafts. The area was also known for being a breeding ground for anchovies, locally called "bolinaw."
The distance from the main town of Baclayon made it challenging for the people of Looc to attend religious activities. As a result, Lady Mariona Irag, a prominent community member, took the initiative to build a chapel. In 1842, she requested the Parish Priest of Baclayon, Fr. Pedro de la Encarnacion, to supervise the construction of the chapel, which would be built by the locals.
Originally known as "Segunto," the barangay (village) of Looc grew over time, leading to its separation from Baclayon. On June 9, 1868, Governor-General Jose de la Gandara issued a decree establishing the new town of Alburquerque with its own civil jurisdiction.
The town's name was changed by Spanish authorities to Alburquerque in honor of Alfonso Alburquerque, a renowned Portuguese seafarer and conqueror of Malaca, Sumatra. The name Alburquerque is widespread in various parts of the Americas and the Philippines, and it is also the name of a town in the province of Badajoz, Spain.
In terms of religious jurisdiction, the creation of the town was approved by the Provincial of the Recollects on November 14, 1868. Subsequently, on June 18, 1869, the Bishop of Cebu designated Alburquerque as a separate Diocesan parish dedicated to Sta. Monica. On June 26, 1869, the first curate priest of Alburquerque, Fr. Tomas Hernandez, assumed his post.
A significant historical connection of Alburquerque is its association with the blood compact or "Sandugo." It is believed that the blood compact ceremony took place in the vicinity of Alburquerque between Miguel López de Legazpi, a Spanish explorer, and the chieftain Sikatuna. This event represented friendship and peace between the Spanish and the Filipinos.
The town of Alburquerque, with its rich history and cultural significance, continues to be a fascinating destination for visitors exploring Bohol's heritage.
Alburquerque geography
Geography & Climate:
Alburquerque Bohol is blessed with diverse natural landscapes and stunning geographical features. The municipality is characterized by rolling hills, lush forests, and serene rivers. One notable natural feature is the Inambacan Falls, a picturesque waterfall nestled in the heart of Alburquerque's verdant wilderness. Visitors can marvel at the cascading waters and enjoy a refreshing swim in its clear pools.
In terms of climate, Alburquerque experiences a tropical climate, with the dry season typically occurring from November to April and the rainy season from May to October. The moderate climate makes it an ideal destination for outdoor activities and exploration throughout the year.
Demographics & Culture:
Alburquerque is home to a warm and welcoming community. The municipality has a population composed of various ethnicities, with the majority being Boholanos. The locals are known for their hospitality, preserving their cultural heritage, and actively participating in community celebrations and events.
Fiesta day in Alburquerque is a highly anticipated event celebrated in honor of the town's patron saint, St. Monica. This vibrant festival takes place every May 4th and features lively street processions, traditional dances, and cultural performances. It is a time for locals and visitors alike to come together, indulge in delicious food, and experience the vibrant spirit of Alburquerque.
The arts and crafts of Alburquerque reflect the town's rich cultural heritage. Skilled artisans create intricate handicrafts, such as woven products, woodcarvings, and pottery, showcasing the town's artistic talents. Visitors can explore local markets and shops to find unique souvenirs and pasalubong (gifts) to bring back home.
where to stay
Alburquerque Bohol offers a range of accommodation options to suit every traveler's needs. Whether you're looking for budget-friendly guesthouses or luxurious resorts, there are choices available in and around the municipality. Here are three recommended places to stay:
Albur Pension House:
This budget-friendly pension house provides comfortable rooms and basic amenities for a pleasant stay in Alburquerque. It offers convenience and affordability, making it an ideal choice for budget-conscious travelers.
Villa Formosa:
For those seeking a more luxurious experience, Villa Formosa offers spacious and well-appointed rooms with modern amenities. The resort features a swimming pool, a restaurant, and a tranquil ambiance, providing guests with a relaxing retreat.
Isla Hayahay Beach Resort and Restaurant:
Situated near Alburquerque, this beachfront resort offers a serene atmosphere and stunning ocean views. With comfortable accommodations, an on-site restaurant serving local and international cuisine, and beach access, it's a great choice for a memorable stay.
getting there & around 
To reach Alburquerque Bohol, the most convenient way is to fly to Tagbilaran City, the capital of Bohol, via the Panglao International Airport. From Tagbilaran, you can hire a taxi or a tricycle to take you to Alburquerque, which is approximately 20 kilometers away.
Within Alburquerque, you can navigate the municipality by tricycle or by renting a motorcycle or bicycle. Tricycles serve as the main mode of transportation for short-distance trips within the town. If you prefer exploring at your own pace, renting a motorcycle or bicycle offers more flexibility.
nearby bohol attractions
While exploring Alburquerque Bohol, take the opportunity to visit these nearby attractions:
Loboc River Cruise:
Located in the town of Loboc, just a short distance from Alburquerque, the Loboc River Cruise is a popular tourist attraction. Enjoy a scenic boat ride along the river while indulging in delicious local cuisine and traditional music performances.
Chocolate Hills:
Another iconic destination in Bohol is the Chocolate Hills, located in Carmen. These unique geological formations consist of thousands of dome-shaped hills, which turn chocolate brown during the dry season, hence the name. A visit to the Chocolate Hills is a must for nature lovers and photographers.
Tarsier Conservation Area:
For a close encounter with the world's smallest primate, the Philippine tarsier, head to the Tarsier Conservation Area in Corella. This sanctuary provides a natural habitat for these adorable creatures, and visitors can observe them in their natural environment.
In conclusion, Alburquerque is a hidden gem in Bohol that offers a delightful blend of history, natural beauty, and warm hospitality. With its charming attractions, cultural festivities, and mouthwatering cuisine, a visit to Alburquerque promises an enriching and unforgettable experience. From exploring historical landmarks to immersing yourself in nature, Alburquerque has something for every traveler seeking an authentic and memorable Boholano adventure.
Check the Bohol Tourism website for more information.
Go to homepage from Alburquerque Bohol.