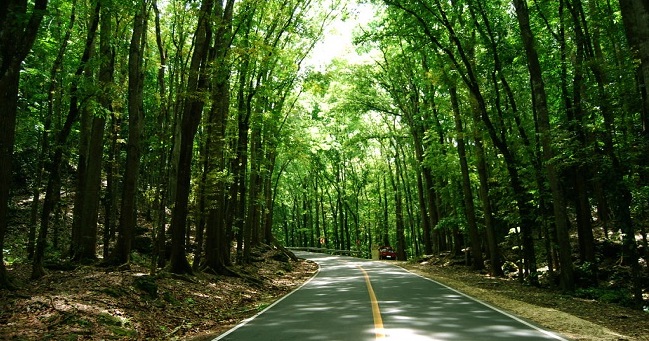 Explore the Natural Wonders of Bilar, Bohol: A Comprehensive Travel Guide


Bilar, a town located in the province of Bohol, Philippines, is a hidden gem that offers an array of natural wonders and attractions for eco-tourists and nature enthusiasts. From the enchanting Mahogany Man-Made Forest to the captivating Butterfly Sanctuary and the refreshing Logarita Spring & Pool, Bilar is a haven for those seeking a tranquil and immersive experience in nature. This comprehensive travel guide will provide you with an in-depth exploration of the must-visit sites in Bilar, including Quezon Plaza, Bilar Catholic Church, Valmoria Hill, and the Boy Scout and Girl Scout Campsites. Get ready to embark on a remarkable journey through the scenic landscapes, rich biodiversity, and cultural heritage of Bilar.

---
---
1. The Magnificent Mahogany Man-Made Forest

One of Bilar's most iconic attractions is the Mahogany Man-Made Forest, a two-kilometer stretch of densely planted Mahogany trees. Nestled between the naturally grown forests of Loboc and Bilar, this captivating forest stands out for its uniformity in tree height, sprawling branches, and thick leaves. As you drive through the forest, you'll be mesmerized by the kaleidoscope of green foliage, diverse tree species, and giant ferns lining the road. The Mahogany Man-Made Forest is not only a scenic wonder but also serves as an important part of the Rajah Sikatuna Protected Landscape.
2. Logarita Spring & Pool: A Refreshing Oasis 

Situated within the Rajah Sikatuna National Park, Logarita Spring & Pool offers a serene and rejuvenating experience. The pool, fed by the Logarita Spring, is known for its fresh, clean, and cool water, which is safe for drinking. The moss-covered pool, far from being dirty, actually contributes oxygen to the water, creating a refreshingly cool environment. The surrounding clearing is adorned with tall Mahogany and hardwood trees, providing a tranquil atmosphere for visitors. Native thatched cottages offer shade, and both locals and foreign tourists frequent this picturesque spot for eco-tours, birding activities, and relaxation.
3. Discover the Rajah Sikatuna National Park 

Rajah Sikatuna National Park, renamed as the Rajah Sikatuna Protected Landscape, is a vast forested area encompassing Bilar and several other towns in Bohol. With its total land area of 9,023 hectares, including natural and man-made forests, the park is a haven for nature lovers and bird-watchers. It boasts diverse wildlife, countless bird species, butterflies, and an array of flora and fauna. The park is also home to the adorable tarsiers, and visitors can explore the various trails that have been set up for nature treks and bird watching. Immerse yourself in the untouched beauty of Rajah Sikatuna National Park and witness the wonders of nature firsthand.
4. Simply Butterflies Conservation Center 

Located in Bilar, the Simply Butterflies Conservation Center is the first butterfly livelihood breeding and conservation program in Bohol. Its primary objective is to protect and strengthen the natural environment of butterflies through plant research, breeding, and releasing. The center features a butterfly garden filled with flowering plants, a butterfly enclosure, a nature trail, a visitor center, and a restaurant. Visitors can explore the center, learn about butterfly conservation efforts, and even purchase framed butterflies and butterfly-related products from the gift shop. The Simply Butterflies Conservation Center is a unique attraction that offers an educational and immersive experience for all ages.
5. Explore Bilar's Cultural and Historical Sites

Aside from the natural wonders, Bilar also boasts cultural and historical sites that provide insight into the town's heritage. Here are a few notable sites to explore:
5.1 Quezon Plaza: Located in the heart of Bilar, Quezon Plaza is a beautifully landscaped public park dedicated to the memory of former Philippine President Manuel L. Quezon. The plaza features lush gardens, manicured lawns, and a statue of President Quezon, offering a peaceful setting for leisurely walks and relaxation.
5.2 Bilar Catholic Church: Constructed in 1870, the Bilar Catholic Church is the oldest existing structure in the town. Dedicated to San Isidro Labrador, the church showcases a blend of stone and wooden architecture. Its prominent location along the National Road makes it easily accessible for visitors to admire its historical significance and spiritual ambiance.
5.3 Valmoria Hill: Named after a courageous commander, Valmoria Hill is a historical landmark in Bilar. The hill is home to the remains of a fort, including a dug-out and a tunnel leading to an ammunition factory. Exploring this site offers a glimpse into the town's past and the bravery of its inhabitants.
6. Boy Scout and Girl Scout Campsites
For outdoor enthusiasts and adventure seekers, Bilar provides two exceptional campsite options: the Boy Scout Campsite at Magsaysay Camp and the Girl Scout Campsite at Bilarma Camp. Both campsites are nestled in scenic mountain settings surrounded by tall trees, offering a tranquil and refreshing environment. These campsites serve as provincial encampments for the Boy Scouts and Girl Scouts, providing facilities such as swimming pools and ample space for various outdoor activities. Whether you are a scout looking for a camping experience or a nature lover seeking a serene retreat, these campsites provide an opportunity to connect with nature and enjoy the beauty of Bilar's landscapes.
7. Wahig-Pamacsalan Dam:
Located 41 kilometers from Tagbilaran City, the Wahig-Pamacsalan Dam is a picturesque spot in Bilar. The dam's wide expanse of water is perfect for boating and sports fishing. Surrounded by green rolling scenery, the dam offers a refreshing backdrop for outdoor activities, allowing visitors to unwind and reconnect with nature.
Conclusion

Bilar in Bohol is a destination that showcases the beauty of nature and the richness of its cultural heritage. From the enchanting Mahogany Man-Made Forest and the rejuvenating Logarita Spring & Pool to the diverse flora and fauna of the Rajah Sikatuna National Park, Bilar offers a wide range of attractions for eco-tourists and nature enthusiasts. Additionally, the town's cultural and historical sites, such as the Bilar Catholic Church and Valmoria Hill, provide a glimpse into its heritage. Whether you seek tranquility, adventure, or a deeper appreciation for nature and history, Bilar is a must-visit destination that promises a memorable and enriching experience.
---