Inabanga Nature Park and Fishing Village
Secure your Cebu Bohol ferry tickets today to start your unforgettable journey!
Adding to the list of beautiful places worthy of a visit in the province of Bohol is the Inabanga Nature Park & Fishing Village in Inabanga. The municipality of Inabanga is along the northern coast, about 71 kilometers from the City of Tagbilaran.
Entrance to the fishing village is just behind the Inabanga Church of St. Paul the Apostle and the St. Paul Academy. Highlight to the village tour is the river cruise along Bohol's longest and largest river, the Inabanga River, which is 25 kilometers long and seven to ten meters deep.
The cruise on board a motorized banca will take no more than 15 minutes on a leisurely pace. The river is pristine with the water an amazing turquoise-green shade; the same shade as that of Loboc River. The green grass or moss on the river bed may be the cause of its unique cool color.
Lush tropical vegetation lines the river banks; mostly of mangroves, nipa palms, tall coconut palm trees, a few clumps of bananas, ferns and thick shrubs. A few areas were developed into aquaculture ponds or fishponds and cannot be missed because of their wide dikes and open spaces.
Along the way, one may be treated to a sight of children jumping from overhanging trees or swimming fearlessly in the deep waters, which gives the creeps to non-swimmers. If you make the river cruise a bit earlier, you may pass by some "Ilig Riders"; boys riding on makeshift bamboo rafts. The long bamboo poles are then sold at the town's market.
The Final Stop after the River Cruise
Having been acclimatized to the cool and beautiful scenery along the river, one is then deposited at the Inabanga Fishing Village which is only a short distance away from the river. This two-hectare village is virtually new and boasts of a large garden with wading pools and fishing ponds and an organic farm.
Hammocks are provided, strung on tall coconut trees, where one can take a breather and relax, whiling away the time. Picnic tables are spread around the garden, some near the pools, ponds and restaurant.
One should not leave the place without experiencing first-hand how to fish in the ponds and having your catch cooked in front of you. Nothing beats the feeling of accomplishment and for sure you will eat with gusto!
Choice of food may be between a roasted organic quail or a roasted chicken, crispy shrimps, steamed crabs, squid and other seafood, which Inabanga is rich of. Other native dishes are prepared upon order. Local fruits, especially ripe mangoes, are for dessert.
So next time you think of touring, consider Inabanga for a change. From Tagbilaran, you will pass by heritage churches and can drop by the Sagbayan Peak for a look at the famed Chocolate Hills, see butterflies up close at Sagbayan's Butterfly Dome and immerse yourself in their man-made pools. Tour now!
Recommended Bohol Philippines Tours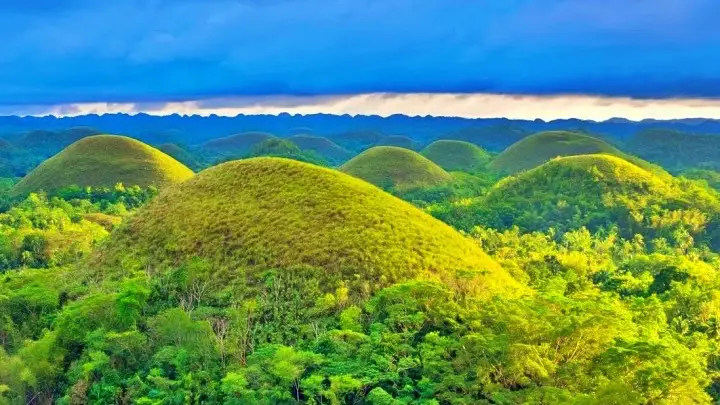 [ Bohol Sight Seeing Day Trips  - Check Out Availability ]
[ Full Day Cruise and Sailing Tours - Check out Availability ]
[ Full Day Adventure Tours - Check out Availability ]
Discover more of Bohol's natural wonders through our recommended tours. Click on the links below to embark on unforgettable adventures:
Ready to explore the beautiful islands of Cebu and Bohol? Secure your ferry tickets today through 12go and start your unforgettable journey!