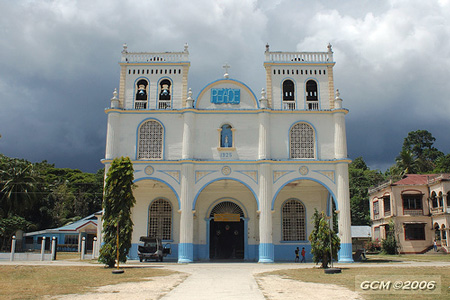 Lila Church
A parish named in honor the Virgin of the Holy Rosary, Lila, Bohol was under Dimiao, Bohol until it became an independent parish.
Originally located at Macahugan where Lila Church and convento had been built, the town was transferred to its present site in 1871. A church of tabique and wood was destroyed when American troops burnt Lila to the ground in 1901. The town was re-established in 1915.
---
---
A heritage site, the present Lila Church was built during the term of Fr. Francisco Maglasang (1918-360). Completed in 1925, it is of poured concrete.
Typical of Bohol churches Lila Church has a portico, which is flanked by bell towers. The interior is divided by a colonnade into a central nave with flanking aisles.
The altars, inspired by neoclassic lines, and the ceiling paintings demonstrate the persistence of the colonial idiom into the 20th century.
A number of old stone bridges traversing the provincial road can be found.
Top of Lila Church
---