Panglao Island Nature Resort Bohol PH
Secure your Cebu Bohol ferry tickets today to start your unforgettable journey!
The Panglao Island Nature Resort Bohol is a lovely beach resort situated near a powdery white sand beach in Panglao Island. The resort is a little bit elevated and you have to walk a few steps down to the beach which is private and not shared with other resorts. It is too shallow for swimming even at high tide.
Upon entering the lobby, you will see the infinity pool and have a great view of the beach and beyond, a small islet. You can walk to the islet without getting wet at low tide. The water is deep past the islet and is best for snorkeling.
The resort boasts of 39 rooms in huts built near the cliff and gardens. They are typical nipa huts with very stiff grass-thatched roofs made from local materials. All huts have lanais and have a beautiful view of the sea. Some have an outdoor whirlpool and a private garden shower.
Delicious food is served in the resorts' restaurants and in the pool bar. Buffet is served during breakfast and dinner and lunch is served upon orders. Other facilities like the tropical garden whirlpool, swimming pool, games room, fitness gym, sauna, spa and Jacuzzi are also provided.
Recommended Bohol Philippines Tours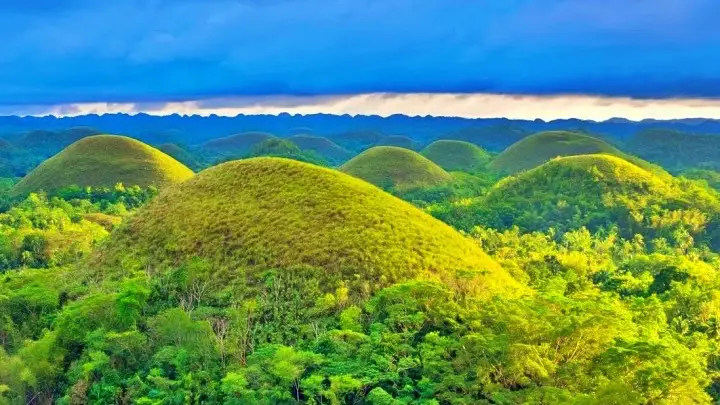 [ Bohol Sight Seeing Day Trips  - Check Out Availability ]
[ Full Day Cruise and Sailing Tours - Check out Availability ]
[ Full Day Adventure Tours - Check out Availability ]
Discover more of Bohol's natural wonders through our recommended tours. Click on the links below to embark on unforgettable adventures:
Ready to explore the beautiful islands of Cebu and Bohol? Secure your ferry tickets today through 12go and start your unforgettable journey!
Location
The Panglao Island Nature Resort is located at Bingag, Dauis, Panglao Island, Bohol, Philippines.
Facilities and Amenities
There are 10 individual bungalows and 3 two-level bungalows that line the cliff, 2 bungalows with garden views, 12 duplex rooms and 12 quadruplet rooms. Bungalows have their own private outdoor Jacuzzis, open air rainwater showers with beautiful views of the beach and the blue waters beyond, or of the well-landscaped gardens.
The duplex and quadruplet units are ideal for families. With two extra beds, the units can accommodate 4 adults. Guest rooms have balconies with drying rack, coffee table & chairs. All rooms are equipped with individually remote-controlled air conditioning, satellite TV, IDD/NDD telephone facility and other modern facilities that are listed below.
A tropical garden whirlpool is available to relax and rejuvenate tired muscles. Guests can also enjoy an energetic game of table tennis, billiards, darts, and less strenuous game of chess at the resorts' game room. The resort also built a Marine Sanctuary which is ideal for snorkeling and can be reached by pump boat.
Where To Wine and Dine
The resort has a covered restaurant situated in an elegant beachfront setting and offers Filipino and Western cuisine. The Seahorse Pool Bar offers refreshing drinks, cocktails, and snacks. Likewise, another open restaurant serves Continental, Filipino, and Asian dishes.
Activities to Indulge In at the Resort
There are many activities lined up by the resort or, at your own pace and time, you can go off and indulge yourself on whatever activity you want. One can go swimming, snorkeling and diving, relax under the shady trees or bask under the sun.
Or you can eat your heart out at the sumptuous meals that the Resort's restaurant offers and revel and soak in the resort's tropical garden whirlpool. Enjoy a game of table tennis, chess, darts, and billiards at the games room or go off traipsing, cave hunting, mountain climbing and a lot more.
There are a lot of places to see in Bohol and these places are very accessible from Panglao Island Nature Resort.
Room Amenities
Air condition, bathroom with hot/cold shower, bottled mineral water, cable TV, coffee/tea maker, IDD/NDD telephone facilities, hairdryer, key card security lock system, mini bar, private stock bar/refrigerator, personal safe, Jacuzzi, 220 volts outlets.
Resort Facilities
Ample parking spaces, alternative cuisine, babysitting services, bar & grill, car/tour rental services, complimentary American/Filipino breakfast, conference rooms, currency exchange, express check in/out, front desk service, golf car, housekeeping services, laundry/dry cleaning services, massage services, restaurant, room service, roundtrip transfer services, smoking/non-smoking rooms, souvenir shop, umbrellas, welcome drinks.
Recreation Facilities
Beach volleyball, billiards, chess, children's playground, darts, diving, fitness gym, sauna/health spa/Jacuzzi, fishing, island hopping, jogging path, kayaking, mountain biking, powdery white sand beach, pool bar, snorkeling, swimming pool, table tennis, windsurfing.
Business Services
Boat/airline ticketing services, computer/printer, easel board/stand, facsimile machine, LCD/computer, overhead projector, rostrum, whiteboard, marker, eraser, VHS player, TV monitor, business services (24 hrs).
Overview
Truly Panglao Island is an "Island Paradise". The whole island is dotted with beautiful resorts and one of them is the Panglao Island Nature Resort located in the municipality of Dauis.
The whole property is beautifully landscaped with palm trees and other greeneries. The huts are arranged near the cliff while others are near the gardens. The whole place exudes a sense of peace and tranquility, far from the hustle and bustle of city living. It is a place where one can unwind, relax and rejuvenate tired muscles and low spirits.
Facilities are top-notched! Rooms are spacious and very clean. Beds are large and uniquely made of native materials. They are provided with mattresses and covered with cotton linens. Wooden floors are well polished while walls are painted with bright and sunny colors. All rooms have complete modern facilities that will make your stay comfortable.
From the sea, the property commands a lovely postcard view. The cone shaped roofs of the huts tower above the trees and the greeneries that line the cliff. A long white beach is below it and beyond, the blue waters. Truly fantastic to look at!
Soak in the beauty of the landscape! Be where nature is at its best! Stay at The Panglao Island Nature Resort Bohol. . . NOW!!!
Top of Panglao Island Nature Resort