Raffia Loomweaving of Inabanga
Secure your Cebu Bohol ferry tickets today to start your unforgettable journey!
Inabanga's raffia-based crafts have gained momentum and are now recognized worldwide. Tapped as the town's most distinctive product under the One Town One Product (OTOP) Philippines' program of President Gloria Macapagal-Arroyo, it is now hailed as Region VII's most promising crafts industry.
Now a total of 1,910 individuals engaged in home-based raffia loom-weaving is spread over 50 barangays of the municipality. There are 525 plant-based weavers who can produce 1,050 rolls and 26,250 placemats per week. But in spite of these numbers of workers, the ever-increasing demand for raffia-based crafts cannot be met by the existing production capacity.
Under the umbrella supervision of the Inabanga OTOP Center, with the help of DTI and other national government agencies, the products has obtained markets in the U.S. Mainland, Japan, Hawaii and E.U. with Manila & Cebu as gateways. New markets include the former Russian Federation, Spain, Australia and New Zealand.
The shift of the psyche of the international market for biodegradable products has given a comparative edge for the industry. Apart from this, the inherent skills and artistry of the artisans, the availability of raw materials has been considered an edge over their competitors. However, there is a dire need to maintain this edge and continuously enhance product quality and competitiveness.
Weavers use raffia fibers extracted from young unopened buri leaf sheaths. Buri palms are available locally yet with the volume needed in production, more of this raw material is needed. Hence networking has been done with other municipalities in the province of Bohol and in other adjoining provinces particularly the provinces of Cebu and Siquijor which reportedly have an abundance of buri palms.
To ensure a continuous supply of raw materials (or buri plants), the local government has also established a buri palm plantation covering 25 hectares of land in Inabanga; planted since 2005. In addition to the established 1,910 weavers, the organization has now tapped support workers totaling 5,730.
For the proper flow of work and distribution, there are 5 common production centers (CSFs) established in the municipality; a common raw material preparation and trade center will soon be in operation. To meet the demand and in a vision of sharing, other raffia craft producers in Bohol were tapped. Eventually, the Bohol United Woven Raffia Producers Association was formed.
History of Loom-weaving
Loom weaving has been the most important cottage industry in Inabanga since Hispanic times. Most of the womenfolk were engaged in this trade while the men concentrated on trading, fishing and farming. The women were noted for the weaving of saguran, mats, blankets, hats, bags, baskets and even of nipa thatches.
Finished products then were sold locally as well as in Cebu and other neighboring islands. During the Dagohoy uprising, woven cloths were made into uniforms for resistance fighters. Through the years the weaving industry evolved although resulting products were used mostly as drying mats for rice and corn.
The industry was promoted in Inabanga by Juanario "Anwar" Jumamoy in the 1950s and progressed until such time when the weavers decided to organize themselves. In the early 1980s, the San Isidro Loom-weavers Association was born with the help of the Small Business Assistance Center (SBAC).
Later, the Inabanga Loomweavers Association (ILA) was formed with Rodulfo Jumamoy (grandson of Juanario Jumamoy) as its first president and marketing officer. The organization grew from 70 to 90 weavers. Eventually the group received assistance from DTI-CARP consisting of 40 handlooms and these were distributed to Daet Sur, San Isidro and Dagohoy.
Raffia Loomweaving Producers in Inabanga
Recommended Bohol Philippines Tours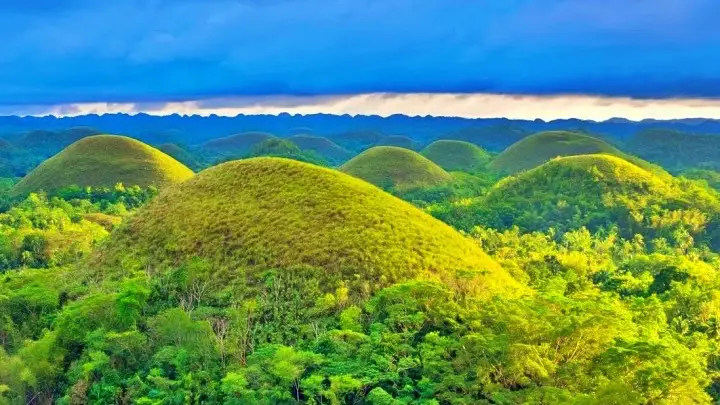 [ Bohol Sight Seeing Day Trips  - Check Out Availability ]
[ Full Day Cruise and Sailing Tours - Check out Availability ]
[ Full Day Adventure Tours - Check out Availability ]
Discover more of Bohol's natural wonders through our recommended tours. Click on the links below to embark on unforgettable adventures:
Ready to explore the beautiful islands of Cebu and Bohol? Secure your ferry tickets today through 12go and start your unforgettable journey!