Sagbayan Peak Park bohol philippines
Sagbayan Peak Park: Where Dinosaurs, Tarsiers, and Cartoon Characters Come to Life

Secure your Cebu Bohol ferry tickets today to start your unforgettable journey!
Welcome to Sagbayan Peak Park, a unique and enchanting destination in Bohol. Prepare to be amazed as you embark on an unforgettable journey filled with fascinating attractions, breathtaking views, and delightful experiences. From the adorable tarsier sanctuary to the towering T-rex dinosaur and whimsical cartoon characters, this travel guide will help you make the most of your visit to Sagbayan Peak Park.
Recommended Bohol Philippines Tours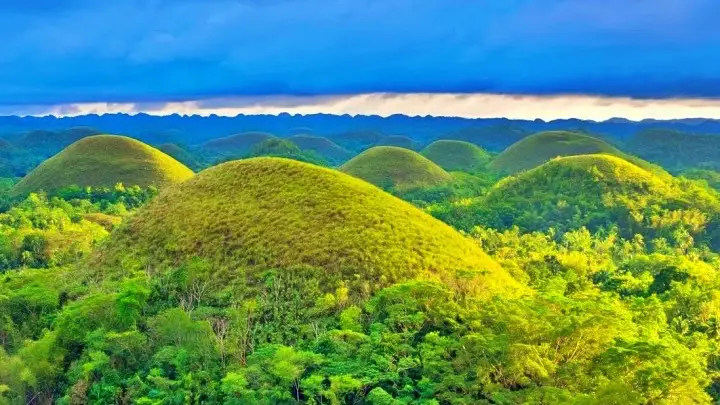 [ Bohol Sight Seeing Day Trips  - Check Out Availability ]
[ Full Day Cruise and Sailing Tours - Check out Availability ]
[ Full Day Adventure Tours - Check out Availability ]
Discover more of Bohol's natural wonders through our recommended tours. Click on the links below to embark on unforgettable adventures:
Ready to explore the beautiful islands of Cebu and Bohol? Secure your ferry tickets today through 12go and start your unforgettable journey!
1. Tarsier Sanctuary:
As you enter Sagbayan Peak Park, you'll notice a screen-enclosed structure beside the ticket booth. Step inside and discover the world of the tarsiers, the smallest primates on Earth. Feel free to explore the sanctuary, but remember to be considerate of these delicate creatures. Avoid using flash photography and keep noise to a minimum to ensure their well-being.
2. T-rex Dinosaur and Cartoon Characters:

Ascend a wide flight of stairs and find yourself on a plateau where a life-size T-rex dinosaur awaits. This 19-foot-long, 10-foot-tall beast is sure to capture your imagination. But the surprises don't end there! Throughout the park, you'll encounter beloved cartoon characters like Duffy Duck, Bugs Bunny, Marilyn Monroe, and more. These colorful figures add a touch of joy and excitement, particularly for the little ones who love running around and playing among them.
3. Covered Pavilion and Refreshments:

Take a moment to relax and recharge at the covered pavilion, complete with tables and chairs for dining and snacking. Enjoy your favorite refreshments from the counter located nearby. For those seeking a more refined dining experience, head to Café Baudillo. This air-conditioned café, situated at the rolling end of the mountain, offers fine dining options. Its sliding glass doors provide stunning views of the butterfly dome and the distant viewing deck.
4. Room Accommodations:

If you wish to extend your stay at Sagbayan Peak Park, you'll be pleased to know that room accommodations are available for guests. Immerse yourself in the tranquil surroundings and wake up to panoramic views of Bohol's natural beauty. This option allows you to fully savor the charm and serenity of the park.
Sagbayan Peak Park is a place where imagination comes to life, offering a diverse range of attractions and amenities. Whether you're seeking close encounters with tarsiers, adventure among dinosaurs, or simply a place to relax and enjoy the scenery, this extraordinary destination has something for everyone. So, come and experience the magic of Sagbayan Peak Park – where dreams and reality blend seamlessly into an unforgettable adventure.

Other cartoon characters are scattered around such as Duffy Duck, Bugs Bunny, Lola, Marilyn Monroe, Donald Duck, Snow White and the 7 Dwarfs, Lion King, Tiger and other dinosaurs. The cartoon figures give life to the place and are a joy to look at. The kids surely love playing and running around them.
The covered pavilion is provided with tables and chairs where guests can dine and take their snacks. Refreshments are offered at the counter situated at the side of the covered court. Café Baudillo is set in front and at the rolling end of the mountain with sliding glass doors. The café is air-conditioned and geared for fine dining and overlooks the butterfly dome and the viewing deck in the distance. Room accommodations are available for guests.
Top of Sagbayan Peak Park