Bohol and San Isidro Labrador
Secure your Cebu Bohol ferry tickets today to start your unforgettable journey!
In the Philippines, aside from the mentioned town of Bohol, the saint is venerated and his feast day celebrated. In Nabas, a municipality of Aklan province in the Visayas, he is greatly honoured with the yearly Nabas Bariw Festival from May 12-15. The festival showcases the town's hat, mat and other bariw products as well as the town's unique tourism sites and natural attractions.

Likewise in Talavera, Nueva Ecija, he is greatly honoured with weeklong festivities ending on the 15th. Activities include daily novenas, Masses, processions, entertainment events and a fair (or perya). He is also venerated with a Pahiyas Festival in Lucban, Quezon. Honor is accorded to him in Trinidad, Bohol and the barangays of Mahayag (in the town of San Miguel) and in Talibon.
San Isidro is often depicted as kneeling and praying while an angel is ploughing the fields behind him. He is shown much larger than the angel and cattle with a church in the background. One unique church in Bohol is the San Isidro church in Mahayag, San Miguel, Bohol. Behind the Eucharistic table is not a wall with altars but a small hilly garden planted with vegetables, banana and flowering plants. San Isidro is shown kneeling and praying in the garden while the wall behind the garden depicts an angel ploughing the fields.
San Isidro Labrador is invoked for concerns affecting livestock, agriculture, and good weather and even for picnics.
Recommended Bohol Philippines Tours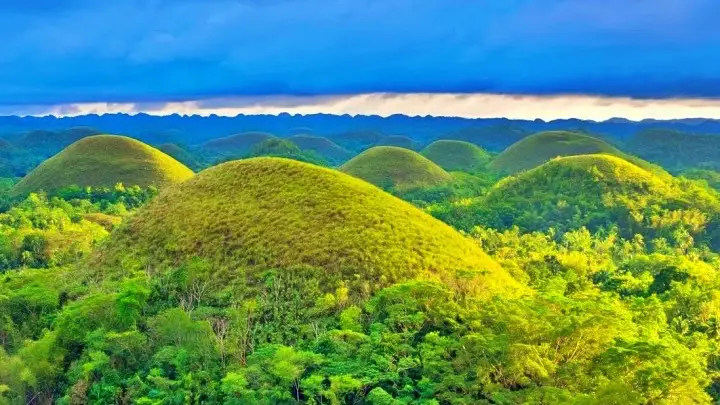 [ Bohol Sight Seeing Day Trips  - Check Out Availability ]
[ Full Day Cruise and Sailing Tours - Check out Availability ]
[ Full Day Adventure Tours - Check out Availability ]
Discover more of Bohol's natural wonders through our recommended tours. Click on the links below to embark on unforgettable adventures:
Ready to explore the beautiful islands of Cebu and Bohol? Secure your ferry tickets today through 12go and start your unforgettable journey!
San Isidro Labrador in Spanish is otherwise known as Saint Isidore the Laborer or Isidore the Farmer. This saint is greatly loved by majority of the Filipinos and is venerated in Spain and other Spanish-speaking countries.

Born to poor yet very pious Catholic parents in Madrid, Spain in the year 1070, he was sent in his youth to work for a wealthy landowner named Juan de Vargas whom he worked for the rest of his life. Later, he was made bailiff of Vargas' estate of Lower Caramanca in the vicinity of Madrid.
Isidro, in the prime of his life, married a woman named Maria Torribia and had one son, though he died in his youth. The couple took his death as a sign from God and consequently vowed to live a life of perfect continence. They then lived in separate houses and devoted their life to prayer, work, and works of mercy. His wife was later canonized a saint and known as Santa Maria de la Cabeza in Spain because her head (which is cabeza in Spanish) is often carried in processions, especially during droughts.
Deeply devout, Isidore dressed as a hermit, prayed regularly and give everything he had to the poor. Hardworking and industrious, he initially worked even on Sundays until he received light from the Lord not to do so. Adamant, he continued to work. To deter him, the Lord sent at first a plague of grasshoppers and a second time, torrential rain on the farm where he was working yet still he continued to work on Sundays.
The third and last time, the Lord sent "bad neighbours" and so Isidro finally consented to observe the Sabbath. But he had so much to do and he cannot manage the large amount of work without the Sundays so the Lord sent an angel to help him plow the fields.
Another legend relates of Isidro being accustomed to attending daily Mass and in so doing, is often late for work in the mornings. His fellow labourers found this annoying and complained to their master. Yet the master has no cause to complain because Isidro's work was usually done on time and even much better than the other labourers. But because of the complaints, he made an investigation and checked on him.
Yes, the master found out that Isidro was always late yet he was at a quandary why his work was always finished on time and very well. Believing that somebody was doing his work for him while he was attending Mass, he went to the fields to spy on the person helping him in his work. But lo and behold, he saw an angel instead busily ploughing his fields. In due time, Isidro was accorded great respect by his master and his fellow labourers.
On another occasion, his master saw an angel ploughing on either side of him, so that Isidro's work was equal to that of three of his fellow-labourers. He is also said to have brought back to life his master's deceased daughter, and to have caused a fountain of fresh water to burst from the dry earth in order to quench his master's thirst.
Isidro has been known to love the poor and the animals. Once, a miracle happened when he was feeding a flock of starving birds. The food that he had at that time was not enough yet it was multiplied and so he was able to feed the birds until they were full. This miracle of the multiplication of food happened again when he was sharing his food with a large group of beggars.
There was a time when his son was still alive when the boy fell into a deep well but, with the prayers of his parents, the water of the well rose to the level of the ground, bringing the child with it, alive and well.
Isidro died on May 15, 1130 at 60 years of age at his birthplace close to Madrid.
After Isidro's Death
Forty years after his death, his body was exhumed and was found to be incorrupt even though it was buried in extremely wet ground. From the cemetery, his body was transferred to the Church of St. Andrew.
Isidore is said to have appeared to King Alfonso VIII of Castile, and shown him the hidden path by which he surprised the Moors and gained victory in the Battle of Las Navas de Tolosa, on July 16, 1212.
When Philip III of Spain was cured of a deadly disease by touching the relics of the saint, the king replaced the old reliquary with a costly silver one.
After many miracles were reported owing to his intercession, his case was elevated to the Cause of the Saints. He was beatified on May 2, 1619 by Pope Paul V. Almost three years later, he was canonized by Pope Gregory XV, along with Saints Ignatius of Loyola, Francis Xavier, Teresa of Avila, and Philip Neri on March 12, 1622.
His master's house was eventually converted into a museum with temporary exhibitions on Madrilenian subjects, as well as on the life of the saint. He is now widely venerated as the patron saint of peasants and day labourers and in 1947, at the request of the National Catholic Rural Life Conference, he was officially named patron of farmers. His feast day falls on March 22 in all dioceses of the U.S., with proper Mass and Office.
After the Second Vatican Council, his liturgical feast was moved and is now celebrated on the 15th of May. The Traditional Roman Catholics in the U.S. and Canada still commemorates his feast day on March 22 though.
Many towns and cities were named after him. San Isidro, California and San Isidro, New Mexico; a town in the province of Buenos Aires, Argentina; San Isidro, a town in Bohol, Philippines and San Isidro (a barangay in Talibon, Bohol) likewise were named after him.
San Isidro was also made a patron of numerous cities and villages, including the Spanish cities of Madrid (the capital), Leon, Saragossa, Estepona of the province of Malaga, and Seville; likewise in La Orotava, in Tenerife, (Canary Islands, Spain), in Carampa (in the district of Alcamenca, province of Victor Fajardo Ayacucho, Peru), Sabana Grande (in the southwest of Puerto Rico, U.S., La Ceiba (the capital city of the department of Atlantida in Honduras).
Source:
www.Wikipedia
Top of San Isidro Labrador