Client Testimonials
Secure your Cebu Bohol ferry tickets today to start your unforgettable journey!
See for yourself our satisfied clients and read what our customers have to say about our own Bohol-Philippines.com Travel Services!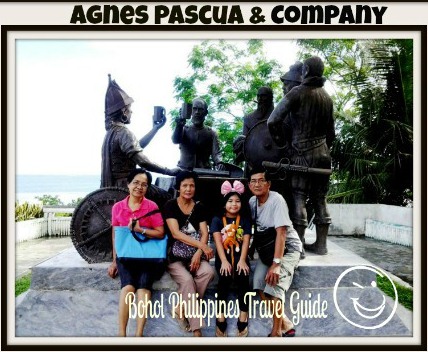 Agnes Pascua & Company
Booked at Bohol La Roca Hotel
Bohol Escapade Packaged Tour
September 18-21, 2012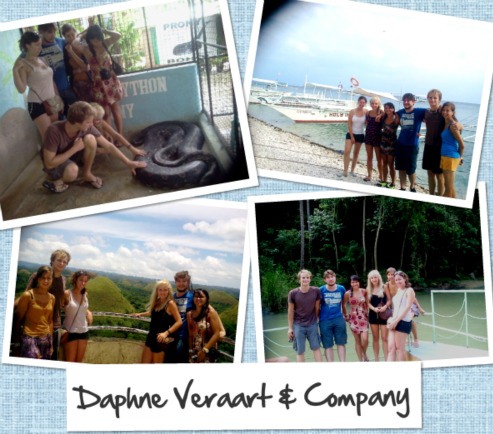 Daphne Veraart & Company
Booked at Dumaluan Beach Resort Bohol Escapade Packaged Tour September 13-14, 2012
Good day sir!
Thank you so much sir for the good service you rendered to us during our visit there in Bohol. All the things were organized. The tour guide are all knowledgeable. They gave us relevant and interesting information about the places of interests we visited.
I am interested to meet you personally if I will be given another chance to visit Bohol. We are all satisfied.
Alona Bucag & Company
Booked at Dumaluan Beach Resort
Bohol Countryside Packaged Tour
September 20-21, 2012
Hi EJ,
Generally we had so much fun during our tour. The tour guide is good and entertaining. I would like to thank you for that fun and memorable experience in Bohol. You gave us a prompt and fast service. Good job!
Comments:
The hotel service was not so good, they forgot to give our guests extra beds. There was no assigned food attendant during our buffet dinner, we really had to request some person to chop the lechon. But the staff in Bohol Divers Resort are all nice and approachable.
Thanks and God bless.
Shelly Mae Garcia & MSE Company
Booked at Bohol Divers Resort
Bohol Countryside Packaged Tour
August 19-20, 2012
Hi EJ,
Thanks for organizing such an amazing holiday for us.
Everything was absolutely perfect and we had a great time. Angelie was a fantastic tour guide and looked after us really well. she would always go the extra mile to make our stay special and has a superb local knowledge. She is a real asset to your company.
I am really sorry to hear that you have not been too well. We all hope that you will make a speedy recovery.
Many thanks
Bruce & Trexia Mina (via SMS)
Booked at Alona Tropical Beach Resort
Bohol Escapade Packaged Tour
June 6-10, 2012
Thank you EJ for the efficient service. I would like to give positive review to Angelie, she's a very good tour guide. I would recommend her.

Jonathan Edradan
April 27-28, 2012
Countryside Musical Extravaganza Tour
Booked at Bohol Bee Farm

We enjoyed our tour so much. Scarlet is a very good tour guide and Isoy is a very good driver. We are like a family. The resort is great. Thanks for a wonderful day in Bohol. You, your driver and Scarlett were fantastic, we could not have wished for a better day.

Wesley Fellowes & Tesie Barican
April 24-26, 2012
3D/2N Bohol Countryside Packaged Tour
Booked at Alona Tropical Beach Resort

It is fully packed. Akala namin magkalapit lng, but its worth it. Super enjoyed kami and the resort (Dumaluan Beach Resort), meron na lahat. Maeerrecommend mo talaga.

Romeo Manaois
April 12-14, 2012
3D/2N Bohol Countryside Musical Extravaganza Packaged Tour
Booked at Dumaluan Beach Resort

Wow, your island (Bohol) is wonderful. We had the best tour ever. We had the best tour guide. Everything was explained in detailed. We had the best driver also.

Nita Labrador
April 4-6, 2012
3D/2N Bohol Countryside Packaged Tour
Booked at Alona Tropical Beach Resort

Thanks so much EJ! We had a very enjoyable island tour today! Thanks so much!
Trixia (Sent thru SMS)
Booked Island Hopping & Dolphin Watching Tour
Thank you Elgar!! We really enjoyed the tour this am :)
Bea Tantoko (Sent thru SMS)
Booked for Island Hopping & Dolphin Watching Tour
Hi Ellen
Am back in Norway, and I thought I'd give you a bit of a feedback from our visit in Bohol. Start of, Scarlett was amazing, and we are all very satisfied for a job well done. Thank you!
Also Bohol was beautiful. My other family might go visit Bohol next year, so I gave them your number if that's alright.
Thank you. You all have been amazing!

Nona Papas
October 20-22, 2011
Booked Tours Only

Hello Ms. Ellen,
It maybe too late because of busy schedule, but I just like to thank you for a wonderful vacation we had. My daughter Mimi was very happy and had an unforgettable experience. Your staff and tour guide were so accommodating and very friendly. Bohol is beautiful.
Extend my thanks and regards to your son.
Warm regards,

Del Rodelas
September 16-19, 2011
Alona Tropical Beach Resort

Masaya po, very informative and also the accommodation, super relaxing.
Very nice po ang resort! Accommodating ang mga staff at ok din po room at service nila.

Cristina Prado
Alona Tropical Beach Resort
August 26, 2011 (sent thru sms)

Hi!
We are really enjoying, Ms. Ellen! The Beach is perfect! This resort is amazing, said my kids.
Thank you so much. Great vacation indeed! More power to you and to Bohol.

Lydia Domingo
Dumaluan Beach Resort
Bohol Escapade
May 12-15, 2011

Hi gud pm, thank you very much. Nag enjoy talaga kami sa stay namin jan (Bohol), hayaan mo kung may mga friends ako na mag plano na mag punta jan sa Bohol, irecommend ko kayo.

Maria Dulce Claro
Tierra Azul Beach House
Bohol Escapade/ 4D/3N
May 26-29, 2011
Hi Ellen,
I'm sorry I haven't written sooner - i'm been incredible busy since we returned. Just wanted to write and tell you what and amazing holiday we had. It was just what we wanted - the resort was lovely - really like the natural surroundings and it's such a great location. It was wonderful to be away from technology and craziness of work and spend time with my children. We were up at 4.30am most mornings as and on the beach at 5am watching the sun rise and looking for star fish.
We loved the two tours and EJ your lovely eldest son was just wonderful - so happy and accommodating - a great tour guide - AND We saw dolphins!! Richard who drove us was really kind. They were both great with my kids too. I've attached a picture of EJ and my two boys. He really is so lovely - Well done you mum!
If you speak to EJ please thank him again. He was going to e-mail me through some pictures which he took of our Island hopping - could you send him my e-mail.
We'll hopefully see you next year as we're definitely going to come back.
Thanks again and enjoy your Easter celebrations.
Fond regards

Claire Kirk
Booked at Alona Tropical Beach Resort
April 1-7, 2011

Hello Ms. Ellen,

Thank you for the prayers, like me, also prayed for a safe and sunny days during our trip at Bohol. Overall assessment, it was a good one, from the accommodation and itinerary as well, from hotel, transportation and even the tour guide....I do commend Scarlet for doing such a good job during our stay there.
I do thank you for the effort that you exerted despite of many changes during planning. It was well executed trip with your help of-course. Rest assure that next time, if someone I know who will plan on going to Bohol-Cebu I will recommend you.
Thanks and nice knowing you thru e-mail....God bless.

Richelle Pawig
November 19-21, 2010
Booked at Tierra Azul

Hi Ellen,

Sorry we did not reply earlier, but we did not check our mail before now.
We both were very happy with the Alona Tropical Beach hotel. The garden is magnificent and the place and the beach are quite, unlike some areas more to the center of the beach. There were only two problems. We initially did not get a room with matrimonial bed as was requested during the booking. But this was corrected on the second day. The second issue is that the rooms have no proper curtains, which makes that there is little privacy. But over all we were very pleased with the hotel and already plan to return there later.
Also the tours were well organized and went as could be expected. We both enjoyed all of it. And I am sure Joy will never forget her first snorkeling experience. She loved it!
We both also want to thank Ami for the great service. She made us feel very welcome and made sure all went perfect.
Thanks for everything. We both were very happy with your services. And thanks for the prayers. I can assure you they were granted.
Ingat and God bless you,

Joy and Wim
November 19-21, 2010
Booked at Alona Tropical
Hi Ellen,

Apologies for the late e-mail....work has been relentless this week. Believe it or not, I went straight to a board meeting the evening I arrived from Cebu/Bohol.
First of all, thank you so much for helping Rich and myself secure a last minute reservation. Our vacation in Bohol turned out to be one of the best and most memorable one.
EJ was very warm and hospitable. He made us feel at ease right away and made sure that everything went smoothly during our visit. He did a phenomenal job holding the fort while you were out of town.
Amy was also amazing..she and Rey ( the driver ) was our tour guide for the country tour of Bohol. Both went out of their way to introduce us to the people, culture and places to see. They shared information about the area in a very clear and interesting fashion. At the end of our trip, Rich and I felt we truly know Bohol inside out and that we would love to live there one day.
Then came the Dolphin Watching and Snorkling adventure..... the whole experience took our breath away! Balicasag is truly a one of its kind place...it felt like it's the last underwater frontier. I have gone on snorkling trips all over the States and nothing came close to what we saw over there. The meals served on the island was an icing on the cake. Neither one of us wanted to get up...but I'm glad we did because, on our way to the Virgin Island..we saw a whale shark : )
Above everything I shared with you so far, the best memories that we have of Bohol/Panglao/Balicasag & Cebu are its people. Everyone truly embraced the true meaning of what it's like to be a Filipino. Warm smiles and sincere gestures are a rarity nowadays.
I wish you all the best and we look forward to visiting Bohol again very soon....I left my heart in Bohol and I look forward to seeing everyone again.
On a separate note, I did tell EJ that you and your family have an open invitation here in Makati. I would love to be your host when you come and visit.
God bless and have a wonderful evening.
Sincerely,

Rudolf Domingo and Rich Backstrom
September 8-11,2010

Booked at Alona Tropical BEach Resort

[textmessage]
Hello Ellen! The place is so beautiful! Anyways, we had a very wonderful vacation, of course with the effort of your friendly and hospitable staff. It was all worth it. Keep it up! Thanks!

Rhena Estrella
August 25-28,2010

Hi Ms Ellen,

We, in behalf of my family, highly appreciate the service you offered us during our stay in Bohol. The over all experience including the tour was exceptional. It may just be a one-day tour but almost all the essentials were covered. Our time wasn't wasted, the transpo services were always very punctual, the drivers, Amy and EJ were all accommodating. The resort choice was also very good and we didn't regret going after your suggestion of Alona Tropical. My mom even said that Amy was very friendly and our tour driver was such a good one. The only comment my father had was not even the tour and stay in Bohol itself. His only suggestion is for the website to be updated especially the package quotation to avoid the feeling of misinformation on the part of the customers. Thank you for making our experience in Bohol as comfortable as it possibly can.

Larissa Rodill
August 15-17, 2010
Booked at Alona Tropical Beach Resort

Hello. Ellen!

Long time no see~! Thank you for your letter. We had a really good time during bohol. Most of all Balicasag snorkelling was exellent. But our snorklling time is too short and they said it possible only one time. But I satisfied to our trip on the whole.
About Loboc cruise, I have any complain about cancel. but If guide call Loboc cruise before we were leaving, we don't waste our time.
Last visit was my second time to philippines. I want to visit balicasag one more, my husband like scuba diving so next time we do it!!~
Please my thanks to give our bohol guide. She is very nice people. And Sorry for my late answer. also thank you for your help.
God bless!
See you again!

Ko Soon-mi
August 10-12, 2010 - Booked at Alona Tropical


Hey Ellen! Ty for asking, it was good over-all. Few things that I think that can improve are: the time allotted for day tour was 8 hrs, but was done like n 6 hrs. The driver was in a hurry to finish although the guide was willing to extend! Otherwise it was pretty good. Earlier trip to Mag-aso Falls was very good. Ur son and the driver were very helpful. Ty.

Suresh
August 14-16, 2010 - Booked at Alona Tropical Beach Resort

Hi Ellen! Yeah we're home now. Thanks. The trip was so great. We were really in good hands. Everything runs smoothly. Only the reservation area, the receiving area was so warm mura wala function ila AC. Anyway, aside from that, all is ok.

Riza
August 13-15, 2010 - Booked at Alona Tropical Beach Resort

Maam Ellen, Gud pm. Our stay in Bohol was fun. We really enjoyed it. Thank you.

Ann Karen Casana
May 2-5, 2010 - Booked at Tierra Azul

Thank you for taking care of us. My Danish guests had a great time.

Don Michael Perez
January 1-4, 2010 Booked at Bohol Divers

Hello Ms Ellen,


we just got back last sunday and everything in bohol was great! it was fun we enjoyed a lot. in behalf of Denzel, we would like to thanks you, Ms elva and Amy for accomodating us. we really appreciate it. hoping to get back there soon... and btw, we recommended your tour agency to friends and relatives and probalbly will get in touch for bookings soon. take care and God bless!
Best Regards,


Mark Lester Jarmin
November 18-21, 2010 Booked at Alona Tropical