Bohol Resorts: Guindulman Beach Resorts
Secure your Cebu Bohol ferry tickets today to start your unforgettable journey!
There are several "beach resorts" in Guindulman yet there are only two (2) real beach resorts in the sense that they are the only establishments that offer guests with decent room accommodations, meals and diving facilities aside from other services.
There are several beaches in between rugged cliffs available to the public which are called "resorts" although they only offer simple native huts for shade with makeshift tables and bamboo benches. Enterprising individuals sell soft drinks, beer and snacks on these public beaches.
A public beach is behind the Municipal Hall yet it does not provide native huts, only concrete tables with concrete benches under the shade of coconut palm trees. The beach there is not of white but of black sand with plenty of colored rounded pebbles which are often carted away by sack loads for sale to interested individuals. It seems the pebbles are used for landscaping purposes or in the construction of buildings or the like.
The beaches of Guindulman and that of Anda is not only the favorite hideaway of the local residents. My family for one hails from Talibon and we often visit Guindulman (my father's hometown) not just to visit relatives, but mainly to go to the beach. More often than not, we find ourselves swimming and relating with people from far flung San Miguel, Ubay and other places.
To my knowledge, the Alturas employees based in Lumangog, Ubay makes the Guindulman beaches as its yearly destination for get-togethers. Families are loaded on Eagle trucks (very big trucks with sidings that can be opened) and transported to the beaches of Guindulman and lately to the Kinale Beach in Anda which is blessed with pure white sand. The town of Anda was once a part of Guindulman.
The two (2) beach resorts that I am referring to above are both located in Barangay Basdio. They are the Bituon Beach Resort and the Coco White Beach Resort, both owned by Filipinos married to foreigners, German and Swiss, respectively. The foreigners are diving enthusiasts and since Guindulman and the Anda Peninsula are blessed with several wondrous dive sites, they opt to stay close to these sites. They bought lands along the coast and developed them and invited friends from their homelands to come over.
The Bituon Beach Resort is situated high up on cliffs in Basdio, Guindulman offering a number of native-styled bungalows overlooking the Bohol Sea. Clean and spacious, the bungalows are provided with basic facilities minus air conditioners which are compensated by the cool sea breeze that constantly blows in the area.
They have a restaurant that serves Filipino and International Cuisine and they are quite known also for their vegetarian meals. Aside from their own tiny patch of beach at the foot of the cliffs, the resort also offer complete diving facilities. Guests are often German-speaking scuba divers whose bookings are pre-arranged.
The Coco White Beach Resort is located in Barangay Basdio and situated directly on a beachfront fringed with tall coconut palm trees. Ten native-styled bungalows are on a small hill surrounded by beautiful and well-kept gardens. Being a PADI Dive Resort, it has a small pool where one can practice various diving techniques.
A spa is also available as well as a games room where guests can avail of billiard equipments, play dart and other games. It is the only one in the area who has a facility for internet access. The resort is a small family corporation under Swiss Management and the contact persons are Conny Lieberherr and Reto Clavadestcher.
Top of Guindulman Beach Resort
Recommended Bohol Philippines Tours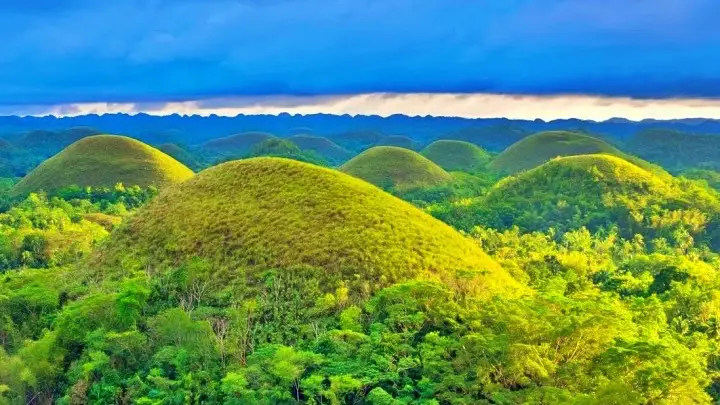 [ Bohol Sight Seeing Day Trips  - Check Out Availability ]
[ Full Day Cruise and Sailing Tours - Check out Availability ]
[ Full Day Adventure Tours - Check out Availability ]
Discover more of Bohol's natural wonders through our recommended tours. Click on the links below to embark on unforgettable adventures:
Ready to explore the beautiful islands of Cebu and Bohol? Secure your ferry tickets today through 12go and start your unforgettable journey!