Bohol Countryside and Musical Extravaganza Tour
Secure your Cebu Bohol ferry tickets today to start your unforgettable journey!
This package is entirely different from the Chocolate Hills & Countryside Tour we are offering yet you will still get to see the famed chocolate hills! Yes, from a different perspective and from a resort that has more to offer – Sagbayan Peak!
With a twist, the tour will end with a double hit: a romantic dinner while plying the Loboc River and then a chance to hear the angelic voices of the world acclaimed Loboc Children's Choir in concert!
Recommended Bohol Philippines Tours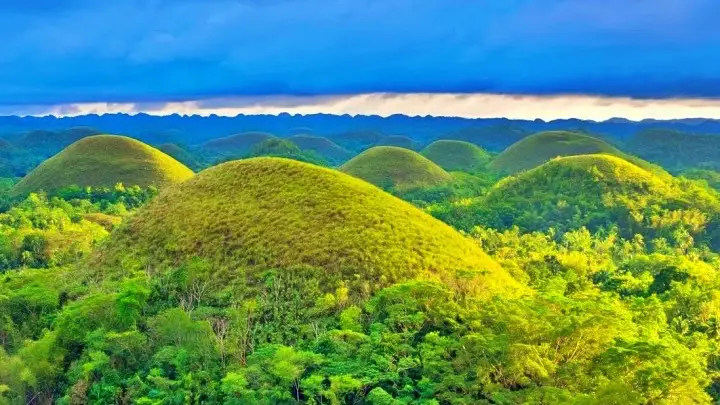 [ Bohol Sight Seeing Day Trips  - Check Out Availability ]
[ Full Day Cruise and Sailing Tours - Check out Availability ]
[ Full Day Adventure Tours - Check out Availability ]
Discover more of Bohol's natural wonders through our recommended tours. Click on the links below to embark on unforgettable adventures:
Ready to explore the beautiful islands of Cebu and Bohol? Secure your ferry tickets today through 12go and start your unforgettable journey!
ITINERARY
Day 1:
The Tour In-charge or her representative will fetch you at the airport/seaport and conduct you to the hotel.
Spend the rest of the day at your leisure.
Meals: None.
Transfers: Airport pick up.
Notes: Travel time from airport to -.
Tagbilaran City hotels & resorts: 5-10 minutes.
Panglao Island hotels & resorts: 30-45 minutes
Day 2:.
7:00 - Breakfast.
1:00 – Countryside and Musical Extravaganza Tour begins
Places to Visit:.

Blood Compact Site (Tagbilaran City) - The spot where the "Sandugo" took place; a blood compact between Miguel Lopez de Legazpi of Spain and Rajah Sikatuna of Bohol. The blood compact is considered as the First Treaty of Friendship between two different races, religions, culture and civilization. A treaty based on respect and equality! A place where you can immerse yourself in history!
Baclayon Church (Baclayon) – The oldest stone church in Bohol; in fact, one of the oldest in the Philippines, second to that of the San Agustin Church in Intramuros, Manila. A 21 meter high belfry lies adjacent to the church and a museum displays religious artifacts.
Man Made Forest (Bilar) – Traverse the "Tina-i sa Manok" trail and pass by the Mahogany Forest on your way to Carmen, the Chocolate Hills and onward to Sagbayan Peak!
Sagbayan Peak – a newly developed resort where one can view the famed chocolate hills with the added bonus of viewing the Bohol Sea and the island of Cebu in the distance. Has a Water Park, a butterfly dome, tarsier sanctuary, children's park, and more.
Chocolate Hills (Carmen)– View one of the world's wonders; 1,268 hills which, during the dry season, turns into brown and thus called the chocolate hills.
Simply Butterflies Conservation Center - The first butterfly livelihood breeding and conservation program in Bohol. Its main goal is to protect and strengthen the natural environment of the butterflies through plant research, breeding and releasing. See the butterflies in their wide habitat with nature trail.
Tarsier Encounter (Loboc) – Observe the smallest primate in the world, the Tarsier, in its caged sanctuary.

Loboc River Cruise – A cool and relaxing river cruise while dining on Boholano food and other native delicacies.
Loboc Children's Choir in Concert – The group is available only on Fridays and Saturdays. The concert will start at 6 PM immediately after the river cruise.
Meals: Breakfast & Loboc River Cruise Buffet Dinner.
Other Inclusions: Tour Transfers and all Entrance Fees..
Notes: Tour Guide will wait for you at the lobby. Front desk will inform you of your guide's arrival. The whole day tour will begin at 1:00 PM and end at 9:00PM.
Day 3.
7:00 - Breakfast.
Spend the rest of your stay at your leisure.
Meals: Breakfast .
Transfers: Resort/Hotel to Airport/Seaport.
Notes:
Hotel/Resort Standard Check out time is 12:00 NN

Pick Up Time for Transfers to Airport/Seaport:Tagbilaran City Flight Departures is 2 ½ hours prior to Estimated Time of Departure and Seaport Departures is 1 ½ hour prior to Estimated Time of Departure.
Transfers outside the package routes or the scheduled time should be booked earlier and may be subject to additional charges.
Tour Bohol and see for yourself the world famous Chocolate Hills at Sagbayan Peak, a countryside tour with a romantic buffet dinner while cruising on Loboc River and then top it all with a concert of the Loboc Children's Choir! A package that you definitely should not miss!
Notes: